Do you want to run effectively and viably booking forms? If yes, read this post below to get the list of the 9 best-proposed Elementor Booking Plugins to find out the most astounding Elementor booking plugin for your sites.
Why do your sites need to install Elementor Booking Plugin?
Elementor Booking Plugin is designed for you to create and operate a booking service for your sites easily. Besides, Elementor Booking Plugin can be used for creating booking forms, making calendars with booking detail, listing booking slots, and so on. Some of them permit you to custom professionally style the booking form to get the consideration of your clients.
Top Wonderful Elementor Booking Plugins

WP Time Slots Booking Form is a useful plugin that helps you to create a booking form with a calendar. Your customers will choose the times on the calendar as per their requirements and book. After customers books, the administrator will receive an email notification about the complete booking.
Features:
The available time slots for each weekday or specific dates
The number of different time slots selected in a single booking
Min and maximum available dates
Holiday / closed dates
Price for each time slot and different number of selected slots
Number of months to display
Booking lists
And more
Highlights:
Modern appearance
Mobile-friendly
Good support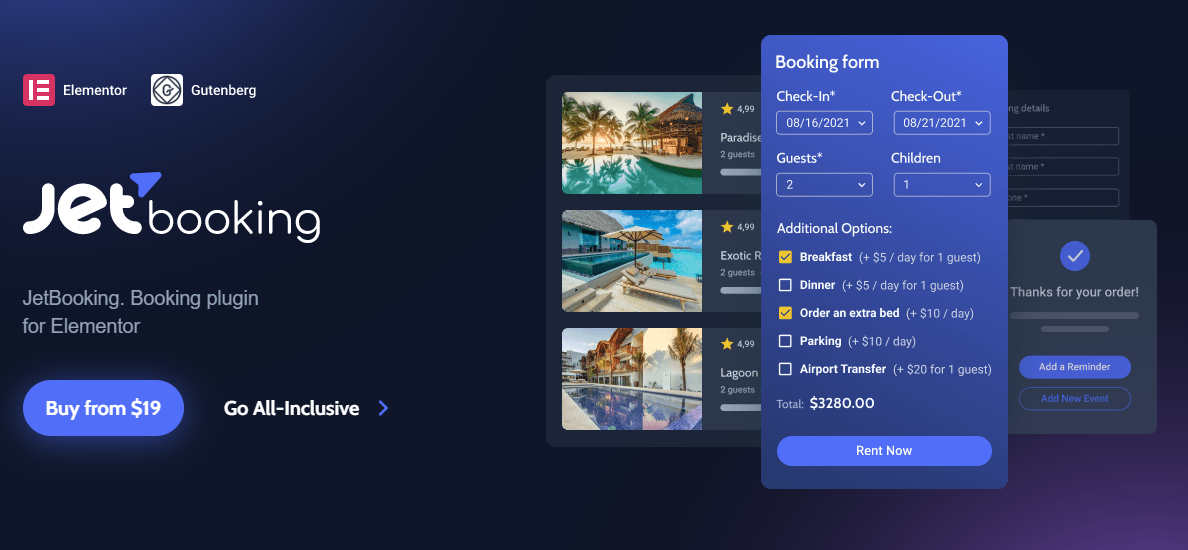 JetBooking is an incredible WordPress plugin that enables you to effortlessly craft and manage custom booking systems right on your website! With JetBooking, you can tailor booking forms to your specific requirements, configure pricing and availability, accept payments, and more! What's more, it's incredibly customizable, plus it has full integration with the Elementor page builder for next-level booking system design and implementation!
Features:
Manage all your bookings and reservations from a single dashboard
Provide customizable Booking Forms
Set up availability calendars to show your customers when your services are available
Set up email notifications to keep your customers informed about their booking status, etc
Integrates with popular payment gateways such as PayPal and Stripe, making it easy to accept payments online
Highlights:
Mobile support
Great documentation

Element Pack pro provides Booked Calendar – a third-party plugin that helps you build effortlessly booking services. It allows you to create a calendar and booking button with detailed information such as time, date, month, and year. Moreover, you can customize the look of the booking calendar with available styles and layouts.
Features:
Drap and drop to build
Set calendar date, month, and year
Custom background color for the calendar
Set date various color
Set book appointment date, month, and year
Select layout list
And more
Highlights:
Highly customizable
Easy to use
Beautiful look

Master Addons for Elementor has a widget named MA Business Hours, which helps you to create a business booking table. MA Business Hours comes with 5 different designed presets, so you are free to choose the layout you want and custom its content.
Features:
Solid BG color style style
Content BG image style
"Book now" button
Hour preservation style
Full background image style
And more

Using Calculated Fields Form, you can easily create a form with automatically calculated fields based on the data entered in other fields. It can be used for calculate quotes for hotel booking, class booking, spa booking, etc. If you have already had a booking layout and want a calculating system for your booking service, you should try this plugin.
Features:
Creating forms with automatically calculated fields
Quote calculators
Booking cost calculators
Date calculators
Health/fitness calculators
Form builder for adding input fields on the form
Add one or more calculated fields
Predefined forms templates
Supports multiple field types, like drop-down, checkboxes, radio buttons, dates, numbers
Integrated with Elementor
And more
Highlights:
Good plugin
Wonderful support
Rich looking interface
Hotel Booking & Elementor Integration is a perfect combination of a Hotel Booking plugin and Elementor. Thanks to the smooth integration, you can use shortcode or widgets from Elementor list to build and manage a property rental website, and booking system – of course. This plugin requires Elementor and Motopress Hotel Booking Lite plugin to work perfectly.
Features:
Display bookings calendar
Guests can reserve multiple accommodations
Set booking rules
Set seasonal pricing
Custom accommodation details
Online search availability form
And more
Highlights:
Cool plugin
Multilanguage support

With the help of Appointment Hour Booking, you can create a booking form with the start time defined by the end-user and the duration/schedule defined by the customer. This plugin is especially useful for booking personal training, medical services, classroom, and more.
Features:
Configure the data of the calendar and schedule
Restriction of default, maximum, and minimum dates
Automatically calculate start date
Price and duration for each service
Custom email notification for admin and users
Support for Elementor blocks
And more
Highlights:
Printable appointments list
Calendar available in 53 languages

Jetbooking is an ideal plugin for creating booking services. Based on Elementor, this plugin let you easily build booking services , integrated with WooCommerce payment gateway, custom style of your booking forms, and more.
Features:
Customize booking notifications
Eye-catching booking form
Filter items by availability, property characteristics, and more
WooCommerce integrated
And more
Highlights:
Easy installation
Set up booking quickly
Elegant booking look

The Appointment Booking Calendar is one of the most effective Elementor Booking Plugins. To begin, one of the plugin's most useful features is the ability to define discrete time slots for appointments. As a result, it may be utilized for appointments in a wide range of industries. Because the Appointment Booking Calendar is an Elementor block, you may create appointment slots using Elementor Page Builder.
Features: 
Integrates with PayPal
Allows to export appointment data to CSV files
Compatible with WordPress Gutenberg, and Elementor
Supports Google Calendar, Outlook, and CAPTCHA
Easily send emails to customers for booking and payment confirmations
Anh much more
Highlights:
Easy to use
Set up booking quickly
Multi-lingual support
Wrapping Up
We have listed a collection of 8 amazing Elementor booking plugins for you. Come to pick the one you like best, and share us your idea, we'd love to know!
What's more, if you are searching for a beautiful Elementor theme, take a look at our Free Elementor Themes to get one!