Would you like to support the website using Woocommerce Gift Card plugins? However, you're unsure which solution is ideal for your company. Let's take use of this article and make the best selection possible. In this article, we'll show you our list of 8 great Woocommerce Gift Card plugins to select from in 2022.
What are the advantages gained from Woocommerce Gift Card plugins?
By using the Woocommerce Gift Card plugins, you enable to design, customize and sell gift cards on your e-commerce simply. Furthermore, it is not only easy but also too fast to install so that you can save much time and effort.
Top should-try Woocommerce Gift Card Plugins

Firstly, this plugin in our list of Woocommerce Gift Card plugins is the best overall plugin in our recommendations of Woocommerce Gift Card plugins . It is the free and easy solution to start selling gift cards on your e-commerce.
Moreover, You can update the plugin to make it even more effective, innovative, and easier to use. In addition, You only have to install the plugin, create your first gift card, and publish it for a few-minutes process.
Provides Features:
A new product type, Gift-card, to configure your own gift cards
Set the amount you want to use for each Gift Card
Dashboard with all gift cards
Create and Sell Virtual Gift Cards
Create unlimited physical or virtual gift cards
Email the gift card to the recipient once the order has been completed
Customize the Gift Card code pattern
Highlight:
Premium plugin
Multi-language
Feature-rich

The second plugin in our list of Woocommerce Gift Card plugins  is the WooCommerce Gift Cards plugin. It will make it easy to sell gift cards to your store for 5 minutes. Besides that, you can set up and customize it easily by one-click creation.
Provides Features:
Purchasing Similar to Amazon.com gift cards
Receiving the WooCommerce email template system for beautiful emails
Redeeming Integrates into your theme
Guest Checkout Gift cards are not tied to a specific account
Highlight:
Easily Compatible
Easy to Set up
Convenient

Thirdly, this is one of the must-have Woocommerce Gift Card plugins in our list of Woocommerce Gift Card plugins in 2022 that you shouldn't dismiss.
Plus, It allows merchants to create, sell, and manage gift cards at their WooCommerce store. Especially, Customers can purchase these gift cards and send them to anyone by email. What's more, The recipient can use this card to make purchases at your store.
Provides Features:
Flexible Delivery Options
Offering in Your Local Currency
WPML Multilingual Support
Four Different Pricing Types
Tax Calculation
Easy Online and Retail Redeeming
Coupon Codes and Customizable Email Templates
Highlight:
Native language
Easy to set up
easily use

Next, this is the best free plugin in our list of Woocommerce Gift Card plugins on WordPress. Also, It helps you to build your own dream marketplace like Amazon, eBay, Etsy, Airbnb, or Flipkart within minutes, with minimal setup.
Provide Features:
Withdrawal & reverse withdrawal
Bulk & quick edit
Bookings & appointments
WPML integration
Highlight:
Support language
Easy to edit
Free version

Subsequently, This Woocommerce Gift Card plugin always helps you pay better for WooCommerce. Plus, It quickly integrates all major payment methods in WooCommerce. Also, Simply drop them ready-made into your WooCommerce webshop with this powerful plugin by Mollie.
Provides Features:
Support for all available Mollie payment methods
Compatible with WooCommerce Subscriptions for recurring payments
Multiple translations: English, Dutch, German and French
WordPress Multisite support
WPML support
Highlight:
Multi-language
Easy to use
Compatible

The next is a perfect plugin and a perfect solution for generating and selling gift cards. Thanks to this plugin, we can create basic vouchers for events like birthdays, anniversaries, new Year, Valentine's Day…
Provides Features:
Create and design templates with your own logo as per the occasions or fests.
Customers can pick from a variety of templates uploaded by the admin and can sort by events
Multiple payment gateway integrations available such as Stripe, PayPal, Sofort Pay, and Bank Transfer
Customers can preview their Gift Card on their booking page
Remove Expiry date from vouchers
Hide Price from vouchers
Admins can create fixed price gift items for different services and products for their customers
Highlight:
Feature-rich
Easy designing
Safe

Finally, This Woocommerce Gift Card plugin is the simplest way to sell gift cards online. It's easy and fast to install. Easily design beautiful gift cards and certificates with your branding and logo. Additionally, It's a smooth experience for your customers to buy gift cards 24/7 directly from your website and social media platform, with your branding.
Provides Features:
Beautiful gift cards with your branding
Fully automated email delivery of your gift cards, immediate or on a future date/time
Simple checkout installation in any WordPress page or post using our shortcode
Accept the gift cards you sell anywhere, from in-store via our mobile apps or your online cart
Including full management dashboard
Highlight:
Feature-rich
Easily to use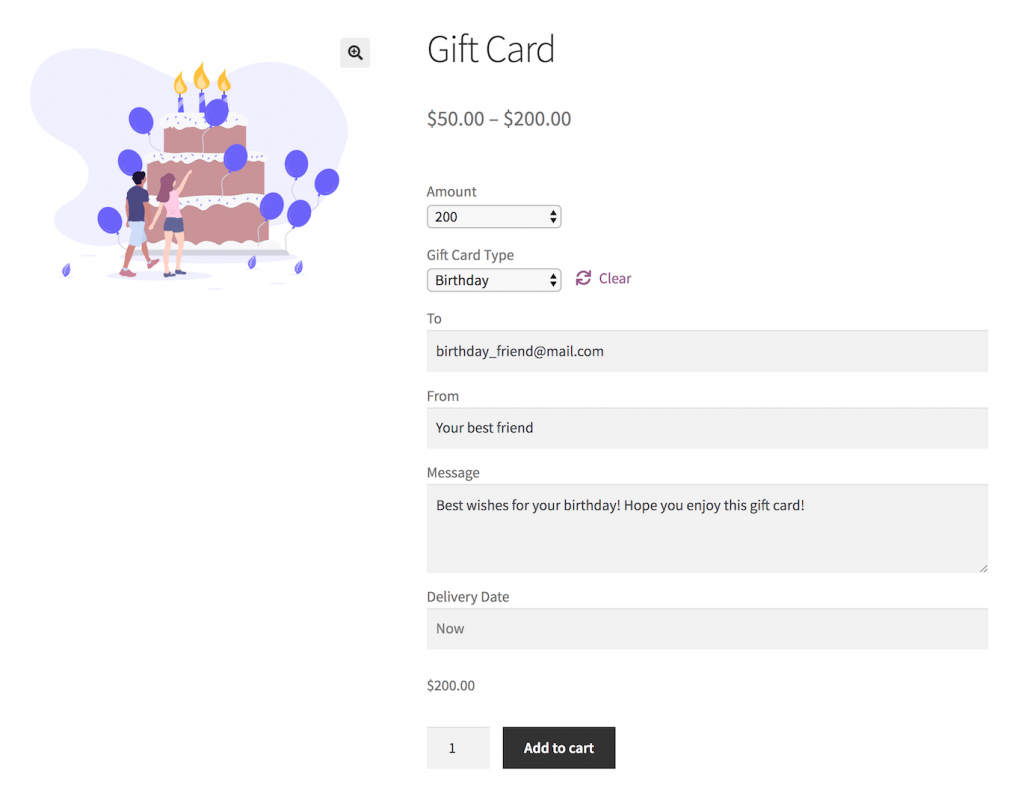 Our final plugin in list of Woocommerce Gift Card plugins is the Gift Cards. This is a simple and intuitive WooCommerce plugin that allows you to make and sell e-gift cards. It will aid in the acquisition of new customers as well as the enhancement of existing customers' purchasing experiences.
Customers can spend the available funds on the gift card while checking out, which speeds up the checkout process. Customers can also use your store to create and send personalized gift cards. This plugin is also simple to set up and manage for store owners.
Provides Features:
Set expiry codes for gift certificates
Create gift certificates
Send gift certificates to multiple users
Easy to configure for store owners
Highlight:
Easy to use
Easy designing
Safe
CONCLUSION
To sum up, we believe that list Of top 8 Useful WordPress GDPR Plugin In 2022 will help you get more confused in choosing a plugin that suits your requirements. If you have any questions, Don't hesitate to contact us via  Free WordPress Themes.