Are you looking for the top-rated WordPress real estate themes? Most WordPress themes are designed for either blogs or business websites by default. This makes it a little more difficult to choose a good real estate theme. In this post, we'll show you some of the best WordPress Real Estate Themes for managing listings and growing your business.
Why Do You Need the Real Estate WordPress Themes?
Here are the amazing features of using the Real Estate WordPress Themes:
Spectacular Landing Page: Make an impression on your visitors by providing them with a visually appealing landing page.
Awesome Photo Galleries: Showcase properties in the format that best suits your website.
Google Maps Integration: Track the location of your properties easily.
Forms of Contact: Contacting your website visitors is simple.
Responsive Design: Make certain that your properties look well on any mobile device.
Speed and SEO Optimization: Make sure your site loads quickly and ranks high in search results.
Top Must-have WordPress Real Estate Themes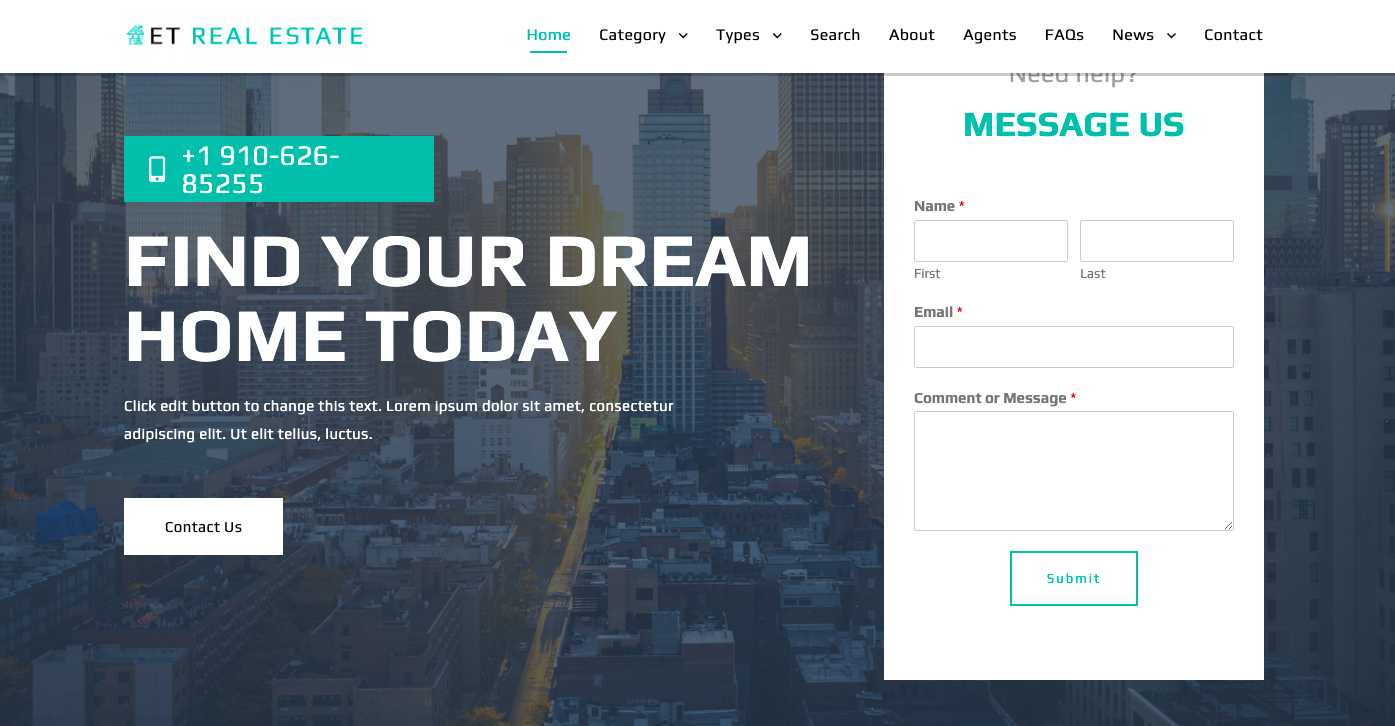 ET Real Estate is a premium one-of-a-kind WordPress theme that focuses on realtor services, home staging, land brokerage, and mortgages, among other things. The Real Estate WordPress Theme is completely adjustable – any component of the design may be readily changed. Well-organized content categories and well-thought-out navigation make it easier to find the information you need. Elegant image galleries liven up the visual appeal of these property designs. Responsive design guarantees that they look great on both desktop and mobile displays.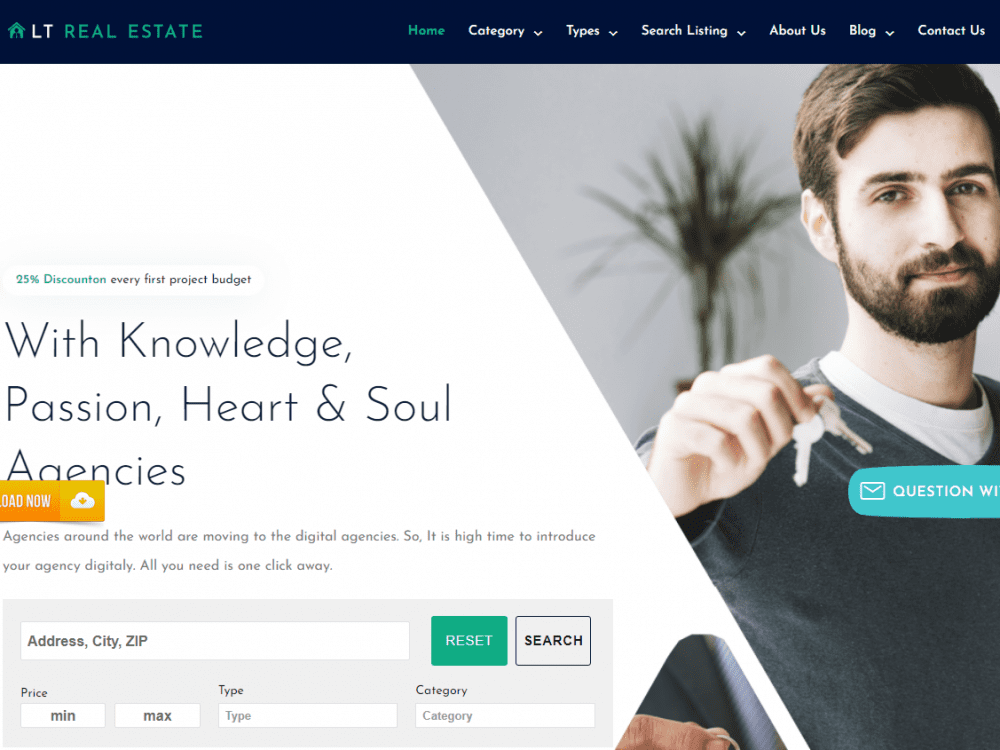 LT Real Estate is an excellent theme for real estate businesses. This theme has several great features, including compatibility with Elementor Page Builder, WooCommerce, and integration with a completely responsive layout. As a result, you can rationally and simply exhibit, arrange, and modify your company's products and services. Furthermore, unlike other themes, your websites will automatically work flawlessly on any type of device without any problems or disorder.
LT Villa is a fresh and appealing theme for building and architecture companies. Moreover, it is designed for Real Estate themes. Because of its compatibility with WooCommerce, you can successfully present your projects, products, and services while also selling them in a few simple clicks. Furthermore, it is quite handy and fantastic for your clients to browse and choose your organization because your websites can be easily altered to match any device from cell phones to PCs.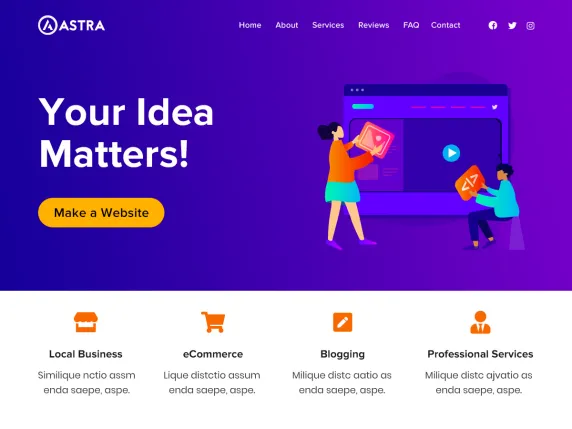 Astra is a free WordPress multipurpose theme that includes various pre-built demos, including real estate business templates. Therefore, it's ideal for real estate businesses that don't want to waste time building a site from the ground up. Furthermore, this adaptable theme caters to a wide range of real estate enterprises.
It's a well-coded theme that incorporates schema.org and Native AMP for improved search engine results. Despite its many features, Astra is a lightweight theme. As a result, your website will not experience lags.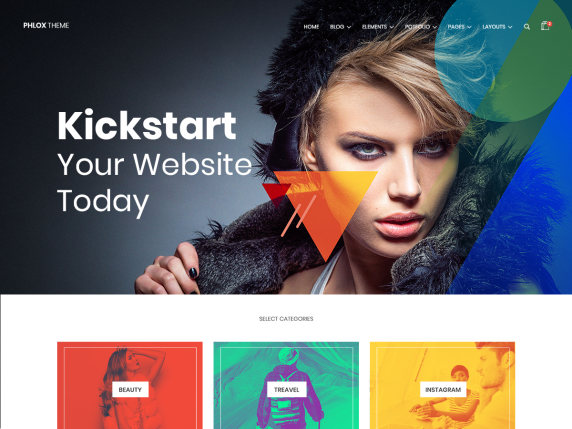 Phlox is an excellent free WordPress theme for corporate websites, agencies, portfolios, and other similar purposes. It allows a variety of post forms such as a gallery, image, video, and so on. Furthermore, the Live WordPress Customizer allows you to adjust theme options and see the results in real-time. It offers an eye-catching photo gallery with two layout options, grid, and Masonry. As a result, you can display property listings that are relevant to your business.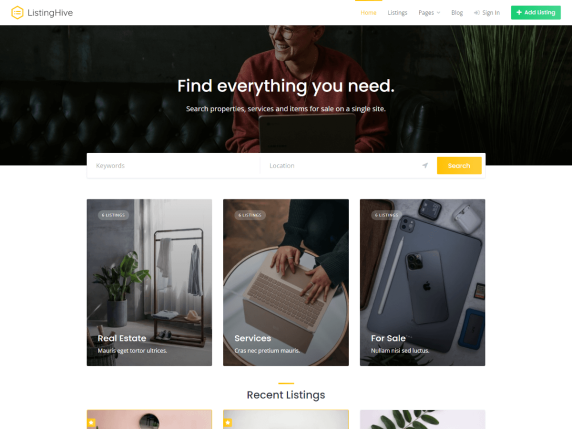 With over 5000 active installations, ListingHive is one of the top free WordPress real estate themes. The theme is designed to provide a simple yet effective bundle that is required for a fully working real estate website. Furthermore, it is tightly integrated with the sophisticated HivePress plugin, which enables the production of interesting property listings. It's a lightweight theme with a simple and clean design. ListingHive also provides pre-built demonstrations.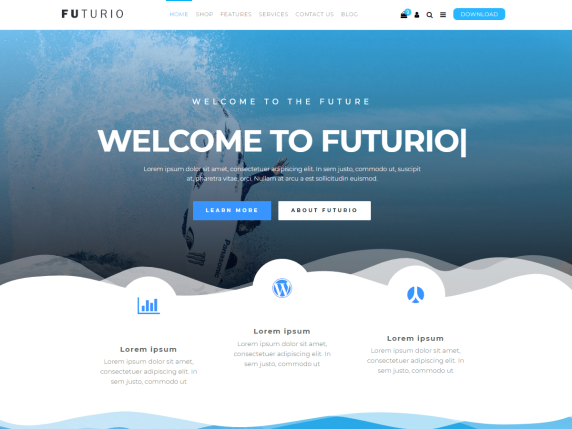 When it comes to free WordPress real estate themes, Futurio is yet another excellent option. The theme is compatible with page builder plugins that use drag and drop. As a result, it enables you to create stunning landing pages that will astound your visitors. Furthermore, the theme includes free pre-built demos that can be imported with a single click. Aside from that, Futurio offers many customization options. This assists you in ensuring that your real estate website feels and appears just how you want it to. It also works with WooCommerce.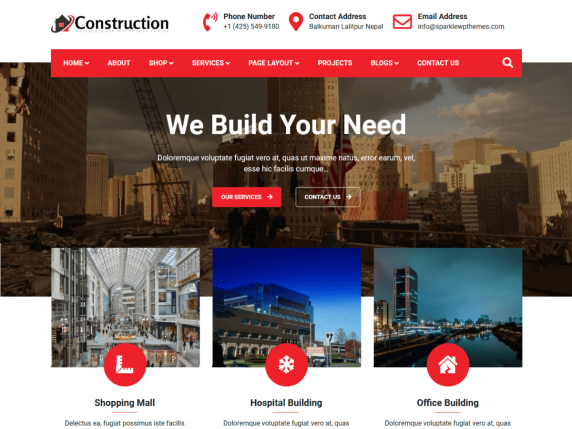 Construction Light is one of the free WordPress real estate themes that can be used to build a fantastic website for construction and other related businesses such as contractors, property dealers, architectural firms, and so on. The theme includes a plethora of features that will allow you to create a professional website that will wow your visitors. A Call to Action button, Client Logo, About Us page, Services, and many more are examples of such elements.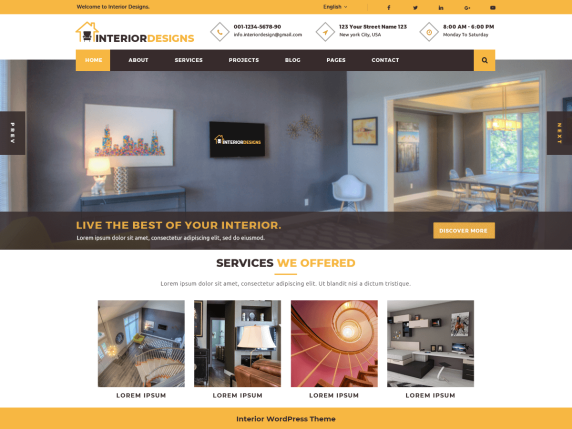 Interior Designs is an impressive WordPress theme created specifically for sites such as interior design, home décor, real estate, agency, architecture, and so on. This aesthetically pleasing theme ensures that when you present any of your items or assets, your site appears stunning. Furthermore, the color design for this theme has been chosen to fit the objective of your site. Because it is integrated with social media, you may also post your website's content on prominent social networks.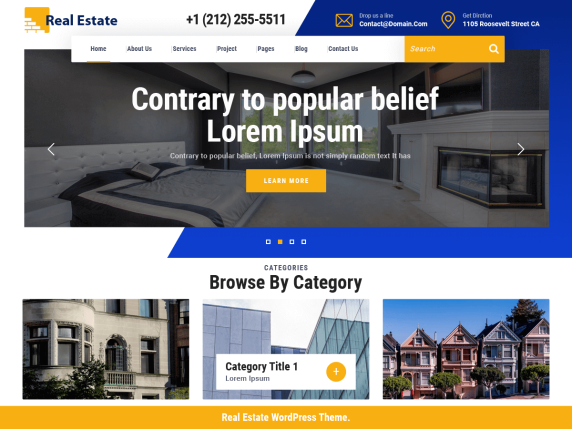 VW Real Estate is one of the ideal WordPress Real Estate Themes for real estate agencies, property dealers, builders, architects, and other similar businesses. The theme is built on the Bootstrap framework and has fantastic animations that allow you to create a one-of-a-kind website. Most significantly, the theme is intended to set your real estate firm apart from the competition without requiring any coding skills. The theme also includes a number of customization features such as custom menus, theme options, and so on.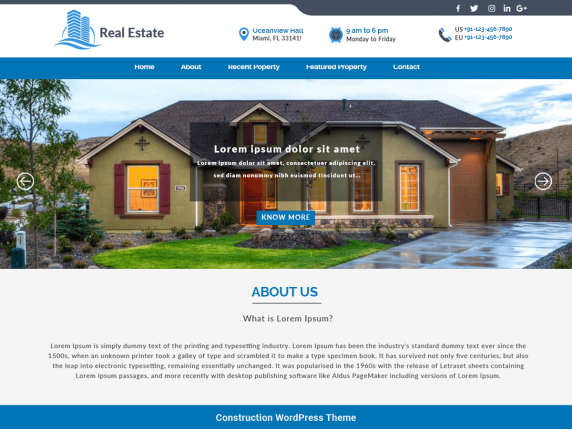 If you want to start a successful real estate business, Construction Realestate is one of the great WordPress real estate themes that you can get for free. Aside from real estate brokers, it is also great for builders, contractors, inventors, and other professionals. Furthermore, this SEO-friendly theme will undoubtedly help your site rank at the top. Because it is a responsive theme that provides cutting-edge performance on all devices. It also strengthens your online presence because it is integrated with social media.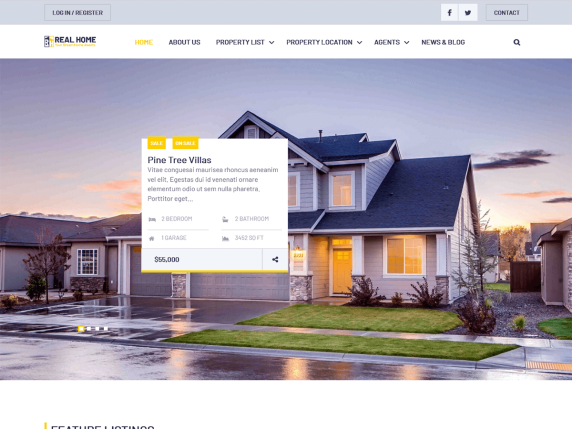 Real Home is one of the greatest free WordPress real estate website templates available. It is versatile, one-of-a-kind, and trendy. The theme allows you to present your property details to your site visitors in a beautiful manner. To top it all off, managing your real estate properties is a breeze with this theme. It also has extensive customizing options. So designing and customizing your real estate website is a piece of cake. Furthermore, by integrating social icons, you may advertise your property listings to a greater extent.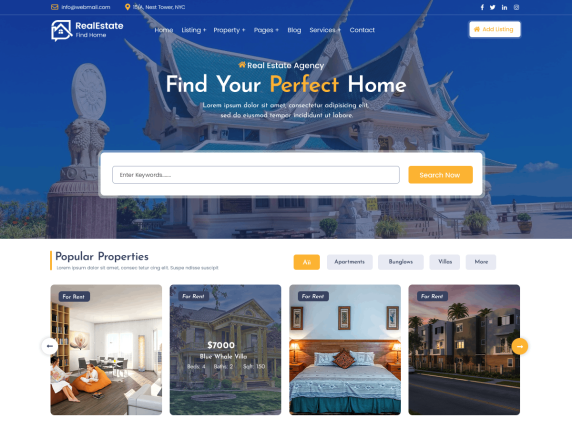 Real Estate Realtor is a fantastic free WordPress theme that is specifically created for real estate agents, property dealers, interior designers, and other professionals in the real estate industry. The theme has an optimized code that has been tested for speed and SEO. The nicest thing about this theme is that, although being free, it includes all of the materials needed to create a fully functional real estate website. Overall, it's one of the best free WordPress real estate themes for novices on a budget or anyone looking to test the waters before investing in the advanced pro-version.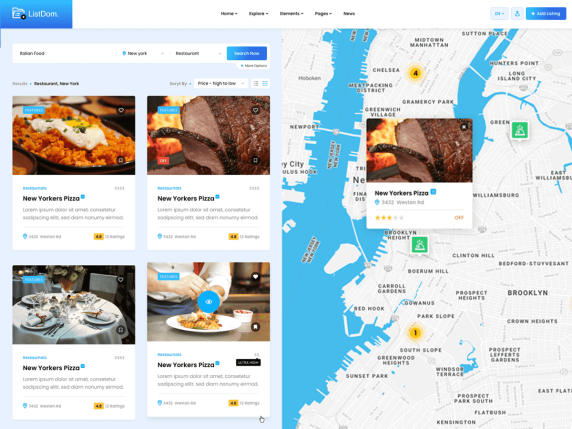 Among a collection of WordPress Real Estate Themes, Listdomer is a fantastic free WordPress theme that is suitable for websites in a variety of categories such as listing, directory, advertisement, classified, real estate, and so on. It's a really simple theme that was created with little technical knowledge in mind. As a result, it is the ideal real estate solution for complete beginners. The theme is Elementor-compatible, allowing you to create the layout of your choice. Furthermore, it enables you to add functional widgets at the desired positions.
Real Estate Salient is a free and premium WordPress real estate theme. Both make good use of a light green highlight color, bold images and fonts, and white space. This is a theme that stands out for all the right reasons! The free edition features an image slider with a highlight box, a grid of property listings, a search and filter element, and extra page elements. The premium edition includes more customization choices as well as the Essential real estate plugin, which speeds up the process of adding properties.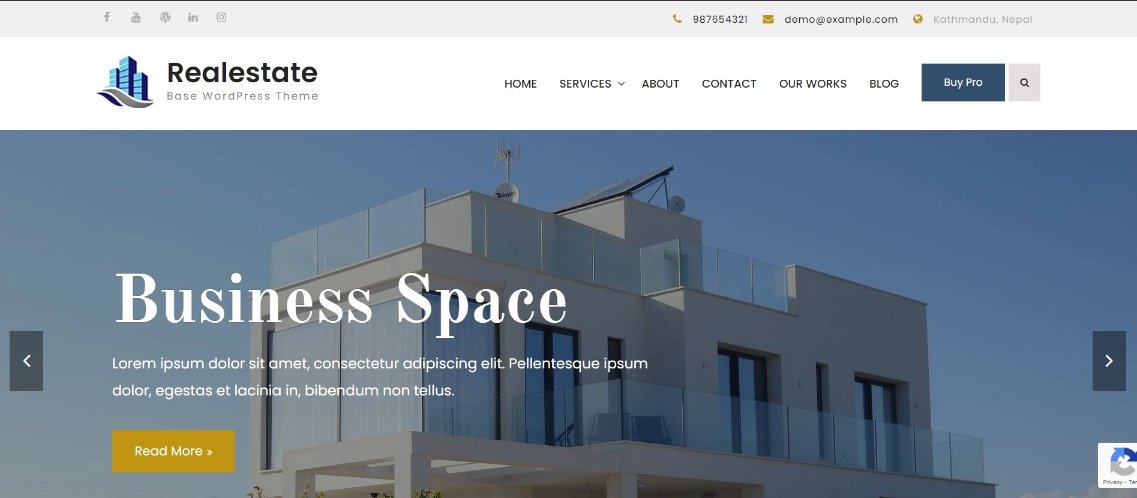 Realestate Base is another free WordPress real estate theme with a premium option that we enjoy. The demo is designed for commercial real estate, although it may easily be adapted for residential use. The design is contemporary, with a full-page image slider, a combination of serif and sans serif fonts, plenty of white space, and a mix of white and image backdrops. Property listings are located further down the page and demonstrate what you can achieve with this theme.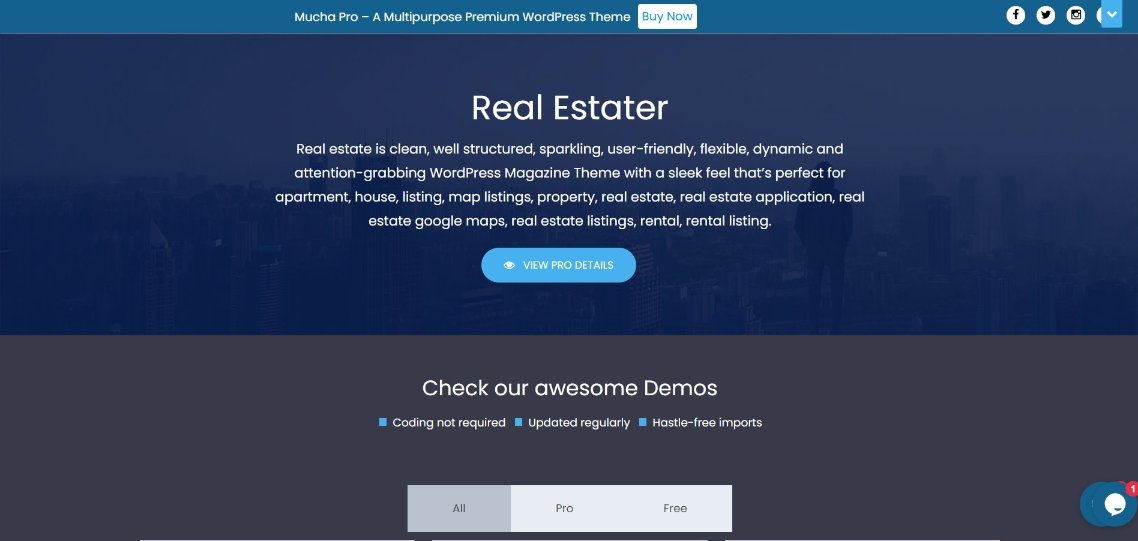 Real Estater is the next WordPress real estate theme on our list. This is another free real estate WordPress theme with a premium option that deserves to be included. The design is really appealing, with a trustworthy design, a nice yellow highlight color, and an excellent utilization of photos and white space. The free version includes an image header as well as the ability to add properties and supplemental content regions down the page.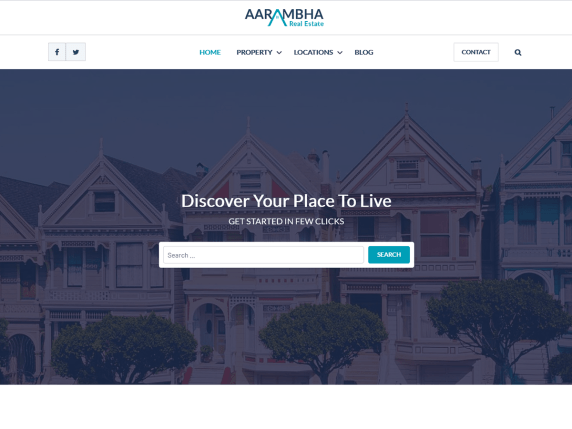 Aarambha Real Estate is considered as one of the best WordPress Real Estate Themes if you want a dynamic theme with multi-purpose features. Aarambha Real Estate is appropriate for real estate, property marketplace, and other websites of a similar kind. You can use its drag-and-drop header and footer builder to create and show content in your own style. Furthermore, with many design choices and templates, you are more likely to showcase your services, properties, and other offerings in an eye-catching manner.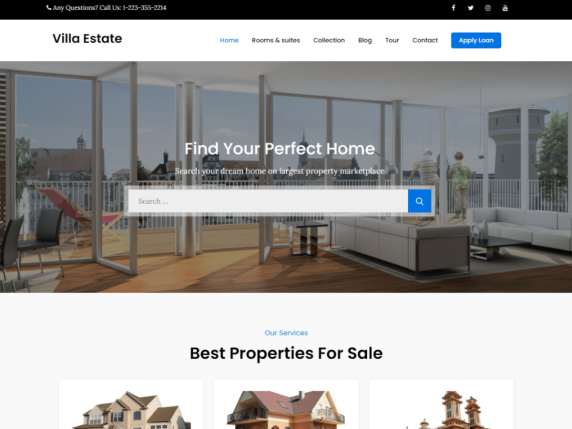 Villa Estate is an excellent theme for real estate trading. This theme has a variety of options for presenting and sharing specific information about your properties. Using this theme, you can quickly change anything you desire, from the user interface to pictures and more. You may also attract buyers by utilizing the retina and translation-ready features, secure codes, and other features.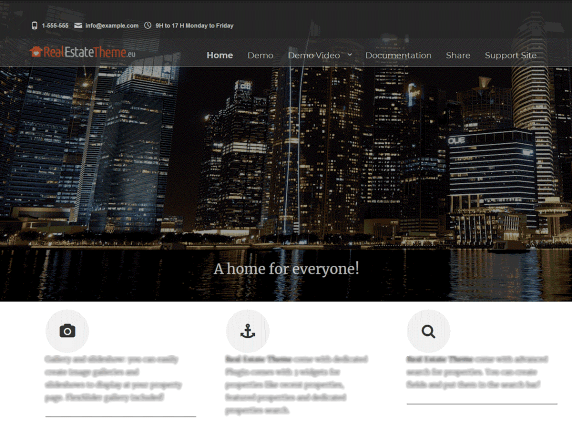 Real Estate Right Now is the ideal choice if you need a multilingual but various currency WordPress theme for real estate, brokers, and so on. This theme allows you to create your own property websites without the need for coding. This theme also has search and filter functionality, a responsive layout, three footer widgets, and other features. You may also change the color of your site from dark to light with a single click.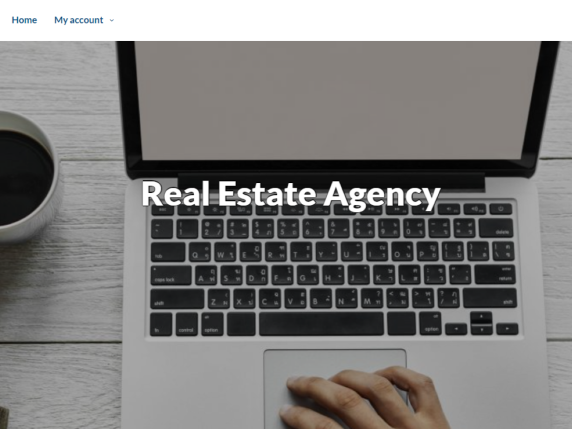 This is a WordPress theme that may be used for a variety of purposes. Real Estate Agency includes a variety of vital features for your site, like as SEO-friendliness, Gutenberg compatibility, WooCommerce connections, a 100 percent responsive layout, and other customization choices. This theme is appropriate for real estate agencies, businesses, photographs, news, blogs, portfolios, and other similar purposes.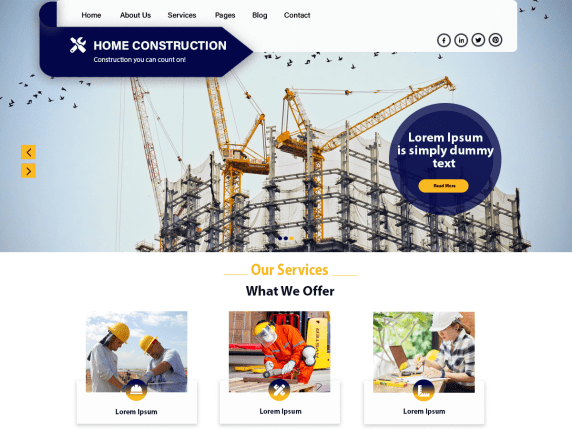 Home Construction is designed for landing pages, real estate, estate brokers, and other websites of a similar nature. This WordPress Theme includes a responsive layout, a basic design, Call To Action Buttons (CTA), and other features. Your site will load faster and faster when the code is optimized. Because it is built on the Bootstrap framework, you can easily alter everything on your site in no time. And there's more. Because of the SEO-friendly features, your site will successfully rank high in search engine results.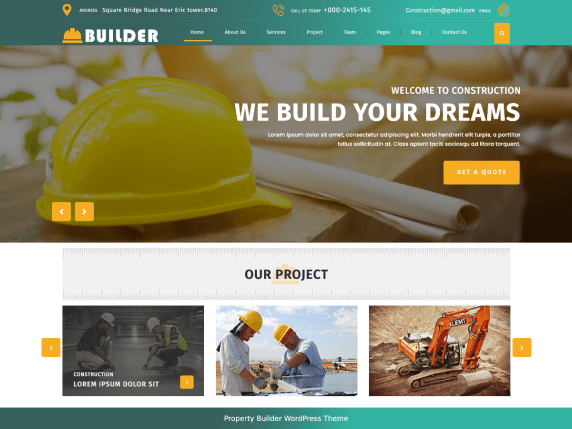 Property builder is appropriate for real estate, builders, architectural firms, interior design, and rent building, among other things. The Bootstrap framework serves as the foundation for this feature-rich theme. This theme's notable features are SEO friendliness, shortcode support, fast loading, and security codes. This theme also includes social media capabilities, allowing you to reach out to additional customers through various social sites. A fully responsive UI will also help your site render smoothly on any device.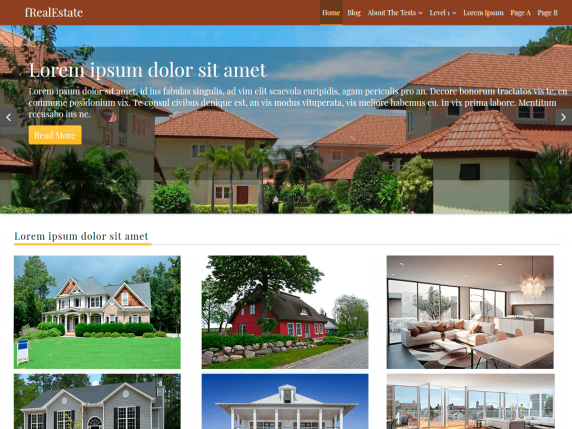 fRealEstate is one of the must-have WordPress Real Estate Theme that you should not overlook. This theme has a wide range of the amazing features such as Built-in Homepage Slider (Shown Only on a Static Front Page), Animation Appearing Effect, Custom Logo, Multi-level Drop-down Menu, Custom Background, 3 Columns Footer Widget Areas, Search Engine Optimized, Footer Menu, Footer Copyright Text, Multiple Browsers Support, and Translation-Ready are some of the features.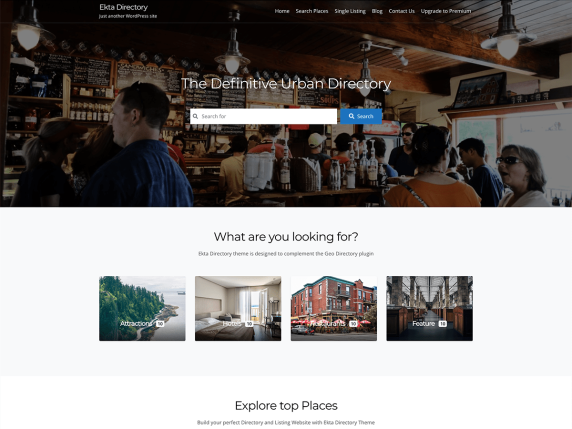 Ekta Directory is a visually appealing WordPress theme designed for directory and listing websites. It has a lot of features and capabilities, from a built-in super-advanced search feature to filter options to narrow down the search results. The Ekta Directory theme features a modern look, several customization possibilities, multiple demo variants, and is mobile-friendly. The Ekta Directory WordPress theme is ideal for job board, auto dealership, real estate, business, service, and other listing websites.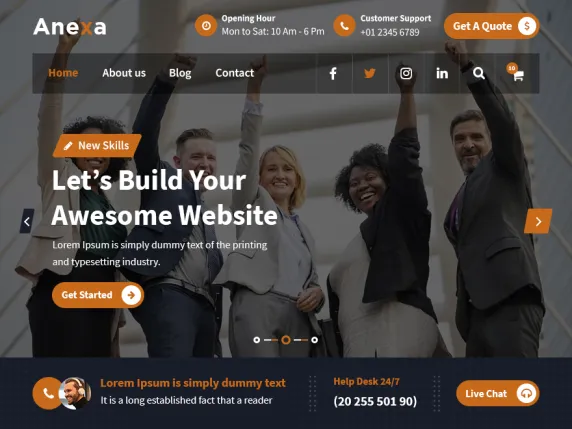 Because of its adaptability, Anexa is a Modern Multipurpose Business theme for Agency, Business, Real Estate, Construction, Startup, or any other unique website. It looks great on all modern browsers, mobile devices, tablets, and other devices. The theme has a plethora of customization options and settings, allowing you to adjust practically everything. If you enjoy creative designs and want to swiftly create a one-of-a-kind and professional website, Anexa is the place to go.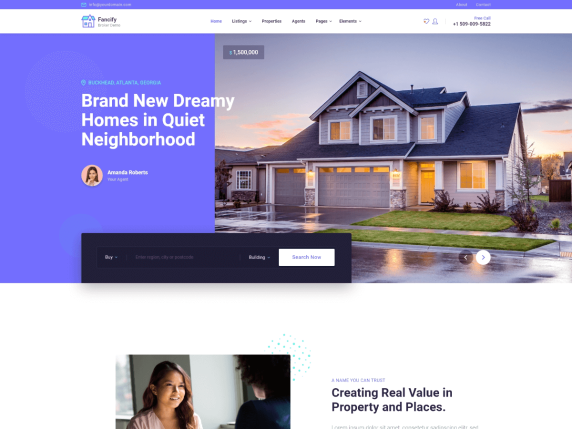 Fancify offers the most comprehensive real estate solution, replete with innovative and practical features. Fancify is a sophisticated real estate theme that includes everything you need to create a real estate website. Native elementor Widgets will allow you to construct your website exactly how you want it. This theme strictly adheres to web design standards. It has a dynamic customizer with a variety of theme options. The entire website is very responsive on the majority of platforms, including mobile, tablet, desktop, and retina displays, and it is also cross-browser compatible.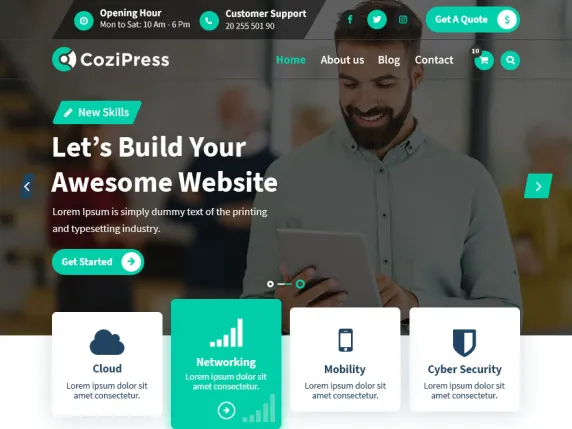 CoziPress is a multipurpose business theme suitable for agency, business, real estate, Construction, Cleaning Service, Startup, or any other individual website. It appears flawlessly on all modern browsers, mobile devices, tablets, and other devices. You can change almost everything with the theme's customization options and settings. If you enjoy creative design and want to quickly create a one-of-a-kind and professional website, CoziPress is the place to go.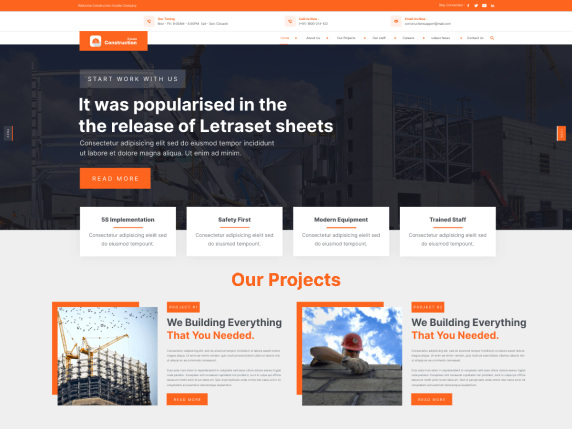 Construction Firm is one of the great WordPress Real Estate Themes that we want to show you. The theme's layout is completely customizable. This allows you to make any changes you want to the website without having to change the code. It is SEO-friendly and has a responsive design. With multilingual features, your website will be accessible to people all over the world. The bootstrap framework is at the heart of this Construction Firm Theme. This gives it strength and flexibility. It also features a retina-ready design.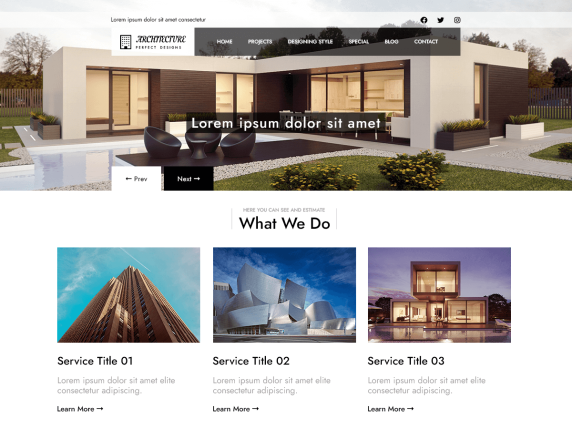 Modern Architecture is a wonderful theme that is ideal for architectural firms, professional architects, construction. This theme is one of the amazing WordPress Real Estate Themes that meets your demand. This theme's clean and sophisticated layout is ideal for your interior design and architecture website. Its professional design will not only result in an excellent website for architects, but it can also be used by businesses dealing in real estate and infrastructure. Everything is simplified because it is user-friendly and cleanly coded.
Industrial Lite is an industry-driven theme that can be used in any industry. It's a good theme for factories, real estate agencies, builders, house brokers, plumbers, and other industries. In case of interest, any type of business related to the industry, this theme is of immense suitability, and it has some mesmerizing features such as minimal ad elegance, total responsiveness with Bootstrap framework, and multipurpose nature. It also comes with personalization and customization options, making it an excellent choice for any type of expansion in the heavy engineering business.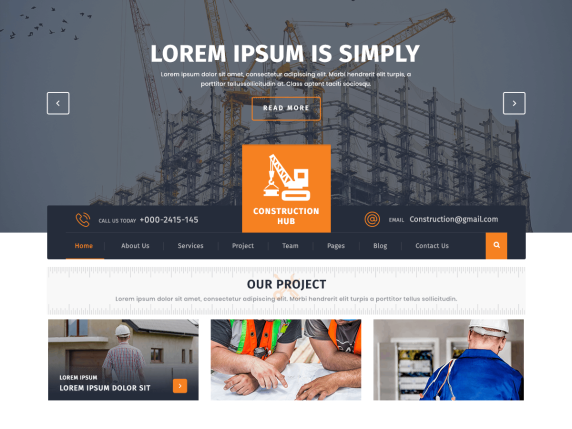 Construction hub is the best choice of a theme related to construction businesses and is ideal for companies dealing with construction engineering. If you are new to the real estate industry or an established player looking to expand globally, this premium category WordPress theme should be your first choice. It will provide a significant boost to your business due to the outstanding features that come with it. It is a model theme for architecture factories as well, thanks to its multipurpose nature in addition to being responsive to the core.
Final Words
We've compiled a list of Free WordPress Real Estate Themes to help you pick the best one for your site. Choosing the ideal real estate theme is critical for creating a high-quality real estate website. There are a number of free real estate WordPress themes available for this purpose. If you have any questions concerning this post, please leave them in the comments below.
You can also visit our Free WordPress Real Estate Themes to find an outstanding one that will improve the appearance and professionalism of your website!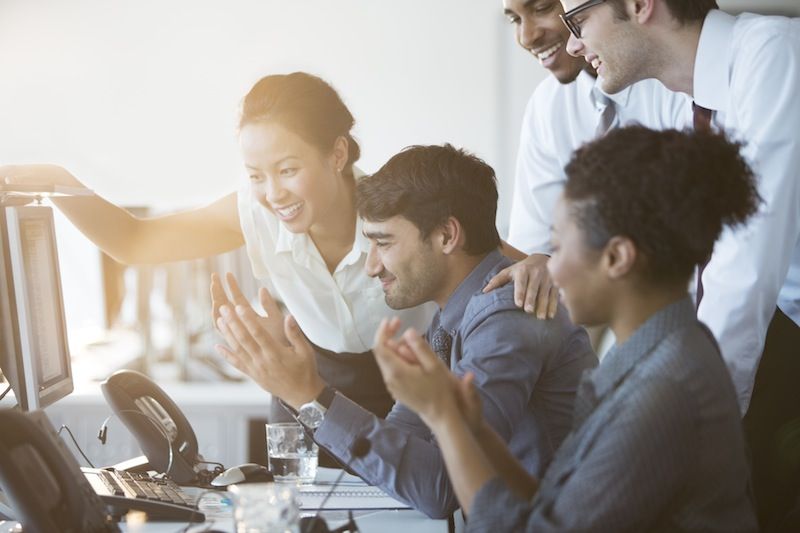 We're Digital Content Marketing team from AgeThemes Marketplace. We provide quality content for everyone who using open source CMS like Joomla and WordPress. If you have any questions or feedback, feel free leave your comment, we happy to assist you asap.