Traveling is one of those things that people remember fondly. And there's a reason for this! New culture, new sites, and new people with wonderful energy. As a result, if you are a travel agent, you must convey this amazing sensation through your website. That is why we have chosen the great WordPress Travel Themes in this article. Each of these templates can be used to present your services online.
Why should you use WordPress Travel Themes?
As we all know, there are many travel companies that are continuously expanding, and running their businesses properly in this competitive market is a difficult task. But how does anyone become aware of such travel agencies? The internet, of course, is available to everyone. Yes, the internet is important for corporate growth because it is recognized for the global sharing of news and information.
Therefore, a travel company requires a thorough, eye-catching, and professional website. A company's exceptional internet presence makes it simple for them to be known in their industry while also assisting with the expansion of their business.
Top Impressive WordPress Travel Themes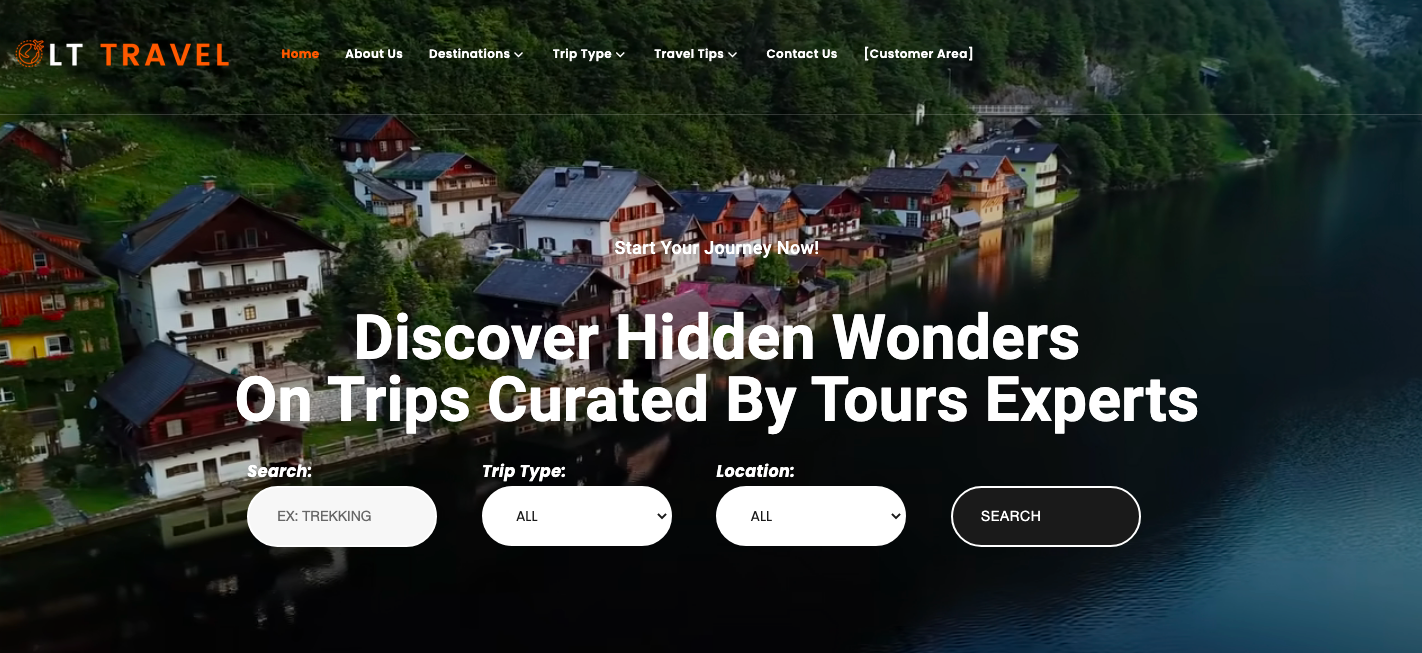 LT Travel is a vibrant and clean free responsive travel WordPress theme designed for hotel and travel websites. Furthermore, it enables clients to discover the best travel insurance plan. Because this theme is built on a sophisticated framework that is fully bootstrap compatible and supports powerful shortcodes, you can quickly create a perfect website in your own style. Furthermore, this clever theme has a fully adaptable layout that adapts to different screen sizes seamlessly.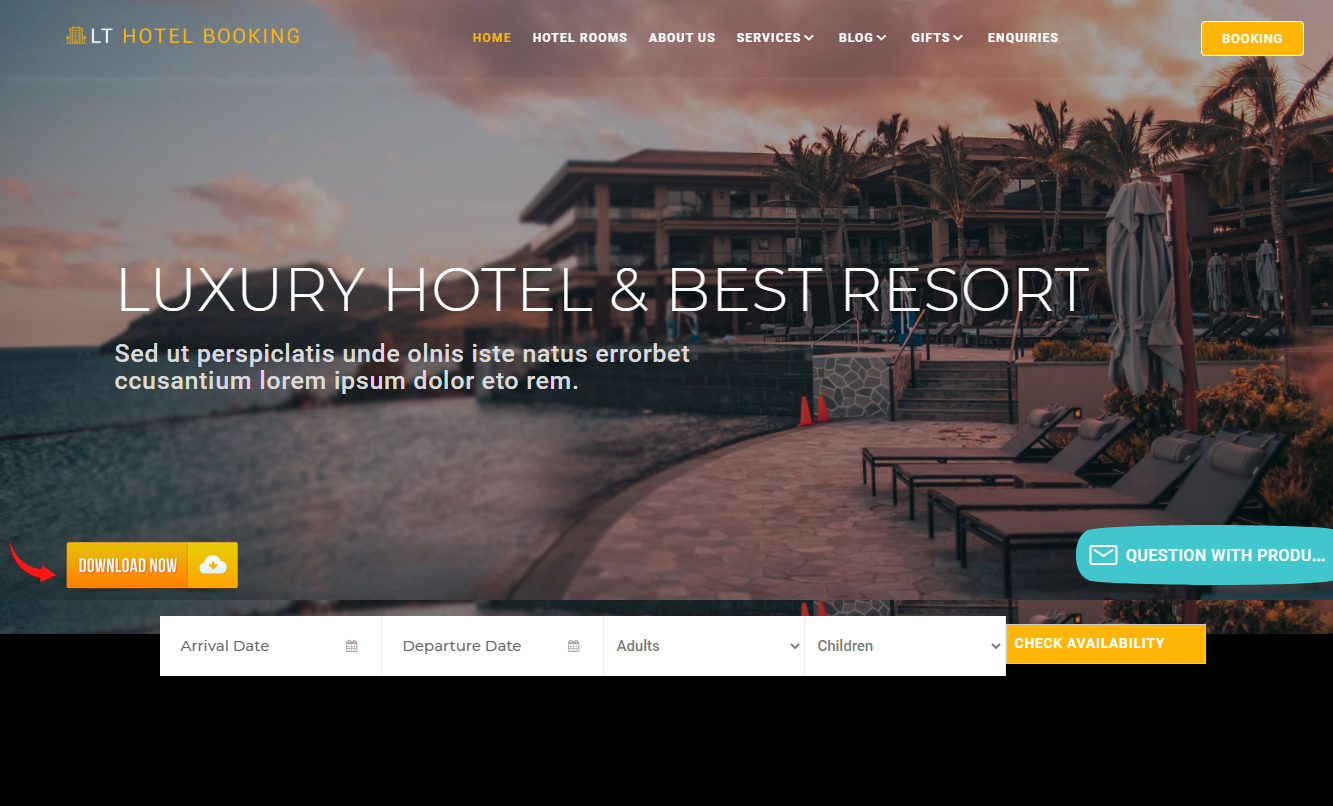 LT Hotel Booking is an excellent choice for hotel booking websites. Moreover, this theme is suitable for travel agencies. By using this theme, you can take full advantage of the support provided by Elementor Page Builder and WooCommerce, which allows you to effortlessly develop, tweak, and sell your items and booking-related services. It also includes a fully responsive layout that can be optimally suited to any screen resolution.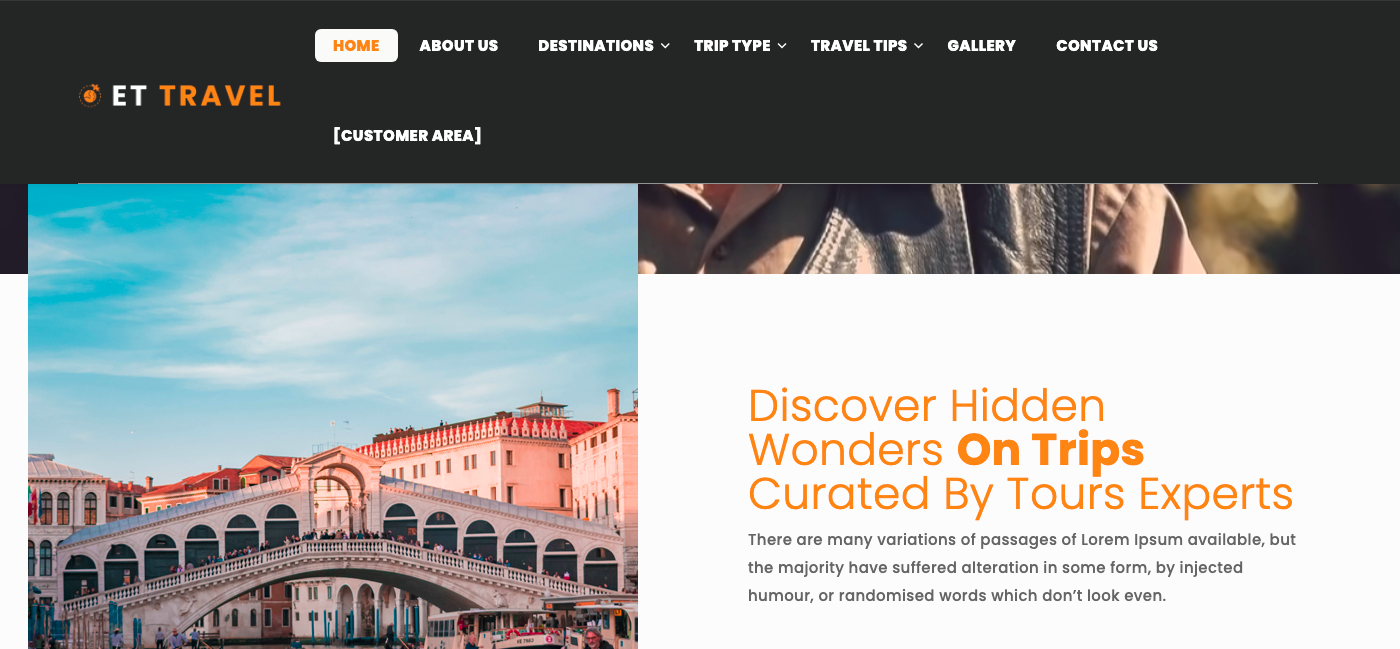 ET Travel is a premium one-of-a-kind WordPress theme aimed for travel agents and tour guides. This theme is straightforward to adopt, cost effective, and visually appealing because it is built with the Genesis Framework with WooCommerce shopping cart integration. Our Travel Theme is not only visually stunning, but also adaptable, allowing you to address a diverse clientele.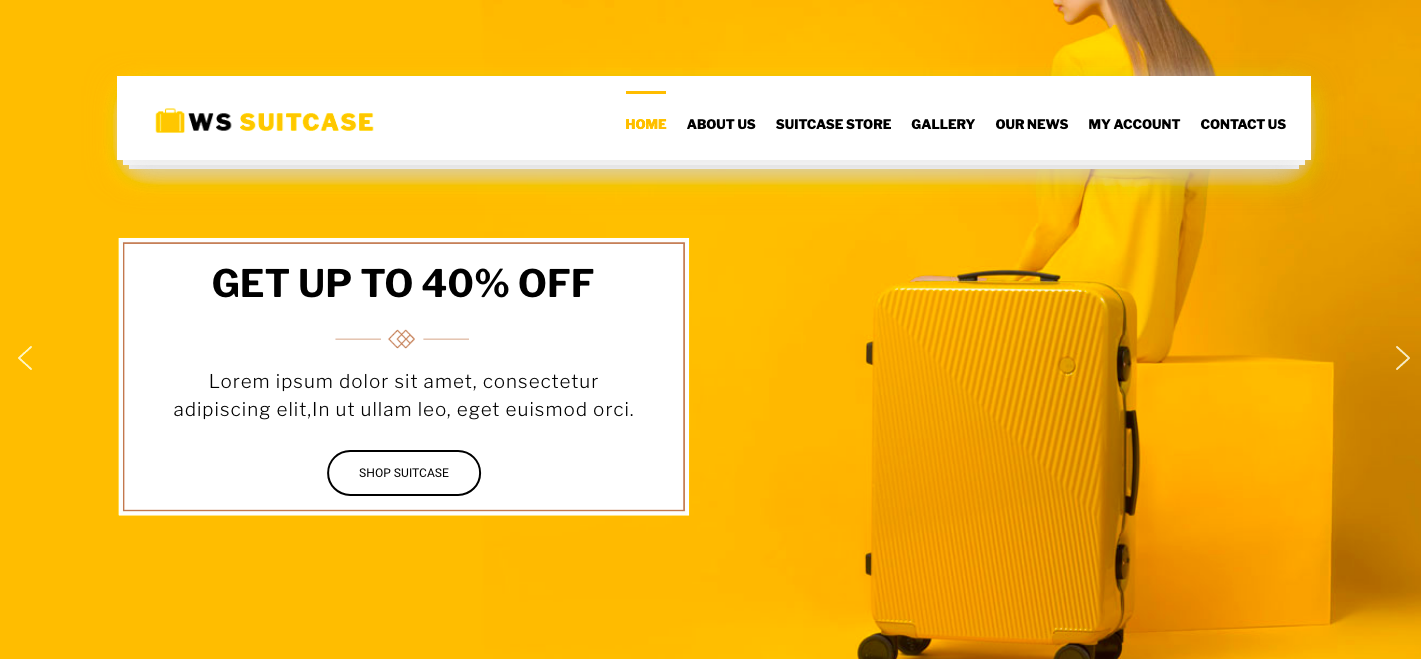 WS Suitcase is a responsive WordPress Travel Bag template that was created just for suitcase and travel bag online stores to promote and sell their high-quality and visually appealing products. The WordPress Travel Bag template has a good appearance and various advertising ideas, saving you a lot of time while creating an awesome look for your site. This theme creates many eye-catching spaces with gorgeous design for displaying best sellers, new trends, sale promotions, or advertising new arrivals, and it will draw customers' attention very well.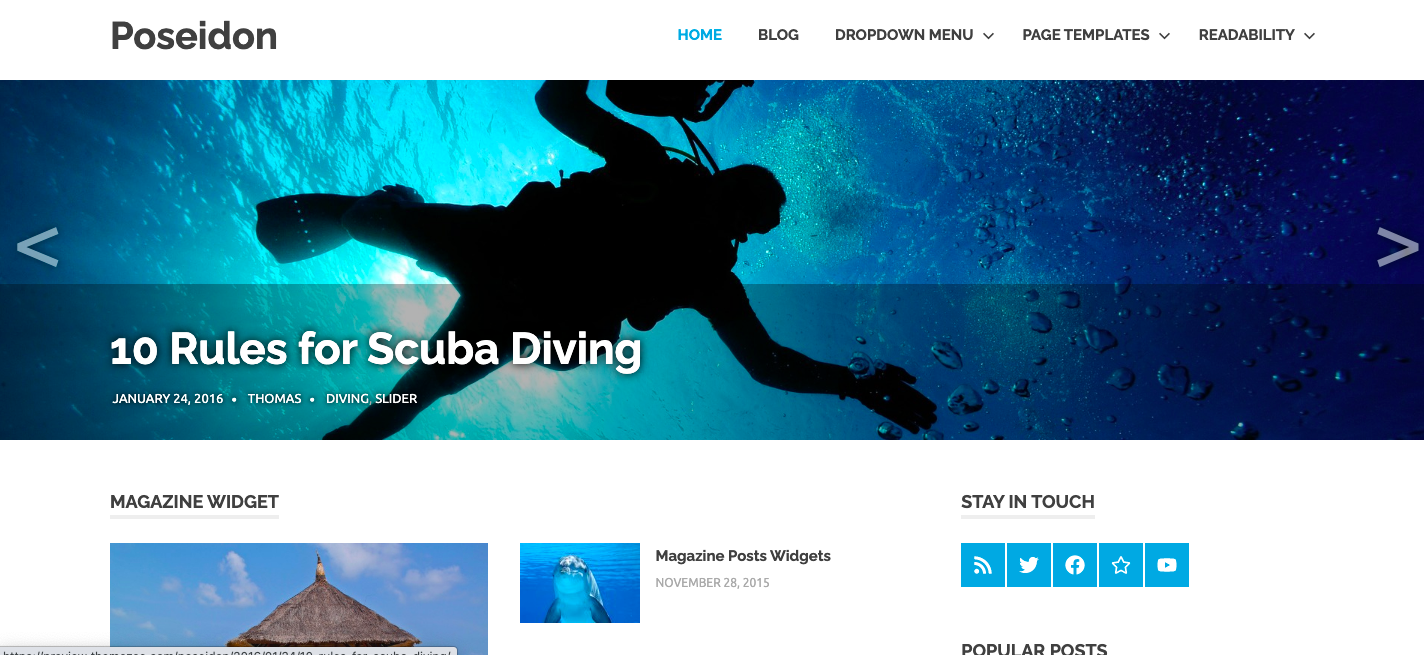 If you're looking for a WordPress Travel blog theme, Poseidon is a terrific option. Using this SEO optimized theme, you can easily manage your blog's layouts and blog sections. Poseidon not only has a customized drop-down menu, but it also has a stunning fullscreen picture slider. Poseidon also offers a plethora of customization choices, ranging from layout settings to background and color changes. Moreover, Poseidon has been built to be fully mobile and cross-browser compatible.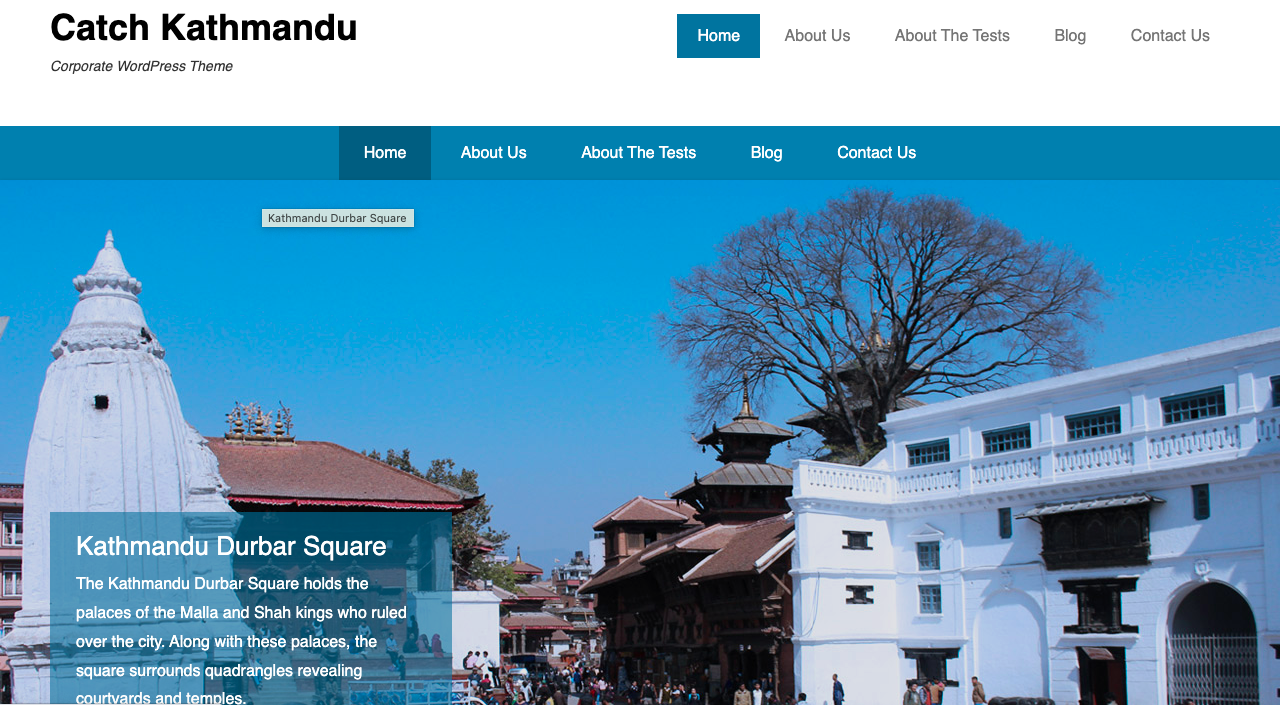 The Catch Kathmandu Theme is a fully responsive WordPress travel theme that looks beautiful on all devices. It is a full-featured WordPress theme that is simple, clean, and lightweight, and is built using HTML5 and CSS3. The design is highly customizable, and you can personalize the display with a few simple clicks. If you're searching for a clean professional space that can handle your visuals while still giving you plenty of textual space, Catch Kathmandu is the place to be.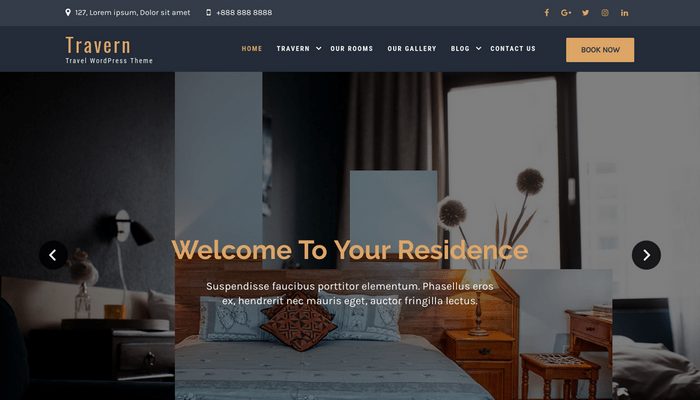 Travern is a WordPress Travel theme built for travel agencies rather than travel blogs. Using Travern, you can create a marketing platform for your hotels and travel agencies. Its basic yet effective layout design aids in the promotion of your services through the use of featured sliders, icon text boxes, and image galleries. For improved website navigation, use Travern's fully customized drop-down menu.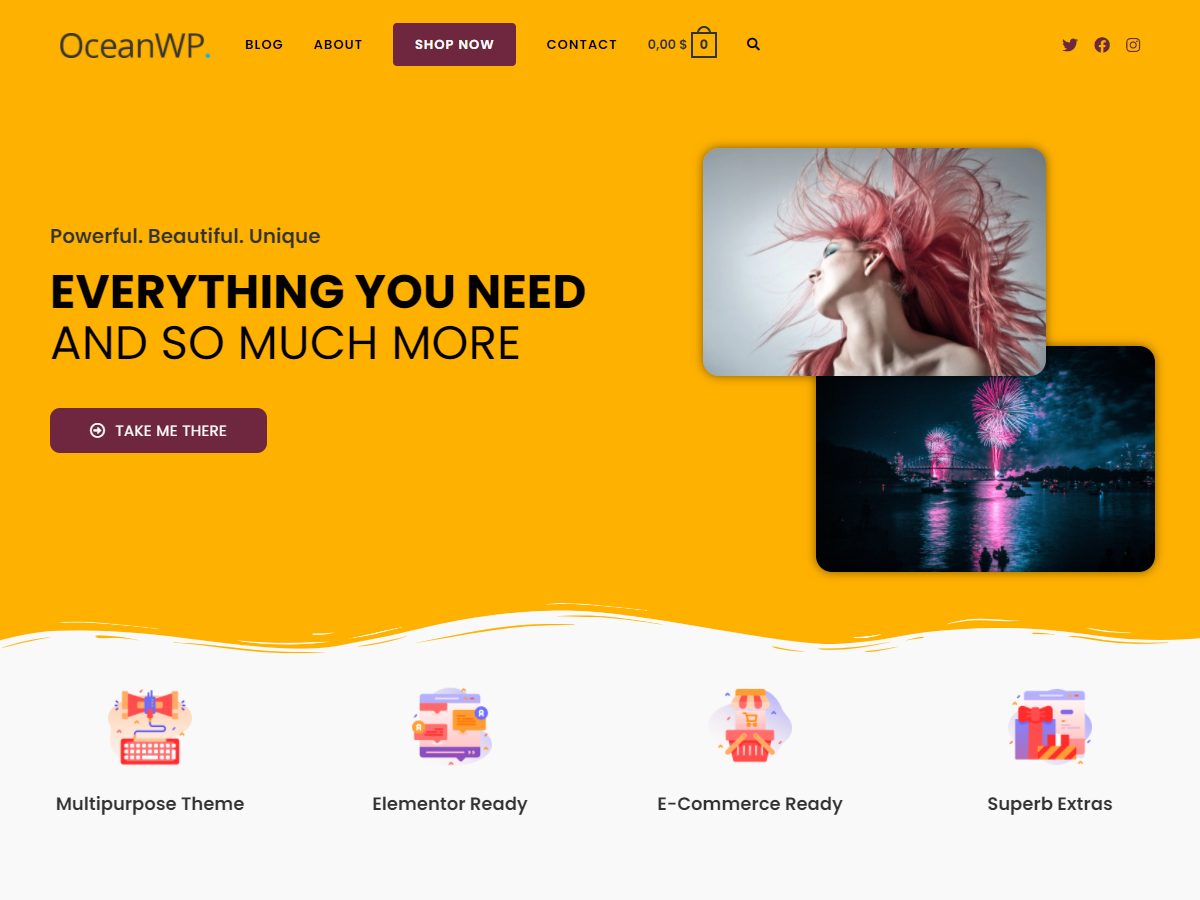 OceanWp provides you with a highly customizable blog, and its gallery features make it an excellent choice for vacation blogs. Using OceanWp, you may create beautiful trip portfolios and blog to your heart's delight. OceanWp is widely regarded as one of the most popular WordPress themes on the market. And for good reason: this fantastic theme includes a plethora of custom widgets and extensions for a more refined blogging experience. Furthermore, OceanWp includes a handy one-click import option.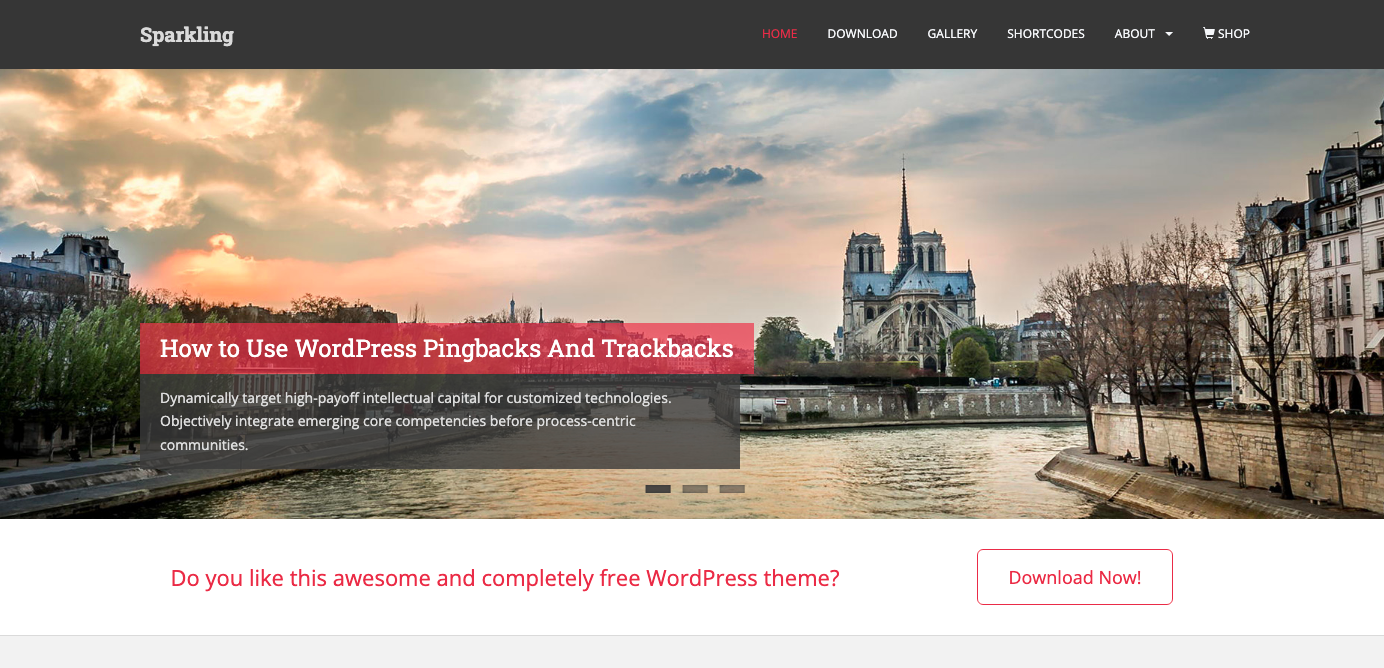 Sparkling could be a good choice if you want some modern WordPress travel themes with a flat and clean design. This delivers a dazzling array of mobile-friendly features, making your blogs easy to consume directly from the comfort of your viewers' mobile phones. You can also utilize Sparkling to access a plethora of useful widgets built just for trip blogging. Furthermore, while Sparkling is a blog-friendly theme on its own, you can activate a fantastic Masonry-styled gallery grid.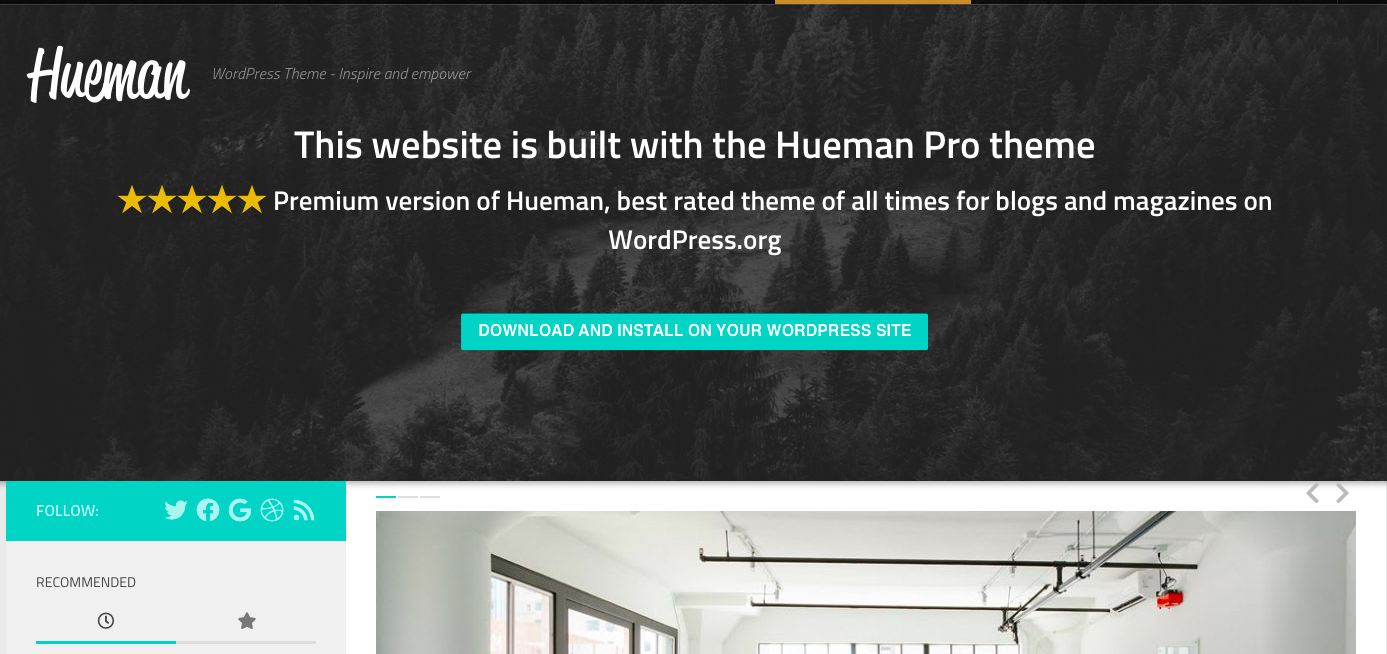 Hueman offers a fantastic travel blog design to help you increase traffic and engagement on your website. This high-resolution WordPress blog theme is intended for high-resolution PC and mobile devices. This enables your blog to be lightweight and responsive, as well as more mobile-friendly. Manage your blog's layouts and page design to an absurd degree with Hueman's plethora of theme options. You may style a variety of aspects on your website, including the header, colors, and footers.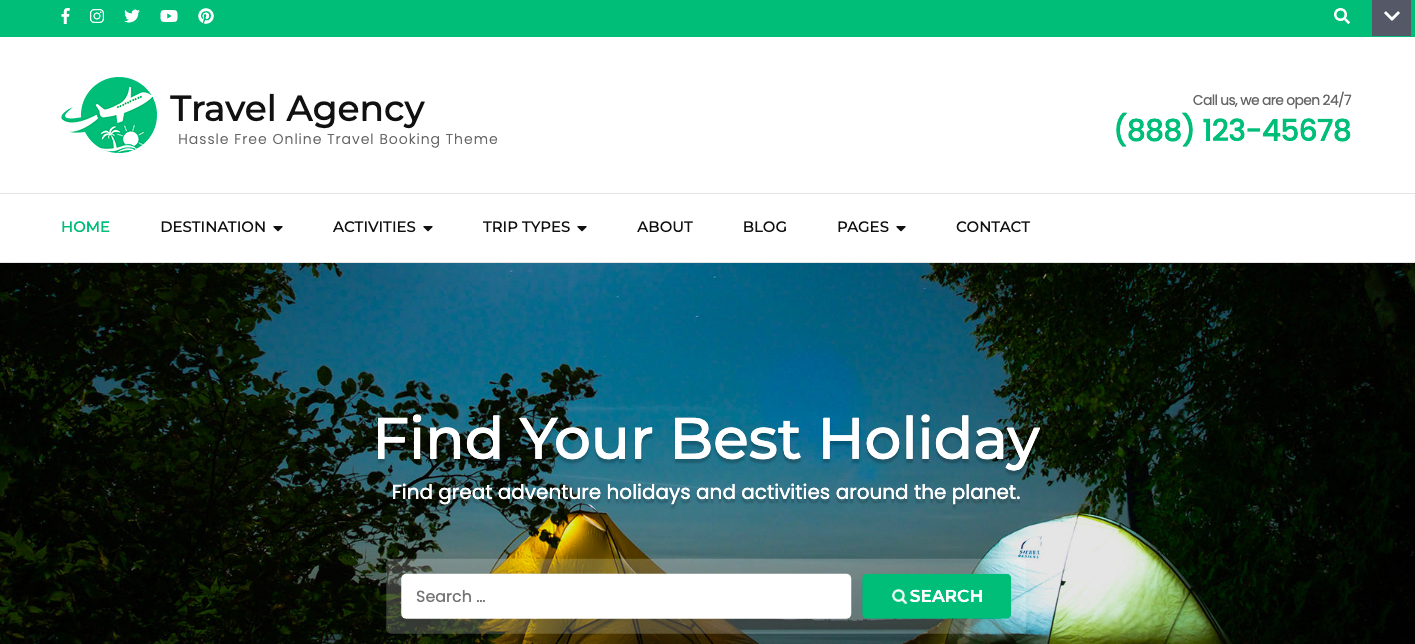 Travel agency is one of the highly-rated WordPress travel themes that can assist you in developing a web presence for your tourist business. Directly from your website, advertise and display tourism packages, vacations, adventure activities, and more. Your customers can sign up for your services directly from your website by using a travel agency and its quote/reservation forms. Its connection with the WP travel engine plugin makes it the ideal plugin for tourism.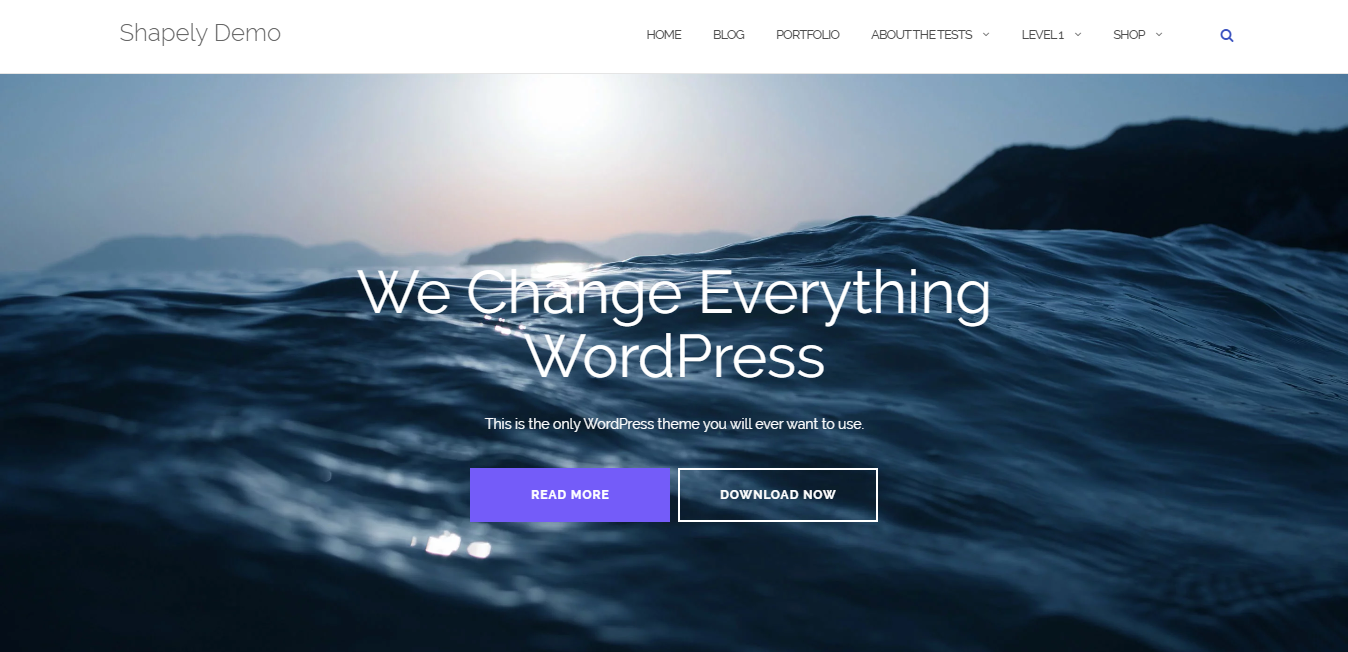 Shapely is an excellent example of how one-page designs can perform well for WordPress Travel themes. This one-page flat design theme comes with a plethora of useful widgets to spice up your home page. Shapely is also fully compatible with all third-party plugins and page builders. Shapely allows you to use any WordPress plugin, such as WooCommerce, Elementor, or any other blog-related plugin, to your heart's desire. Using this fantastic WordPress travel theme, you can help your blog or tourism firm thrive.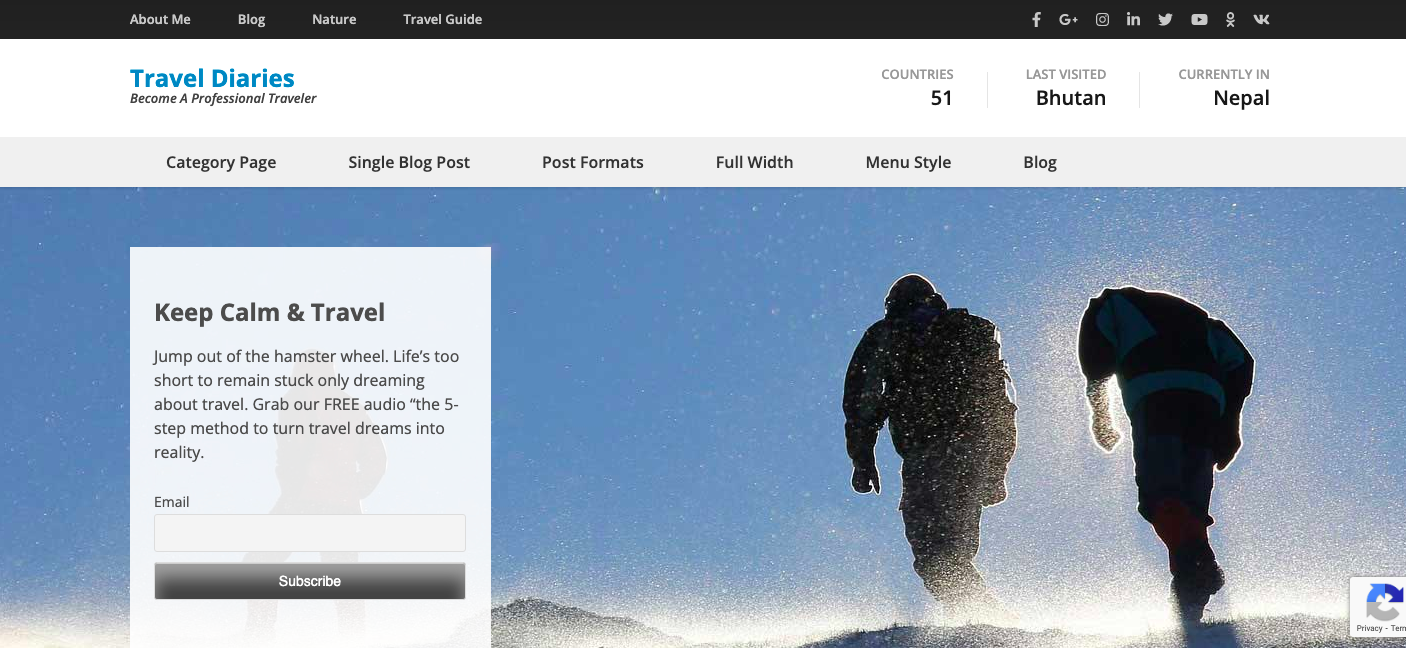 If you're on an adventure, you'll most likely have a lot of interesting stories to tell. Why not consider utilizing Travel diaries as your platform for sharing these incredible stories? Travel diaries offer a simple and easy-to-manage blog layout that is ideal for the modern explorer. Its personalized home page has a plethora of fascinating areas for your blogs. Furthermore, Travel diaries include a plethora of theme customization and layout possibilities.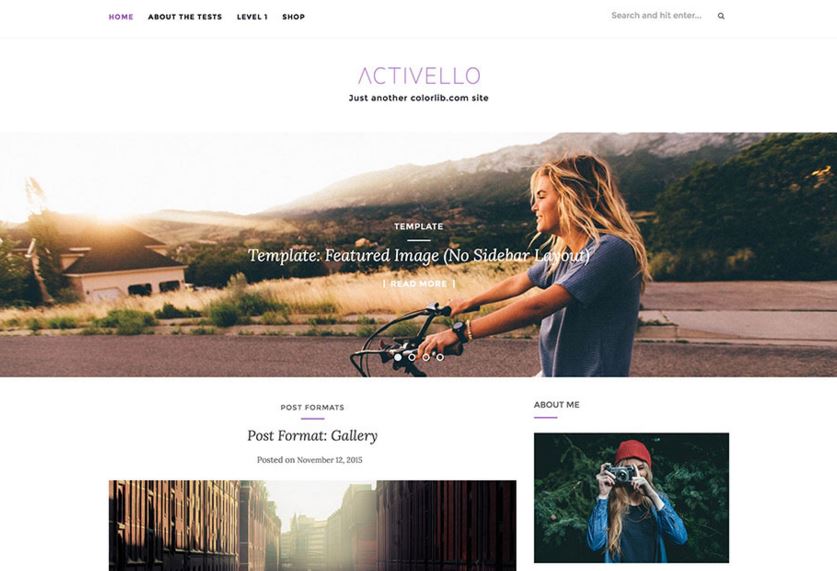 Activello is one of the great WordPress Travel themes designed to let you convey your passion for adventure and travel. This extremely adaptable blog theme is ideal for pairing with an incredible image gallery for your trip blogs. Furthermore, the search bar and category filtering tools might help to optimize your website's navigation. Activello also has Post options tailored exclusively for WordPress Travel blogs. In addition, Activello provides unlimited scrolling through your blogs.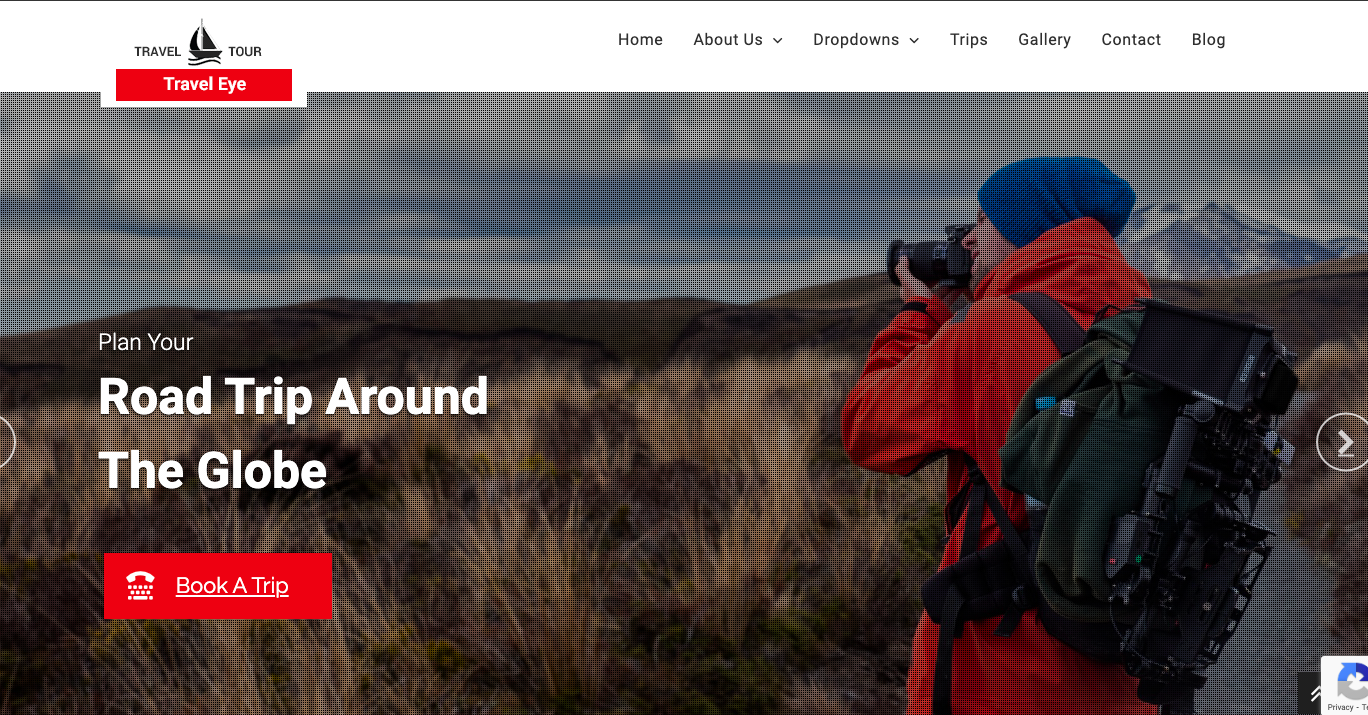 If you're looking for a fantastic free WordPress travel theme, take a look at Travel Eye. Its clean and professional style makes it ideal for professional tour companies, hotels, or tourism operators. With this free theme, you can effortlessly enable parallax effects, beautiful drop-down menus, and custom widgets. Make use of a fullscreen flex slider, call-to-action buttons, tour package listings, and other features. You can advertise not only in the services and package offerings areas, but you can also use Travel eye's bespoke online reservation form.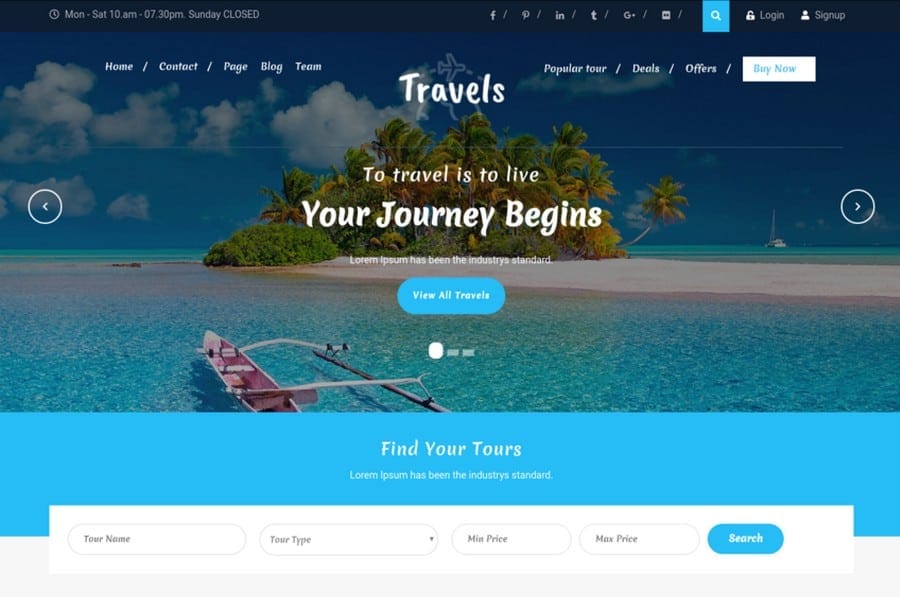 This free WordPress travel theme is an excellent tool for creating a stunning, eye-catching, modern, and clean website for travel agencies, travel publications, and all other enterprises involved in the tourist sector in some form. To make it stand out, this theme contains numerous features like a responsive layout, SEO friendliness, Block Editor Styles, Custom Menu, and many more. You don't have to worry about not having programming skills with this theme because it's simple to use for both a professional coder and a WordPress rookie and can be translated into a wide range of other languages.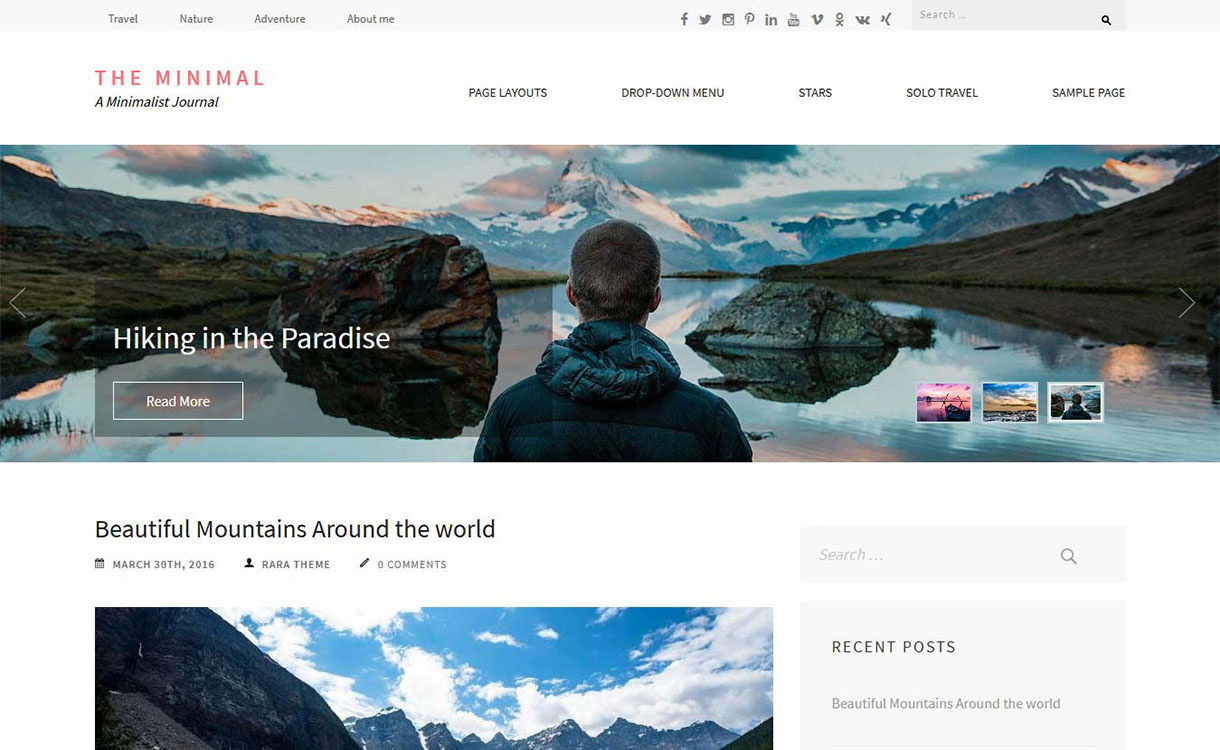 The Minimal is a minimalist WordPress theme designed for blogs. It is designed to give your travel blogs a clean and distinct appearance. Furthermore, this ultra-responsive WordPress theme combines a clear color palette with minimal yet attractive font elements to enable your blogs to display the entire facts of your experience in an amazing manner. This guarantees that the emphasis on your blogs is always on the text. This theme is cross-browser compatible, which means your viewer will have more accessibility as well!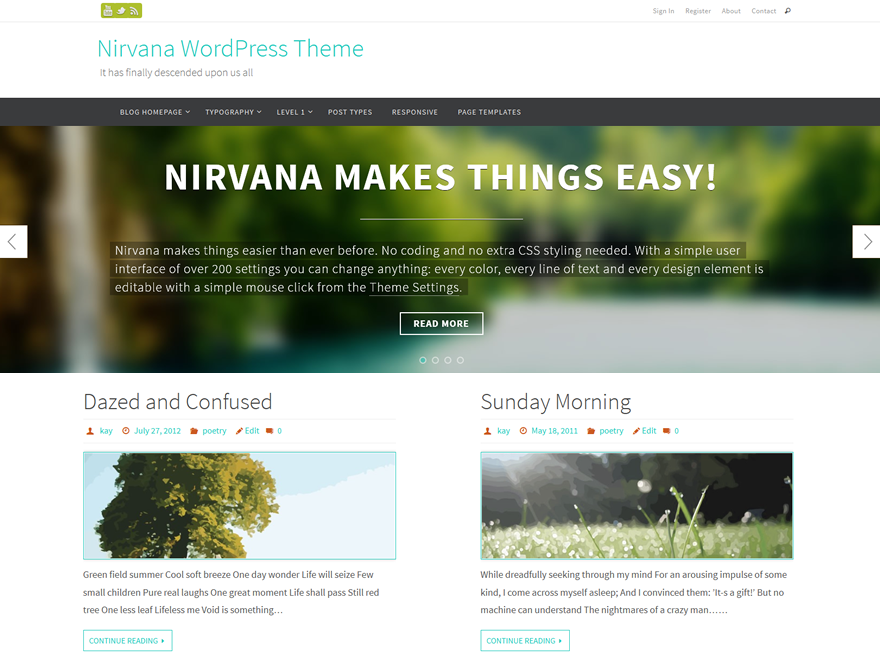 Nirvana, an awesome WordPress travel blog theme, allows you to explore the heavens and tell your adventures all over the world. This free WordPress theme includes over 200 settings for a completely customizable WordPress experience. Make use of a plethora of font, layout, color, and page options, among other things. You may also select predefined color schemes to quickly and easily build up your website. You may easily employ an excellent Image slider, an eye-catching portfolio gallery, and well-crafted call-to-action elements to get adequate viewer traction.
Writee is a blogger-friendly WordPress theme from the ground up. This free WordPress theme has a pixel-perfect design that is entirely responsive and mobile-friendly, making it one of the most popular WordPress themes accessible on the web. Using Writee, you can create amazing header options, a bespoke fullscreen carousel, unique widgets, custom-designed sidebars, and more. Furthermore, Writee includes WooCommerce compatibility in case you wish to commercialize your website.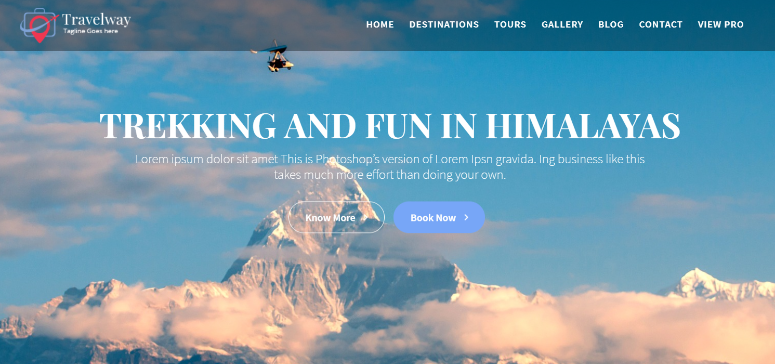 Travel Way is a fantastic and very responsive WordPress theme for any type of travel agency, tour operator, or owner of a travel business. It provides a lot of freedom and options for setting up destinations and trip packages. Owners of travel businesses can display services, galleries, booking forms, blogs, testimonials, teams, and other facets of their businesses. It can also serve as a portfolio page for solitary travelers or travel guides. It integrates with WooCommerce and offers a special function of online booking, allowing consumers to book their packages online.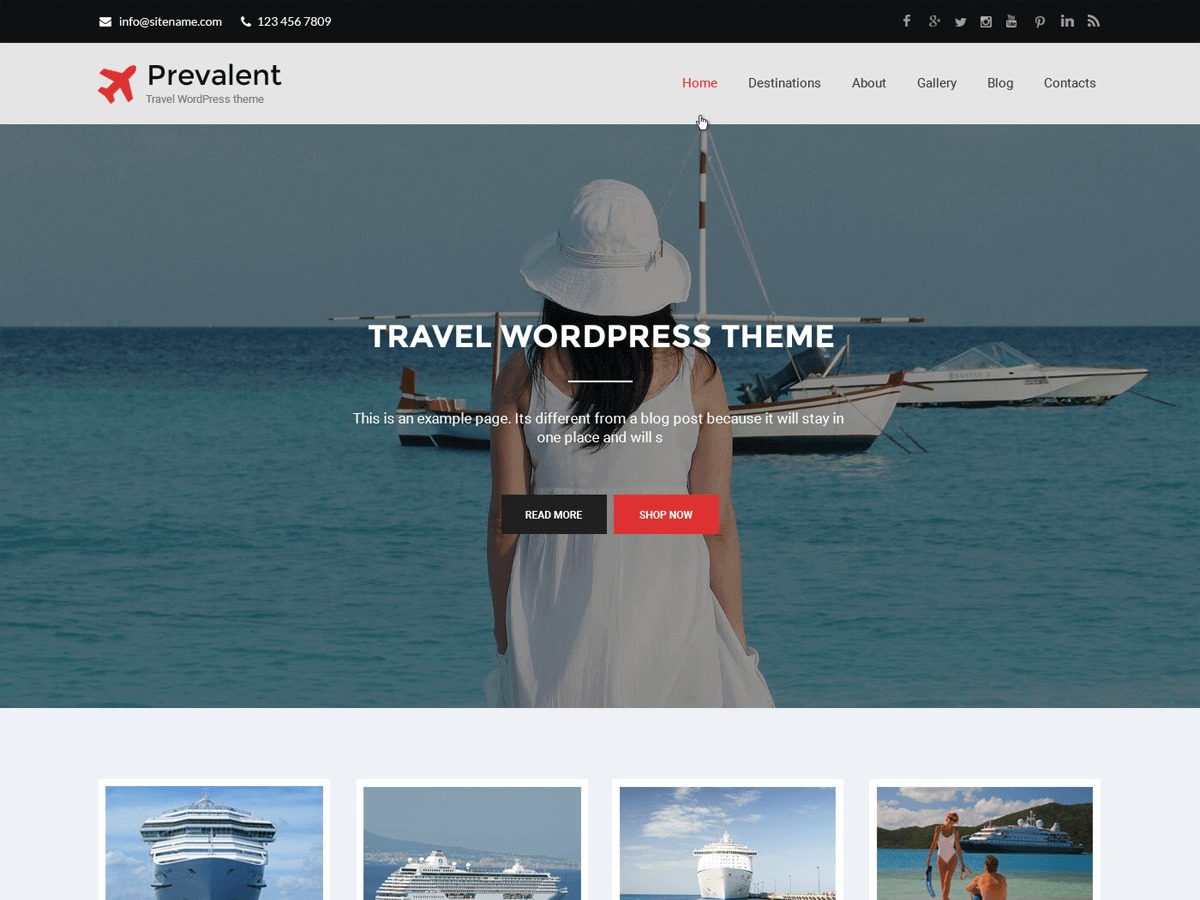 Prevalent is a fantastic, modern, catchy, and professional free travel WordPress theme ideal for travel companies, adventures, tourism, travel blogs, and other personal travel-related websites. This multipurpose WordPress theme promises to improve every area of your travel website via the use of advanced tools and new features. This theme is totally responsive and retina-ready, with brilliant colors, Google fonts, and stunning images. Furthermore, it is cross-browser compatible and SEO optimized.
Travel Biz features a premium-looking design that distinguishes it as one of the top free travel agency WordPress themes. As a result, if you want your travel agency website to look professional, this could be the theme for you. If you go with the free edition of Travel Biz, you'll get a nicely-designed homepage theme as well as some other page designs. Custom widgets and a variety of customization options are also available to help you customise your website.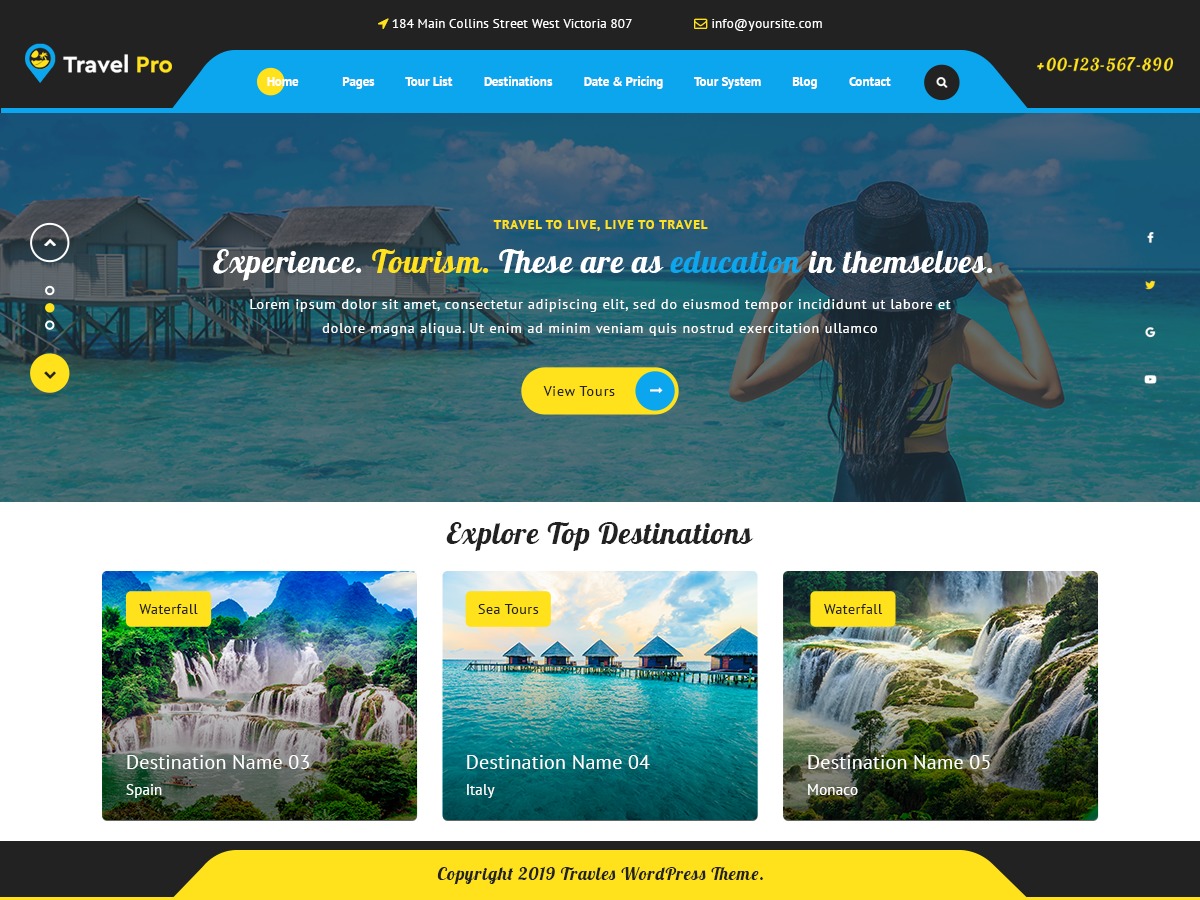 VW Travel is a good name when it comes to themes relating to the travel business or any type of international travel agency. It is also a good and very applicable solution for tour planners and tourist guides, as well as a nice option for travel and adventure blogs and travel magazines. It is a translation-ready theme, which is particularly unique in the travel business because the very term travel implies traveling across the world and interacting with different languages, cultures, and civilizations.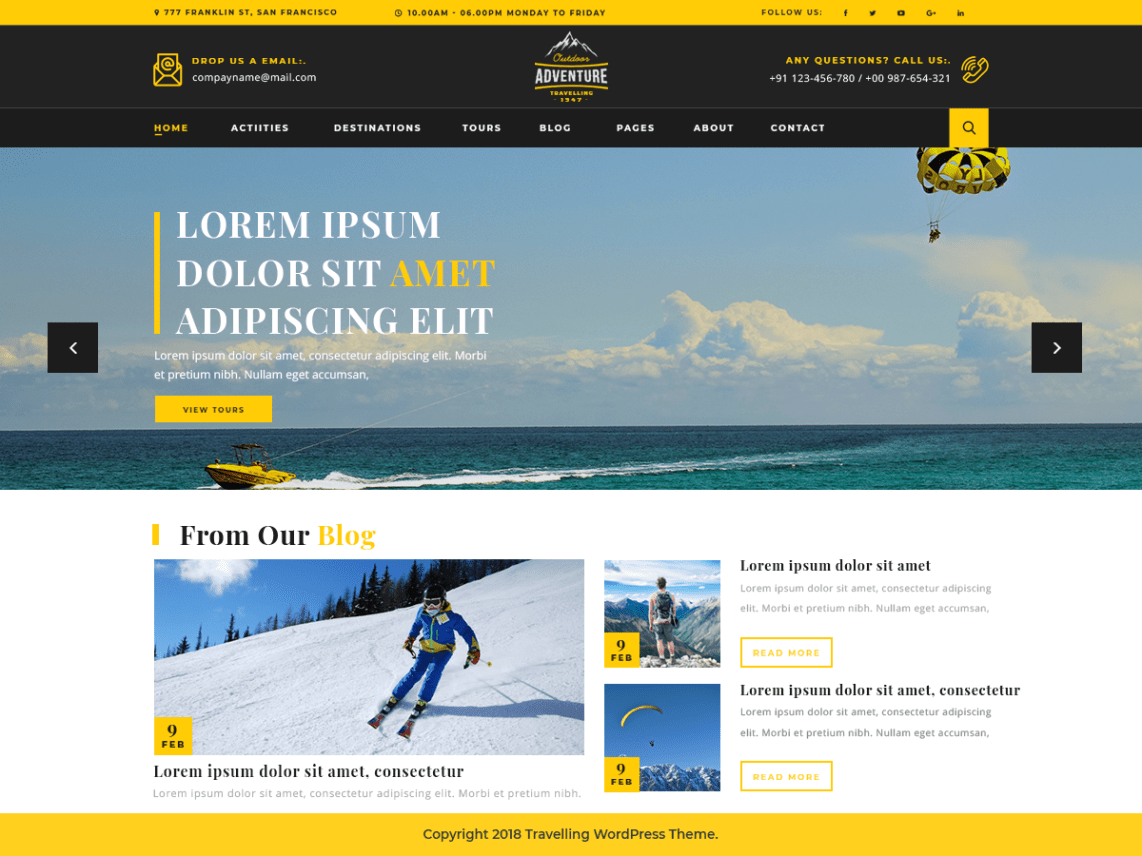 Adventure Travelling is one of the gorgeous WordPress Travel Themes that is intended for travel agencies, tourist destinations, tour guides, and more. Its design will satisfy everyone in this field's need for an appealing website. This framework also serves the primary goal of making the site flexible to various screen layouts and sizes. Its design will put your content in the spotlight. The free travel agency WordPress theme has been cleverly developed to direct your customers to your area of expertise.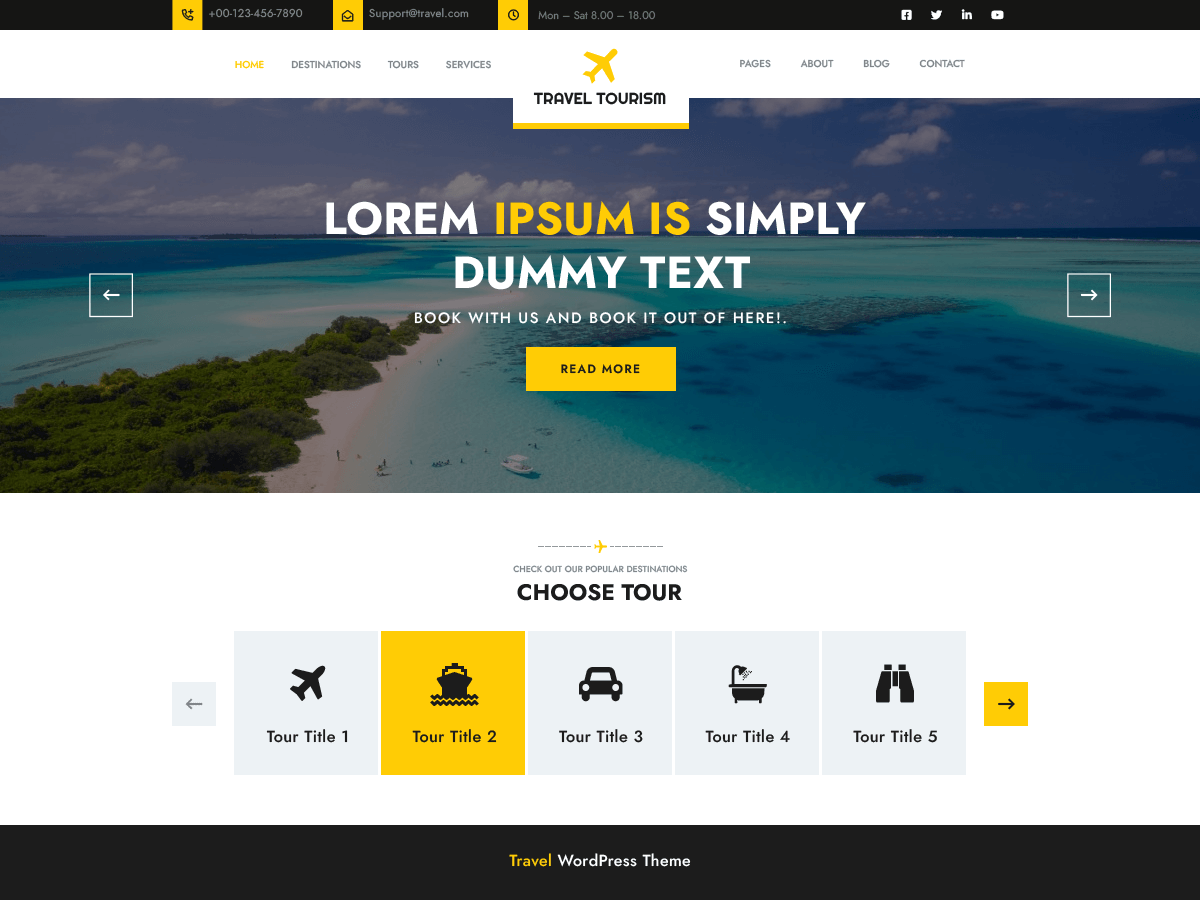 Travel Tour, a simple and stylish WordPress theme, is poised to become one of the greatest minimalist WordPress Travel Themes. A complete and professional travel website will be developed in no time thanks to its wonderful appearance. It loads exceptionally quickly, so every page and link on your site will open quickly with every click. You can share your social networking profiles, such as Facebook, Instagram, Twitter, and LinkedIn, on your website's top page.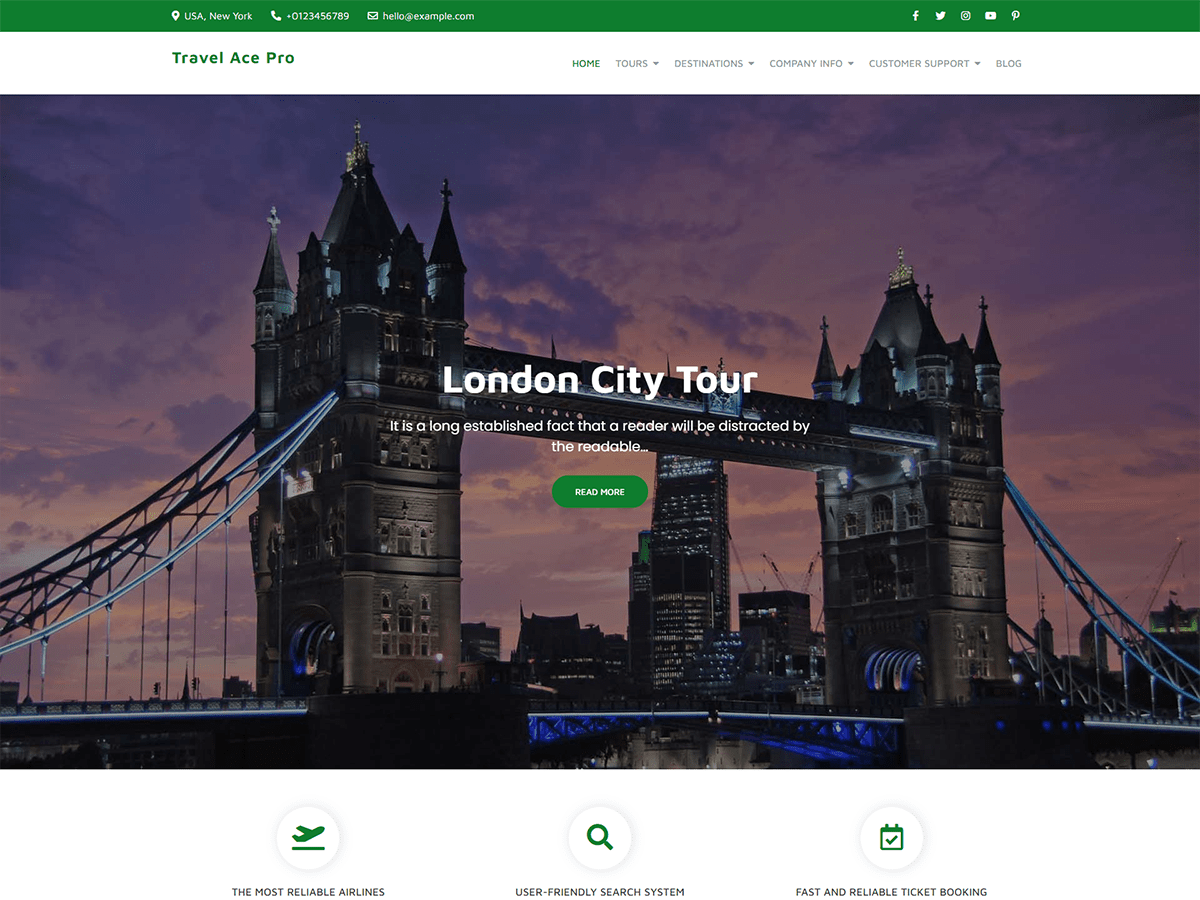 Travel Ace is a responsive modern WordPress theme designed for tour and travel agencies. This theme was created using cutting-edge WordPress technology. Travel Ace has a responsive layout, which means it looks amazing on all devices. It contains a predefined aesthetic as well as several functionality designed specifically for tour operators, travel agencies, and travel bloggers.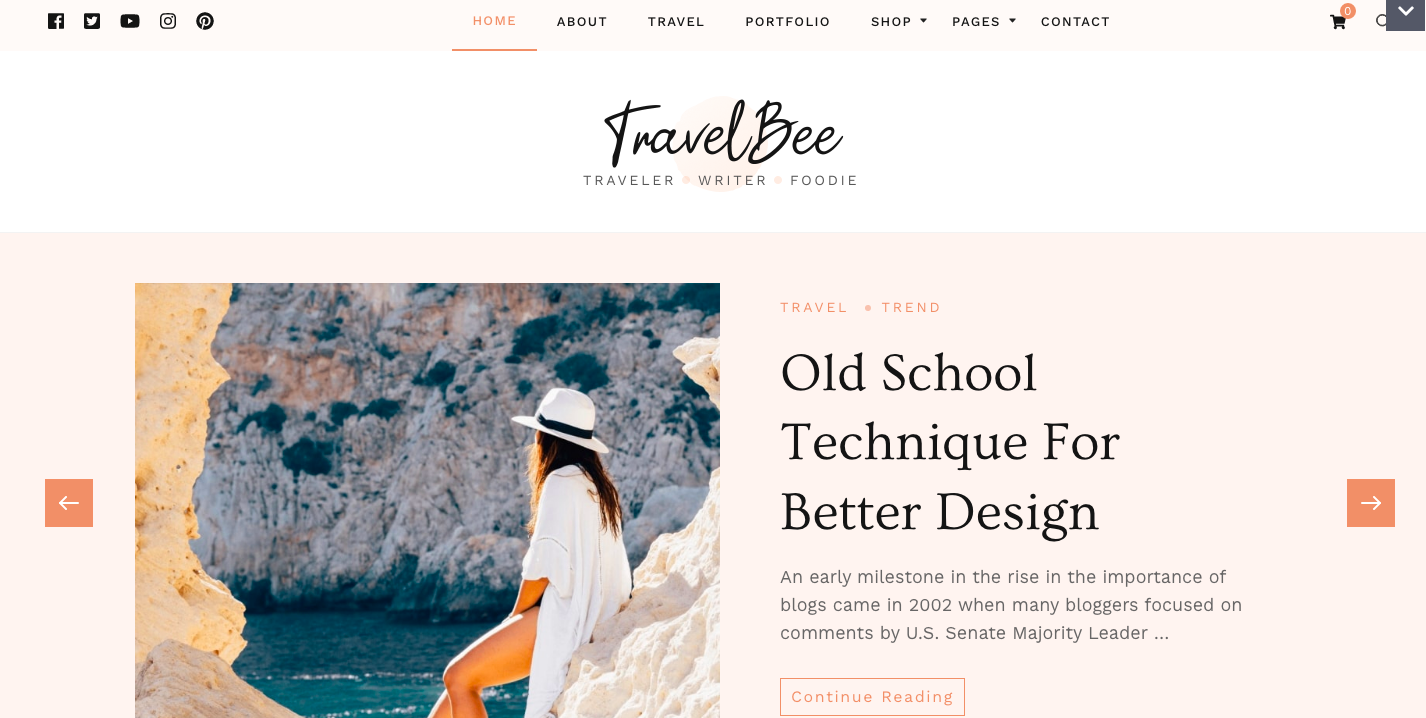 Among a list of Free WordPress Travel Themes, WEN Travel Photography is the best choice. The theme is appropriate for a wide range of modern photography blogs and websites. This theme features a modern photography design that is appropriate for all types of photography blogs and other photography-related companies. This free photography theme provides a plethora of crucial functions and sections. All of the previously described sections are entirely responsive and quite simple to use.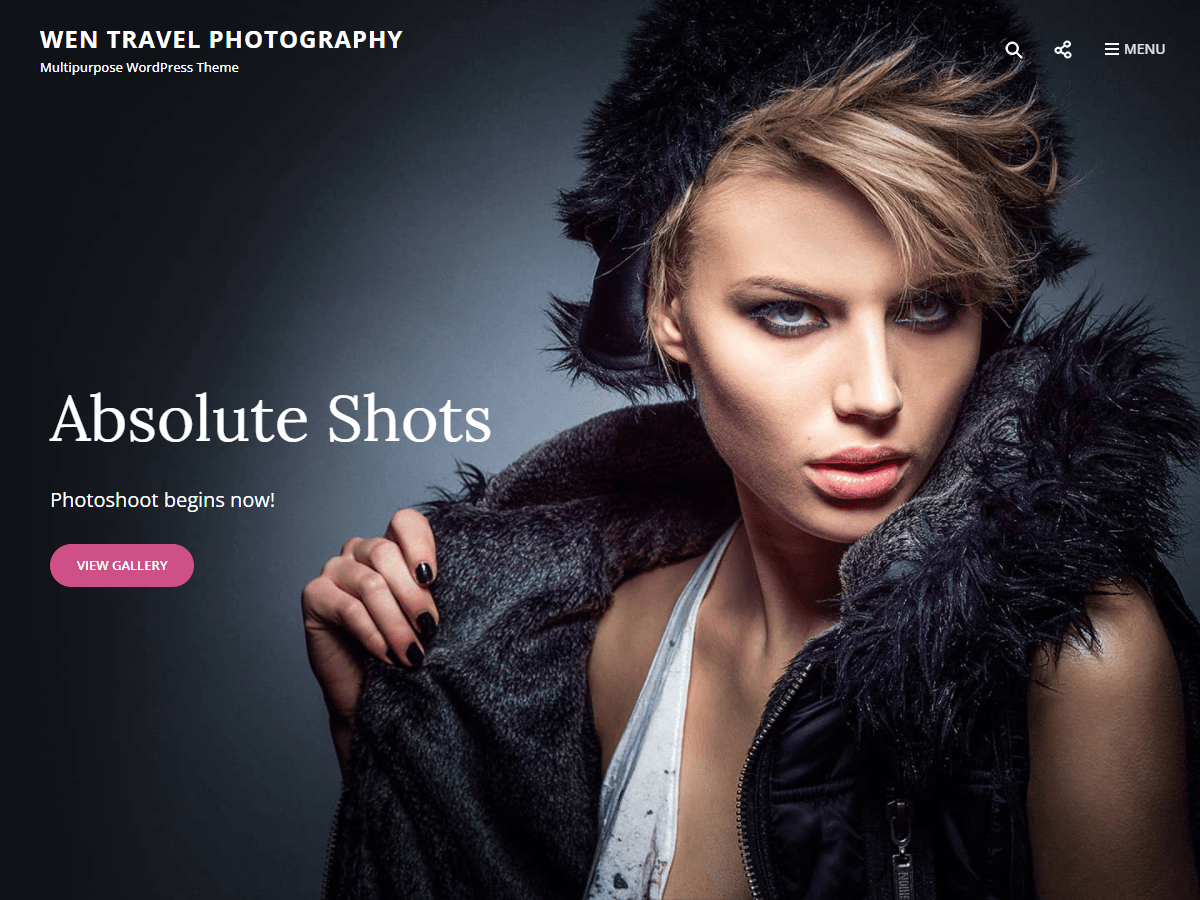 WEN Travel Photography is a child theme of WEN Travel, a WordPress theme for versatile travel. This theme features a modern photography design that is appropriate for all types of photography blogs and other photography-related companies. This free photography theme provides a plethora of crucial functions and sections. All of the previously described sections are entirely responsive and quite simple to use.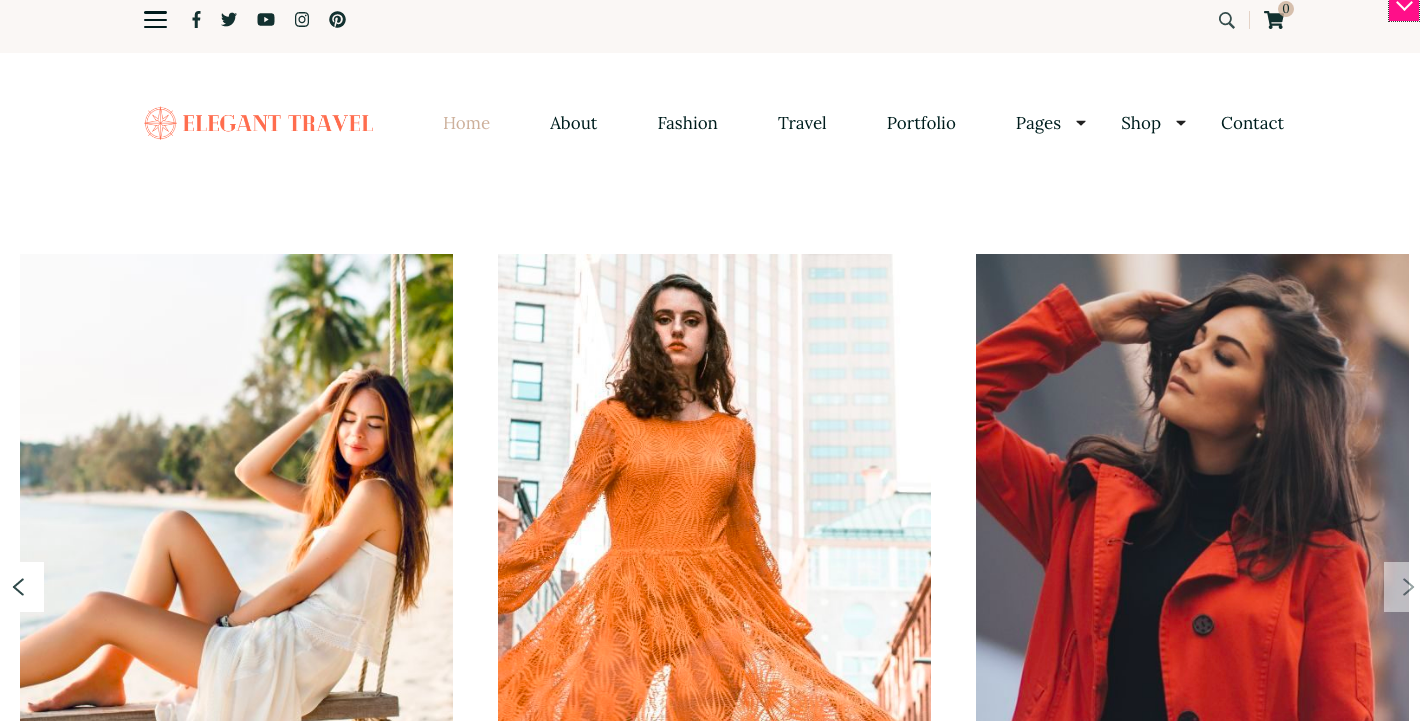 Elegant Travel is one of the must-have WordPress Travel Themes that is simple to use and mobile friendly. It is optimized for speed and SEO to help you rank higher in search engines. With this theme, you can change the look and feel of your website with a single click by selecting from a limitless number of colors and 1000+ Google fonts. This theme is also WooCommerce compatible, allowing you to set up an online store.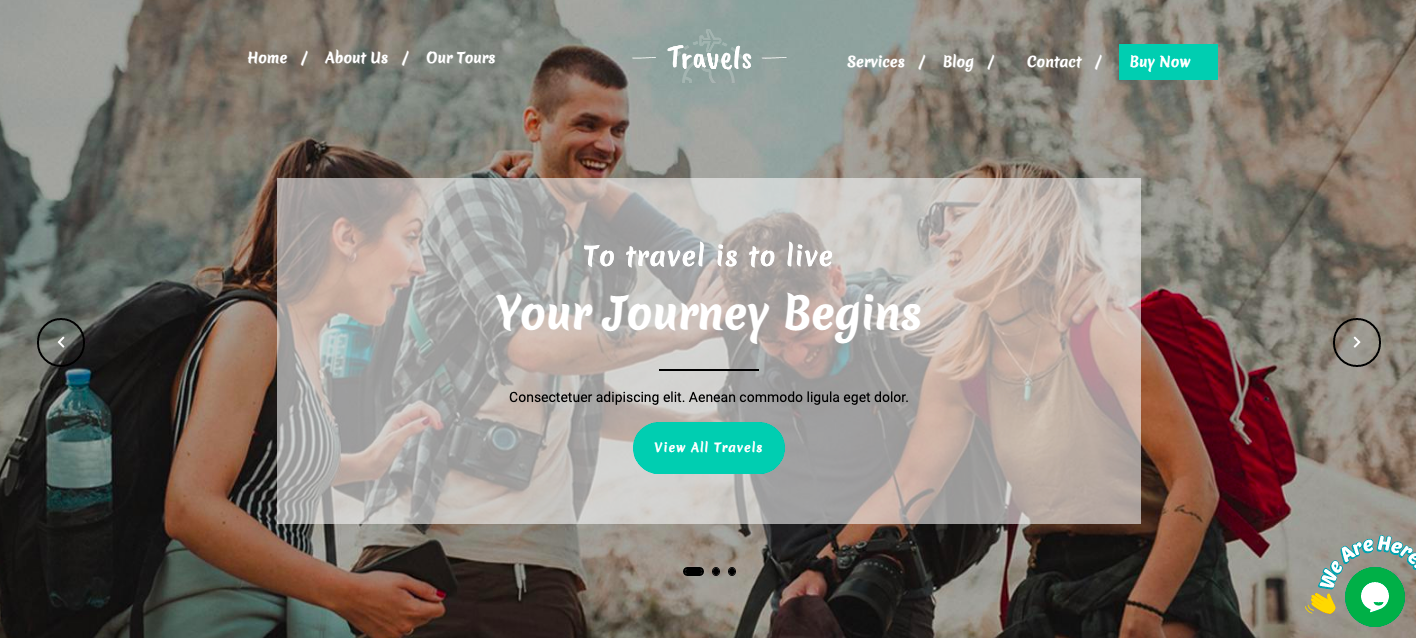 Tour Traveler is a beautiful WordPress theme with a professional look for businesses related to travel services. Developers made it SEO-friendly by incorporating highly optimized coding. Because the theme is built on the Bootstrap framework, customizing it is simple. There are numerous stylistic and display options available to you. This theme is not only retina-ready but also responsive and mobile-friendly, allowing your website to perform admirably on a variety of devices.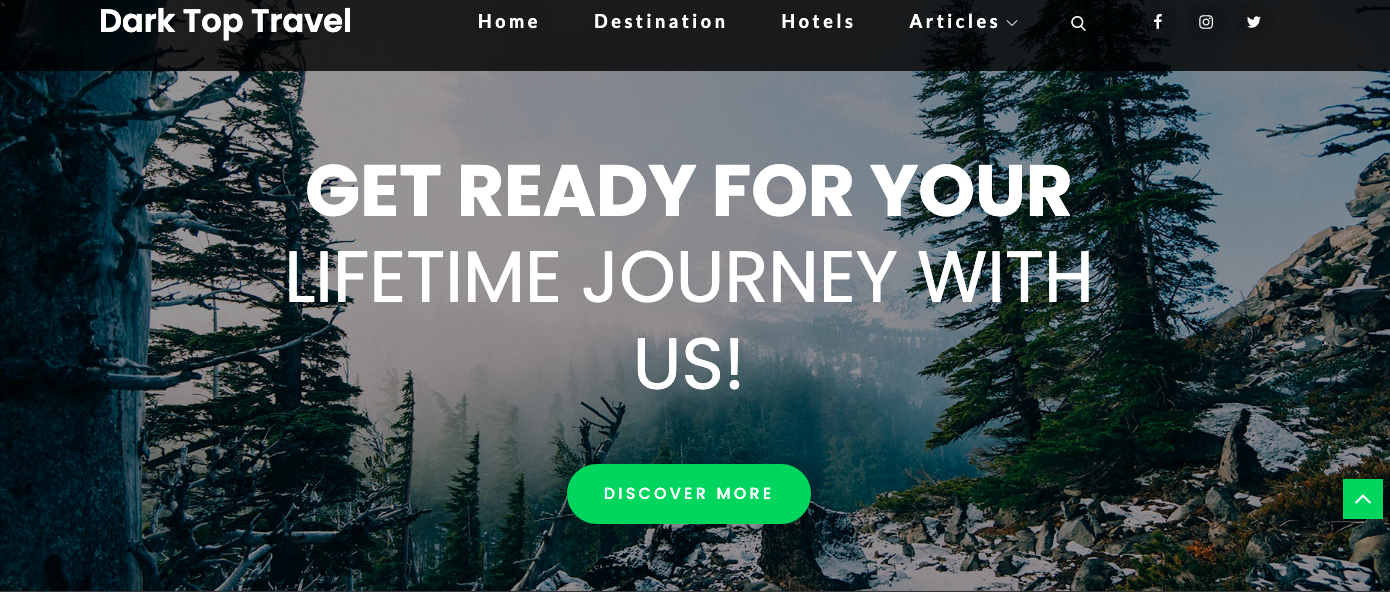 Dark Top Travel is designed for all sizes of travel agencies and tour companies. You can display your greatest photographs and blogs, which will make the site both informational and visually appealing. It is compatible with the WP Travel Plugin, which makes it ideal for the tourism industry. The navigation is simple and straightforward. It is also highly configurable. You can also include a newsletter area to assist you to increase the number of visits and subscribers.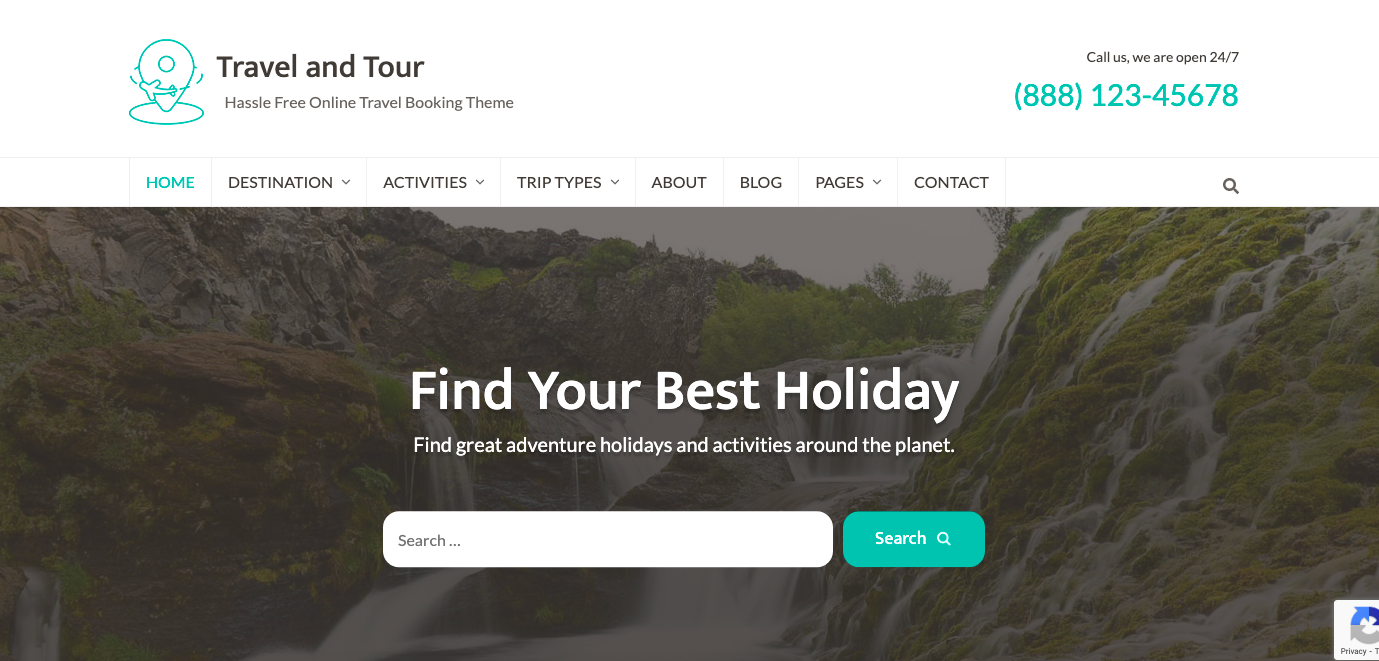 Travel and Tour is one of the perfect WordPress travel themes designed for tour and travel operators and enterprises to construct an online booking website. WP Travel Engine, a robust travel and tour booking plugin, is compatible with the theme. You can include trips, destinations, and trip types, as well as offer travel activities, emphasize your specialties, and allow users to book trips. The theme is mobile-friendly, SEO-optimized, and fast-loading, allowing your website to rank higher in search engines.
Wrapping Up
We've just gone through a list of WordPress Travel Themes to help you choose the best for your site. Please let us know in the comments area below if you know of a theme that should be featured in our WordPress Travel Themes collection. Don't forget to look through Free Travel WordPress Themes for more beautiful and professional WordPress themes and templates to use on your own site.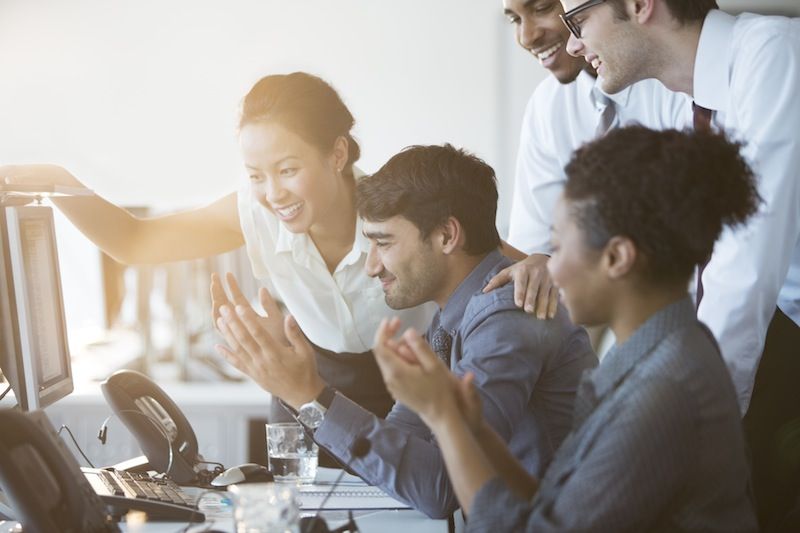 We're Digital Content Marketing team from AgeThemes Marketplace. We provide quality content for everyone who using open source CMS like Joomla and WordPress. If you have any questions or feedback, feel free leave your comment, we happy to assist you asap.