One of the most significant and largest industries is health and medical services. People want medical assistance whether they are in poor health or suffer from mental illness, thus it is critical for medical facilities to simply tell their customers about the services they offer. All medical offices and clinics should have a user-friendly website so non-tech users may simply access and obtain the information they require. A list of the must-have WordPress Health and Medical Themes for businesses in these fields. These themes will be incredibly beneficial if you run a medical clinic or any other health-related business
Why should you use WordPress Health and Medical Themes?
You'll find a variety of amazing options in this compilation of the amazing WordPress Health and Medical Themes. There are several excellent themes here if you're building a website for a clinic or medical center. You'll be able to create a professional website for your business that signals to your target audience that you can be trusted with their health thanks to the high-quality designs of these themes. Some of these themes are even appropriate for establishing hospital websites.
Many of these themes include a variety of website demos and pre-built page layouts. You'll also find a plethora of customization choices and settings to assist you in easily customizing your site. For even more flexibility, some themes feature the sophisticated Visual Composer drag-and-drop page builder plugin.
Top Helpful WordPress Health and Medical Themes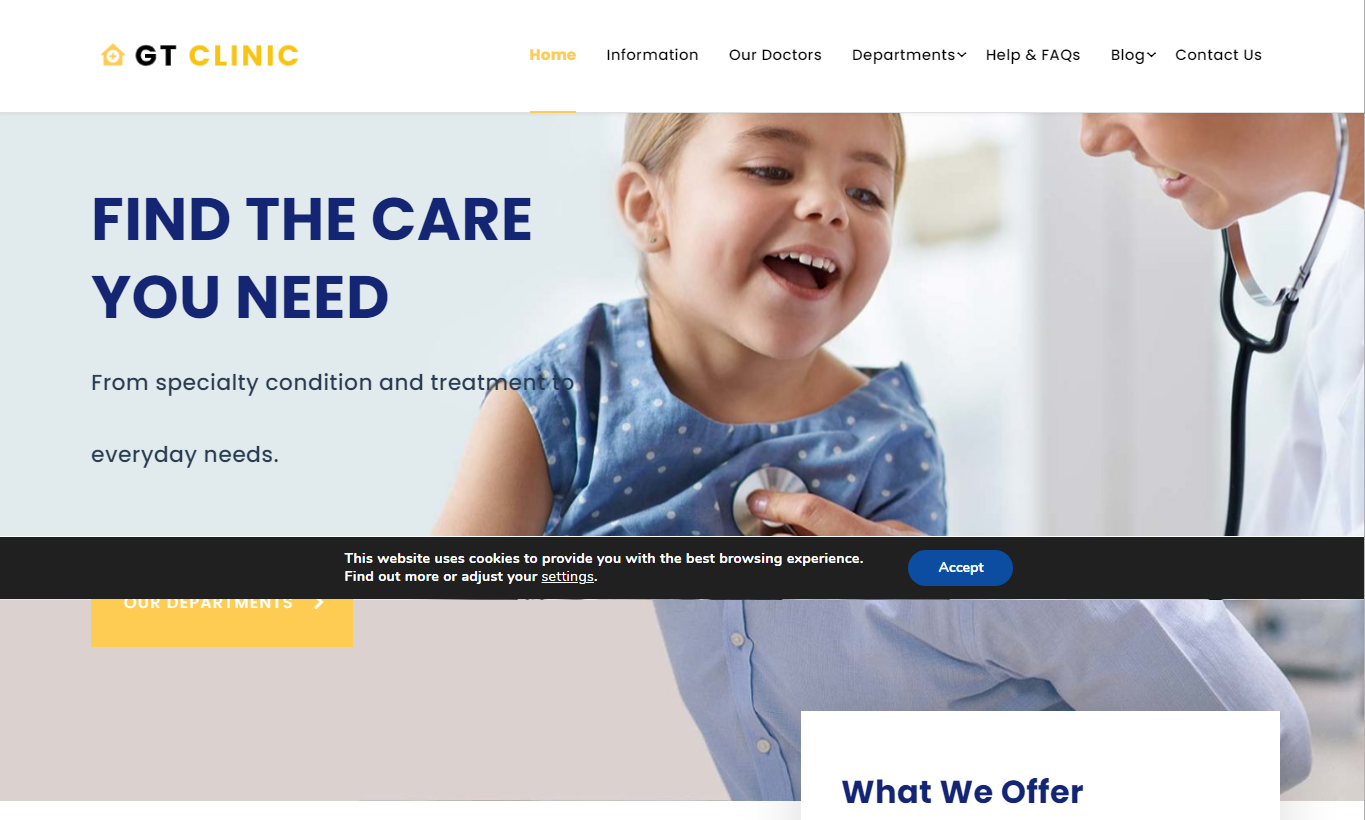 You must pay attention to GT Clinic if you truly want to promote your business in the healthcare industry. You can interact, acquire the latest templates, create or operate online businesses efficiently. Your website's organization will adapt to any gadgets smoothly with the help of Elementor Page Builder, WooCommerce, and the fully responsive layout. Additionally, editing, organizing, and updating information about your hospitals, clinics, and healthcare services, as well as allowing patients to make an appointment quickly, is a breeze.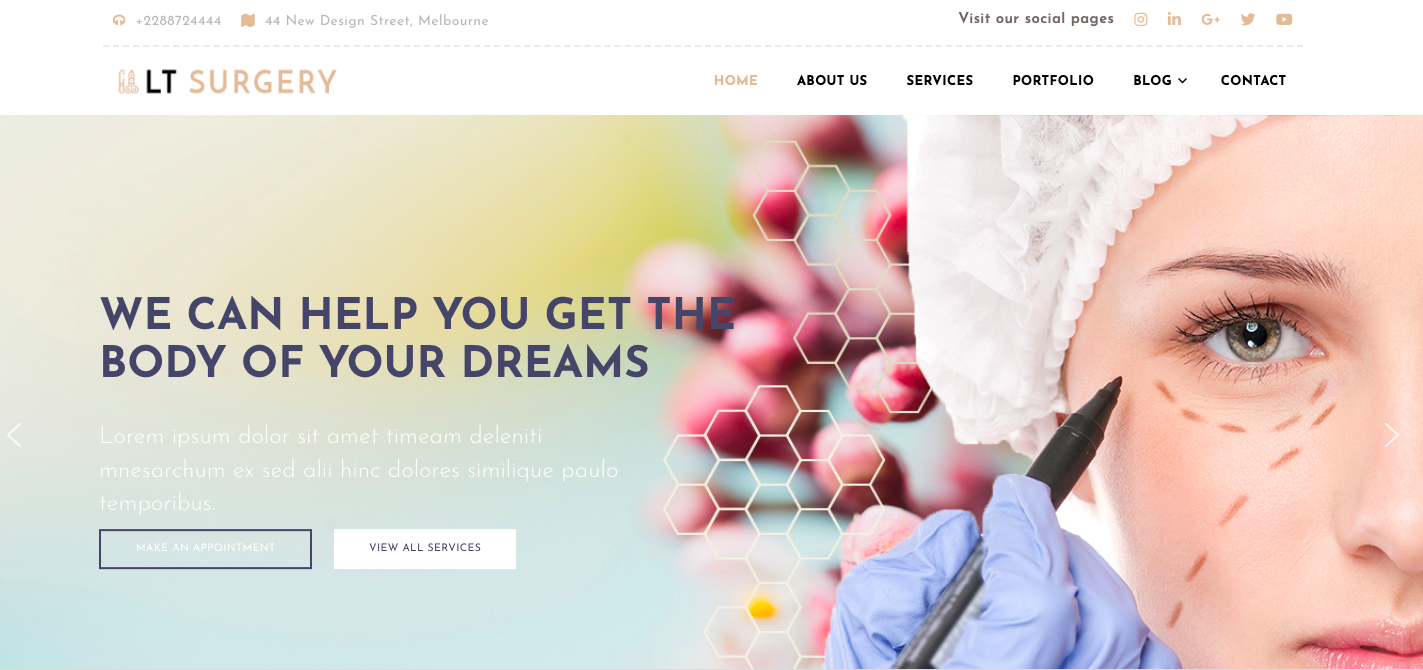 LT Surgery is a WordPress Health and Medical Theme designed for Plastic Surgery websites. It's a user-friendly WordPress theme that's completely customizable. It allows you to make any format change to your website quickly and easily. Furthermore, thanks to the compatibility with a 100 % responsive interface, your sites will run flawlessly on any device your customers use. As a result, you'll have a better chance of convincing them to trust your business and thus become loyal customers. Furthermore, with the WooCommerce plugin's help, you can not only sell your surgery products and services more effectively but also manage your online systems.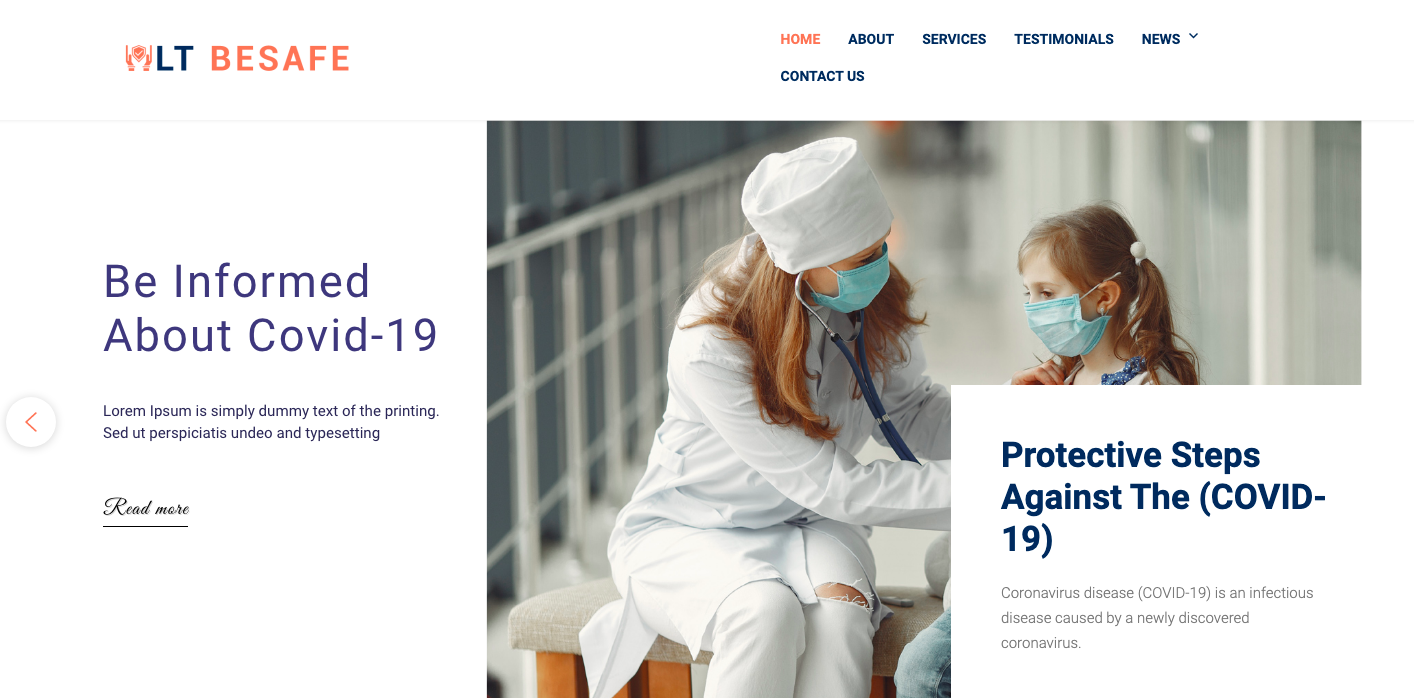 If you require a website for hospitals, clinics, or healthcare centers, for example, to propagate, protect, and raise awareness of the Coronavirus in the context of Covid-19, LT BeSafe is the website for you. This WordPress theme is built with Elementor Page Builder, which allows you to simply and rapidly edit any element to make your site more appealing and match your needs. Furthermore, LT BeSafe is WooCommerce-integrated, allowing you to easily manage and sell any products or services.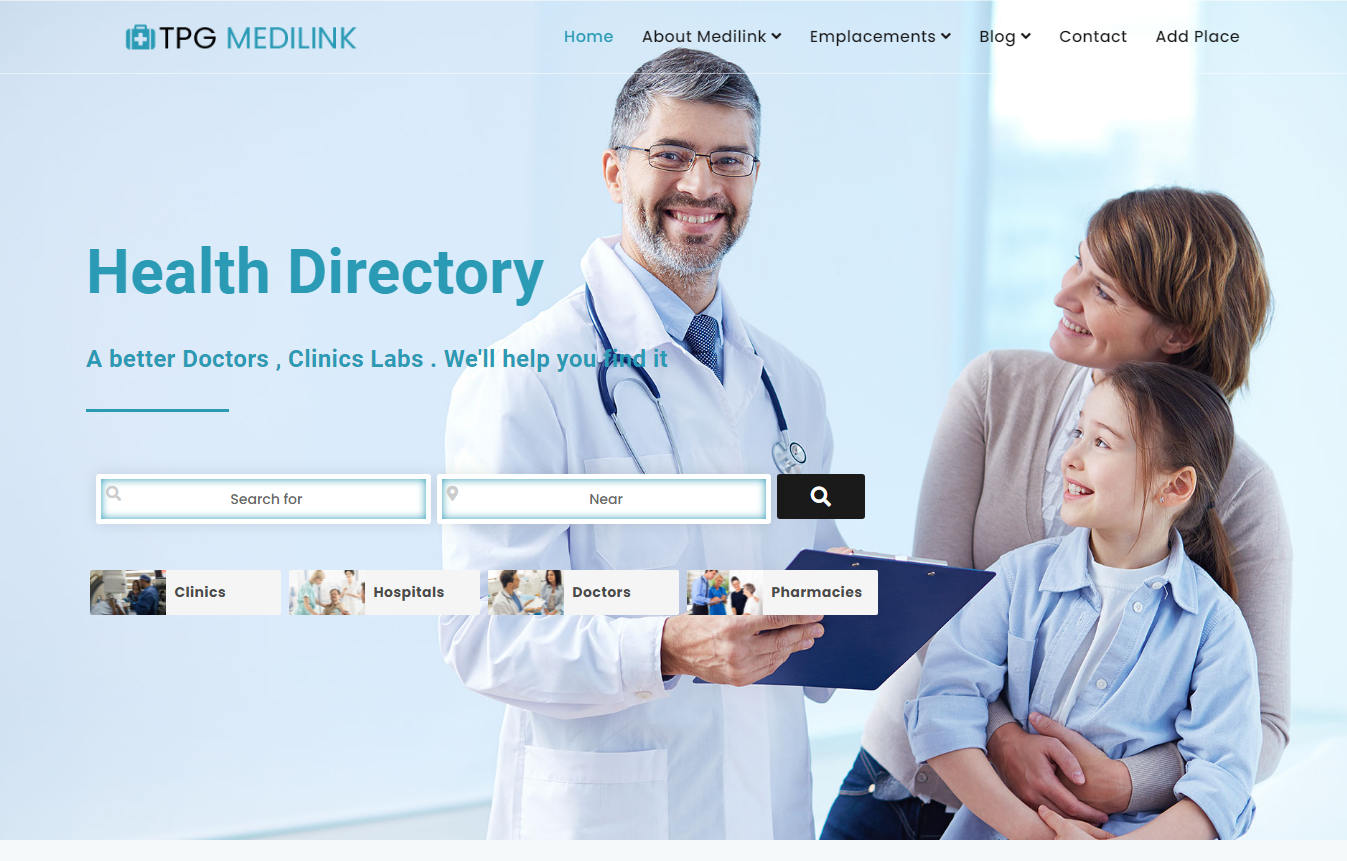 TGP Medilink is a fantastic WordPress theme for hospital and clinic websites. Because of its compatibility with Elementor Page Builder, this theme allows you to easily design your own websites and personalize them to meet your needs. Furthermore, WooCommerce makes it simple and convenient for you to market. It allows your consumers to book appointments and buy your items and services directly. It's a fully responsive design, so you won't have to worry about how it performs on different devices. Furthermore, this theme contains 6 primary sections that are utilized to present detailed information about your company in a simple and logical manner.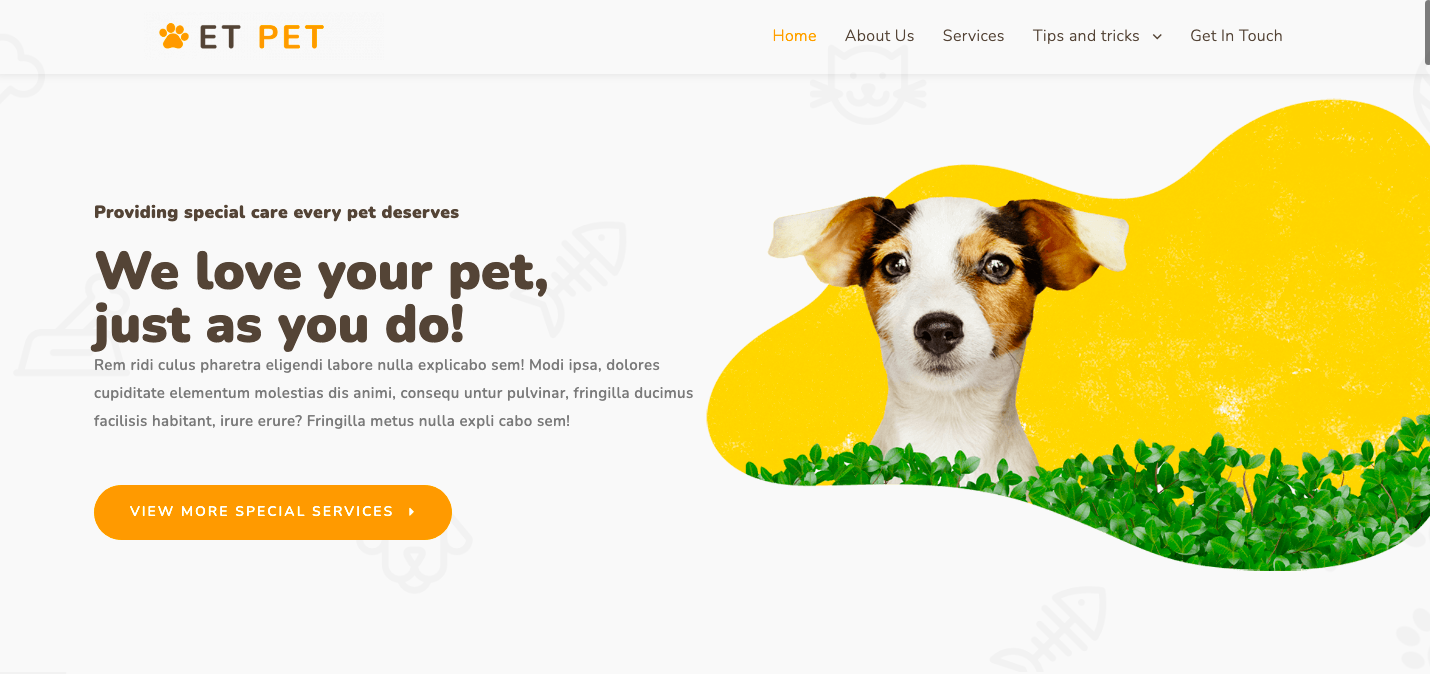 ET Pet is aimed at pet stores and services, animal rescue organizations, and other pet-related businesses. It allows you to choose a variety of templates and build, edit, and customize them in your own way thanks to its interoperability with Elementor Page Builder. Furthermore, with the help of a fully responsive interface, you can give an eye-catching layout for your customers and sell all pet things rapidly by linking to WooCommerce.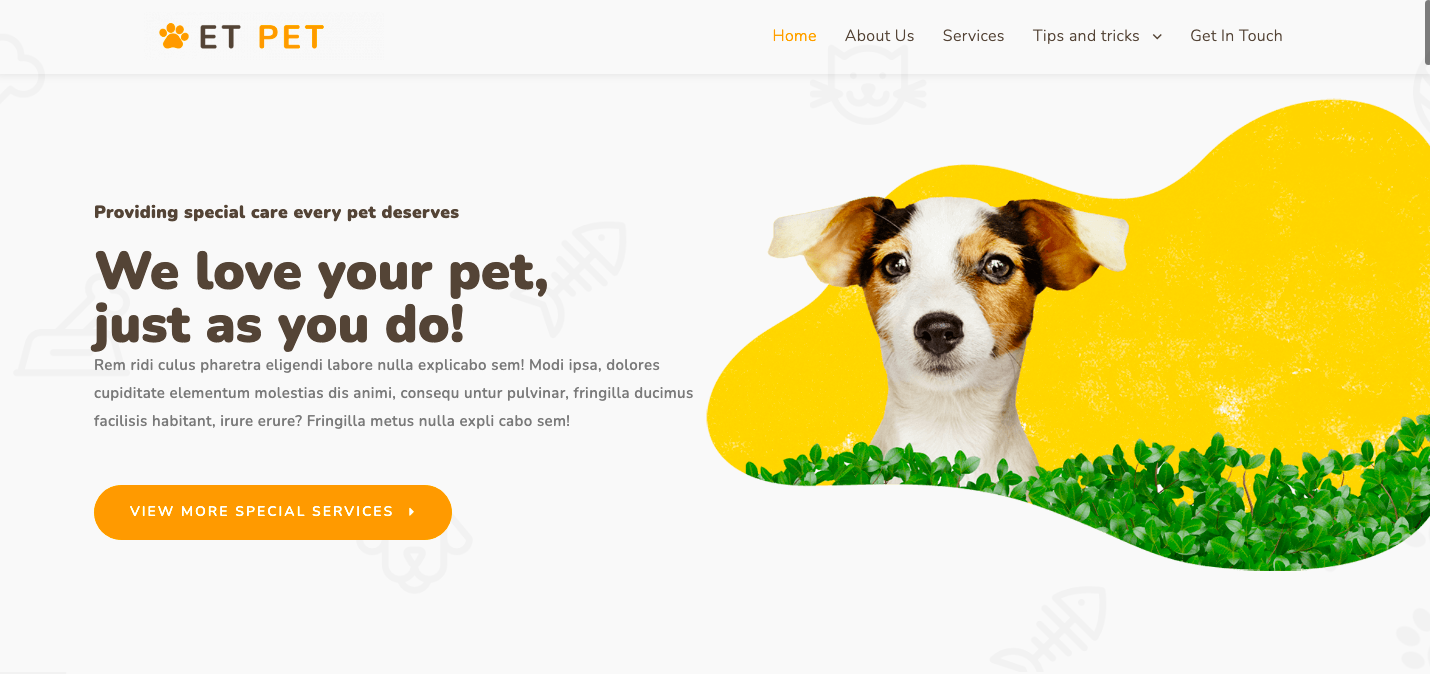 For clinical WordPress themes and hospitals or medical center websites, LT Dentist is a highly-recommended choice. It allows you to adapt any substance to meet your needs and organize your own websites without requiring any coding or technical academic expertise. This is due to the fact that this theme includes Elementor Page Builder, SEO-ready functionality, and other features that will always help you get a top ranking in search engine results. Furthermore, because of WooCommerce's interoperability, you can clearly display and sell all items and services, allowing patients to directly access and receive the therapy they require.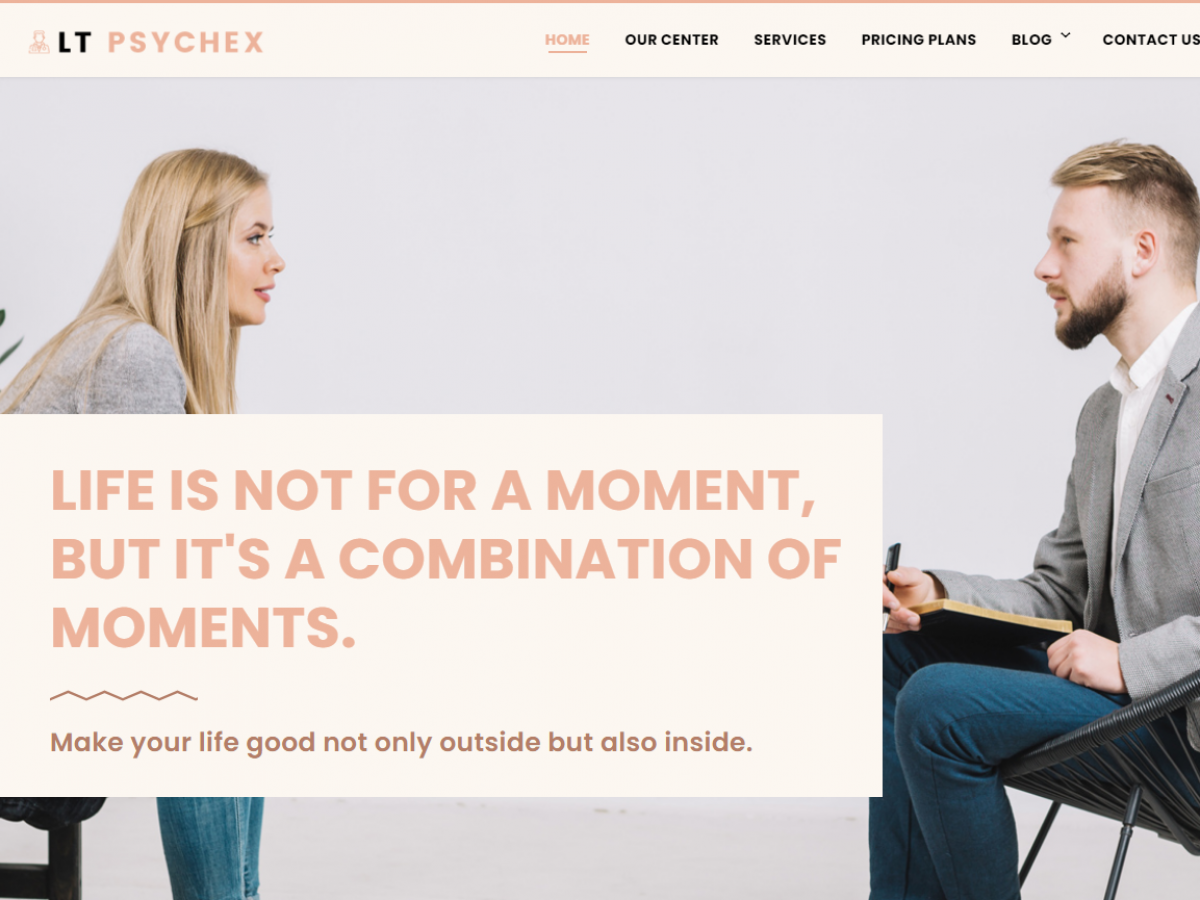 LT Psychex was created with psychology in mind, as well as other mental health websites in general. This theme has the latest web technology, Elementor Page Builder, which allows you to change any material to present projects, processes, and other information to entice people to choose your clinics. Furthermore, with the help of a fully responsive interface, your patients will be able to identify and select the finest services for them when visiting your sites. It's because this theme will look stunning and run seamlessly on any platform, from phones to computers, ensuring that your customers have the greatest possible experience.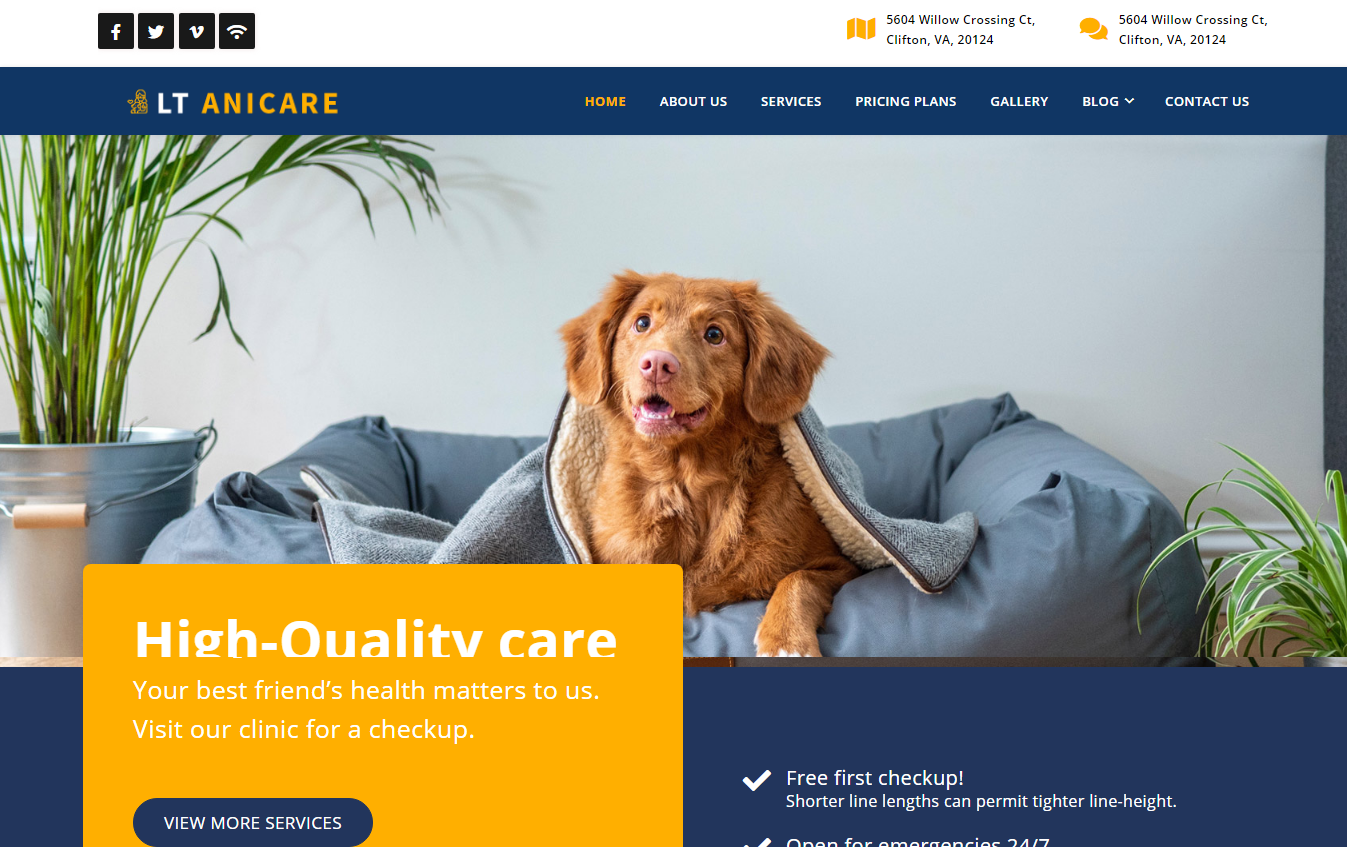 LT Anicare is a stylish and contemporary theme that's ideal for animal care centers, pet clinics, and veterinary hospitals. You can create a fully customized website with the aid of Elementor Page Builder. It will assist you in displaying high-quality pet-care services on your website in an interesting manner. In addition, the number of pleased consumers, professionals, and adopted dogs will be used to highlight the testimonials of your center or hospital. A user-friendly layout is another standout aspect of LT Anicare.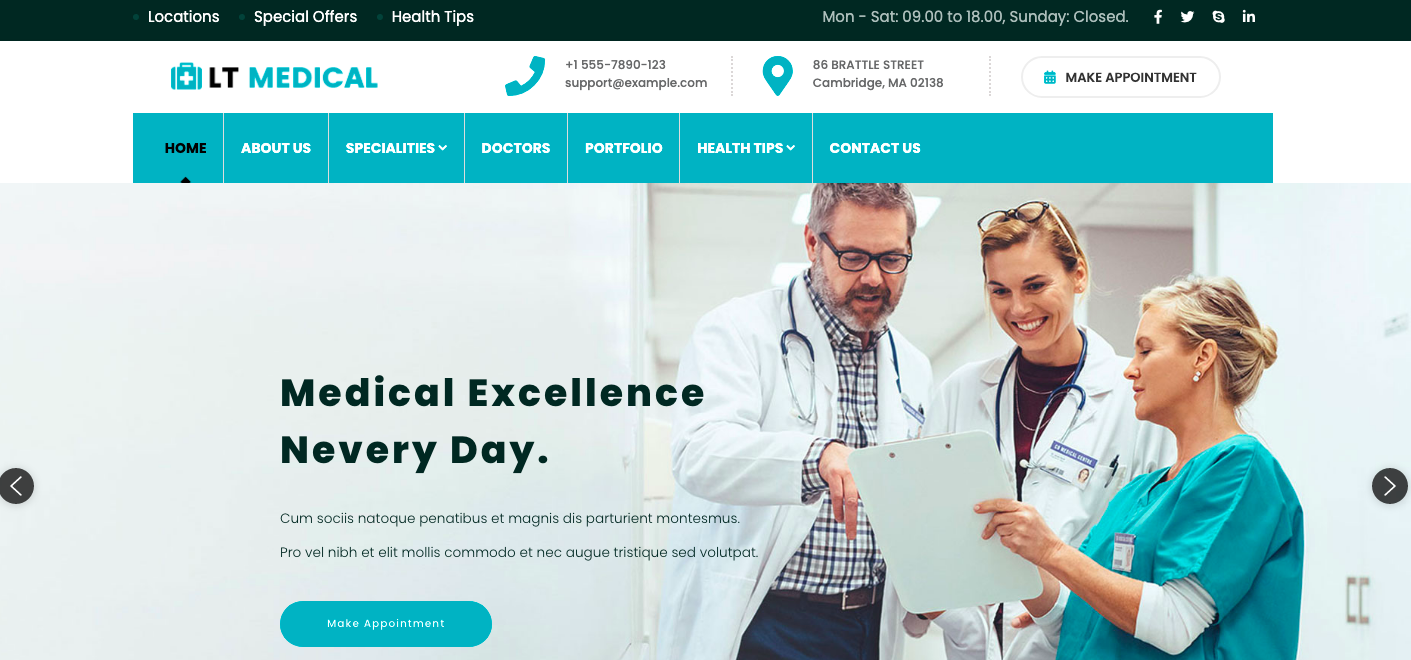 LT Medical is one of the top-rated WordPress Health and Medical Themes you should not hesitate. Individuals and businesses interested in the medical field should use LT Medical. This WordPress theme is compatible with Elementor Page Builder and has a fully responsive layout that allows users to showcase and customize any products and services in well-organized and eye-catching ways while performing them flawlessly on any users' screen resolution, including mobile phones, tablets, and so on.
ET Chemical is a visually appealing and dynamic WordPress Science theme designed for science-related websites. You can use this theme to present important information such as your center, services, equipment, and so on in a visually appealing manner. Furthermore, because of the connection with Elementor Page Builder, you have the ability to edit any content to make it beautiful and appropriate for your style. You can easily administer an online system with WooCommerce's shopping cart integration. Last but not least, this theme has a number of cutting-edge features such as multi-language support, a Right-to-Left layout, and more.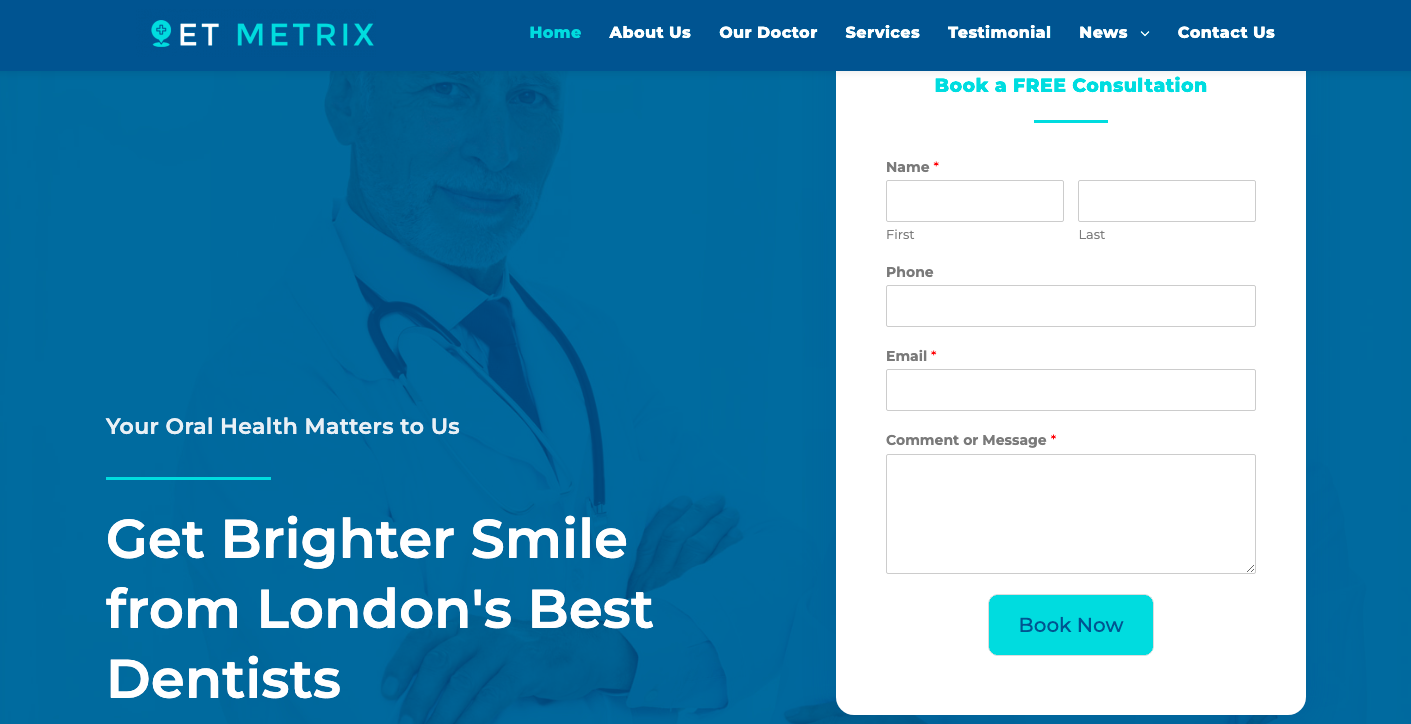 ET Metrix is a professional and attractive Medical WordPress theme designed for hospitals, clinics, pharmacies, and other health-related websites. This theme is built with Elementor Page Builder, which allows you to build a beautiful website and personalize it to your liking. It's also well-coded and simple to set up. Another feature of ET Metrix is its integration with WooCommerce, which allows patients to select services and make online payments in a few simple clicks, saving them time and effort. Furthermore, because you can adapt to any screen resolution, you may increase client pleasure and contentment.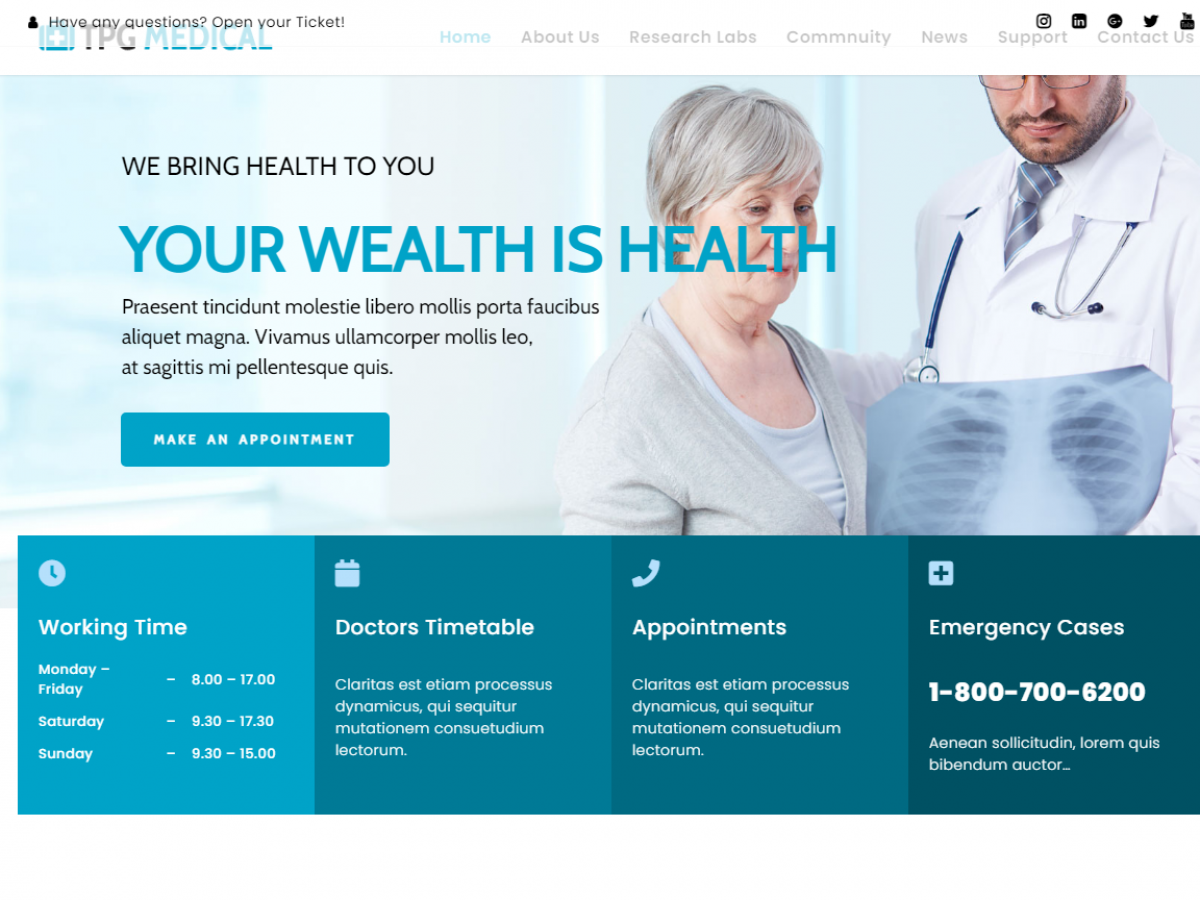 TGP Medical is a stunning and useful theme for hospitals, clinics, and healthcare organizations to promote their services. Because of its compatibility with Elementor Page Builder, you may develop and customize your website's appearance in your own way without any limitations. It is also well-coded and easy to use for users to administer. TPG Medical will transfer exactly in a beautiful and adaptable way to capture the attention of your clients no matter what devices your customers are using to reach your sites, thanks to the outstanding assistance of a fully responsive interface.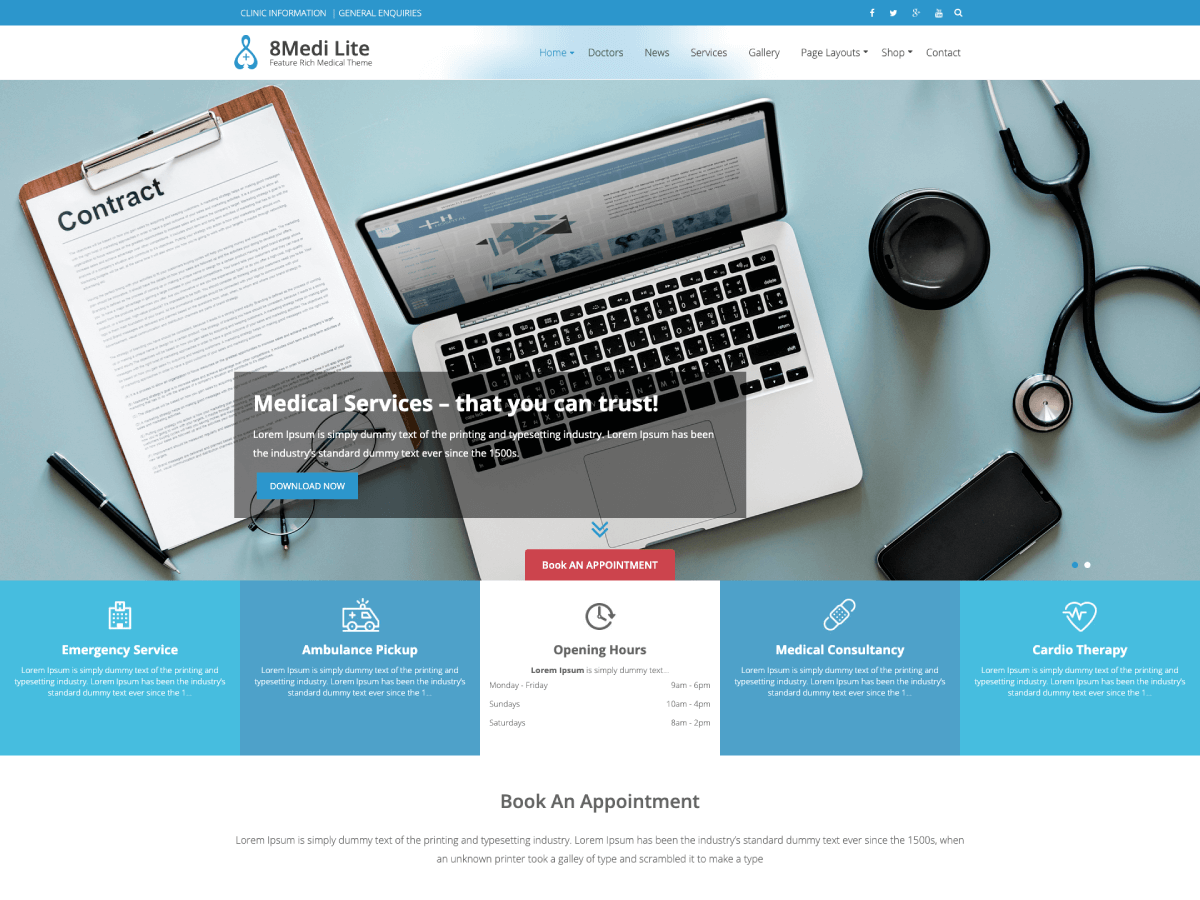 EightMedi Lite is a free WordPress Health and Medical Theme with a lot of features that were designed by expert developers and designers with simplicity and functionality in mind. It is straightforward, sleek, and clean to use. The theme includes all of the necessary features for a comprehensive health website. Doctors, dentists, surgeons, hospitals, health clinics, and other connected websites should use it. The theme is entirely responsive, so it looks excellent on desktops, laptops, tablets, and cellphones. and user-friendly theme with a plethora of cutting-edge and fashionable features that you won't find in other free themes.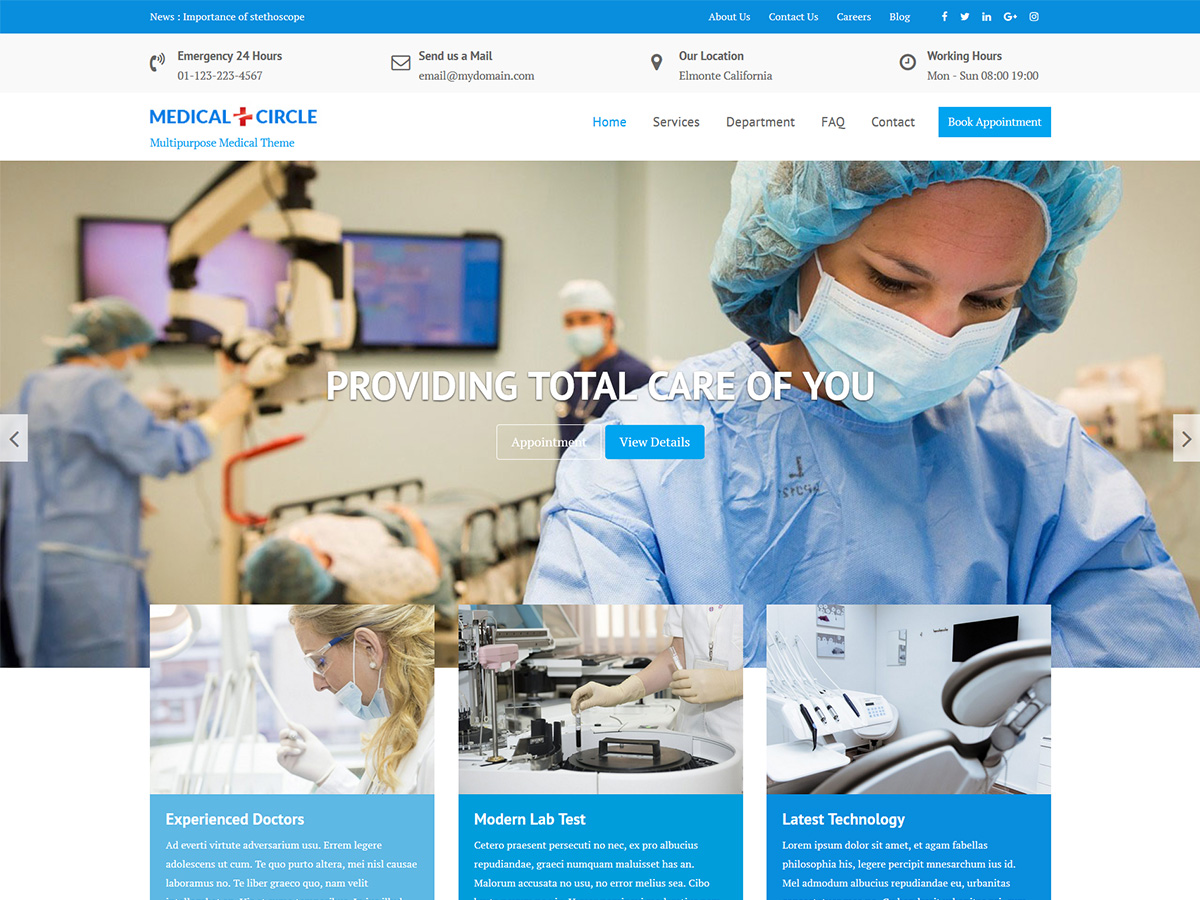 Medical circle is the next WordPress medical and health theme that is ideal for hospitals, nursing homes, medical stores, gynecology, and other medical websites. It's also ideal for keeping track of personal websites for doctors, surgeons, dentists, gynecologists, and other medical professionals. One-click demo import, page builder-friendly design, integrated theme options, home page layouts, blog page options, translation-ready design, and more features are included. This theme is well-liked for its adaptable features and SEO-friendly layout.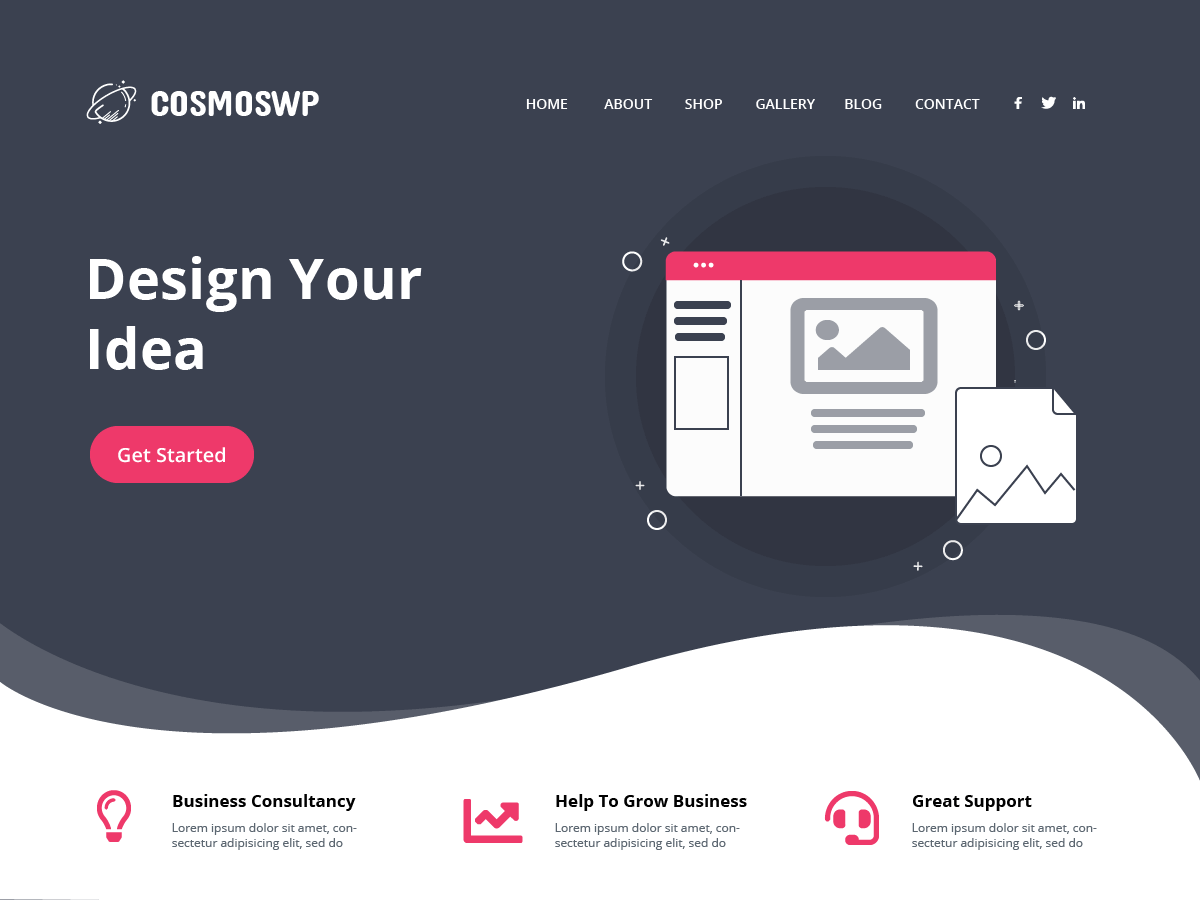 CosmosWP is one of the multi-purpose WordPress Health and Medical Themes that work well for the medical and healthcare business. A pre-built and ready-to-import medical website demo is included with the theme. You can quickly create medical websites by importing the demo. It's a highly changeable theme; you may change the layout, color, text, buttons, sidebar, and all of your website's aspects. As a result, you can quickly tweak these aspects to create a design that suits your company and brand.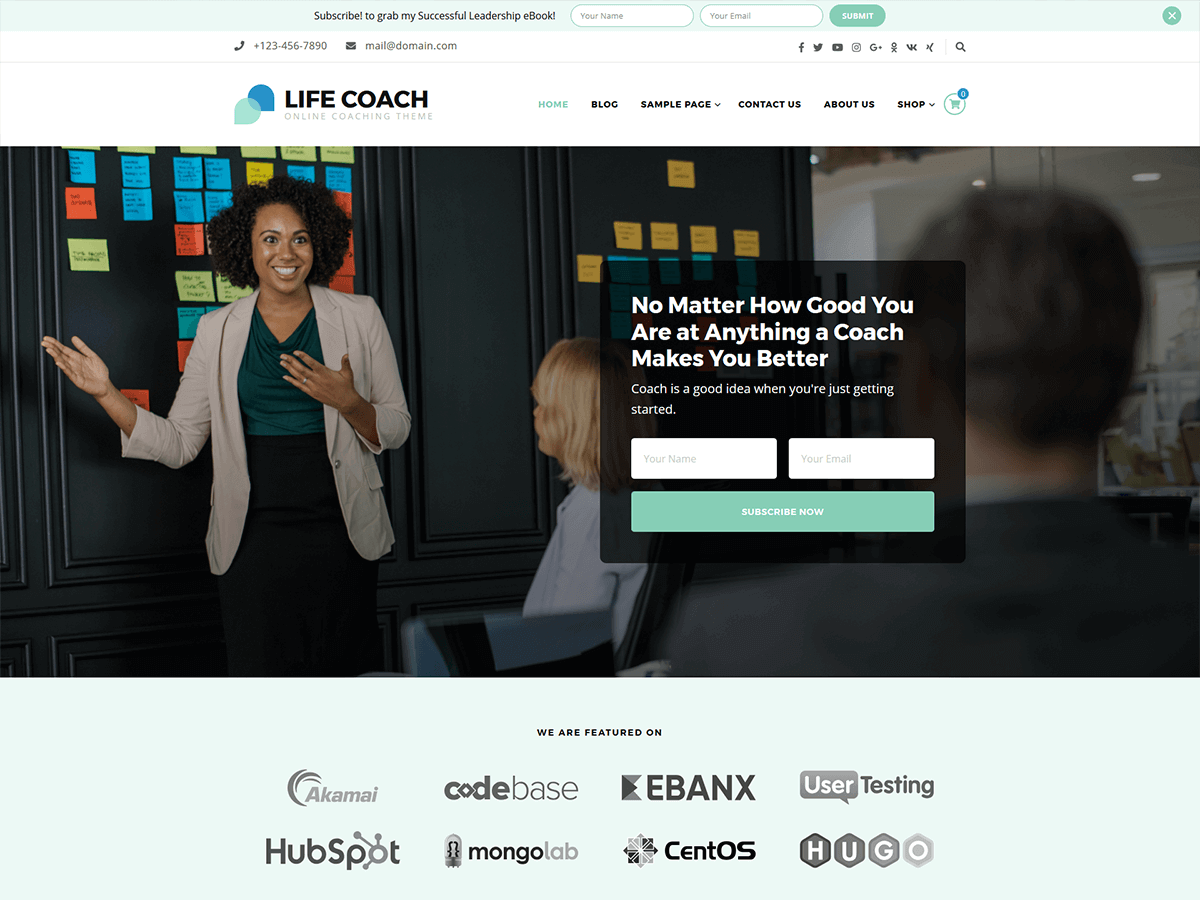 Life Coach was created with readability in mind and is ideal for medical-related businesses. With sections like About Us and Services, this theme allows you to effectively establish your institute. You also receive contact forms and Google Map integration to make it easier for visitors to contact you. Life Coach is also WooCommerce compatible, allowing you to accept money for consultations or create an online store for medical supplies right on your website.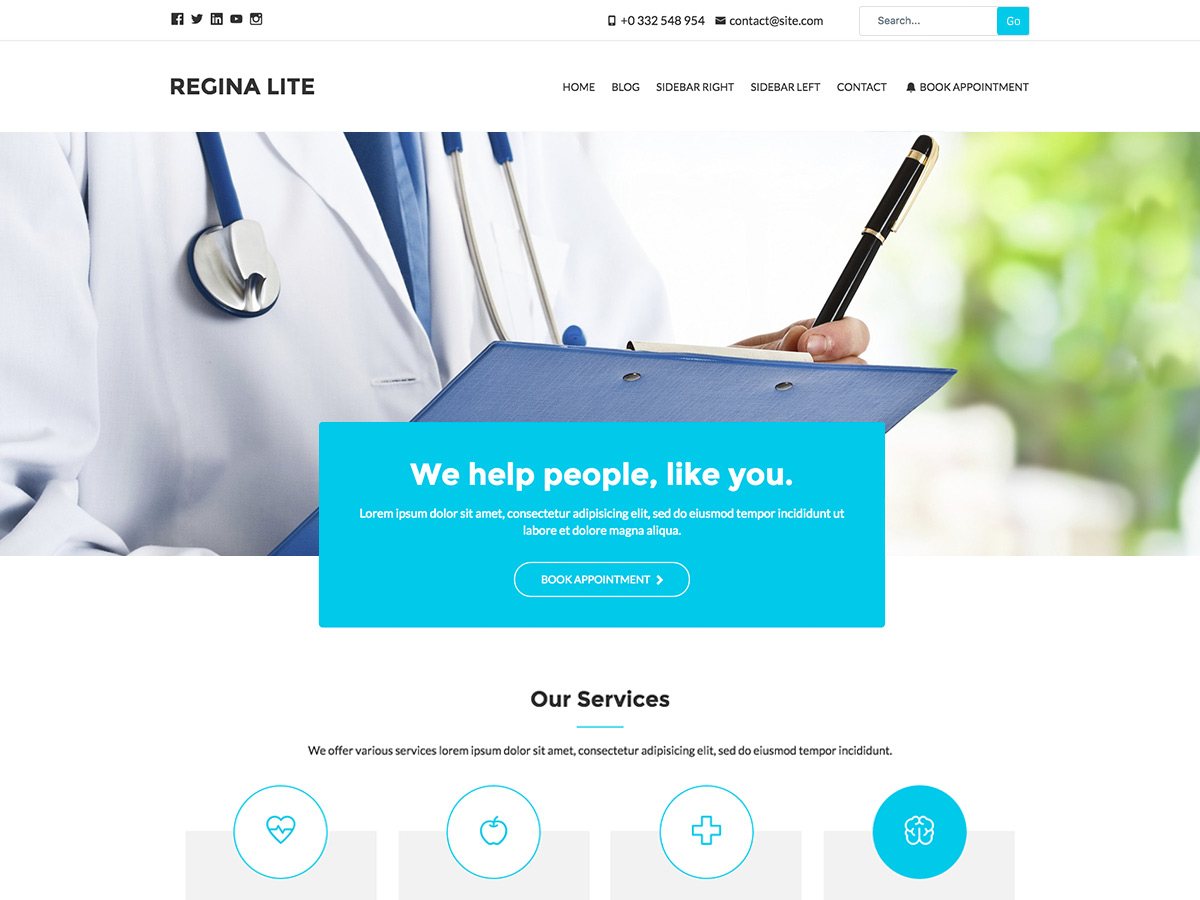 Regina Lite is a beautiful free WordPress Health and Medical Theme that's ideal for medical practices, dental websites, medical research centers, and more. It has a modern, systematic, and fully responsive design with a retina-ready display to provide you with the greatest possible user experience. You may quickly customize it to your liking thanks to its numerous customization options. With this theme, you can create your own practical and user-friendly medical website quickly and easily.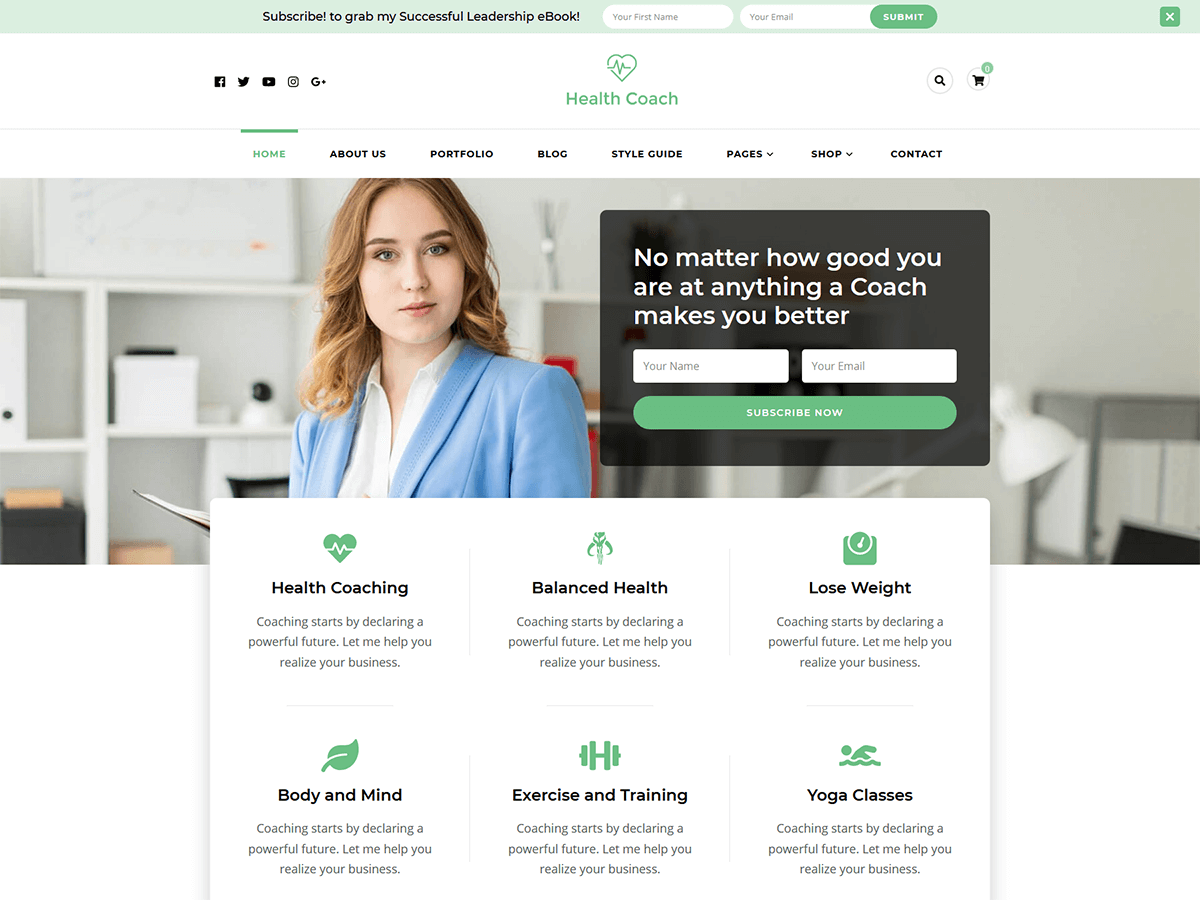 Blossom Health Coach is a great consulting theme with great typography and a color scheme that works well for health-related companies. This theme is specifically designed for health coaches, but it also provides plenty of options to sell your services and grow your online following. There are various newsletter forms throughout the theme, as well as multiple Call-to-Action sections. To engage visitors, you can even use a video background in the top banner.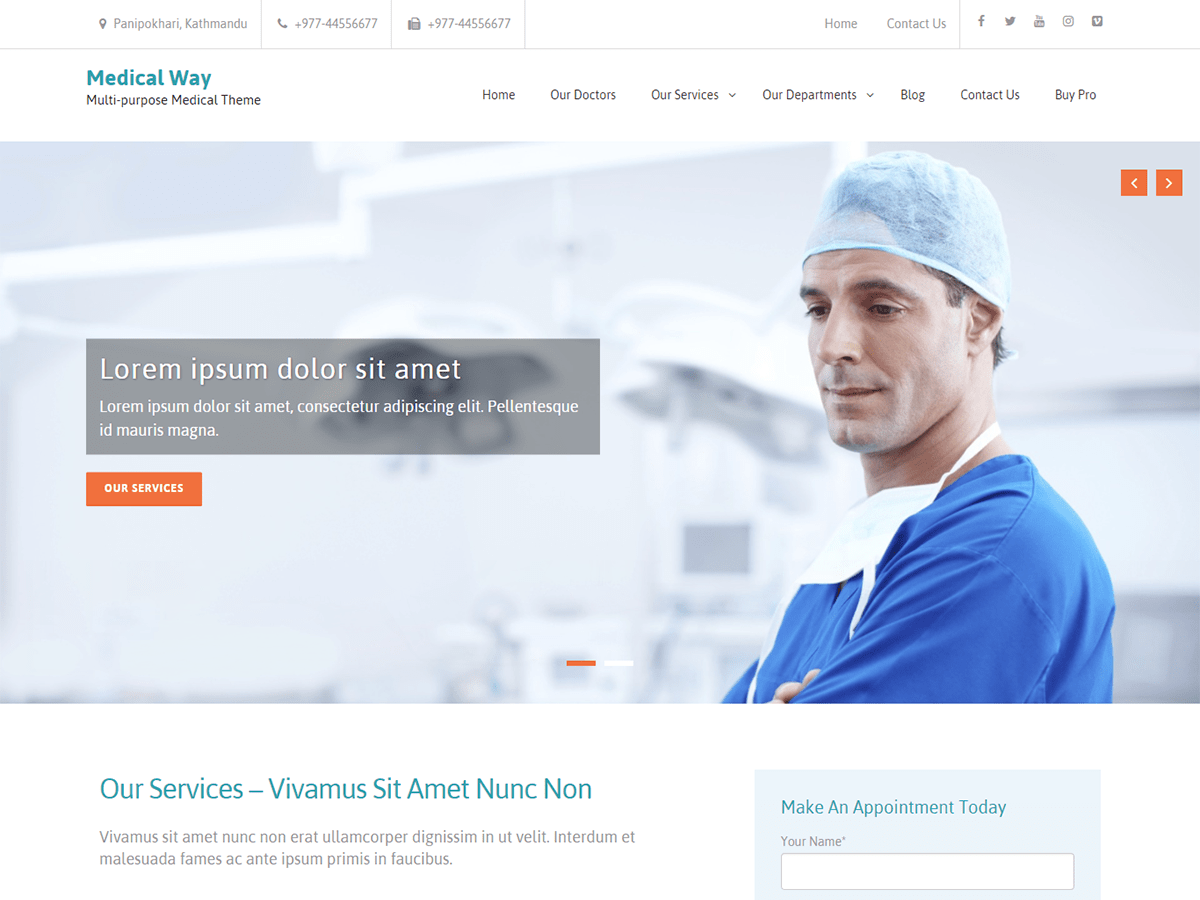 Medical Way is one of the highly responsive WordPress Health and Medical Themes. This theme is ideally suited for medical clinics, hospitals, doctors, dentists, general therapists, pediatrics, gynecology, and other medical-related websites. It's a versatile and functional partner for building a clean and basic website. You can persuade clients to visit your website frequently by using its unique widget, multiple sections, and powerful inbuilt theme choices. Moreover, this theme is simple to use even for WordPress beginners, as it does not require any coding skills.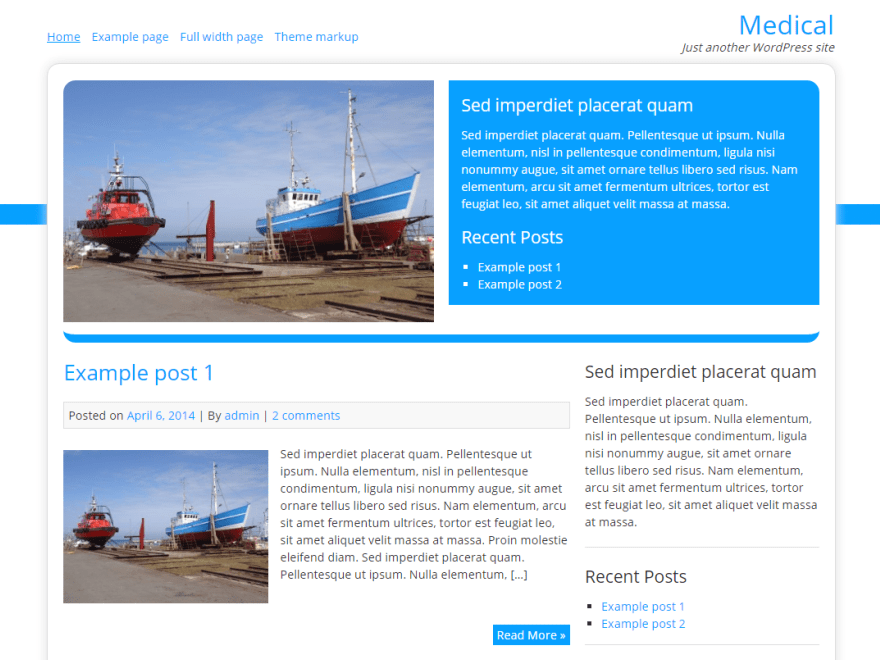 Medical is a one-of-a-kind free medical WordPress theme that's ideal for any health or medical-related website or blog. The theme comes with a comprehensive feature set that aids in giving your website a professional appearance. You have complete control over the maintenance of theme components, which you can easily personalize. It is an attractive responsive design style that includes a featured articles slider, making your website more appealing and engaging.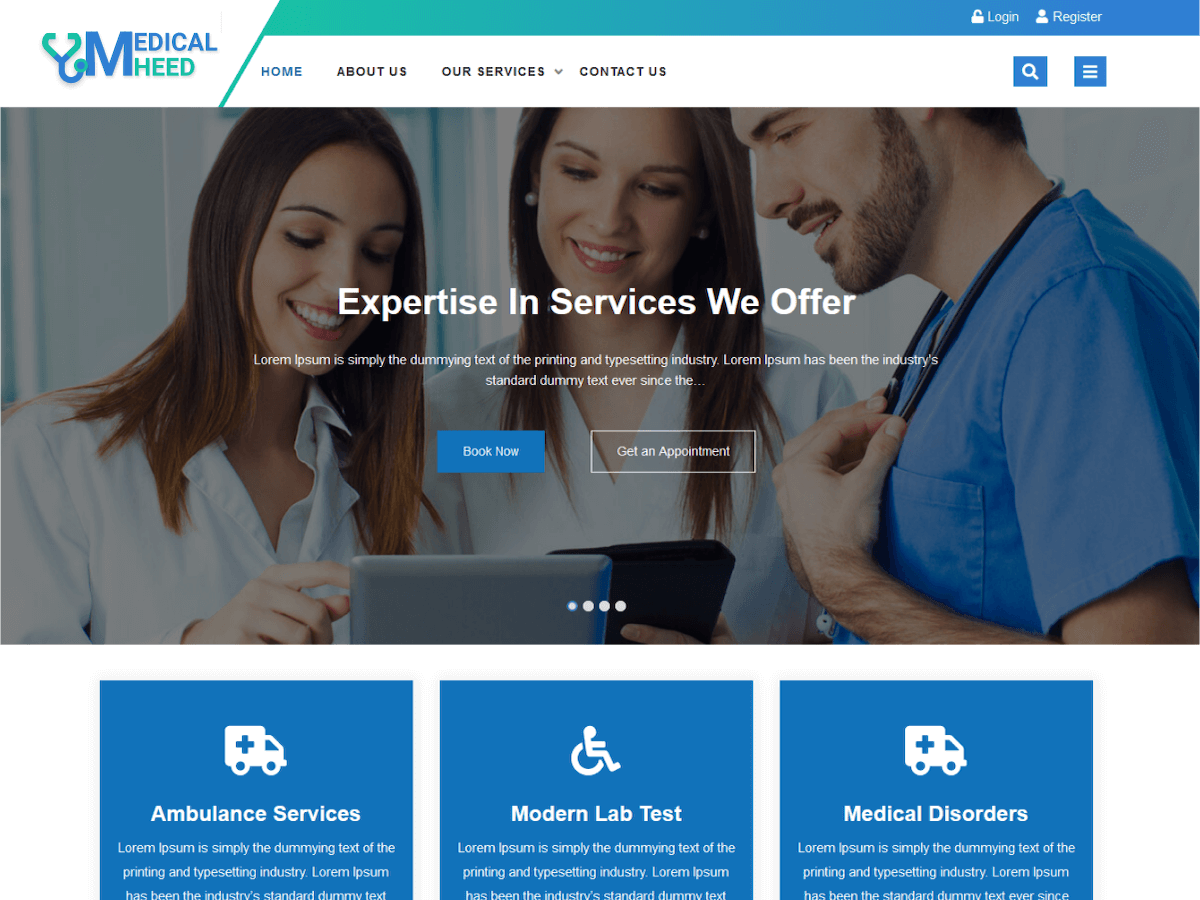 Medical Heed is one of clean and free WordPress Health and Medical Themes. It's ideal for gynecologists, doctors, surgeons, others in the medical field, and much more. This theme is social media integration-ready, SEO friendly, completely responsive, cross-browser compatible, and translation ready. It also has outstanding features for all types of medical professionals and practices. The theme is simple to use because it caters to all types of users, including those who have no prior coding experience.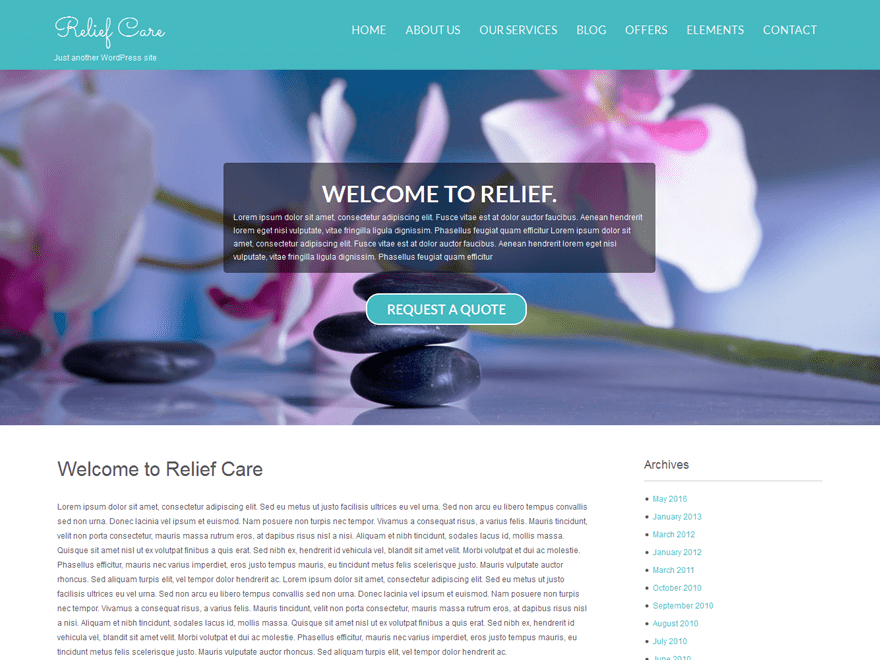 Relief is a multi-purpose WordPress theme that is ideal for small clinics, hospitals, veterinary clinics, pharmacies, and other medical-related businesses. Medical personnel, including doctors, nurses, dentists, general practitioners, and others in the medical area, can use it as well. It's mobile-friendly, cross-browser compatible, translation-ready, and SEO-friendly.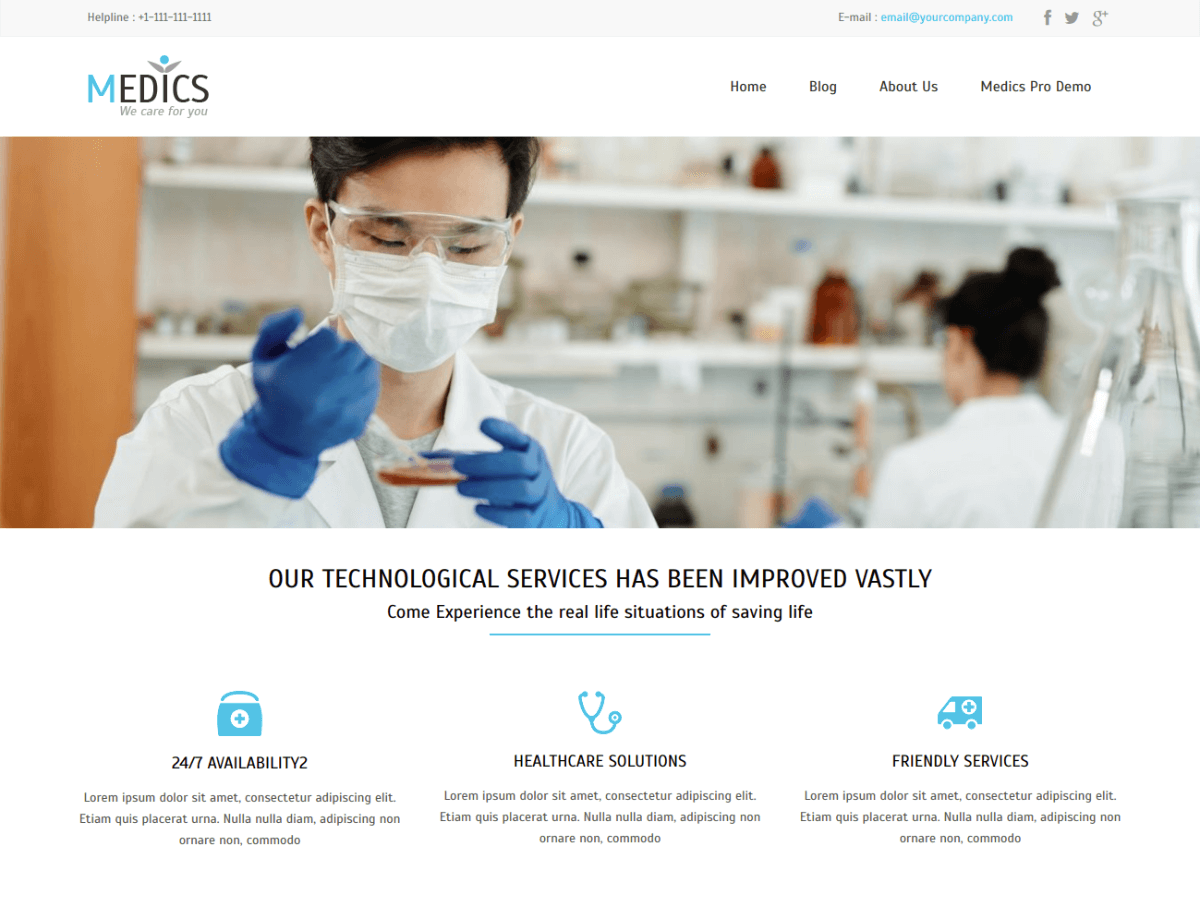 Medics is a fantastic free WordPress medical theme that is built on Twitter Bootstrap and is fully responsive. The theme has custom widgets, theme settings, and other features that allow you to customize your website to your liking. Recent posts are displayed on the homepage as touch-friendly sliders based on the owl carousel.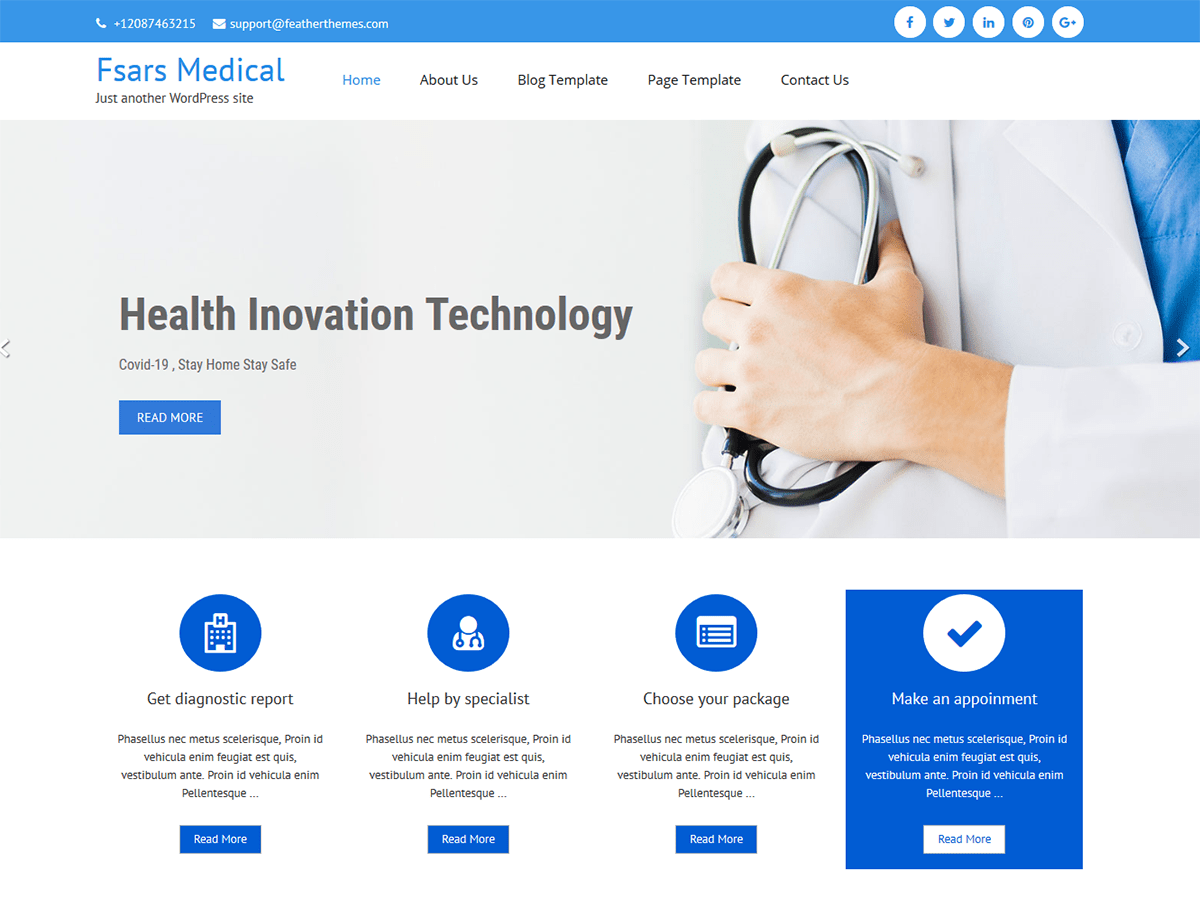 FSars Medical is a stunning free multipurpose medical WordPress theme. It can be fully modified in just a few simple steps. This theme has sections for the header phone and email, the header social links, the banner with text, and much more. It is compatible with the most recent version of WordPress, making it even more responsive and cross-browser compatible. With its professional and eye-catching designs, the theme will help your website rank at the top of Google and attract more customers.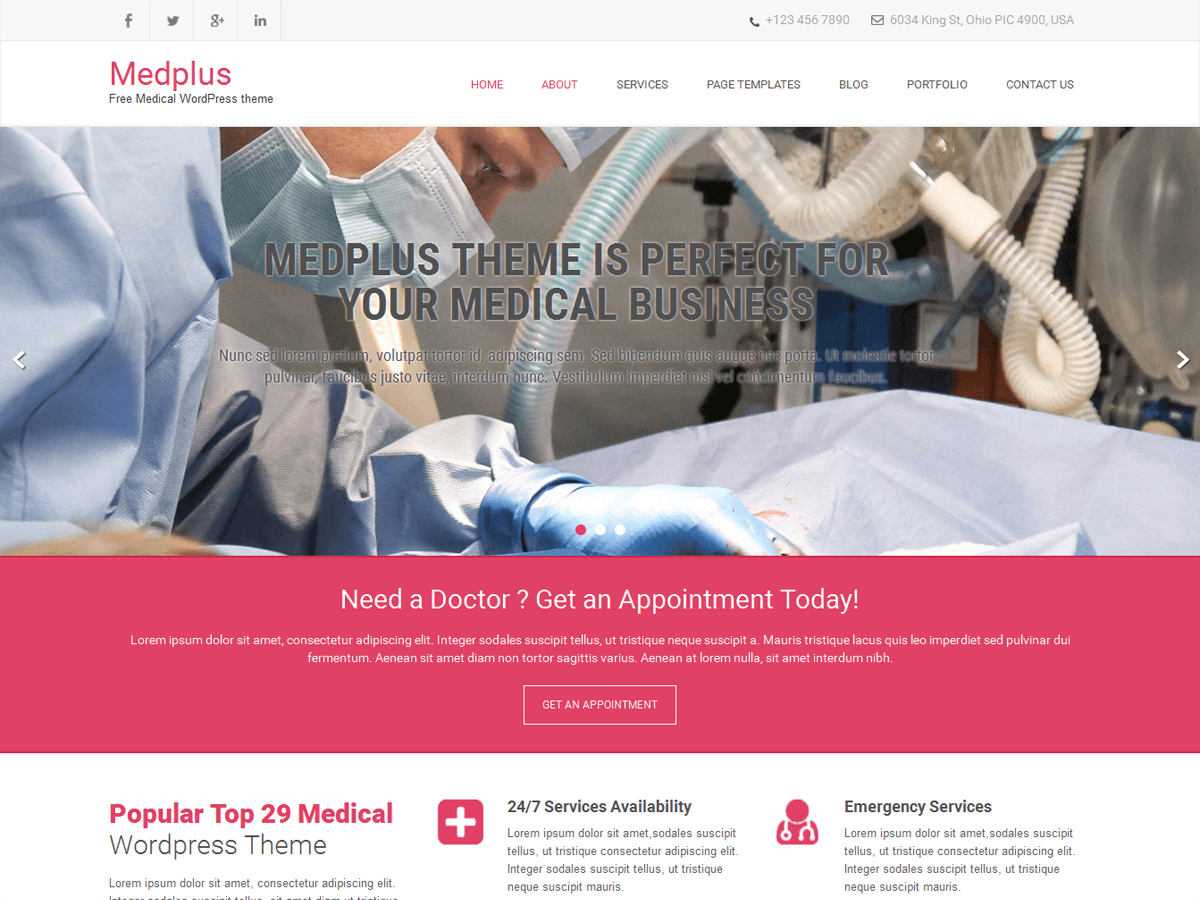 MedPlus is a free WordPress theme for health and medical-related websites, such as medical, hospital, dentistry, doctors, surgeons, and other health-related websites. The layouts of this theme are highly customizable. You don't need to hire a professional to develop a nice and professional website. In general, this theme is lightweight, responsive, SEO-friendly, and translation-ready.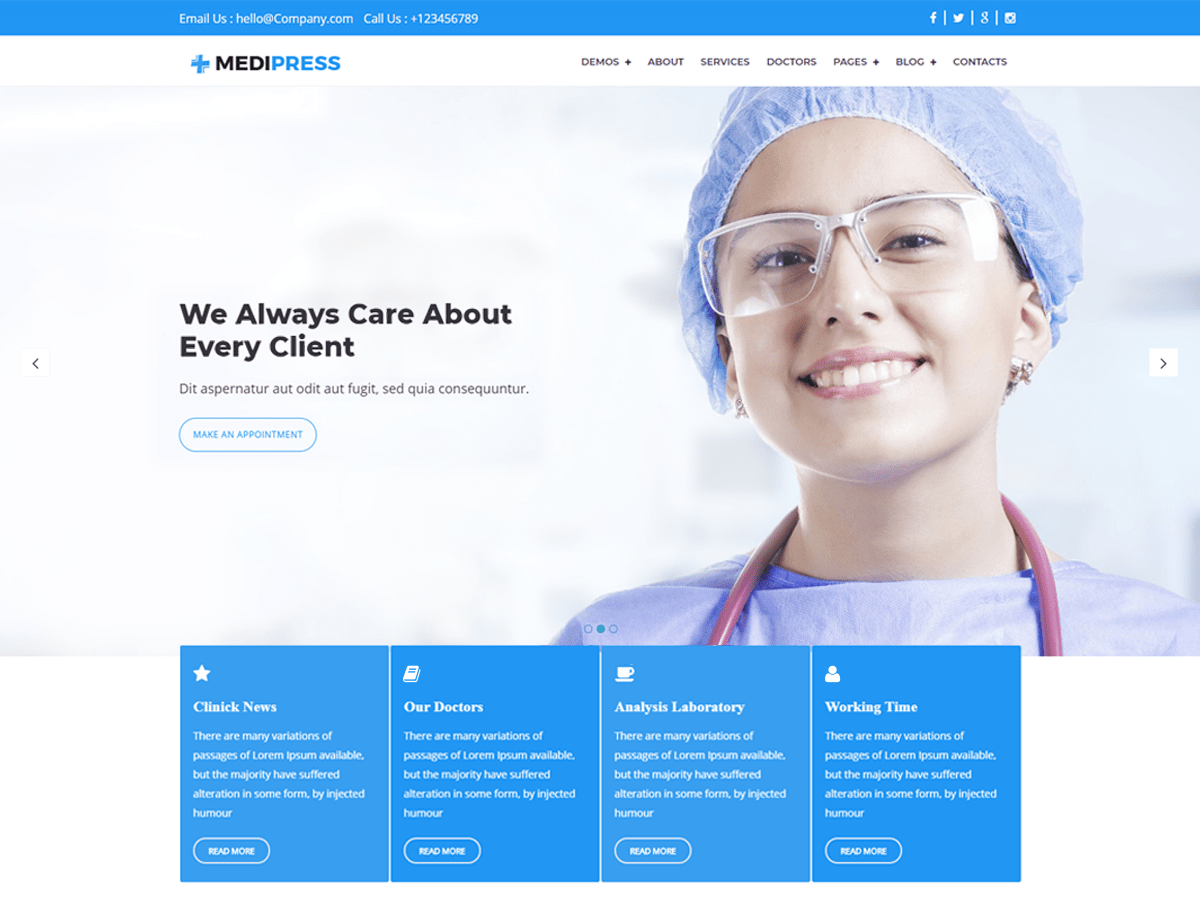 Medipress is one of the ideal WordPress Health and Medical Themes. It is suitable for dentists, doctors, clinics, corporations, health care, hospitals, surgeons, and other medical-related businesses. This theme is built on the Bootstrap framework, which allows for responsive design on any device. It's SEO-friendly, and you can customize it with sliders if you like. The layouts are simple to use, and it is retina ready.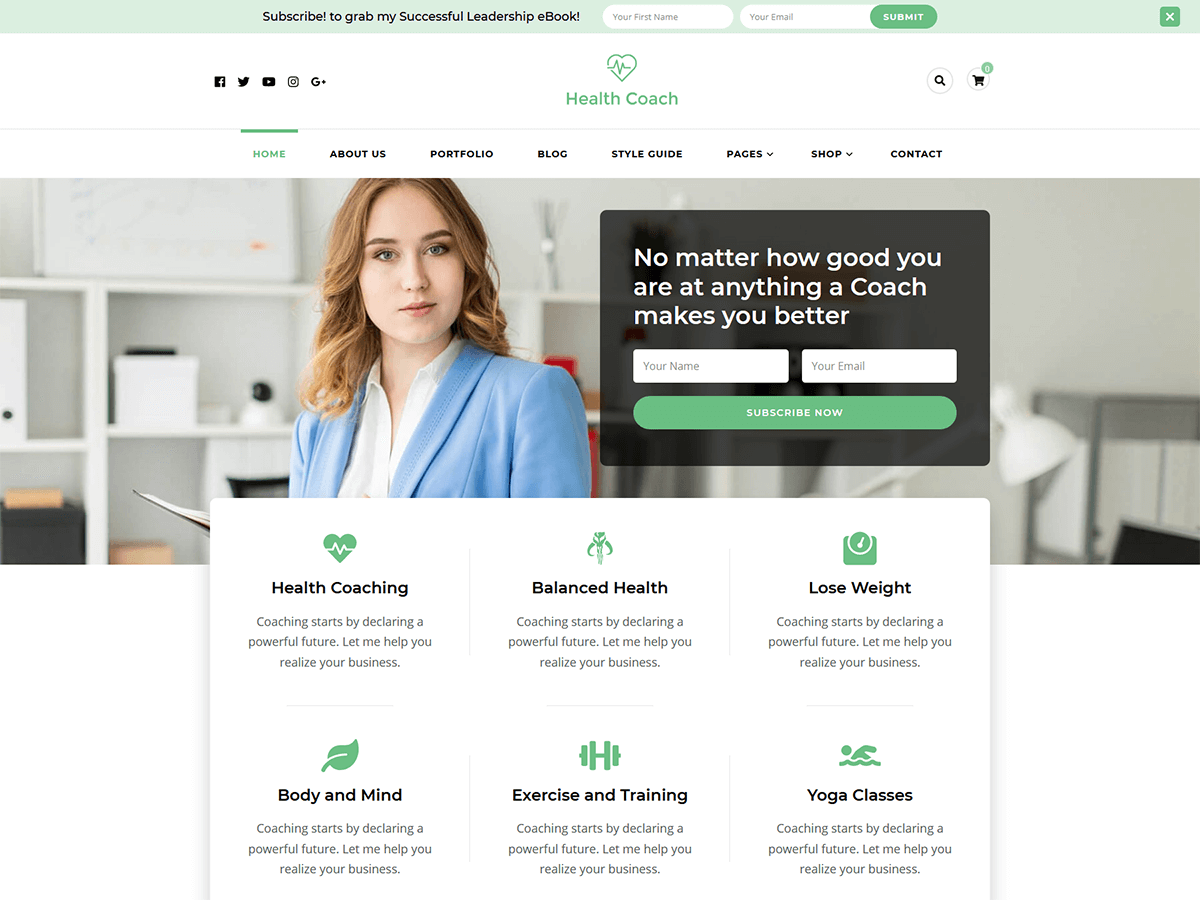 TakeCare is another WordPress Health and Medical theme with a lot of features. Doctors, health clinics, hospitals, chiropractors, psychiatrists, and all medical-related industries will love it. It's a well-organized and well-designed theme with limitless modification options. This theme is also mobile-friendly and fully responsive. Appointment forms, doctors, gallery items, FAQs, news pieces, and pages can all be organized using its unique capabilities.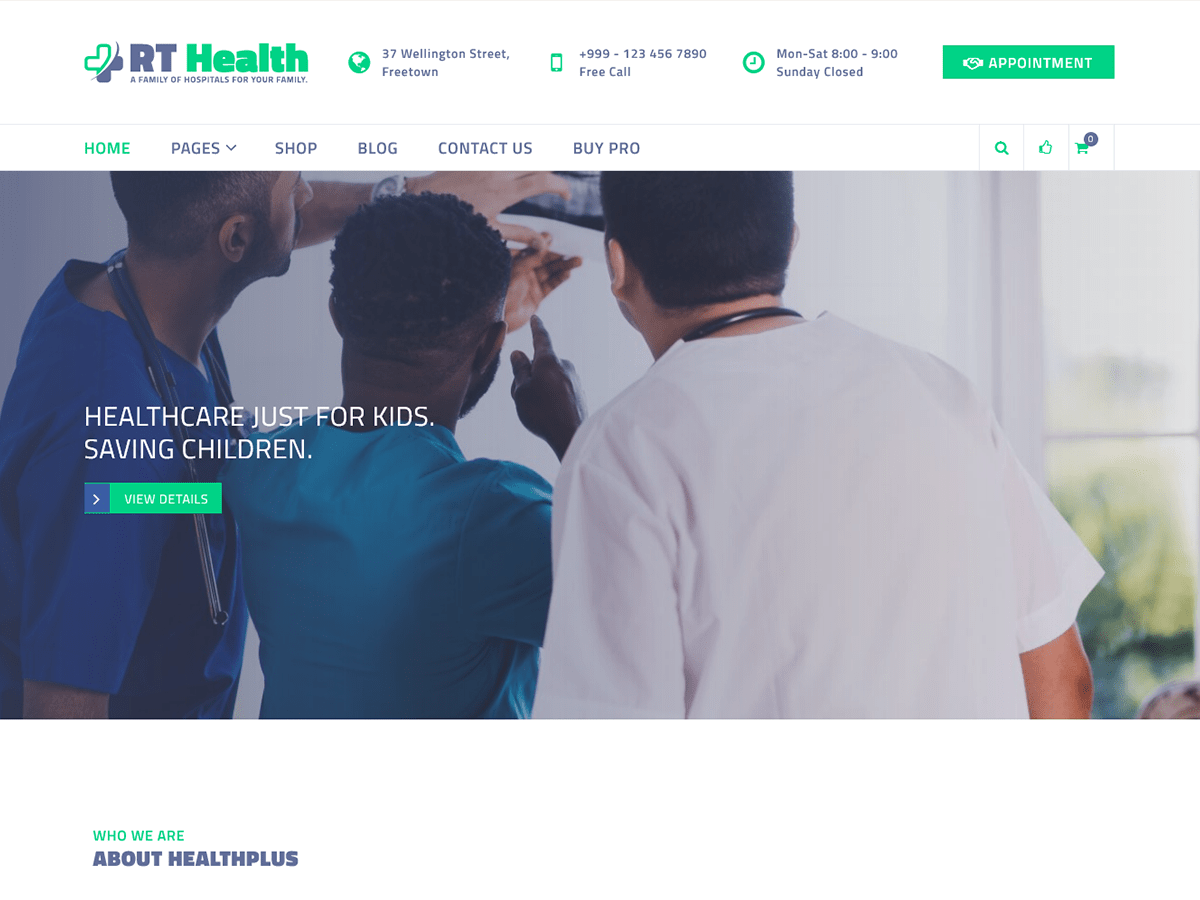 RT Health is a free WordPress health theme with a clean style. Your website will be simple to navigate and load thanks to RT Health's sleek user experience. Thanks to the excellent documentation and nice balance of features and simplicity, setting up RT Health is also simple. If you want to personalize your health website, you'll be pleased to know that this theme is designed using the popular Elementor tool. This free page builder plugin allows you to customize RT Health's templates and create bespoke page designs.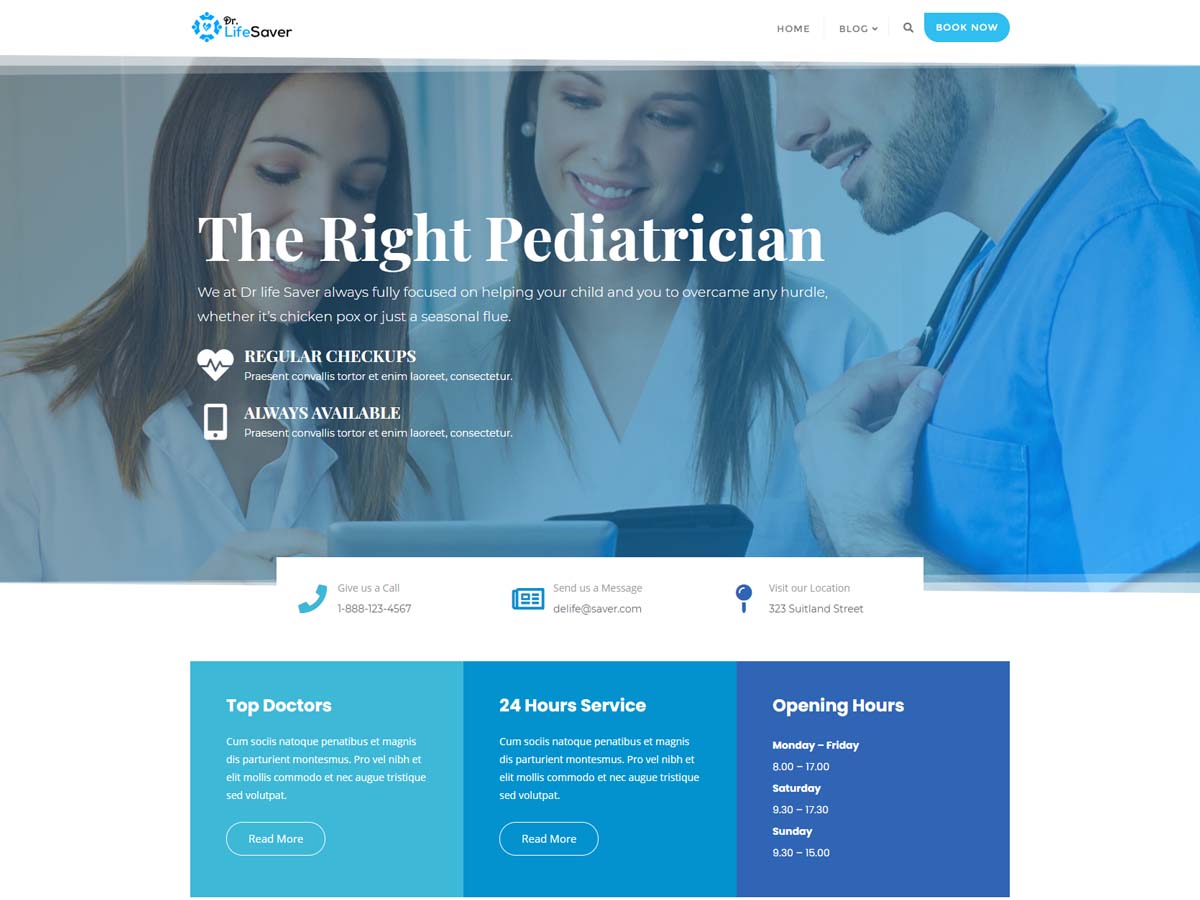 Dr. Life Saver is a versatile free WordPress theme for constructing health websites, and it's a popular choice for medical projects. This theme comes with all the demo files to assist you to get your new website up and running as quickly as possible. This includes a quick way to import the templates and other information into your WordPress admin. While the theme choices are restricted, the visual interface of the Dr. Life Saver theme allows you to customize your website.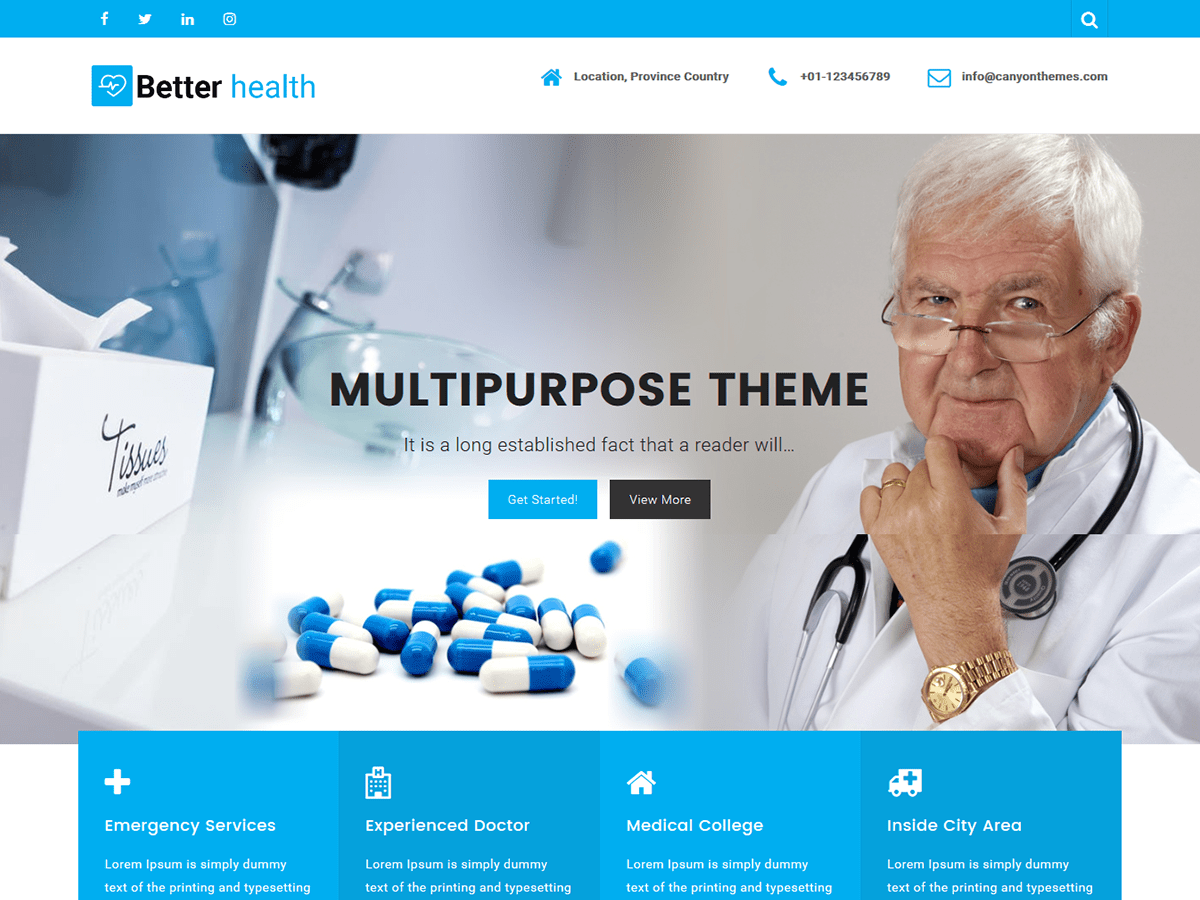 Better Health is a free WordPress theme that can be used to create a variety of different health-related websites. This theme's design is ideal for developing this type of website, and whether you're launching a website for a clinic, a hospital, or any health-related project. The theme settings window in the free version of Better Health allows you to make a few adjustments to your website. There are some restricted color options available, but no access to typeface settings. However, the free edition includes a slider tool that allows you to easily build slideshows to your content.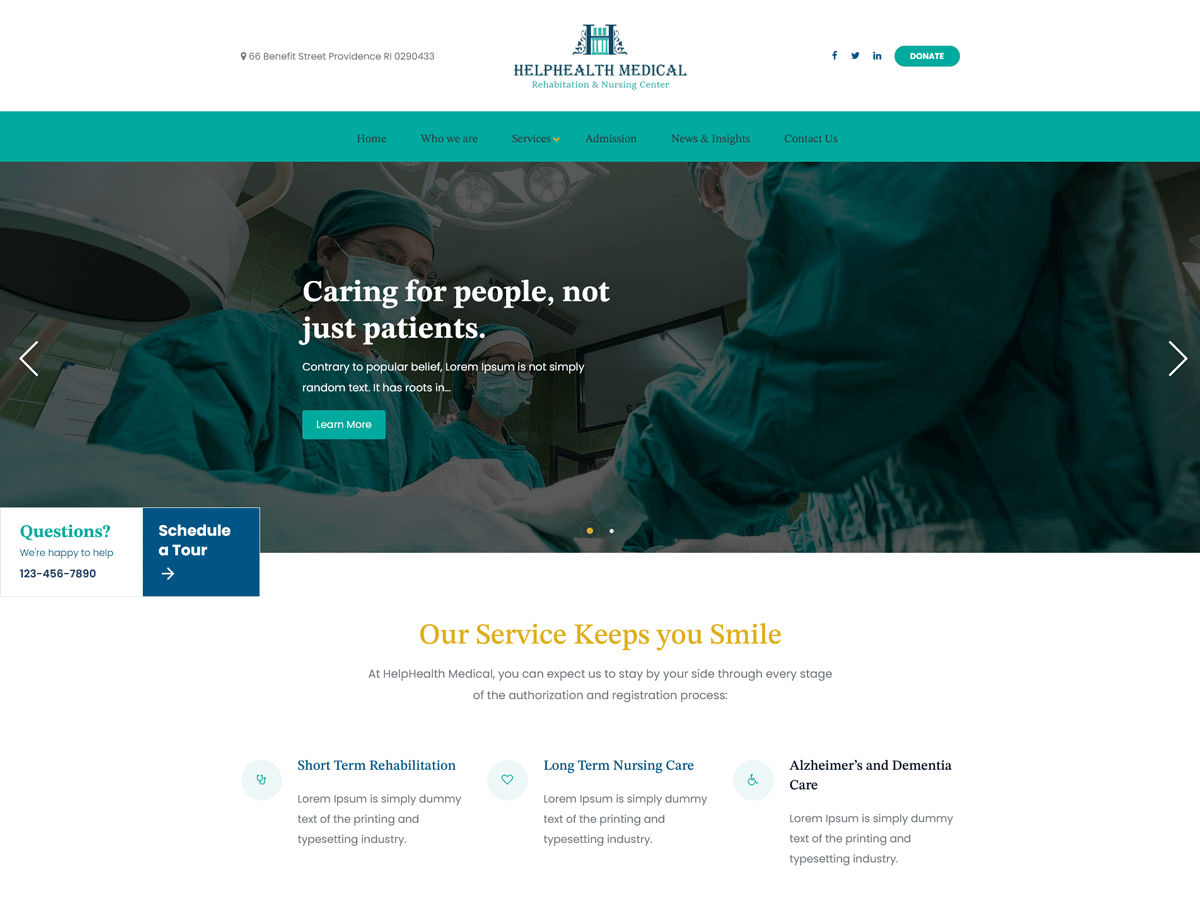 One of the wonderful WordPress Health and Medical Themes is Helphealth Medical. This theme is a fully responsive WordPress theme for medical, clinic, hospital, doctors, and other medical-related websites. This is a straightforward WordPress theme that can be customized by both pros and non-technical users. In a live customizer, you can change the layout, add templates, and more with this theme.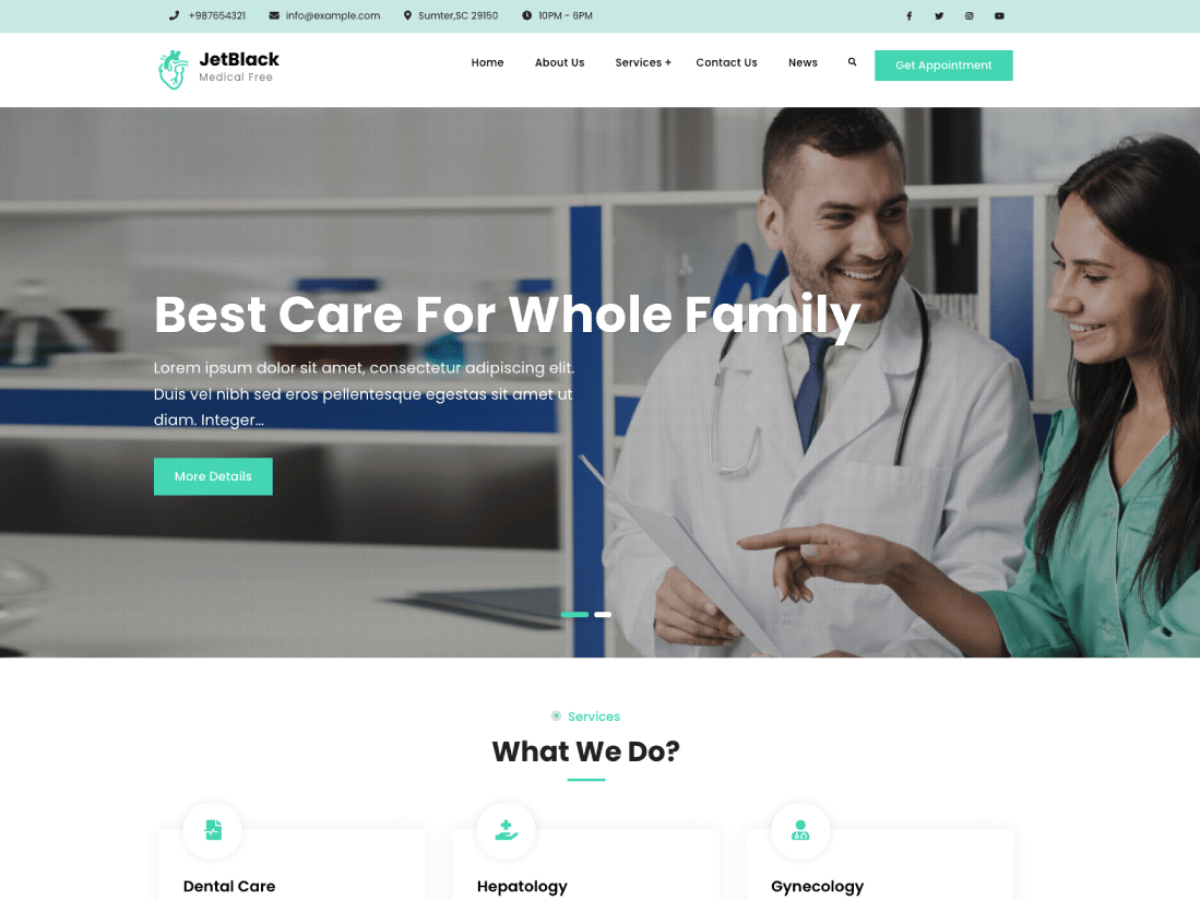 JetBlack Medical is another child theme of JetBlack. This theme has been designed to provide all of JetBlack's functionality with a medical color scheme and settings. The style of this free theme is appropriate for creating this sort of website, and whether you're starting a website for a clinic, a hospital, or any other health-related project, you could find that it's a great fit. This child theme also modifies the featured content, portfolio, and what we do parts, as well as the header section.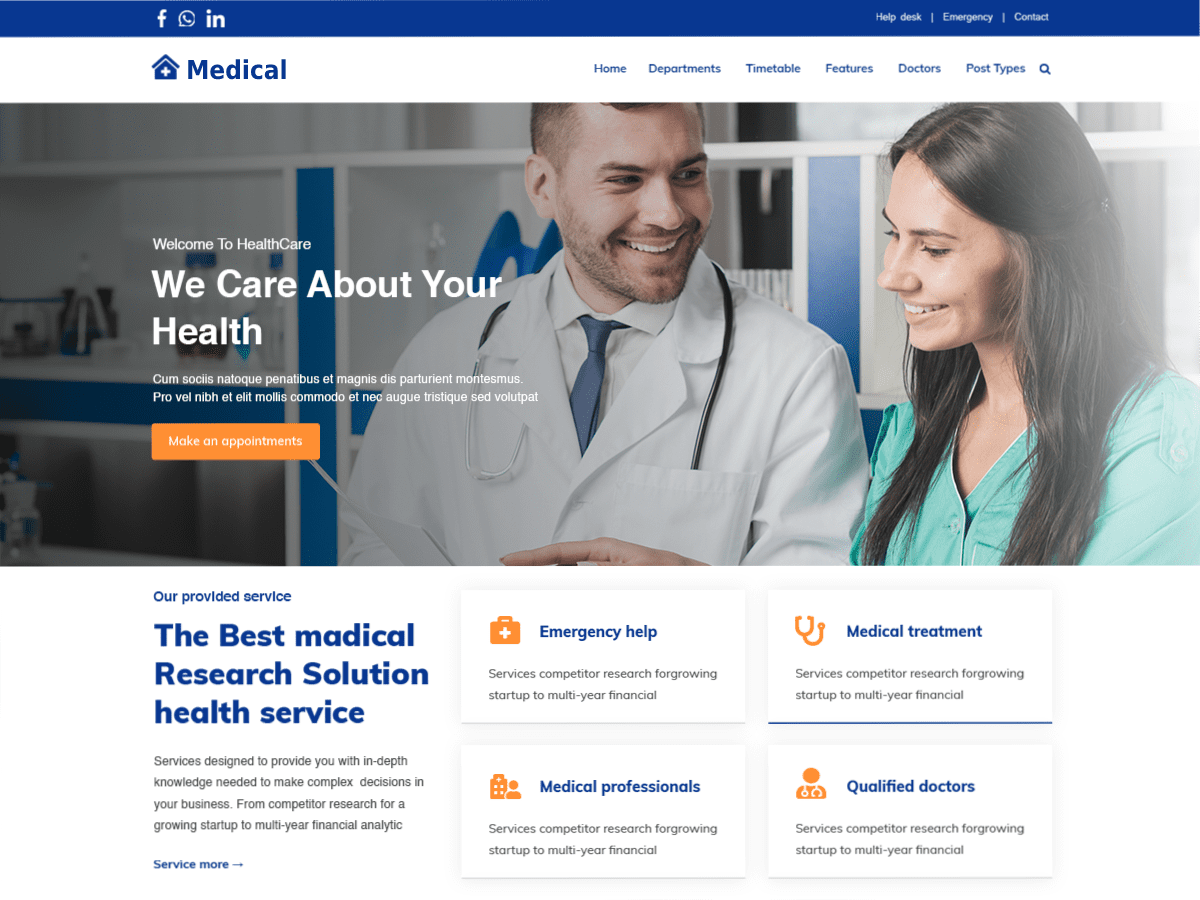 Clinical Insight is the last theme we want to recommend for your site. It is designed for clinical sites as well as portfolio destinations for specialists, gynecologists, general advisors, specialists, and all clinical area individuals. It's far from a retina-ready and good strategy. You may utilize shortcodes to make your site more helpful. It is ready for interpretation and follows the RTL format. It features a responsive design that works with all screen sizes on mobile devices. It's also SEO-friendly, which means it'll help your site rank higher on Google and other major search engines.
Conclusion
Each of these themes has a professional, clean, and user-friendly design and includes all of the features that any clinic, doctor's office, or another medical website should have. We believe that no matter which of these themes you choose, you will not make a mistake. We hope you found this post useful. If you enjoyed it, please leave your comment below or share it with your friends.
Furthermore, you can check out our Free WordPress Health & Medical Themes to get an exquisite one and make your site more stunning and professional!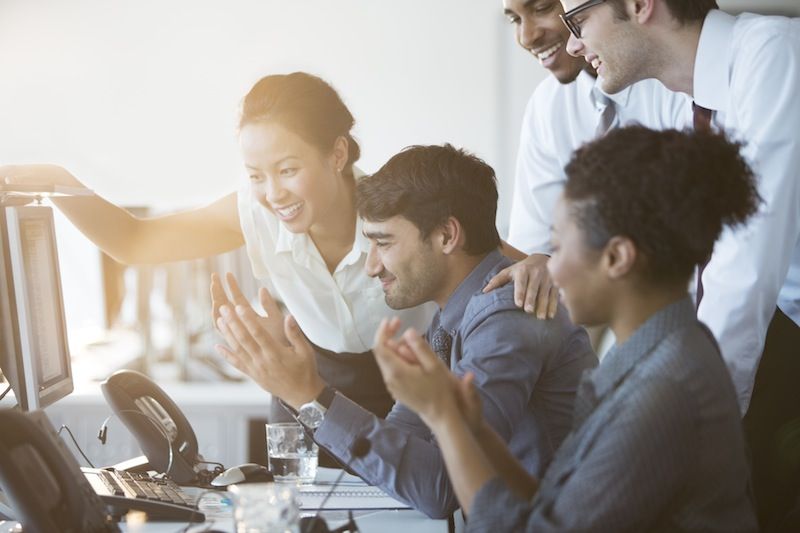 We're Digital Content Marketing team from AgeThemes Marketplace. We provide quality content for everyone who using open source CMS like Joomla and WordPress. If you have any questions or feedback, feel free leave your comment, we happy to assist you asap.