Nowadays, sharing your enthusiasm for cooking or cuisine recipes with people all around the world is much easier. To begin your food-sharing adventure, all you need is a platform such as WordPress and a free suitable theme. This wonderful selection will blow your mind and help you choose your free "soulmate" food blog theme if you are overwhelmed by the abundance of free blog themes accessible. Let's discover a list of helpful WordPress Food Themes.
What are the benefits of using WordPress food themes?
The modern WordPress engine will meet practically any wish for the start, launch, and promotion of a new cooking resource. You may install a WordPress theme for a food blog, a cuisine diary with recipes, a bakery or coffeehouse website, or a website selling food in a matter of minutes. The WP platform brings together food bloggers from all over the world who enjoy surprising their readers with delicacies and confectionary sweets, as well as telling "delicious stories" through the use of enticing images. The basic characteristics of a current WordPress design will be sufficient to show dishes and desserts from the top chefs, as well as to demonstrate your own culinary abilities!
Top Useful WordPress Food Themes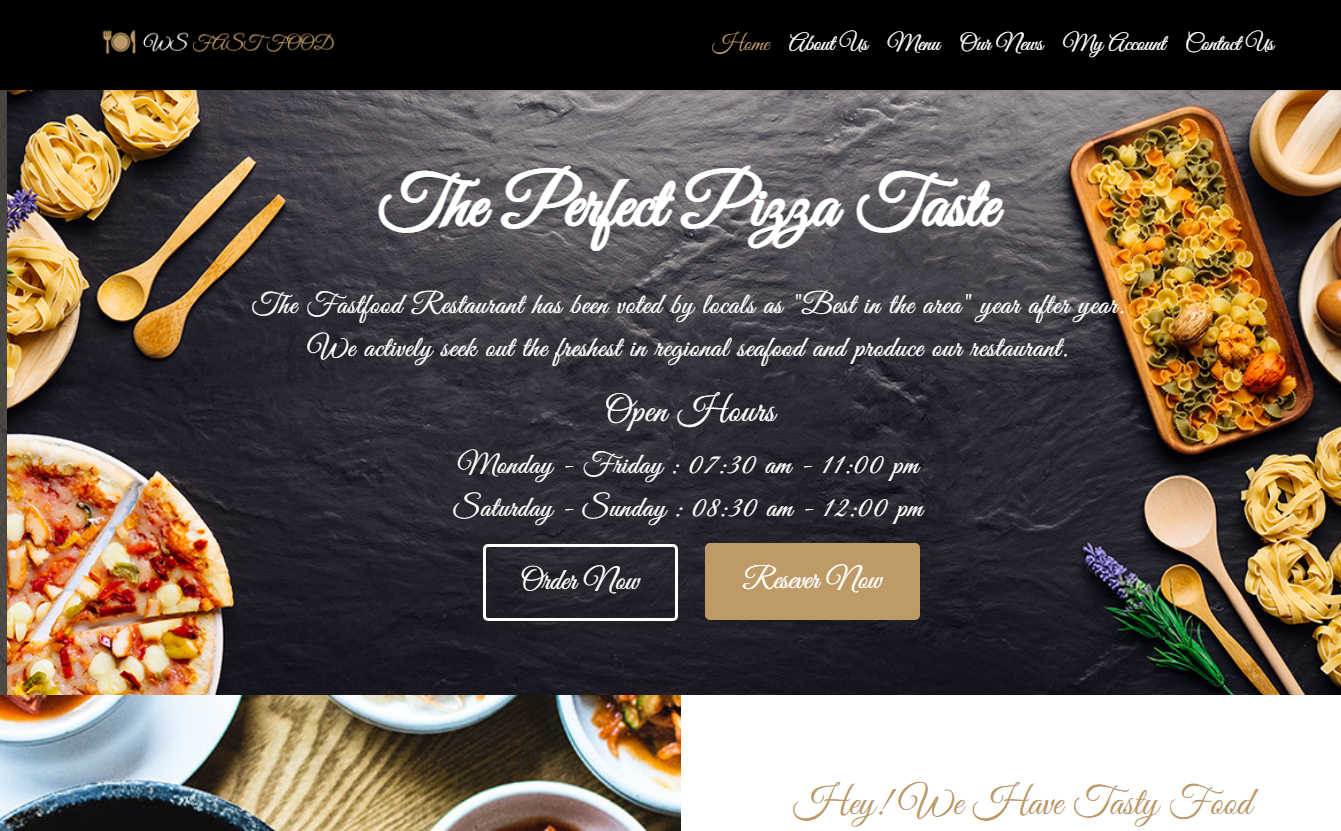 WS Fast Food is a trendy and appealing theme for fast food establishments and restaurants. This theme aids you in efficiently constructing your site in your own style with the help of Elementor Page Builder. As a result, you might use eye-catching images to convey the menu of today's fast food to boost sales. Furthermore, news about food will be updated on your site for visitors to peruse at their leisure. A mobile-friendly layout is another highlight of WS Fast Food, allowing your customers to easily navigate your site.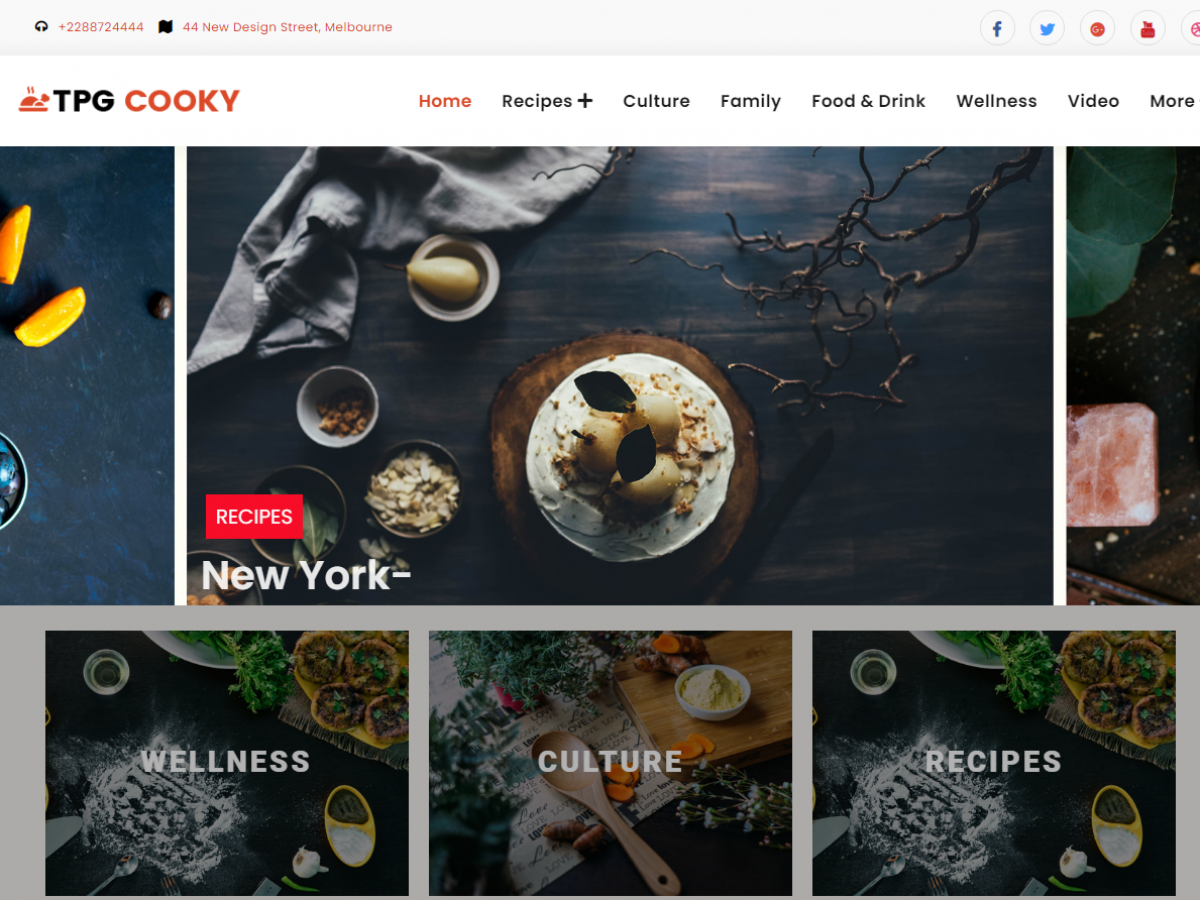 TPG Cooky is a website for chefs and foodies who wish to share tips, recipes, and tasty food reviews. It has a modern and eye-catching design. There are numerous useful features that allow you to personalize your site in your own unique manner. It's simple and convenient for you to display delectable recipes, inexpensive dining options, unique and traditional cuisines, and more. A user-friendly layout is another feature that this theme offers. As a result, your clients may access your site with ease and speed, regardless of the devices they use.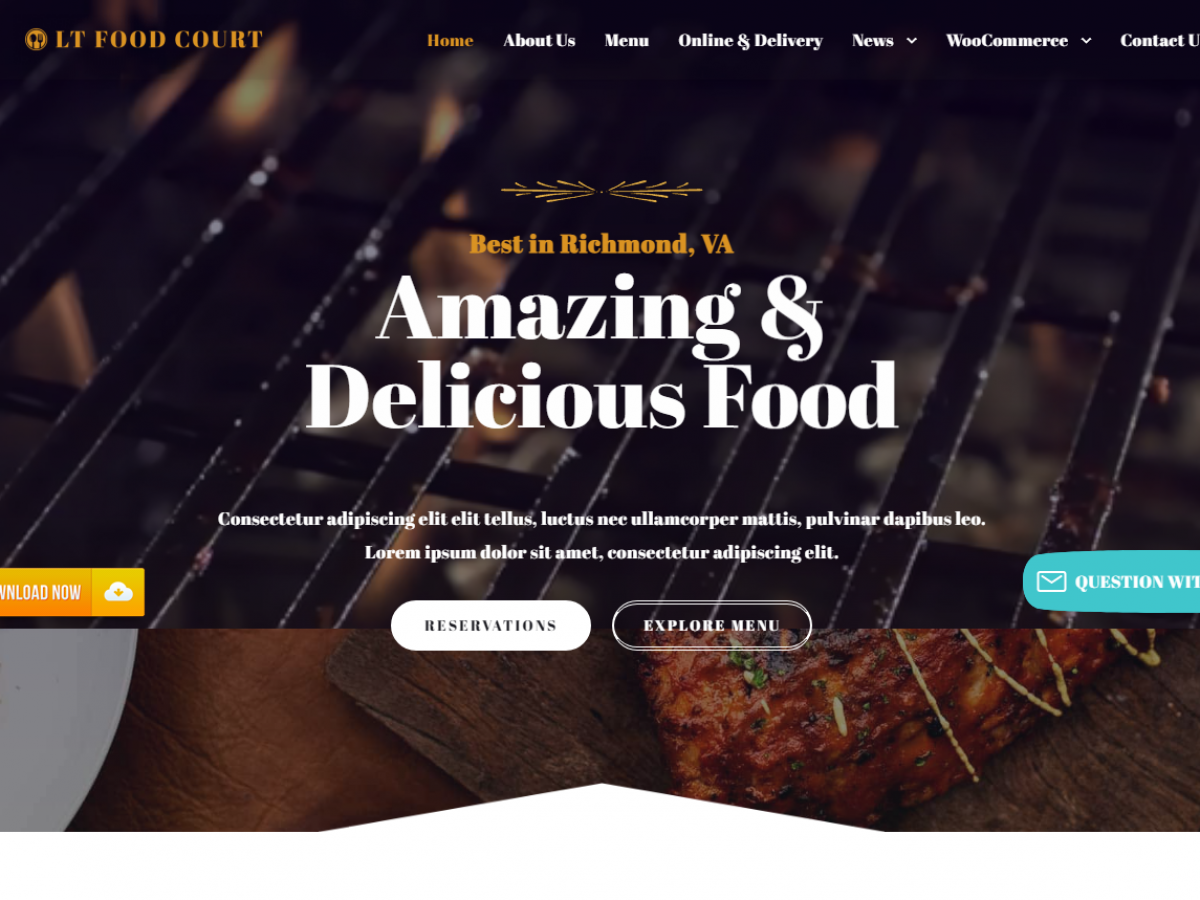 LT Food Court is an excellent choice for creating a visually appealing website. To attract visitors' attention, the excellent food will be shown along with the associated pricing. Furthermore, if you want to offer them a discount, let them know about it on your website. You may also promote table bookings by displaying your customers' best ratings. Moreover, your diners may access a mobile-friendly interface at any time and from any location.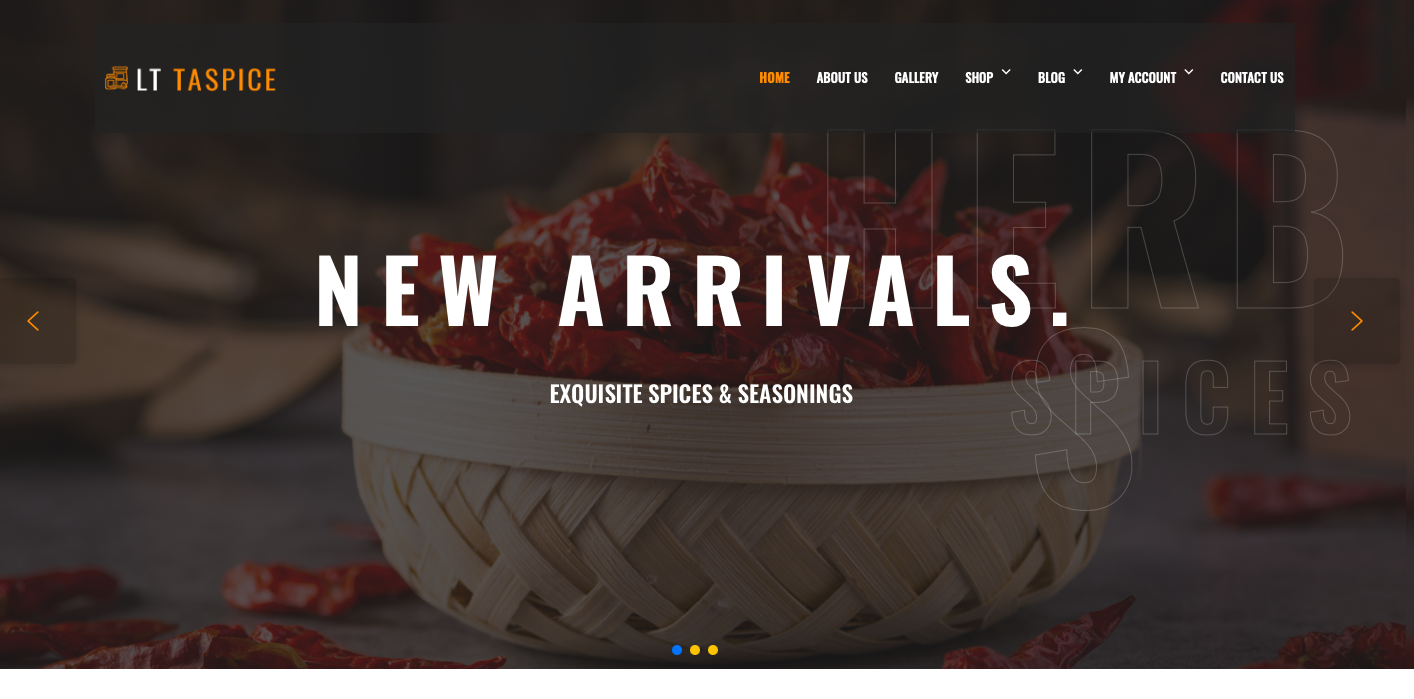 LT Taspice is designed for people who run online stores, particularly organic food stores. This theme allows people to easily invent, customize the contents and images thanks to advanced technology and compatibility with Elementor Page Builder. Furthermore, it includes WooCommerce, which allows users to effectively control, advertise, and sell their products and services. Thanks to a fully responsive design, LT Taspice can perform and maintain site organization flawlessly on any device.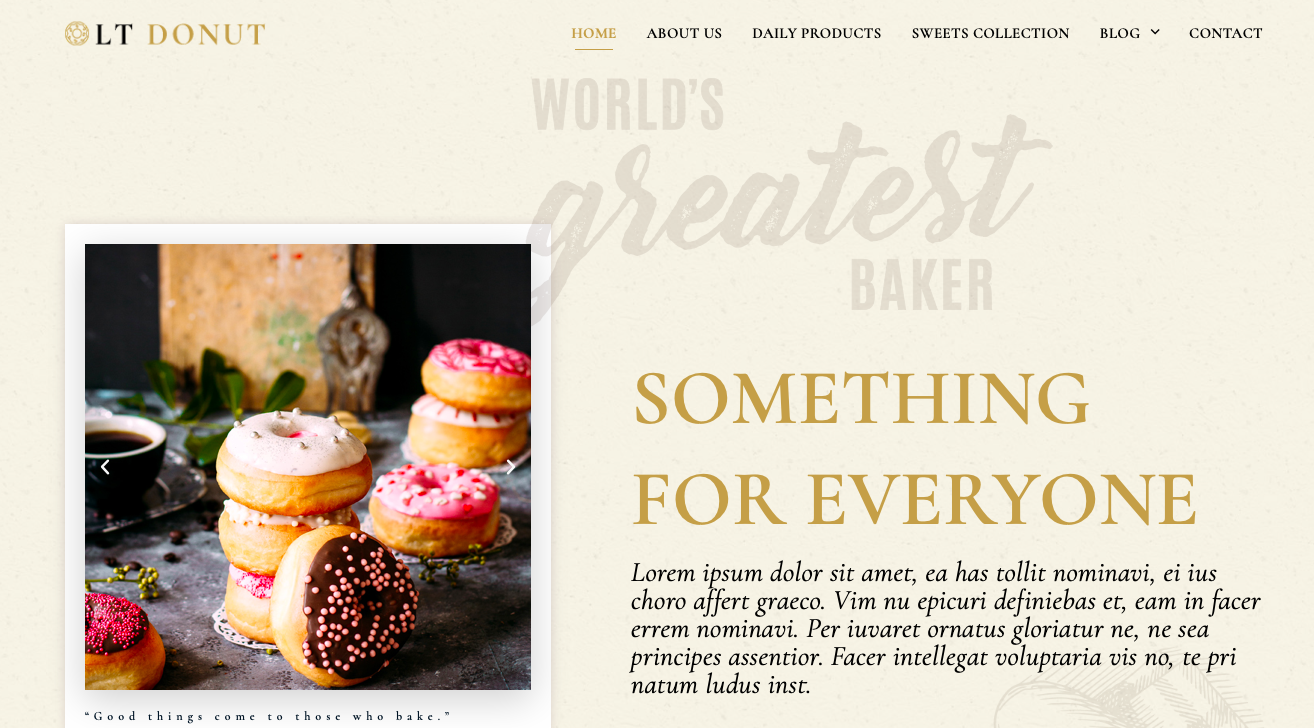 LT Donut is a visually appealing WordPress theme designed for Bakery and Donuts websites in particular. The first notable feature of this theme is that it is built with Elementor Page Builder and Bootstrap CSS, allowing you to customize your sites and make real-time changes to their appearance. It also includes WooCommerce, which allows you to present your food's products and services in an appealing manner, complete with adequate pricing, descriptions, and so on.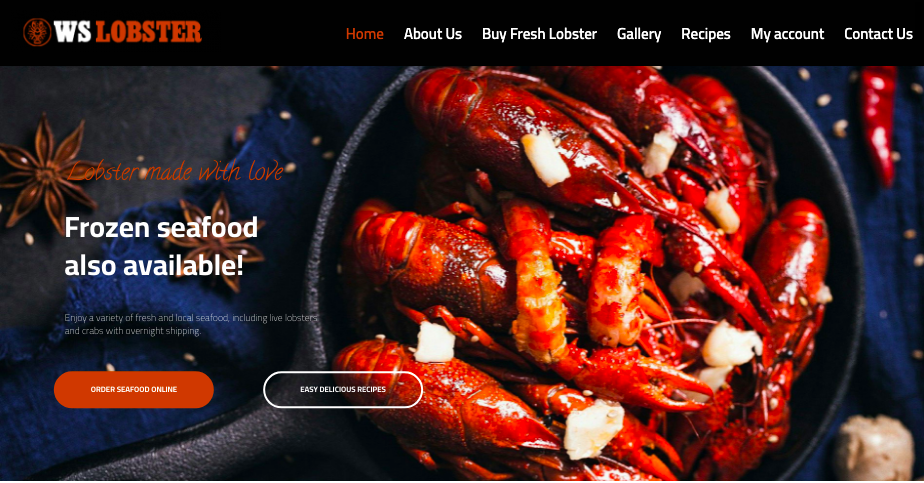 As the owner of a seafood or lobster restaurant, you want to market your establishment as much as possible. As a result, WS Lobster was established to help you efficiently improve sales. Because of its interoperability with Elementor Page Builder, you can update, customize, and present any material to attract clients' attention and greatly increase your revenue. Furthermore, because this theme is built on WooCommerce, it is really simple to market, expand businesses, and sell any foods or items.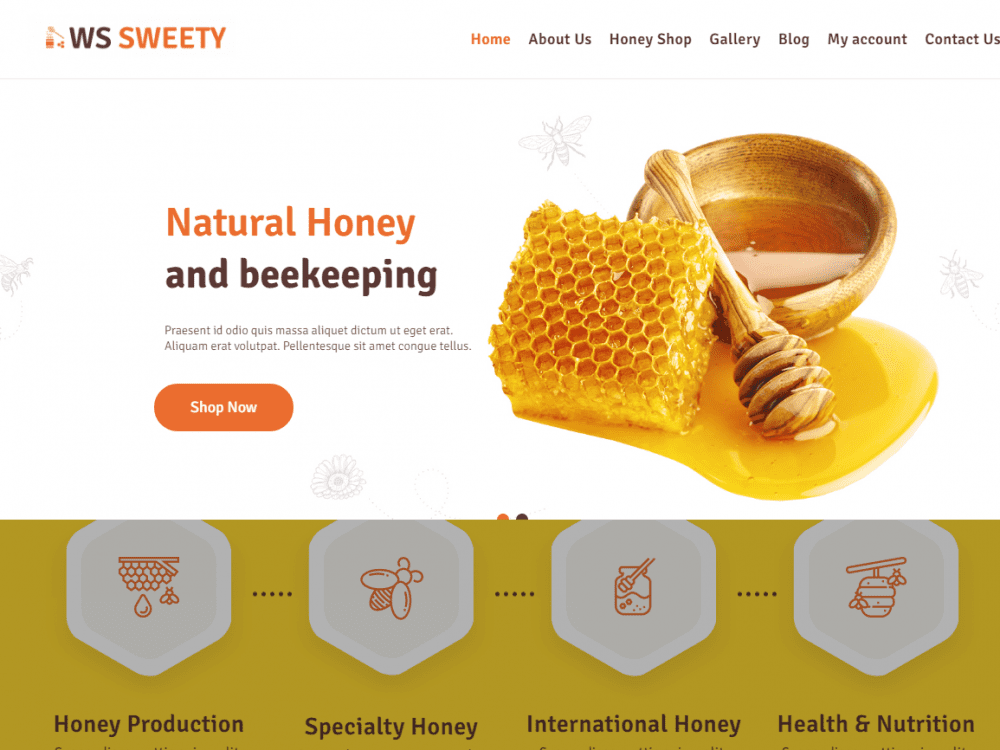 WS Sweety is a gorgeous and sweet theme that may be used to offer honey, candy, sweet snacks, and more. It's ideal for you to create your own websites and customize any content to communicate a unique look and strong impression on customers. This theme is developed with Elementor and WooCommerce, giving you and your customers the greatest experience possible. In more detail, you may effortlessly plan, advertise, and sell any type of food without any restrictions.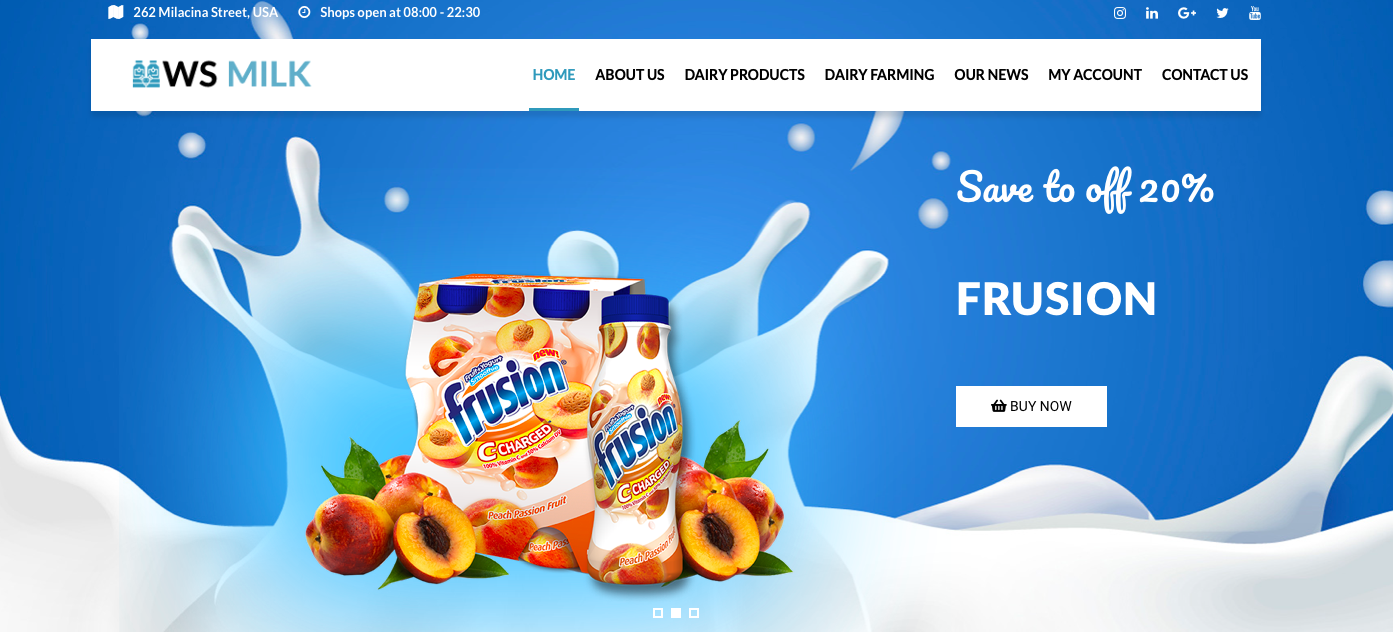 Many people opt to drink milk and utilize dairy products to replenish nutrients for the body, in addition to consuming a variety of cuisines. If you sell those things, creating a website with WS Milk is an excellent idea. This WordPress theme includes templates with a completely responsive design that works on all mobile and tablet devices. Because WS Milk comes with Elementor Page Builder, you can modify and add content as well as change the appearance of the theme to see how it looks in real-time.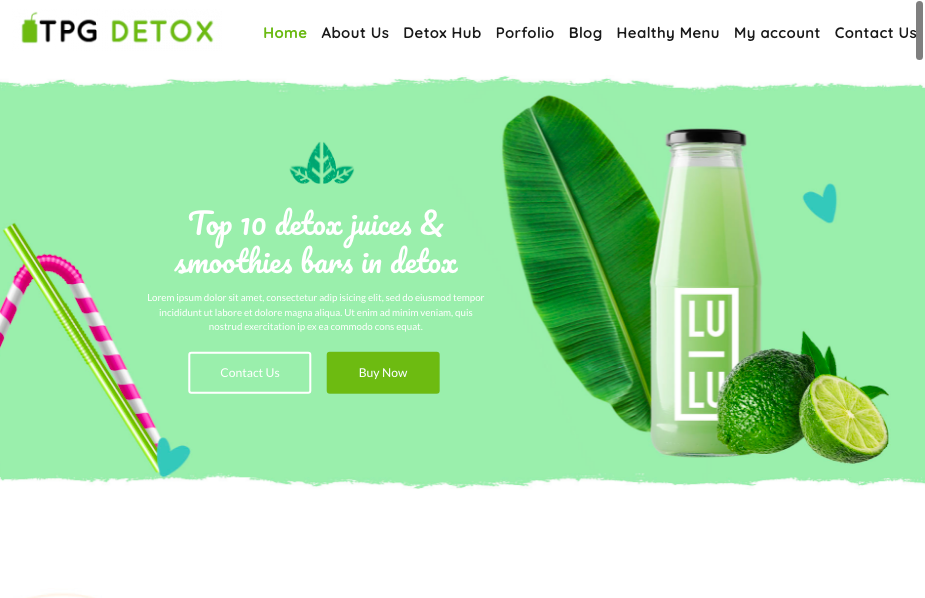 TPG Detox is a beautiful and eye-catching theme for persons who sell online beverages, particularly detox drinks. This WordPress theme includes WooCommerce, which allows you to sell, advertise, and manage your items and services online. Another advantage is that TPG includes the Elementor Page Builder and a completely responsive layout, allowing you to watch, construct, modify, and manage your sites without having to make any special requests.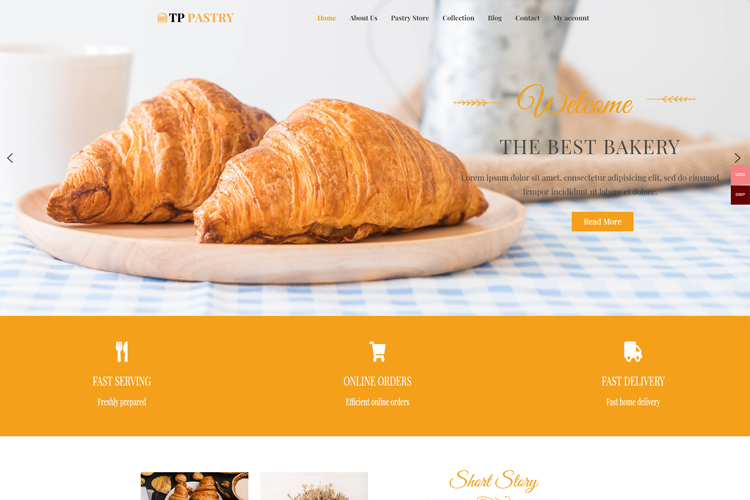 Among the stunning WordPress Food Themes, TPG Pastry is a vibrant and appealing theme designed for online bakeries. This theme is also one of the wonderful WordPress Food Themes. It connects with WooCommerce, allowing you to effortlessly present and sell your items and services while also attracting more customers with an appealing design. Last but not least, TPG Pastry is fantastic because it has a user-friendly interface that allows your web pages to run smoothly on any screen resolution.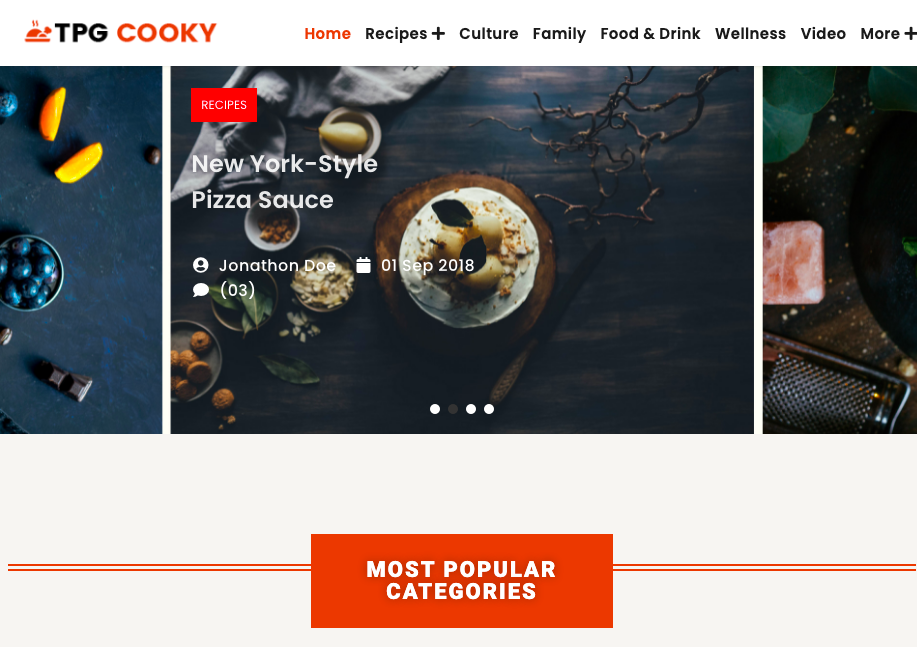 TGP Cooky is a fantastic WordPress Food Blog Theme for food bloggers, magazines, and other culinary-related businesses. With the help of Elementor Page Builder, you can build and develop your site without having to know anything about coding. Furthermore, thanks to WooCommerce compatibility, you may sell out any item on your site in a few simple clicks. Your sites can be automatically modified to fit any screen resolution, ensuring that they run smoothly and accurately.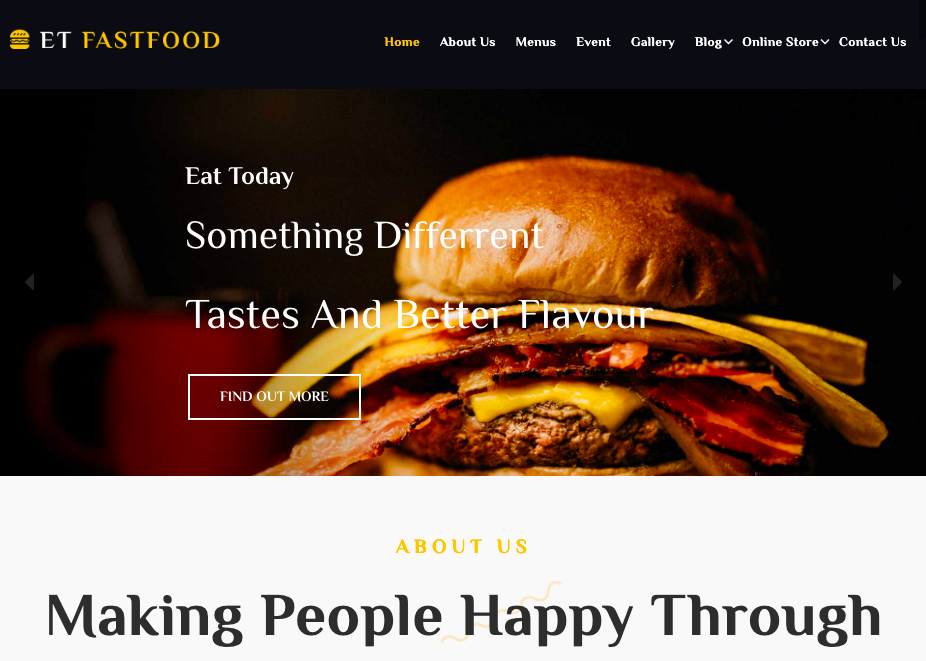 ET FastFood is one of the greatest WordPress Food Themes for expanding your business. The first notable feature of this theme is that it offers extensive assistance for you to personalize your site's design to your liking in order to promote fast food products and services using high-quality photos and a well-organized layout. Furthermore, because of its interoperability with WooCommerce, it is unquestionably the finest solution for selling fast-food items and efficiently managing online systems.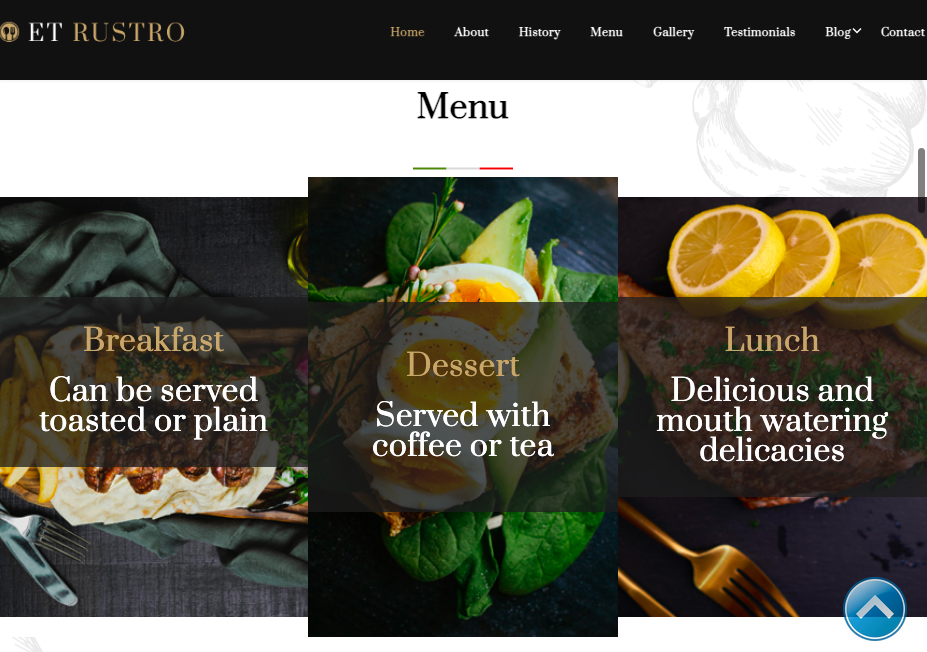 ET Rustro is a perfect WordPress Food theme designed for cafe and restaurant websites, as well as fast food, breweries, wineries, supermarkets, and a variety of other food-related websites. This theme was created with the goal of impressing foodies and persuading them to pay you a visit in person. It's made with Elementor Page Builder and WooCommerce's shopping cart. Using galleries, various widgets, and shortcodes, you will have no trouble customizing each of the chosen designs to your taste.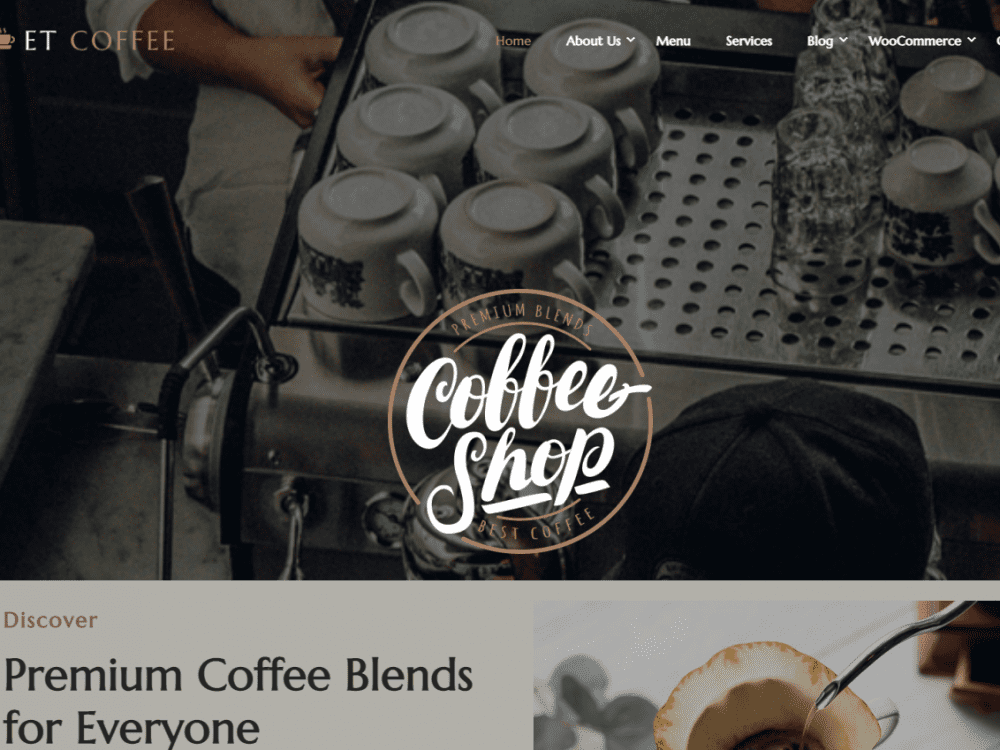 ET Coffee is the greatest option for creating internet websites for beverage companies, particularly coffee shops. You can create your own websites with high-quality images to showcase coffee products and good content to describe a cup of coffee in an eye-catching and elegant manner, which will help you attract more customers at first sight. Furthermore, owing to WooCommerce compatibility, you can easily sell your coffee products and services while also efficiently managing your online business.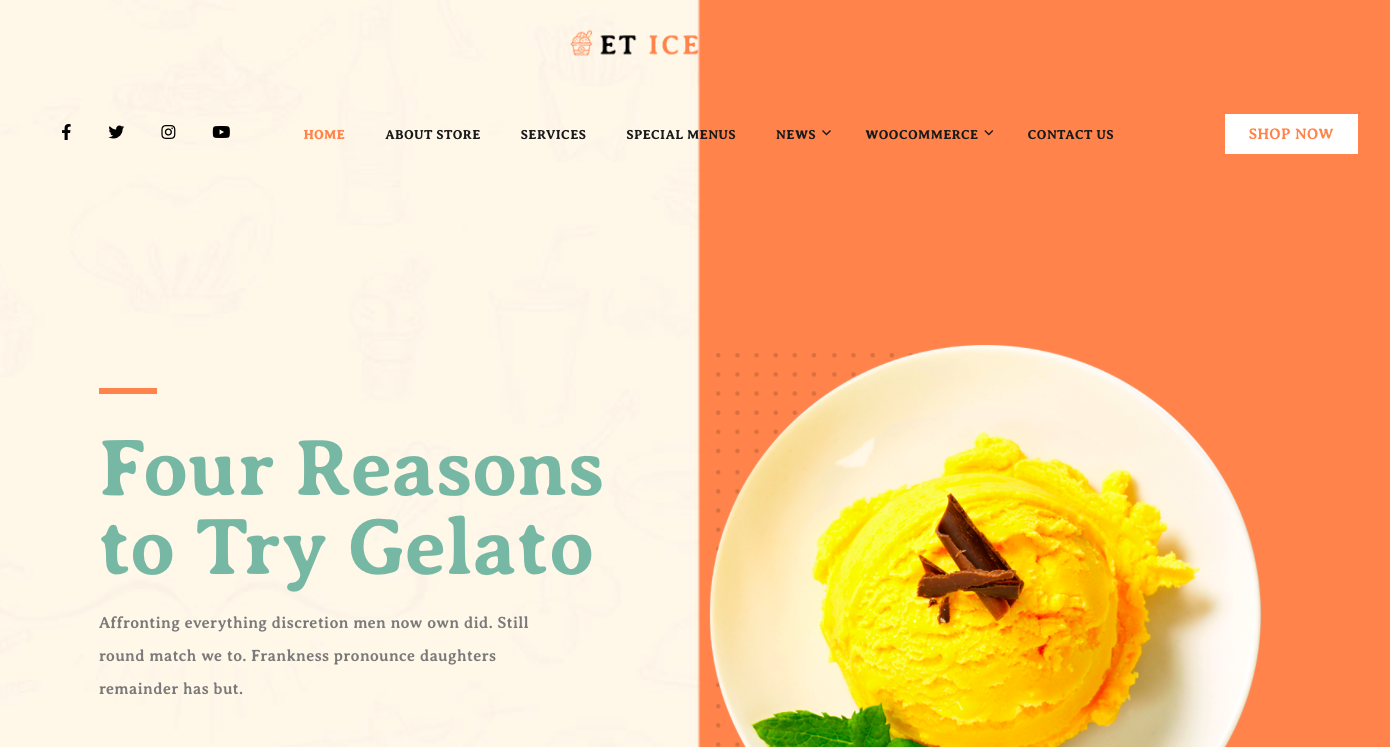 ET IceCream is a premium WordPress theme designed for individuals looking to market their ice cream business. This theme gives you a lot of options for creating a beautiful and appealing website that clients will fall in love with at first sight. With the wonderful support of the Elementor Page Builder, you can change any material and edit your site in your own interest, which helps you enhance your sales greatly.
Foodica is a stunning and appealing free WordPress food blog theme. This WordPress theme was created specifically for food blogs and recipe sharing. It is basic and easy to use for both site owners and visitors. Furthermore, the use of white space, neutral colors, and slim typeface will give your food blog a light, airy feel and provide enjoyable experiences. It's also compatible with the Gutenberg editor, which you may use to make blocks that display your own recipes.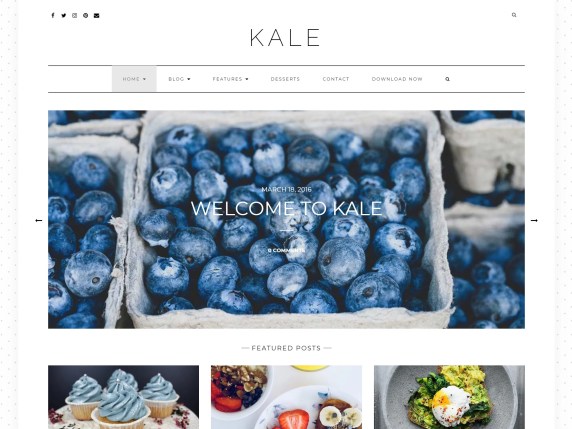 Kale is a delightful and elegant food blog theme that can be used for a variety of purposes. It is aesthetically basic and uncluttered. Kale is a great theme to use if you want to offer recipes or fashion ideas, or if you want to start a lifestyle, parenting, or cuisine blog. A simple but feature-rich WordPress theme for a cooking or cuisine blog with WooCommerce integration. Kale is easy to set up and search engine optimized. It is beautifully designed and highly clean.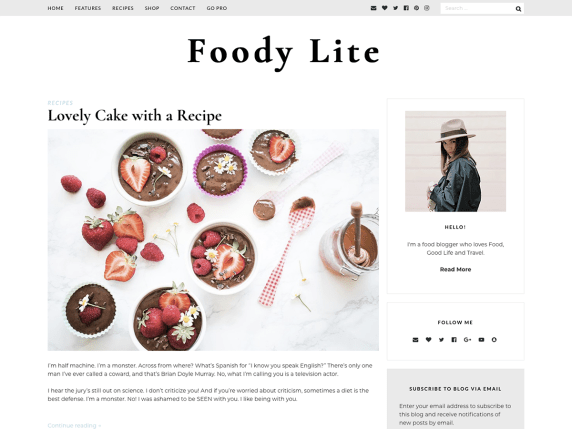 FoodyLite is the ideal theme for any food-related project. It will allow you to construct a food blog and a WooCommerce storefront with a gorgeous and professional design because to its lightweight and extensible nature. Fast, responsive, RTL and translation-ready, and SEO-friendly. Your website will appear great on all devices, including mobile, tablet, and desktop. The category page already functions as a recipe index, complete with a custom widgets area for filtering. It's also Gutenberg-ready and retina-compatible.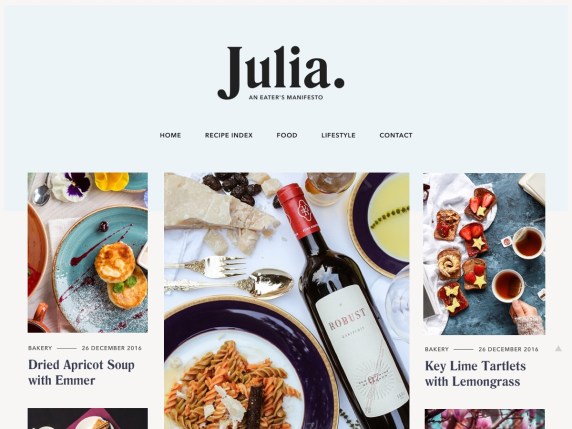 Julia Lite is a food blogging theme designed for people who wish to simply share their recipes and culinary stories. This WordPress gem allows you to satisfy your passion in a clever and engaging approach, with a heavy focus on building a pleasant experience for your users. It's time to take a more daring approach to your gourmet content if you want to keep your audience engaged.
Food Restro is a stunning and appealing food WordPress theme that is polished and professional, robust and easy to use, and very responsive. Creating an appealing and engaging restaurant website is one of the most effective strategies to attract more clients to your business. Because many customers check out a restaurant's business before visiting the physical location, having a website is critical in promoting your restaurant.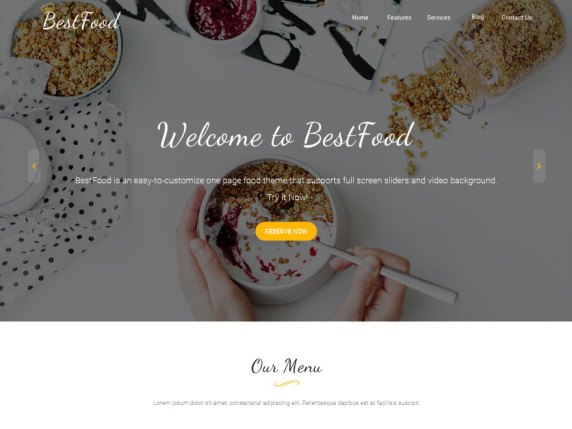 Best Food is a completely responsive premium WordPress theme that is great for restaurants, cafés, bakeries, cuisine, fast food, pizzerias, drinks, and other food-related businesses. It is clean and elegant, polished and feature-rich, sturdy and easy to use. The theme comes with a number of pre-built home page elements that will allow you to construct a stunning modern one-page website without writing a single line of code.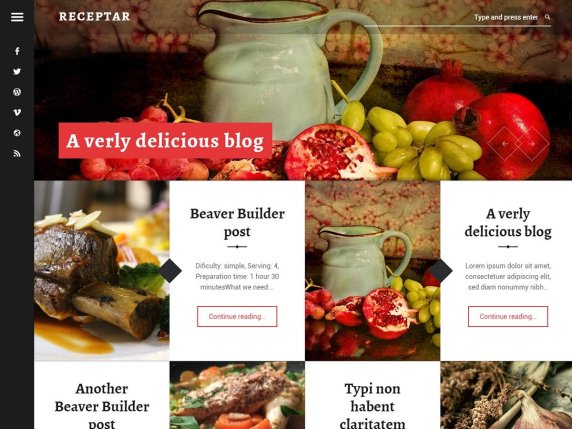 For food blogs, Receptar is a one-of-a-kind and enticing design. This free WordPress food blog theme is ideal for showing your cuisine in a clean, content-focused approach. When you first visit the website, the theme's split-screen slideshow with large-scale photographs of delectable dishes will undoubtedly make you salivate. This food blog theme is also ready-to-use for beginners, thanks to the Beaver Builder page builder and practically all features being compatible with the Jetpack plugin.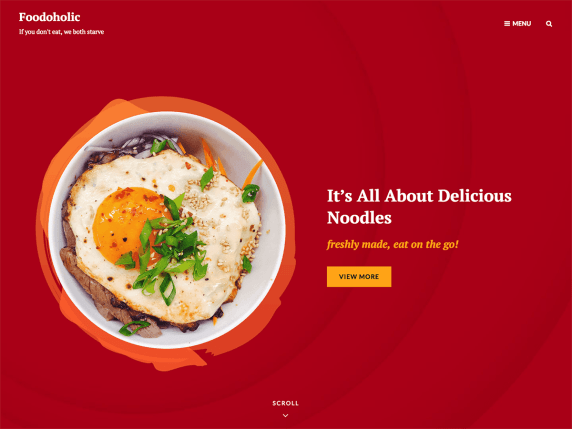 Foodoholic is a completely free WordPress theme for restaurants that is clean, simple, and aesthetically beautiful. It's been designed with a minimalist aesthetic in mind, so you can focus on your restaurant. Foodoholic is a multipurpose restaurant WordPress theme that is highly configurable and exceptionally user-friendly. It showcases your cuisine beautifully on your website and looks great on all platforms. Foodoholic is a well-designed restaurant WordPress theme that includes essential features to help you construct a delicious-looking website in just a few minutes.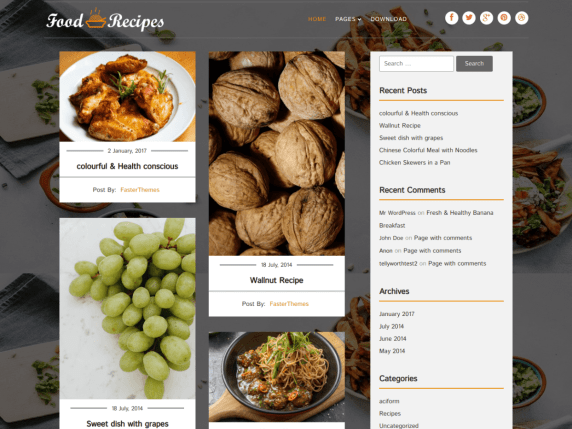 Food Recipes is a free WordPress theme for traditional food recipe blogs. This theme appears to be basic, yet it has a lot of strength. This food blog theme's image-based design will make your recipes' photographs much more noticeable and appealing. With configurable choices, Rood Recipes gives you control over your blog and allows you to be creative. Furthermore, thanks to its straightforward interface, completely responsive design, and translation readiness, this is a user-friendly theme.
Foodie blog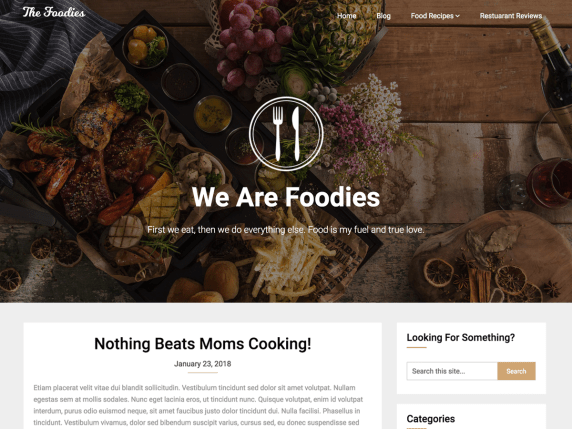 Foodie Blog is a great choice for a modern and minimalistic WordPress style theme for your food blog. This theme is designed in a professional culinary style and is ideal for food reviews, recipes, and other food-related material. Multiple configurable options make this theme stand out because you may utilize these different layouts to be as creative as you want. This food blog theme's SEO optimization is also a standout feature.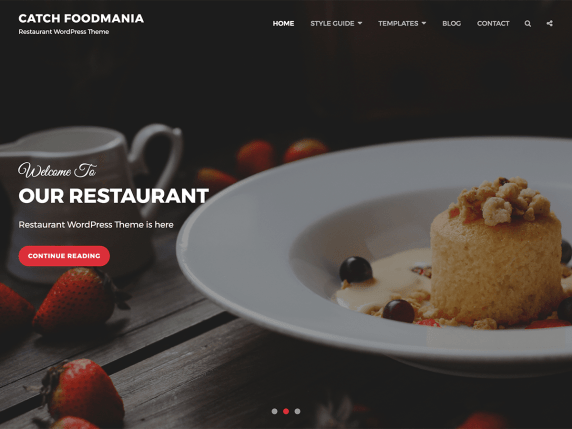 Catch Foodmania is a free WordPress theme for restaurants that is clean, straightforward, and aesthetically beautiful. It was created with webmasters in the foodservice business in mind. It enables users to construct their own stunning modern restaurant websites quickly and easily. Catch Foodmania is a straightforward yet extremely configurable restaurant WordPress theme that emphasizes your cuisine.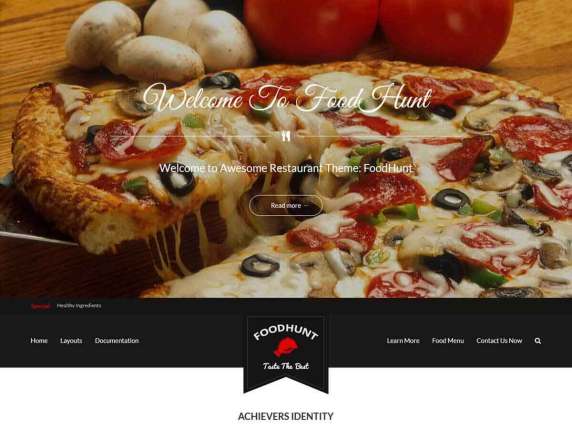 FoodHunt is a sleek multipurpose theme designed specifically for restaurant websites. However, because of its versatility and ease of use, it may be used to develop a wide range of websites. Moreover, this theme is fully responsive, so your website will look great on any device. The fundamental features required for a restaurant company are included in this theme, including header media, featured content, featured slider, food menus, hero content, services, testimonials, and more.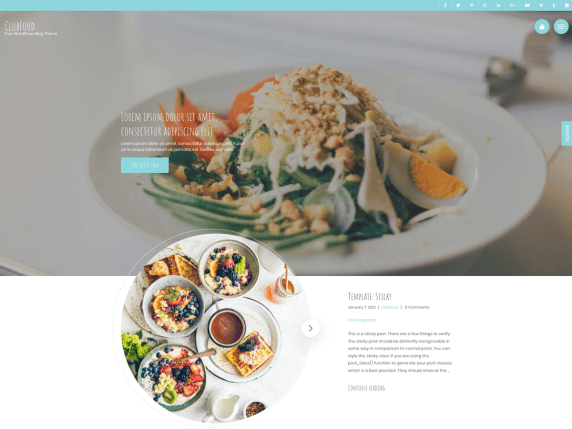 Clubfood stands out among the various free food blog WordPress themes because of its distinctive style. It includes a circle frame for photographs, handwriting typography for the post title, and softened color to give it a friendly, light-weight, and minimalistic appeal. Furthermore, the theme is WooCommerce compatible and has social network links that will benefit your business.

Foodie Diary is a WP Diary Child Theme designed for a blog, portfolio, or news magazine. It features a unique, modern, light, and clean design that will enhance the appearance of your website. It's entirely based on Customizer, which lets you simply change most of the theme's parameters while seeing live previews. This theme includes three distinct archive layouts, as well as other fascinating features that allow you to simply adjust the theme without having to know how to code.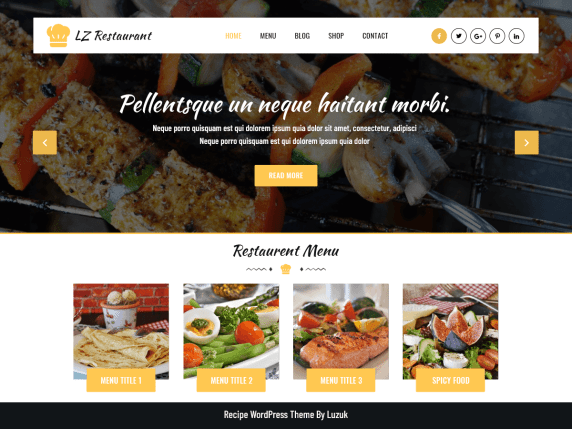 LZ Food Recipee is a visually appealing and stylish WordPress restaurant theme designed specifically for online use. With total ease, create a gorgeous website for a bakery, barbeque, motel, food joint, Italian restaurant, lodge, and grill house. This versatile restaurant WordPress theme is mobile responsive and works on any device. You don't need to be a professional developer to work on it because it's so user-friendly and adaptable. It has a lot of customization options so you can make the theme appear and feel the way you want it to.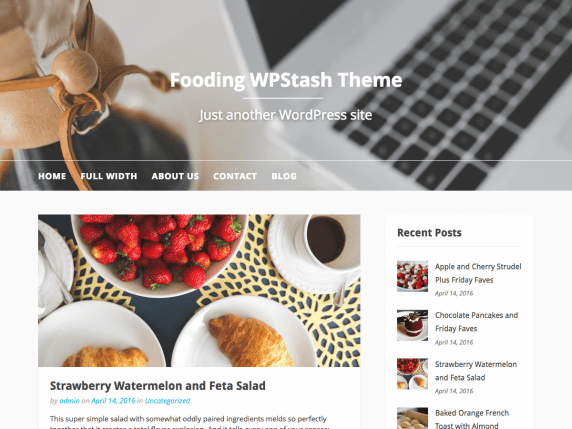 If you're seeking for a sophisticated free food blog WordPress theme, Fooding is a great choice. It's a simple but useful theme for publishing food-related content of any kind. Additionally, a sticky post function can be used to draw extra attention to a new post or exceptional recipe. An extra point for being translation-ready is that it improves the user's experience.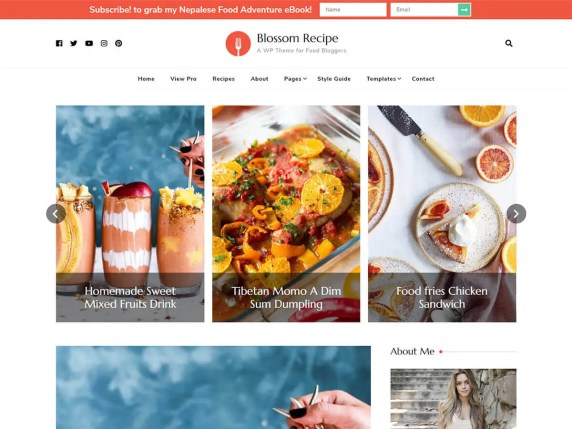 Blossom Recipe is a feature-rich free WordPress theme built exclusively for sharing recipes. It guarantees to help you make clear and plain cooking instructions on your food blog. Blossom Recipe lets you display every aspect, including cooking time, difficulty levels, and step-by-step instructions. As a result, readers will know how much time and effort it will take them to complete your recipes and will be able to effortlessly follow them.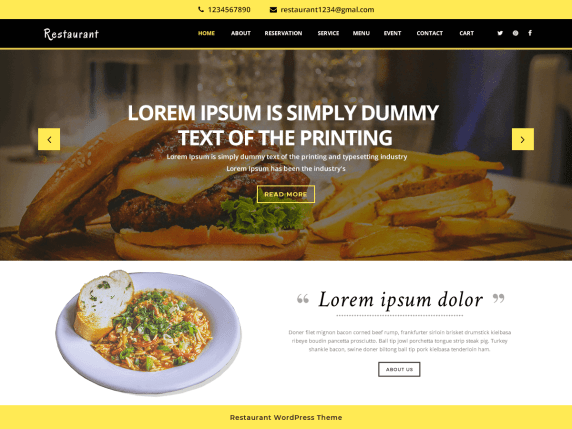 VW Restaurant Lite is an attractive restaurant website theme. However, because of the theme's adaptive and responsive design, it's simple to turn it into a WordPress food blog. All of the parts are simple to configure, and this free template comes with built-in plugins. Widgets, a gallery of popular photographs on the main page, a choice of logo alternatives, and many more essential settings and features are all included in the theme.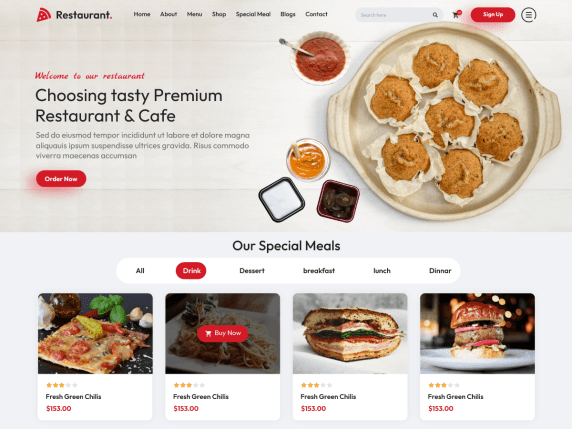 The Free Restaurant WordPress Theme is a great, sophisticated, and versatile theme that is ready to assist you in quickly and easily creating a good food and hospitality services connected website. It has a lot of features and functions. You have the option of displaying your services and restaurant menu in a unique way. It is created with all of a restaurant's necessities and characteristics in mind. It comes with a variety of pre-made designs and layouts to pick from.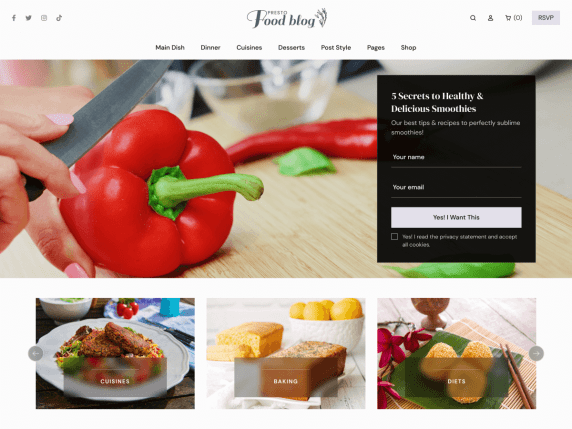 Do you want to build a website to offer your delectable and unique cuisine recipes? If that's the case, you'll need a visually appealing WordPress Food Blog theme. It's a free recipe and food WordPress theme that's both modern and elegant. You may easily create a website and share your delectable and unique culinary recipes. As a result, you can quickly create fully functional food blogs without writing a single line of code.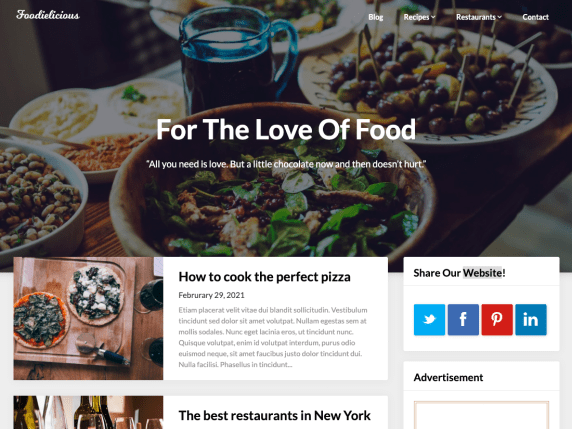 Foodielicious Blog is a responsive and SEO-friendly theme for food and restaurant blogging. The theme is easy to set up, but it offers a lot of features for affiliate marketing, this type of website demands an SEO optimized, creative, and modern theme, which Foodielicious Blog is. The theme is simple to set up and compatible with most schema markups, allowing you to include reviews and other types of affiliate material.
Last Words
There are the top 30+ WordPress Food Themes for your site. Each one is unique and fascinating in its own way, so you may choose the perfect theme to tell your food story with ease. We hope you enjoyed the post and found the best food blog theme for you.
If this article does not satisfy your needs, check out Free Food & Restaurant WordPress Themes for additional eye-catching and professional WordPress Food & Restaurant themes and templates to use on your own site. Thank you for taking the time to read this, and have a wonderful day!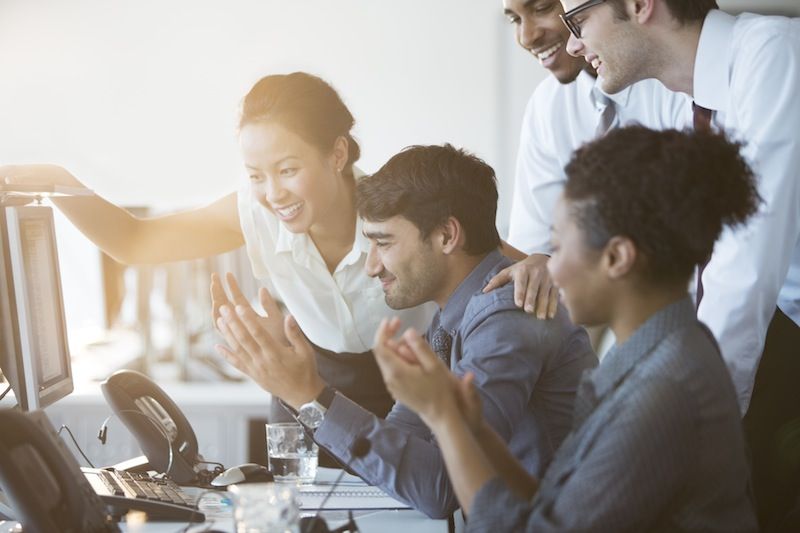 We're Digital Content Marketing team from AgeThemes Marketplace. We provide quality content for everyone who using open source CMS like Joomla and WordPress. If you have any questions or feedback, feel free leave your comment, we happy to assist you asap.