If you're looking for the greatest WordPress Event & Conference themes, you've come to the right place. Event themes are designed to promote a certain event. Unlike a conventional theme, an event or conference theme allows you to promote an upcoming event while also displaying images from previous events. We'll go through some of the prominent WordPress Event & Conference Themes on the market in this post.
Why do you need a WordPress Event & Conference Theme?
Setting up a website is critical for any successful event. You can promote any event online and reach a huge number of people at once if you use the correct WordPress theme. The right event WordPress theme allows you to manage registrations and sell event tickets directly from your website. In addition, you may create a website that develops excitement for a major day like an event or concert by selecting different themes from this collection of WordPress Event & Conference Themes. These themes have fantastic features and functions that can be applied to any type of event website.
Top Highly-recommended WordPress Event & Conference Themes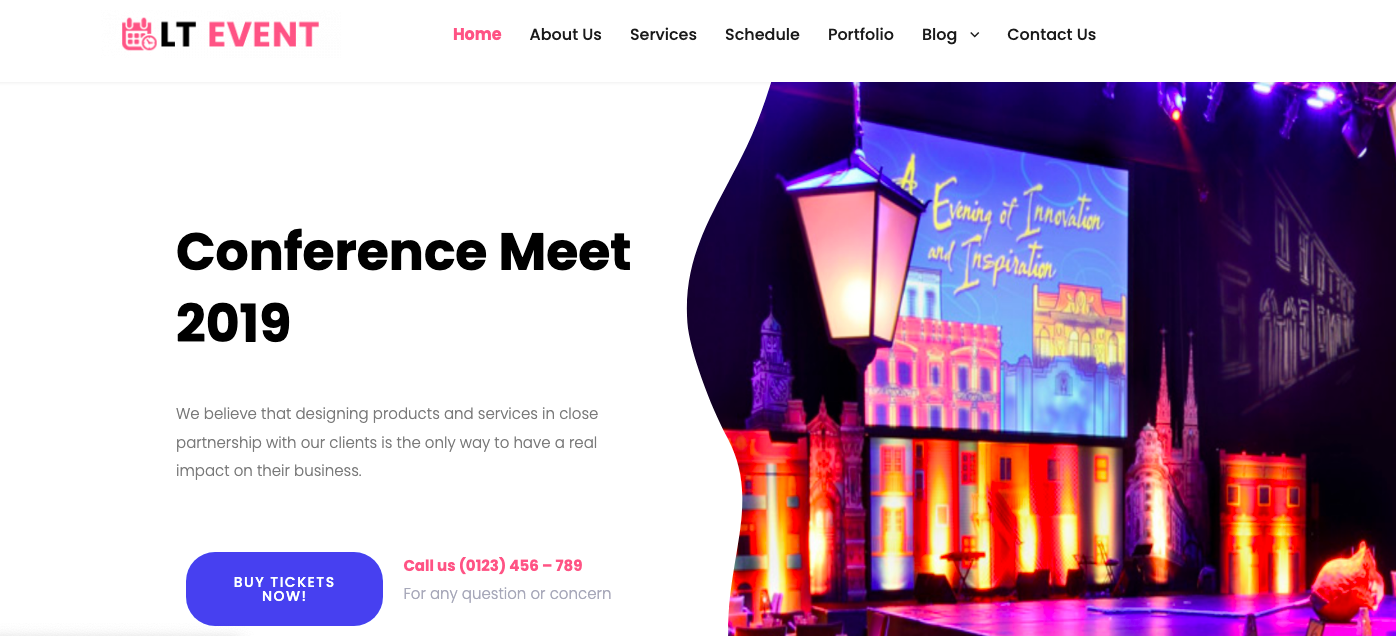 One of the must-have WordPress Event & Conference Themes that you should not overlook is LT Event. Elementor Page Builder is included with LT Event, allowing event planners and related businesses to easily construct, adapt, and develop their websites in the digital marketing era. Furthermore, the integration of LT Event with WooCommerce is fantastic, allowing users to display extensive information about their items and services for selling or advertising.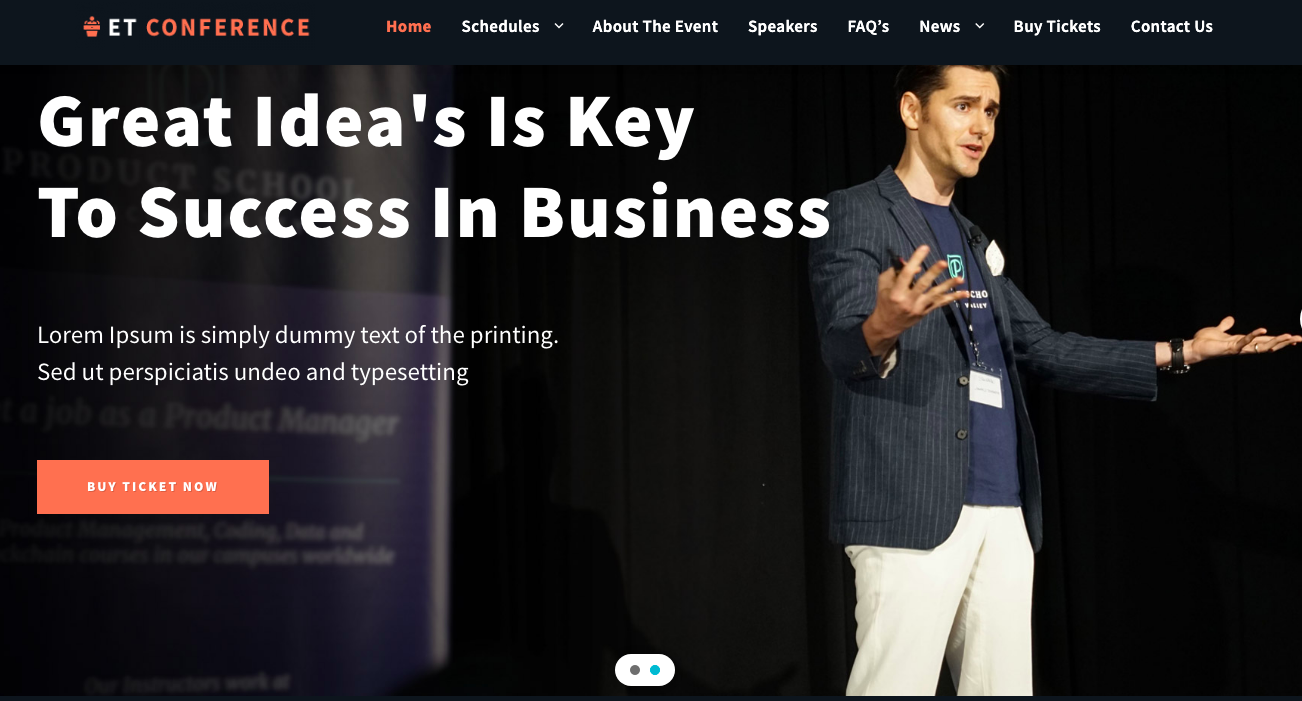 ET Conference is the second WordPress theme created specifically for conference and event organizers. You can effortlessly manage your website with the Elementor page builder and WooCommerce's shopping cart functionality. It may be accessed from any device, including a mobile phone and a computer. Customers may think your website is amazing. Let's give it a go and build a great website together.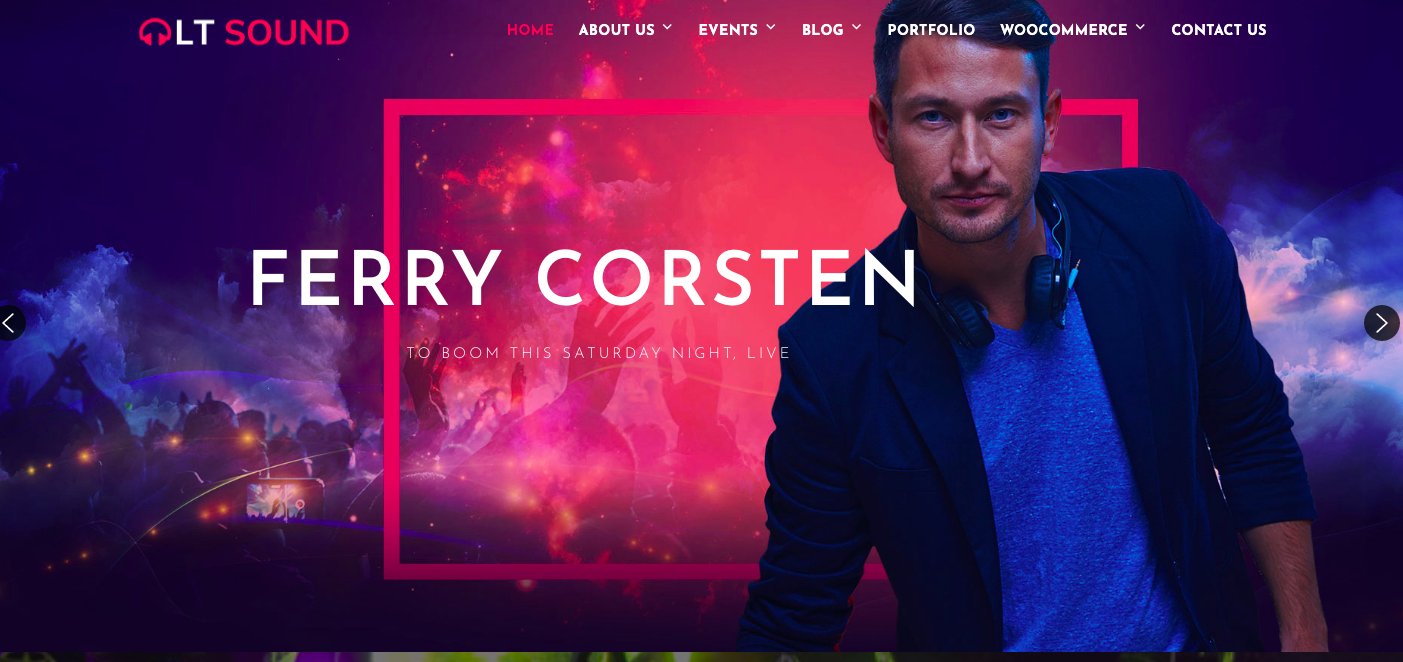 LT Sound is a great WordPress Music theme that is excellent for music festivals, music production companies, and online music networks. Moreover, it is suitable for any events or conferences that meet your needs. You may simply adjust your material to match a range of scenarios or new music item features using the Elementor Page Builder and drag-and-drop format content. Furthermore, consider current design, attention-getting content association, and excellent responsiveness on all mobile phones.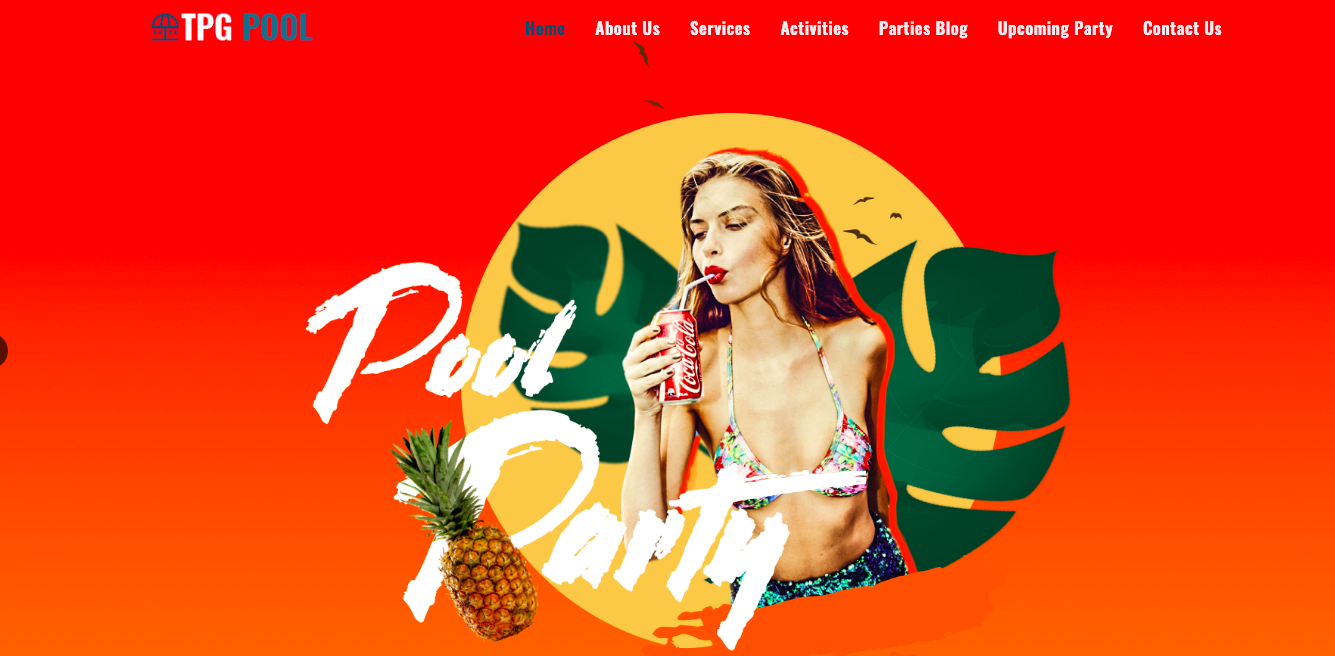 TPG Pool is a responsive WordPress festival theme created just for amazing pool parties, beach club events, and anybody looking for outside events! It's time to create a pool party environment for your consumers to have a fantastic summer vacation with the help of Elementor Page Builder. As a result, you may highlight the features and services that your pool facility provides to its customers, such as pool sizes, en suite bathrooms, sunbathing spots, and so on. In addition, family and friend packages have been established to attract clients in the easiest and most efficient way possible.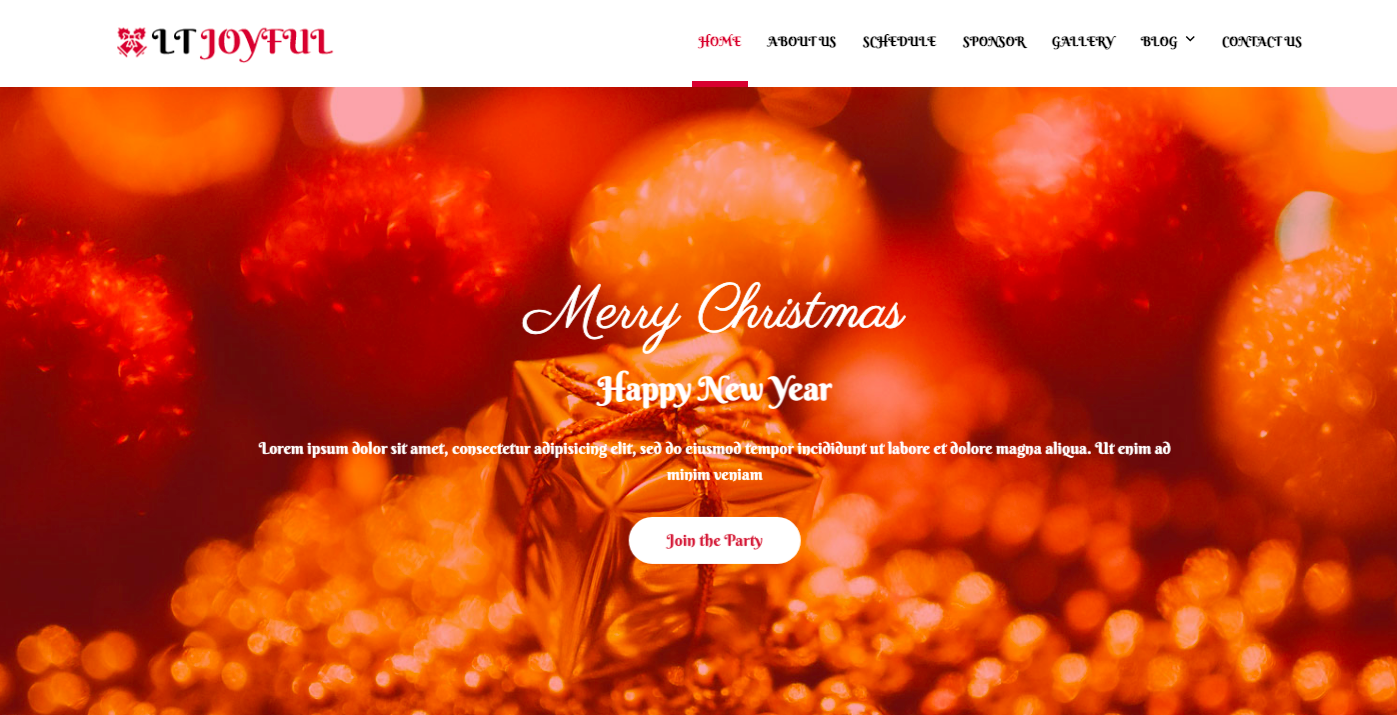 If you're looking for another WordPress Event & Conference Theme, LT Joyful could be an excellent choice. Christmas is a well-known holiday celebrated all around the world, as you may know. , it is an excellent time to expand your online business. With the LT Joyful theme, you can provide your clients with a wealth of Christmas-related information. You will instantly attract your clients with many eye-catching images and a well-organized layout.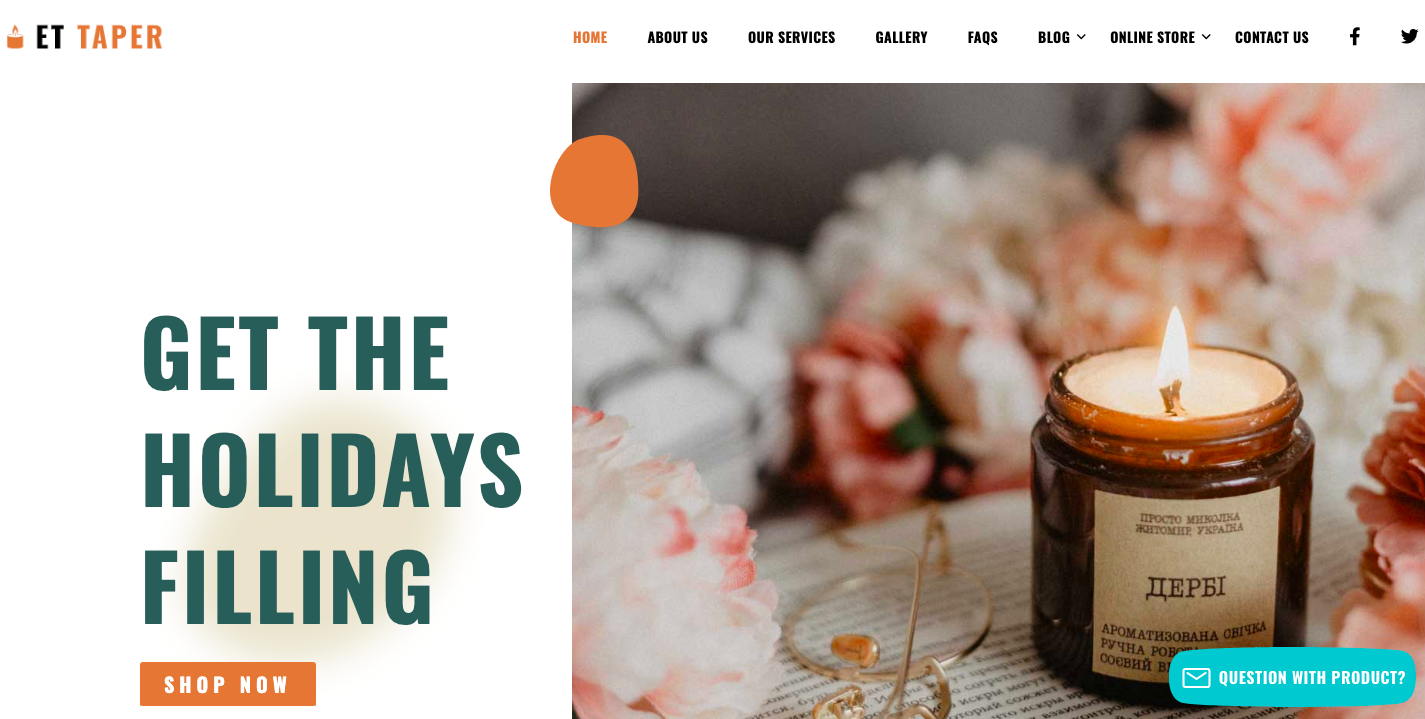 ET Taper is a beautiful theme that is perfect for the holiday season. This theme has excellent content organization and eye-catching navigation effects between sections. It allows you to provide customers with a wealth of information about your business. Moreover, it can help you promote your business by providing stunning photographs, detailed descriptions, and prices for each item. ET Taper is a totally responsive website that employs the most cutting-edge online technologies.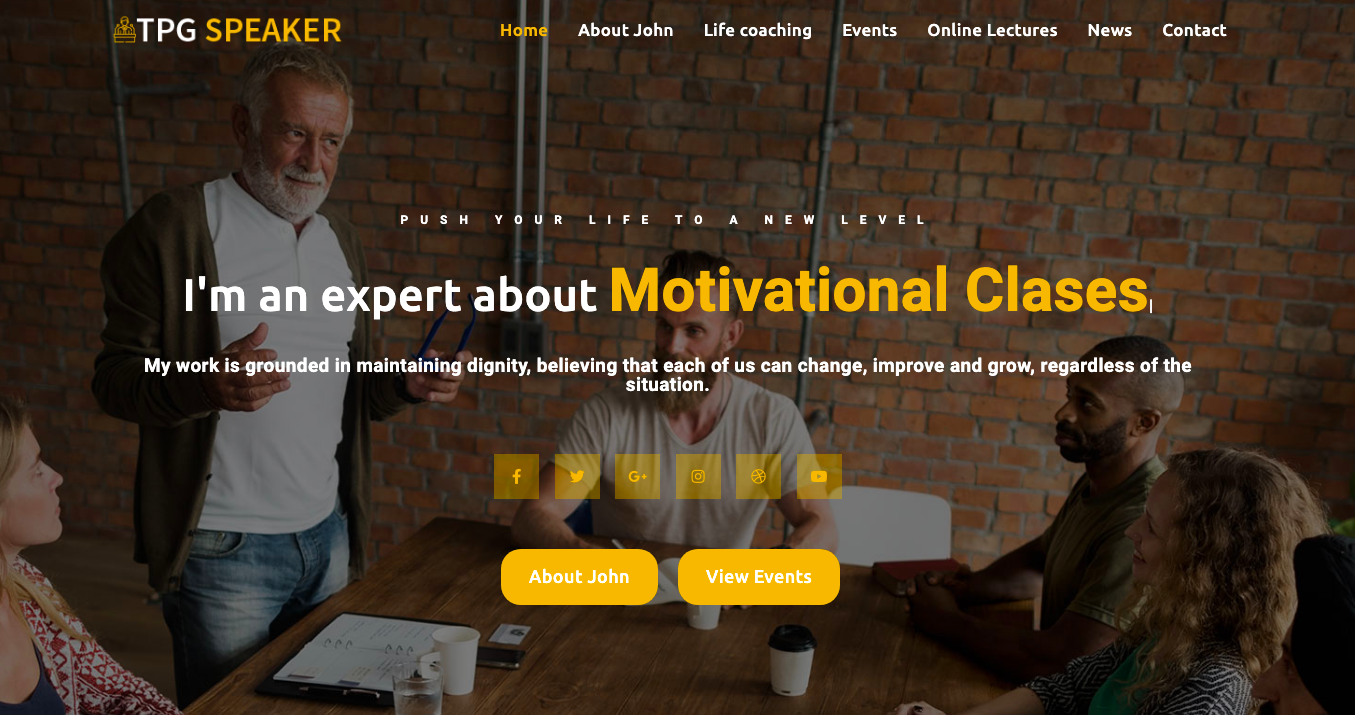 TPG Speaker is a great WordPress Conference theme that is a one-of-a-kind topic for showcasing motivational speakers' skills and abilities, as well as any individual or organization promotion website. It was created by highly experienced developers with a strong sense of style that actually understands how to entice visitors at first glance. It's simple to modify the site the way you want it thanks to Elementor Page Builder's help. You can receive a completely responsive and amazing design on every device.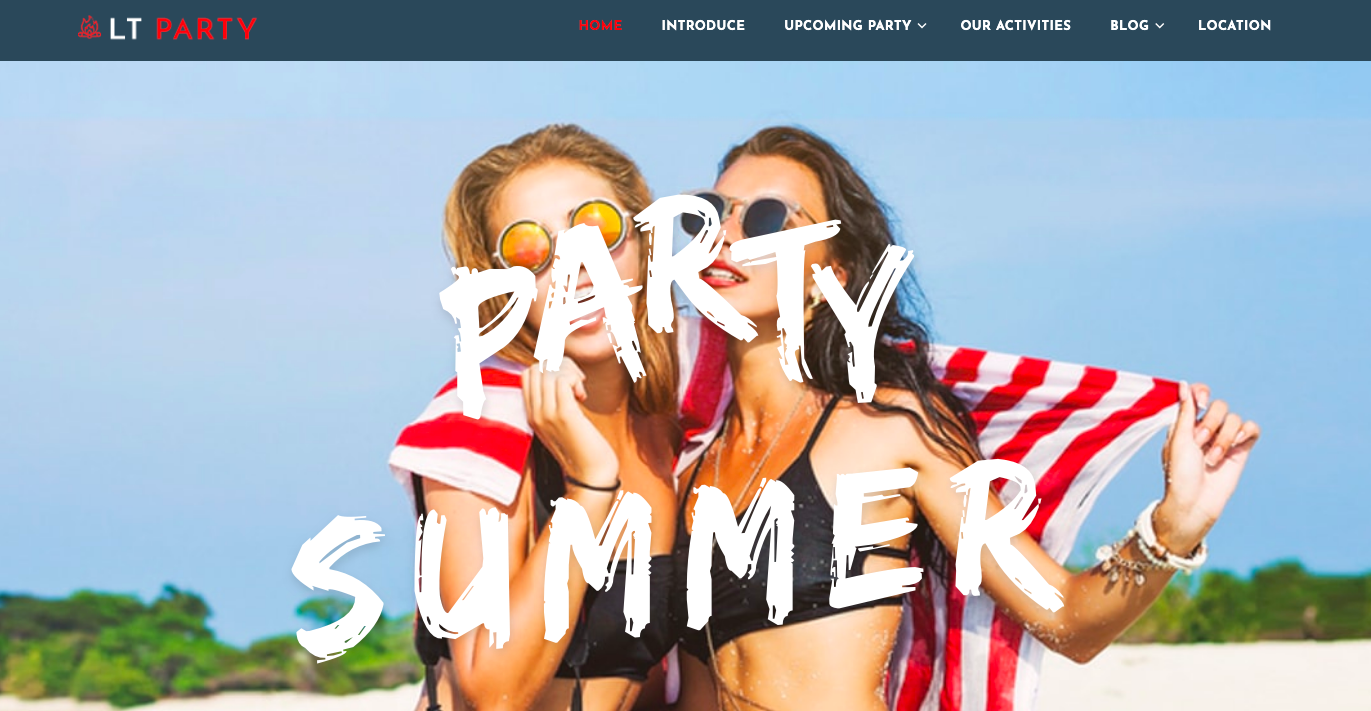 LT Party is ideal for event organizers who want to plan and host parties. This theme allows you to customize and change the look of your site to appeal to a wider range of potential clients. It is also WooCommerce compatible, allowing you to not only exhibit the highlights of your brand but also sell things on your sites swiftly and efficiently. Furthermore, with the help of WooCommerce, it is completely versatile and configurable for your website to meet any screen resolution.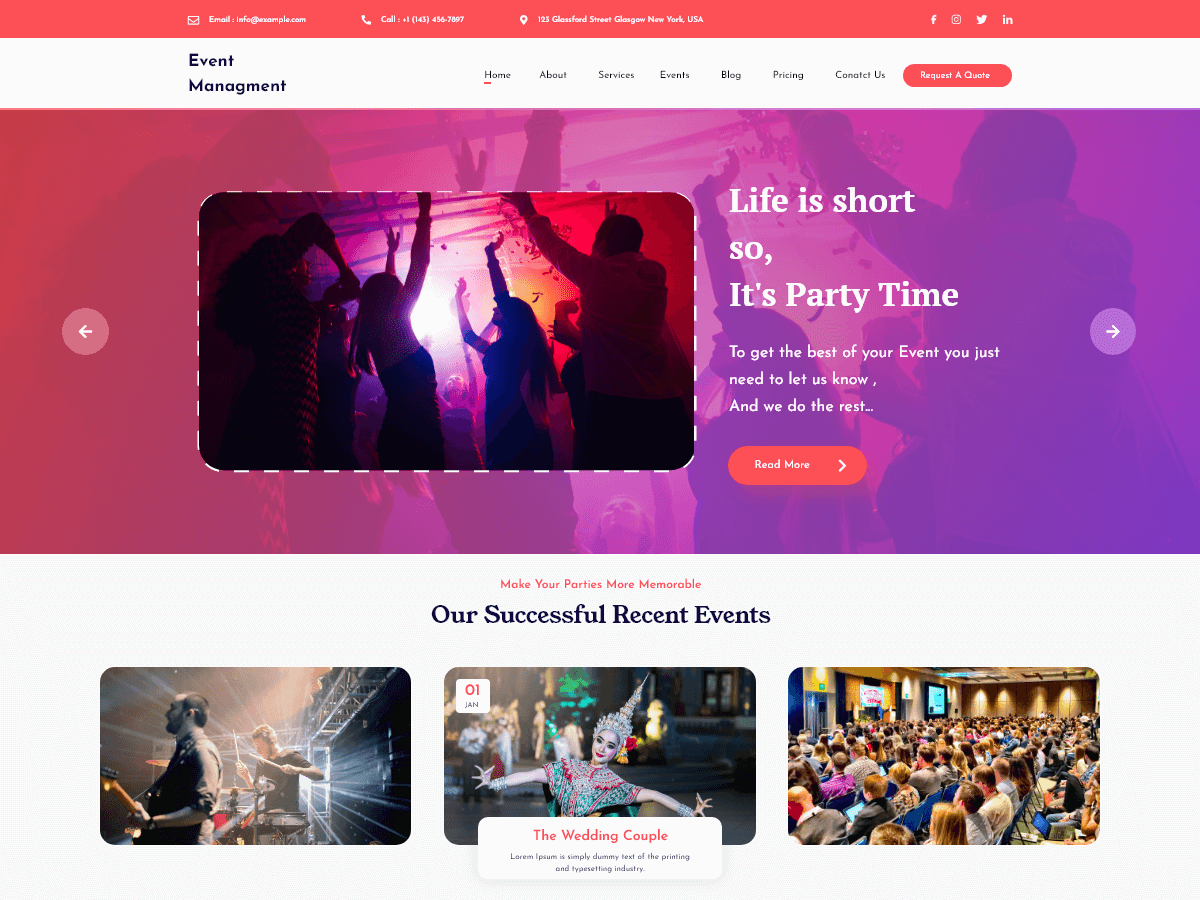 The event Management theme makes planning a range of events, such as conferences, exhibitions, trade shows, award ceremonies, yearly celebrations, and seminars, much easier. This theme allows for a methodical presentation of data in a manner that emphasizes essential event details. It creates an interactive environment and is capable of performing advanced operations such as ticket sales, registrations, a media information area with images, videos, blogs, and widgets like Google Maps and a countdown timer, among others.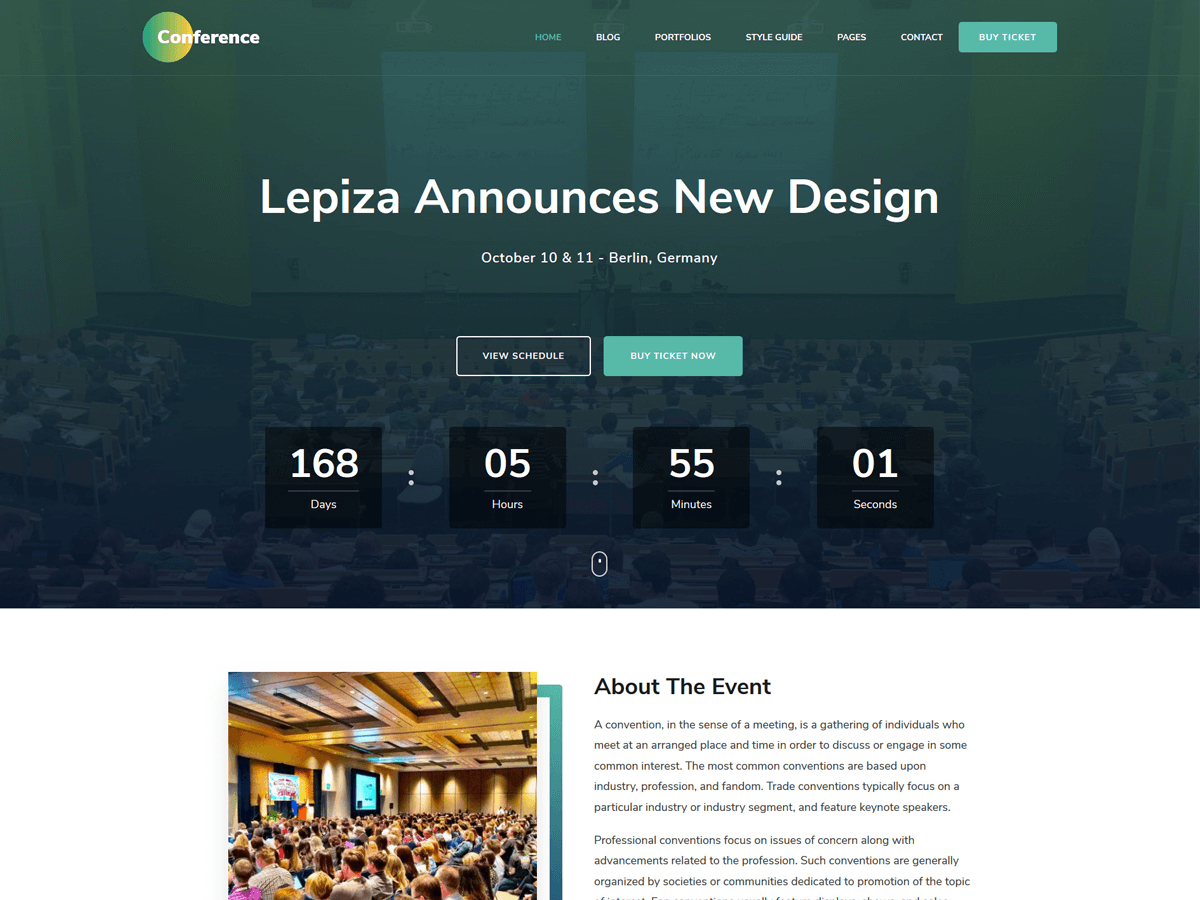 The Conference is one of the prominent WordPress Event & Conference Themes for promoting your sit. It is totally responsive, SEO friendly, and appealing. This free theme will assist you in selling more tickets if you are planning an event, conference, seminar, symposium, or concert. This theme's appealing UI and modern features are ideal for keeping visitors engaged on your website and converting them into buyers. The Conference is very user-friendly; you can quickly develop a fully working and professional website without any prior coding expertise or experience.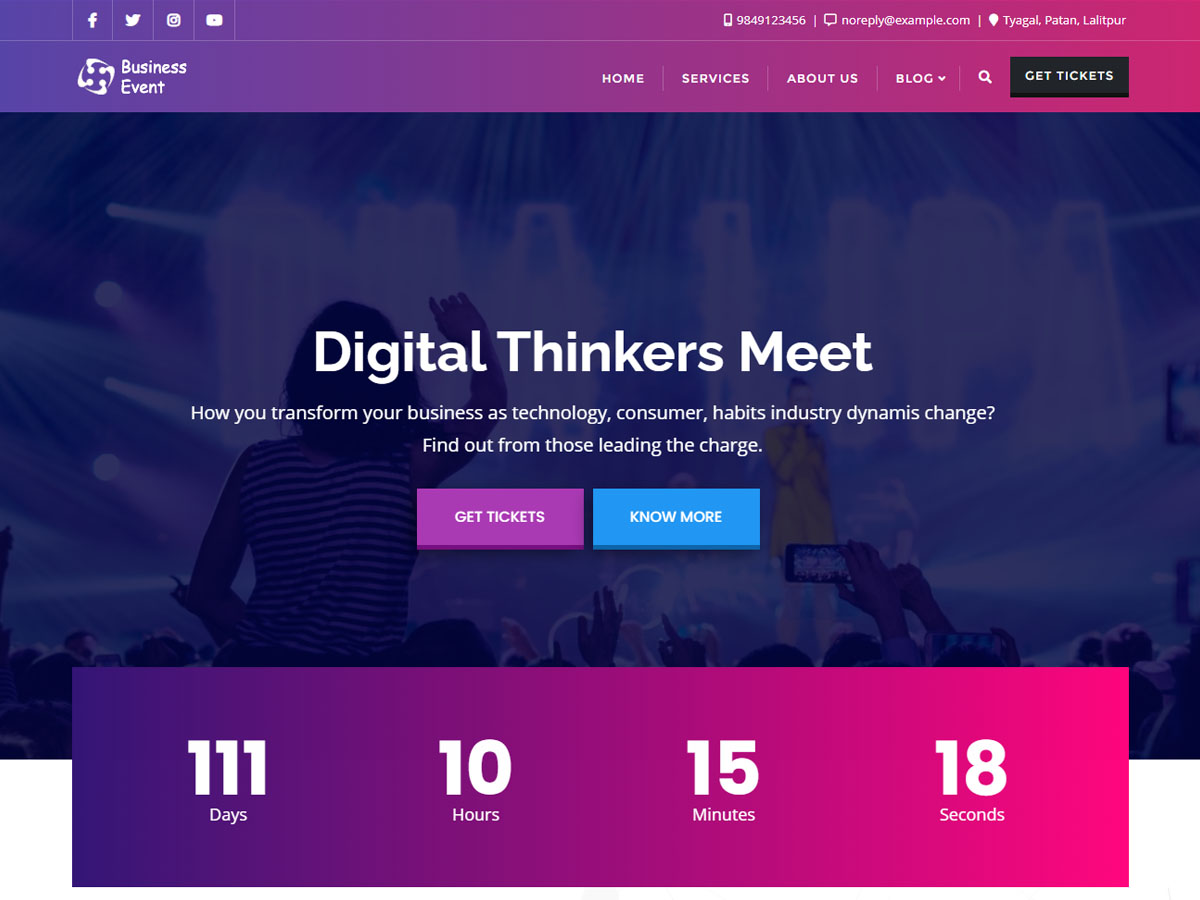 Business Event is another WordPress Event & Conference Theme for promoting any business forum, meetup, or event. Create a comprehensive website that will enable you to effortlessly push the event forward. The page can be used to advertise the precise date, introduce speakers, promote material, and even sell tickets. Never again will you be without an online presence thanks to this theme and the other free event WordPress themes on this list. Even if you have no prior experience, you can accomplish your goal. That's when these tools are at their most useful.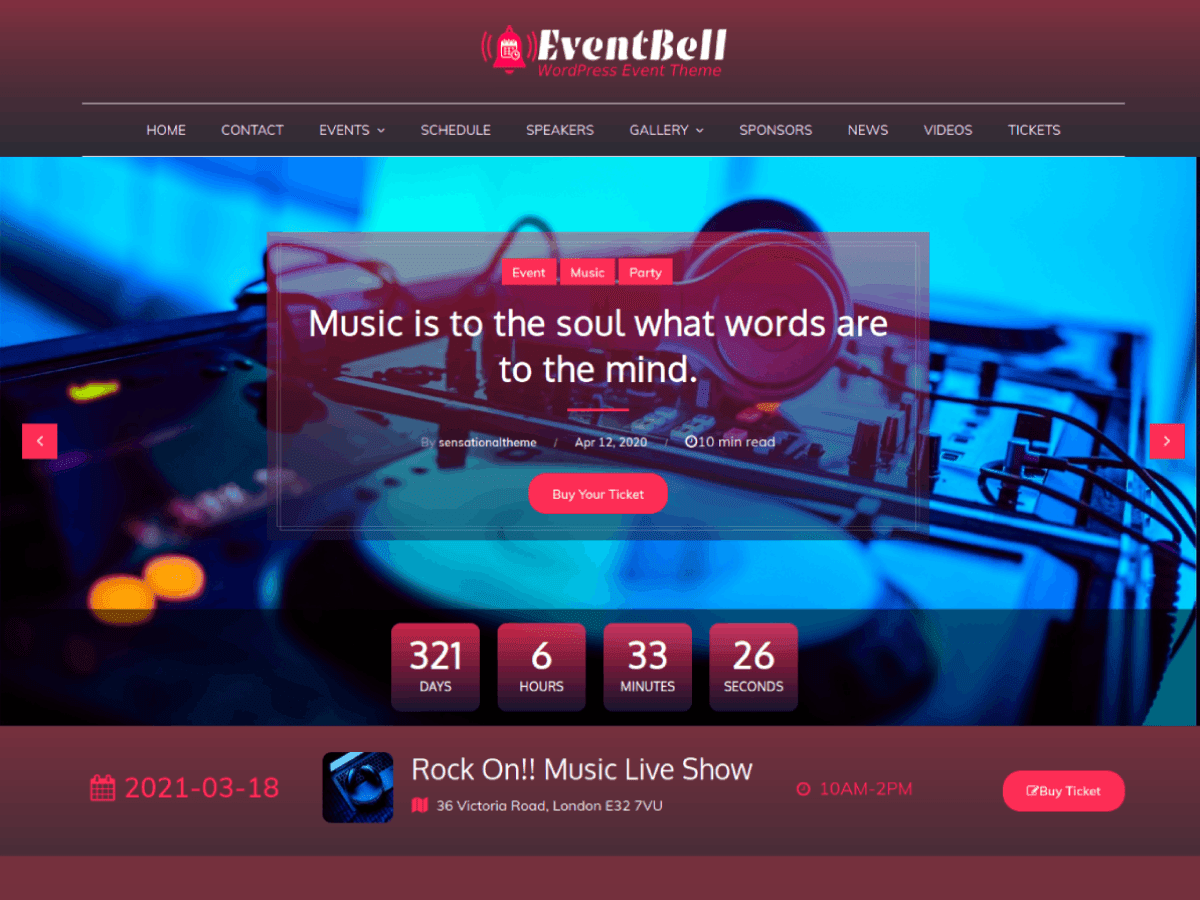 With EventBell, you can promote music and business events, conferences, and pretty much any meetup. It is simple to operate, allowing all users to get the most out of it. EventBell also contains a number of features and functionalities to help you come up with a unique result. This boosts your chances of selling out your event by attracting more potential guests. A slider, drop-down menu, countdown timer, CTAs, and other features are included in the EventBell kit. In addition, EventBell is fully compatible with WooCommerce, so you can sell them only on your website.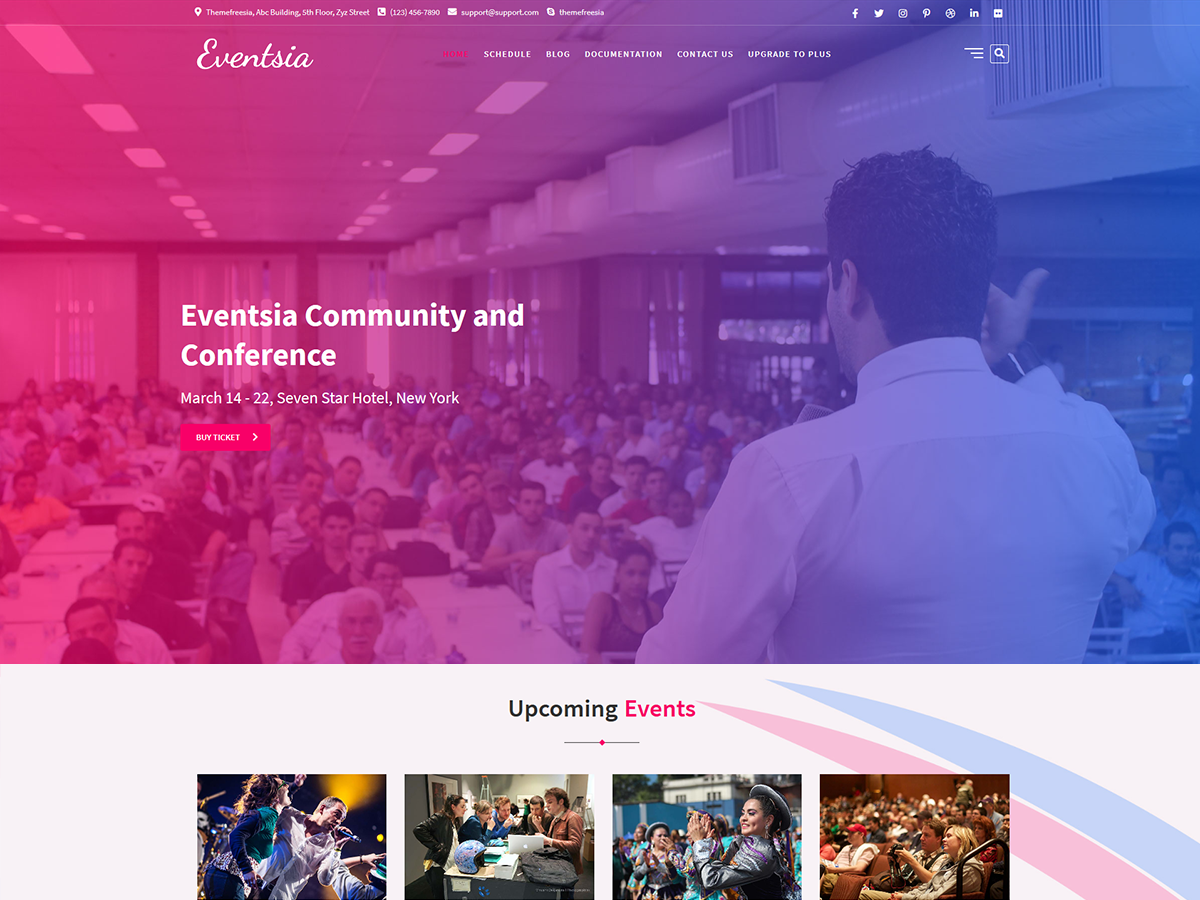 Eventsia is the next WordPress Event & Conference theme that pushes the envelope. Even though the tool is free, you can expect to get a high-quality result. Even if you aren't a web developer or designer, Eventsia allows everyone to create wonders. As you'd expect from a cutting-edge WordPress theme, it follows all of the latest web trends. Make an event presentation that no one will be able to miss. With a well-designed website, you can accomplish a lot in terms of marketing your company and achieving the success it deserves.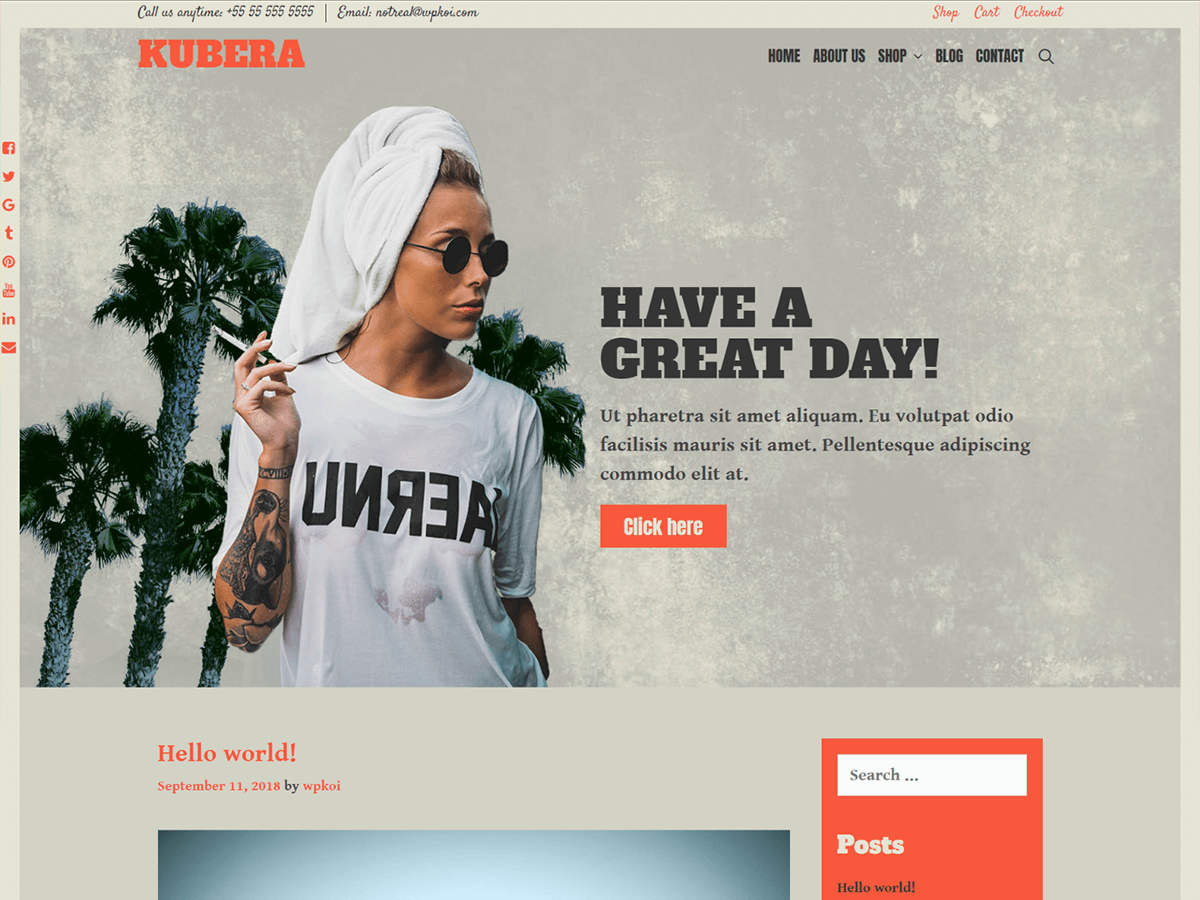 Kubera is a free WordPress theme that works well for events, conferences, and other gatherings. It offers a number of useful features and capabilities that you can use to create a visually appealing page in the smallest amount of time. Simply concentrate on the design, add your content and custom text, and you're ready to go. If you like the look, there's no need to change anything; just use it as is. Use Kubera to take a clever shortcut and avoid having to develop an event website from the ground up.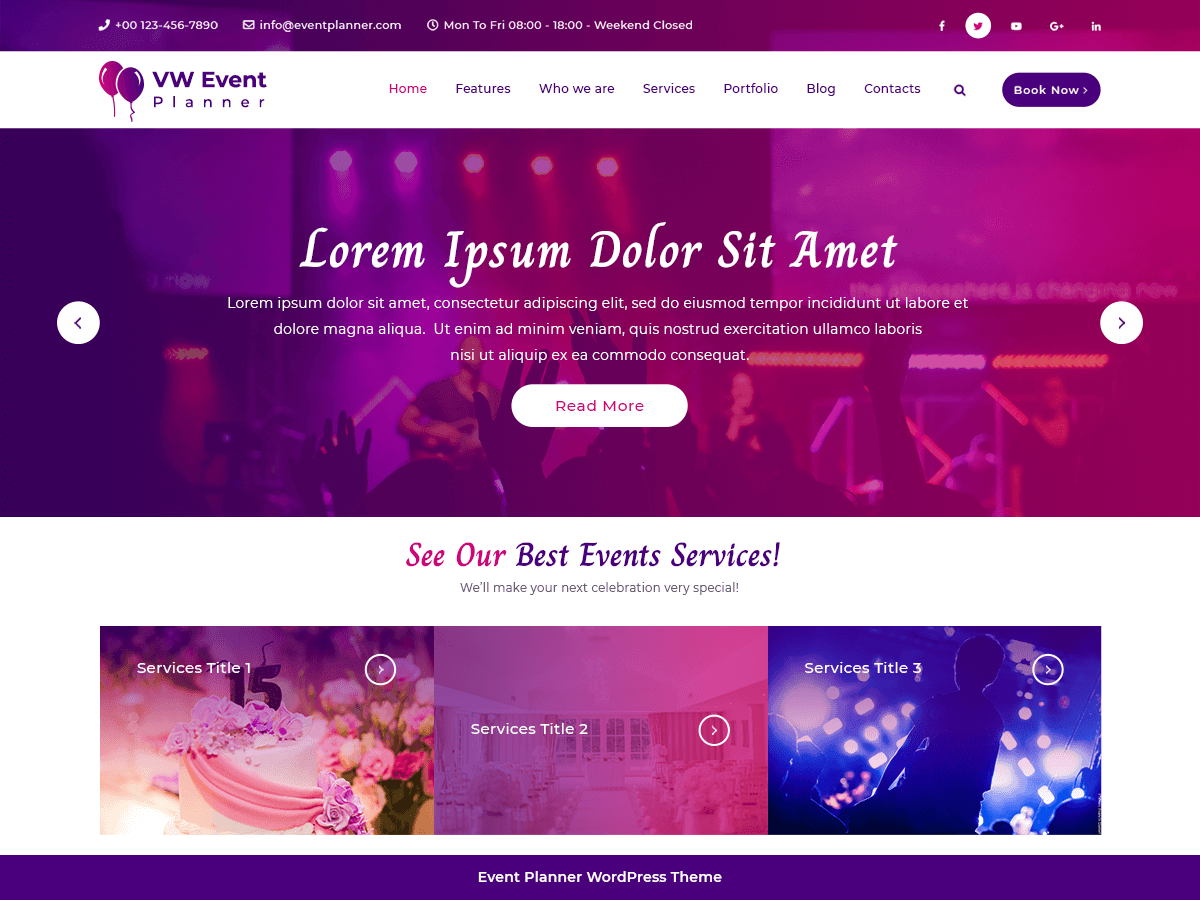 VW Event Planner is a stunning and cutting-edge free WordPress event theme that focuses on event and conference management. The theme's vibrant style is sure to entice visitors and will result in a great event website. VW Event Planner allows you to not only create a list of events, but also a booking system that allows people to book events directly from your website. Showcase the most interesting events on the feature slider to get them noticed quickly. You may easily and quickly change the header, footer, and sidebar sections of your website.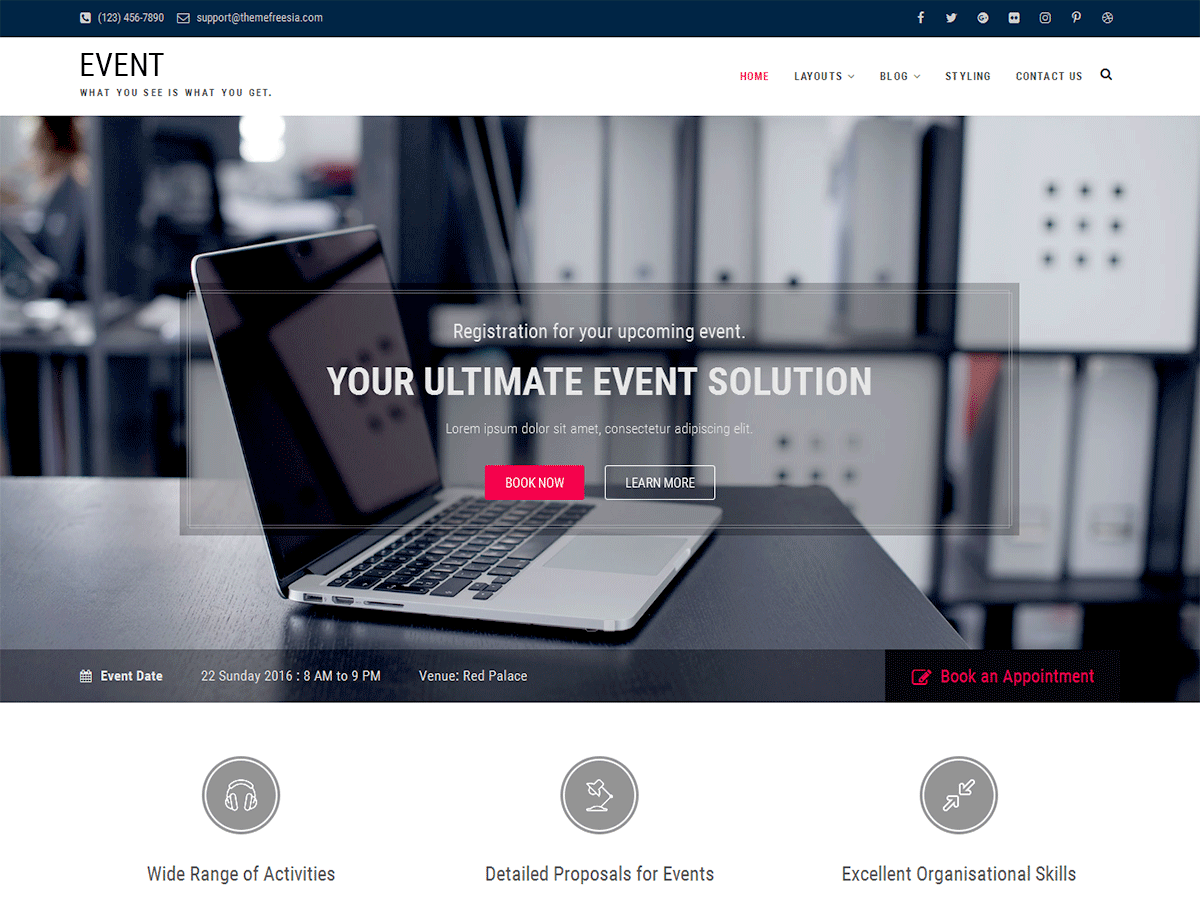 Event Free is a beautiful WordPress theme for managing events and conferences. The layout design has a fantastic appearance and feel and is ideal for event management of any kind. This is one of the greatest solutions for establishing an internet presence for your event company and showcasing all of its programs and events. It offers all of the features and functionality that an event management firm needs. If you want to change the home page's traditional design and make it more colorful, go to the admin panel's color option and make your site look anyway you like.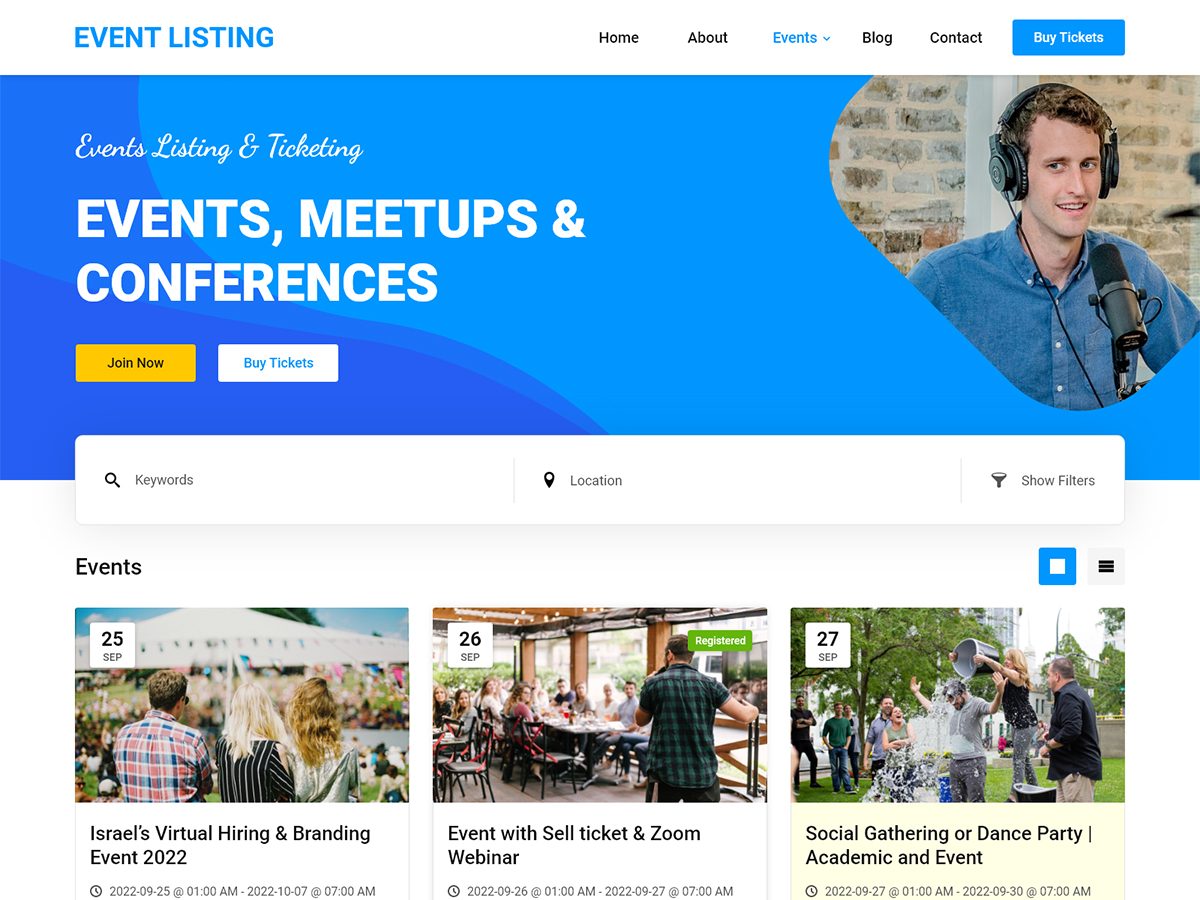 Event Listing is one of the fastest and most adaptable WordPress Event & Conference Themes. With Event Listing's simple style, your site is ready to impress. WP Event Manager add-ons can also be used to extend the theme. It also works with all of the major page builders, including Elementor, Beaver Builder, Divi, and others. As a result, building a layout of your choice should be simple. It's also updated on a regular basis, which is a nice feature in a theme. In a nutshell, it contains all of the features you'd expect from an event website.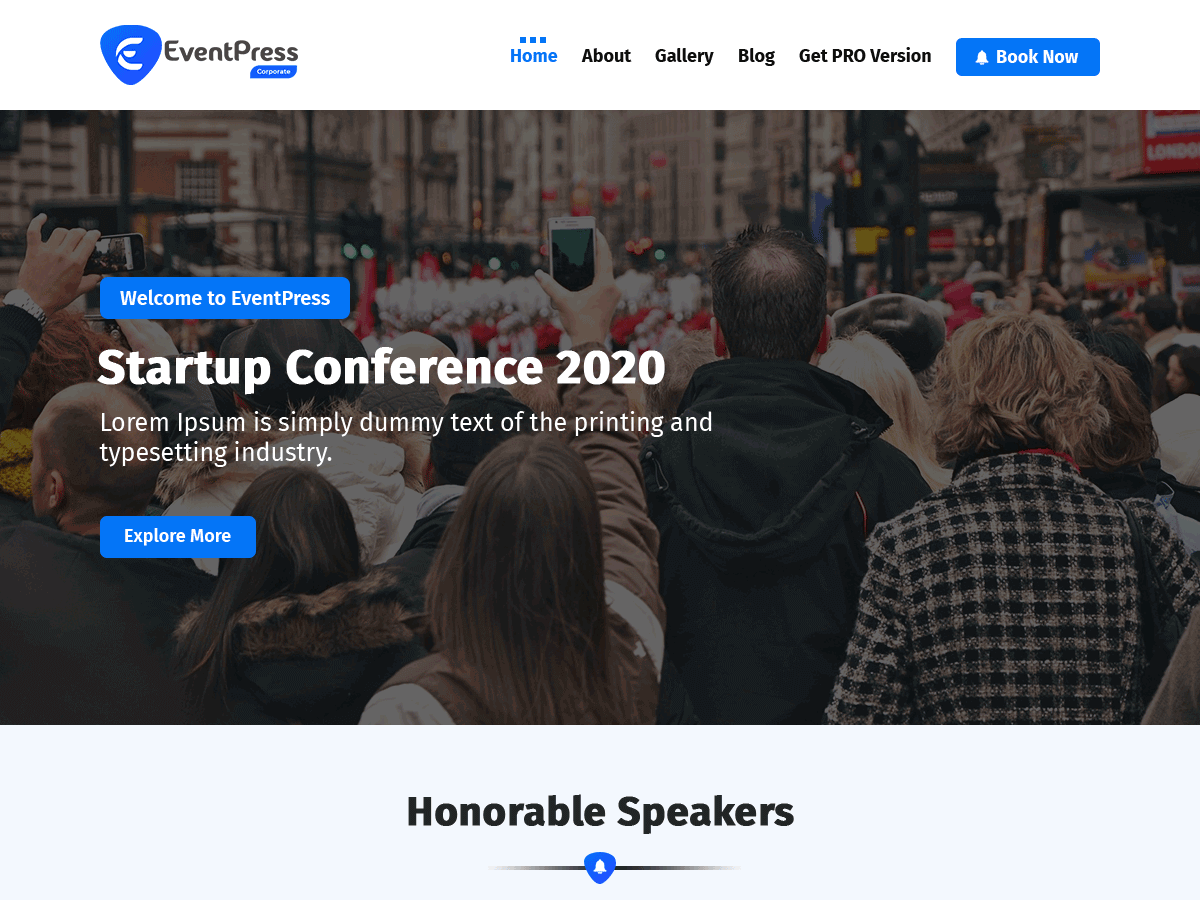 EventPress is a free WordPress theme created specifically for events such as concerts, weddings, business gatherings, and so on. It will take you less than 5 minutes to get your site up and running with it. The theme is Google Fonts compatible and comes with extensive documentation. Slider Revolution, Yoast, Pollan, WooCommerce, and more major WordPress plugins are also supported. You can also use EventPress to build a Coming Soon page to keep your users informed about upcoming events. Overall, EventPress is a fantastic theme for creating any kind of event website.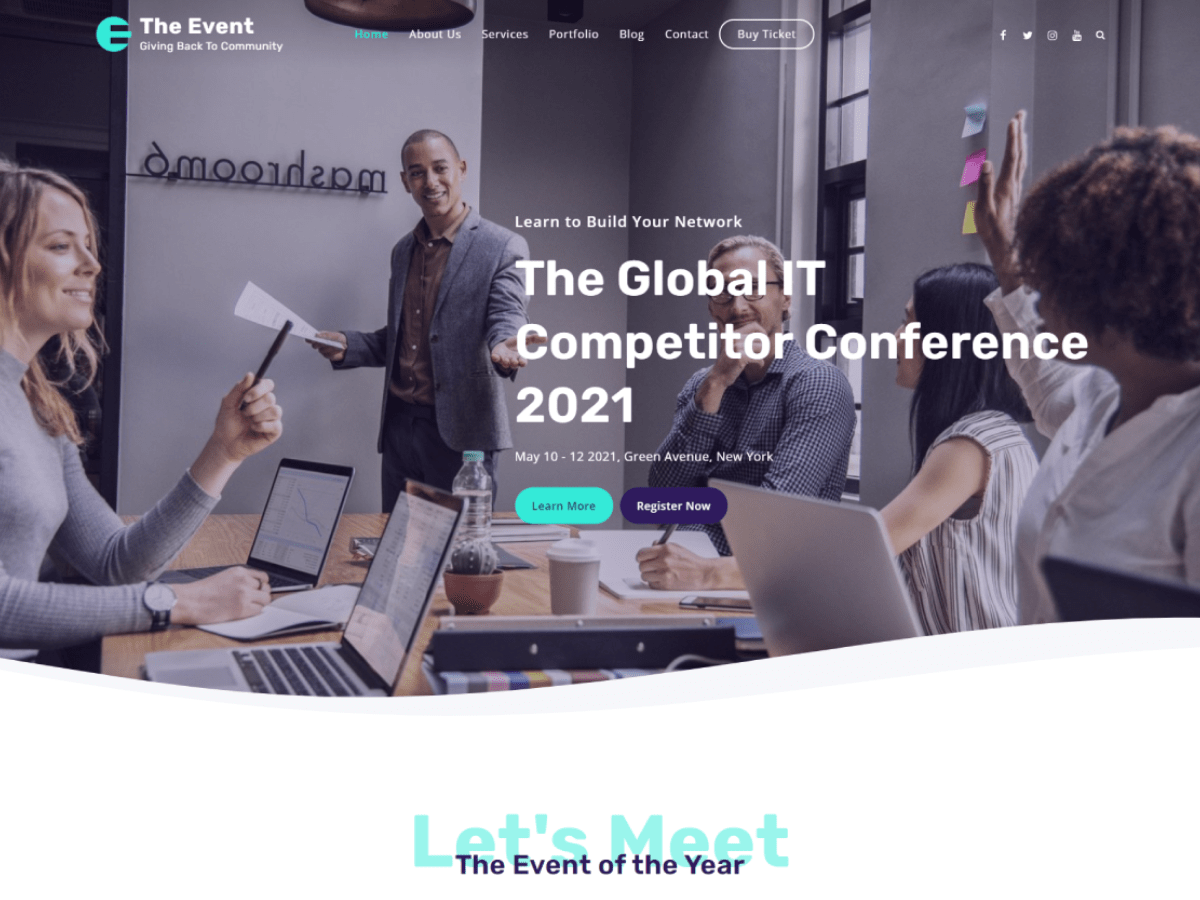 The Event is a dynamic WordPress theme with a one-of-a-kind design that will help you construct an unforgettable event website. It boasts a blisteringly quick speed that is complemented by its incredible lightness. It's also mobile-friendly, user-friendly, and cross-browser compatible. You can also download the theme's demo with a single click. You also have access to a variety of customizable options that allow you to customize and manage your site to your desire. As a result, you can quickly create a unique-looking event site that highlights your event's highlights with this theme.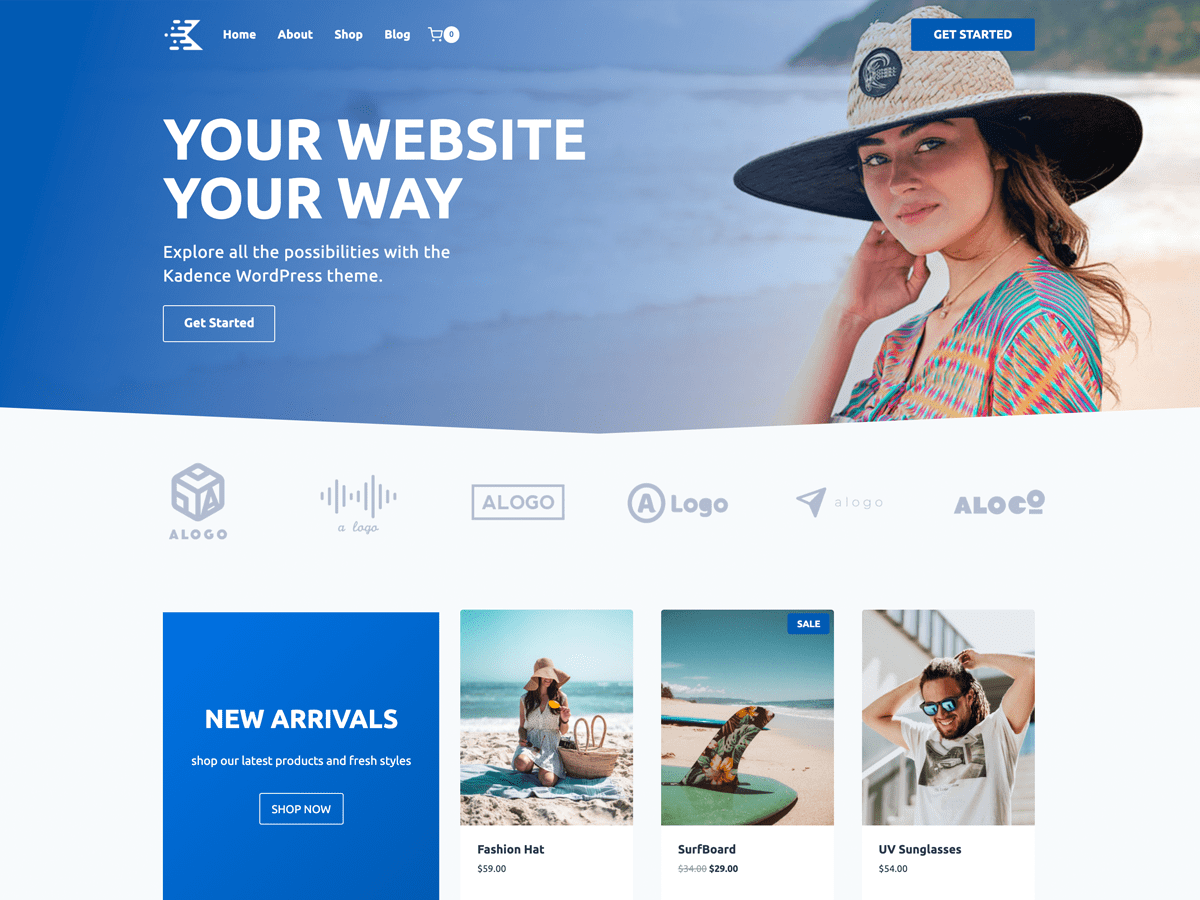 Kadence is a free and feature-rich WordPress theme that provides a quick and easy setup for any site. The theme makes it simple to create a website by allowing you to use their starter templates. It also allows you to utilize themes on as many other websites as you choose. Similarly, you can change numerous elements such as the sidebar, full-width, and narrow width to your liking. You may also use the WordPress customizer to change the layout of custom post kinds. It also allows you to include social icons in your header and footer.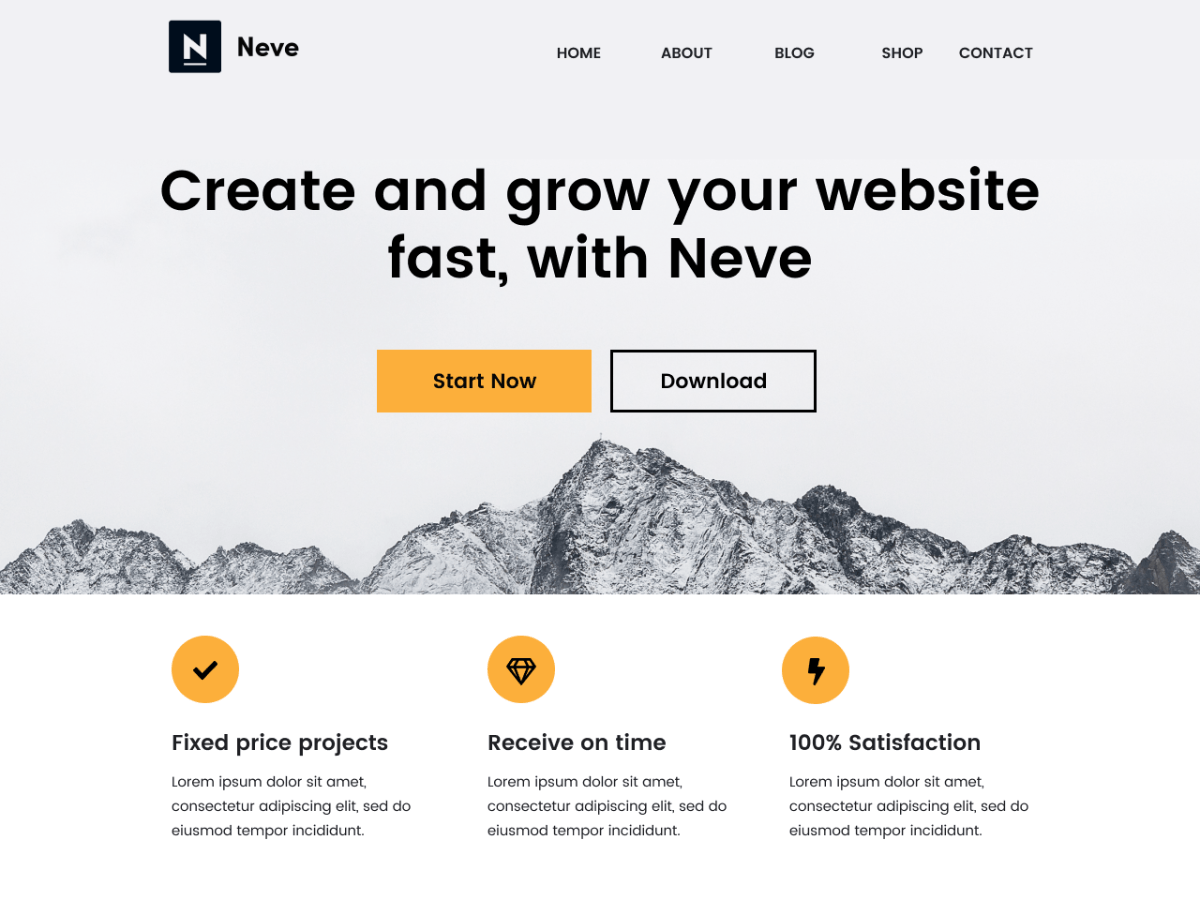 Neve is a simple yet elegant WordPress theme with a user-friendly interface. It's a multipurpose theme with lots of active installations. Even if you're new to WordPress, you'll have no trouble adapting to its configuration. Furthermore, you can easily customize Neve without having to know how to code. Its WooCommerce connectivity also allows you to establish an online store and sell things through your event website. Nonetheless, it's a well-documented theme that makes it simple to create an event website.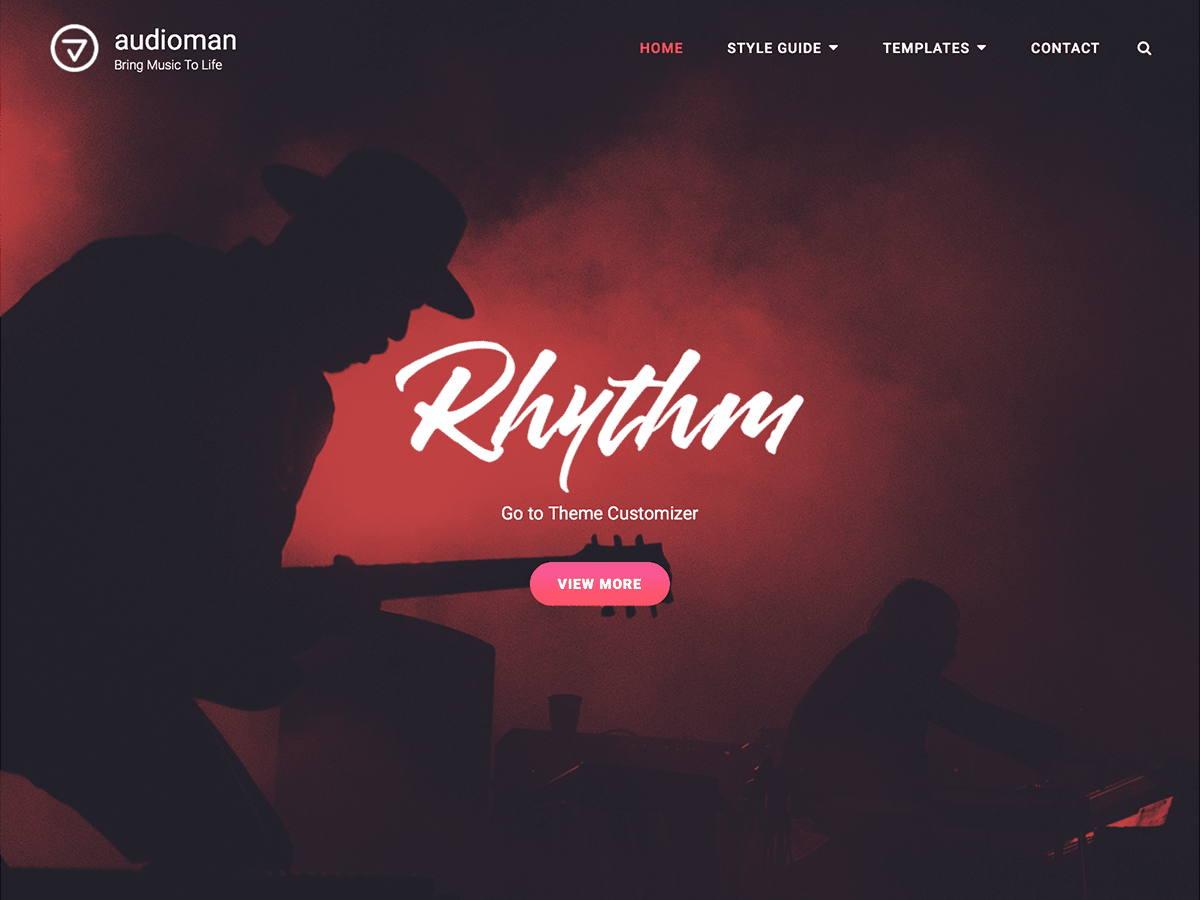 Audioman is a music theme created primarily to promote musicians' music and activities. However, with a few adjustments, it may also be used as a WordPress event theme. It has a very clean and inviting appearance. Your site appears excellent on every device, regardless of screen size, thanks to its responsive design. 'Hero content' is one of its standout characteristics. As a result, you can easily display your website's best content.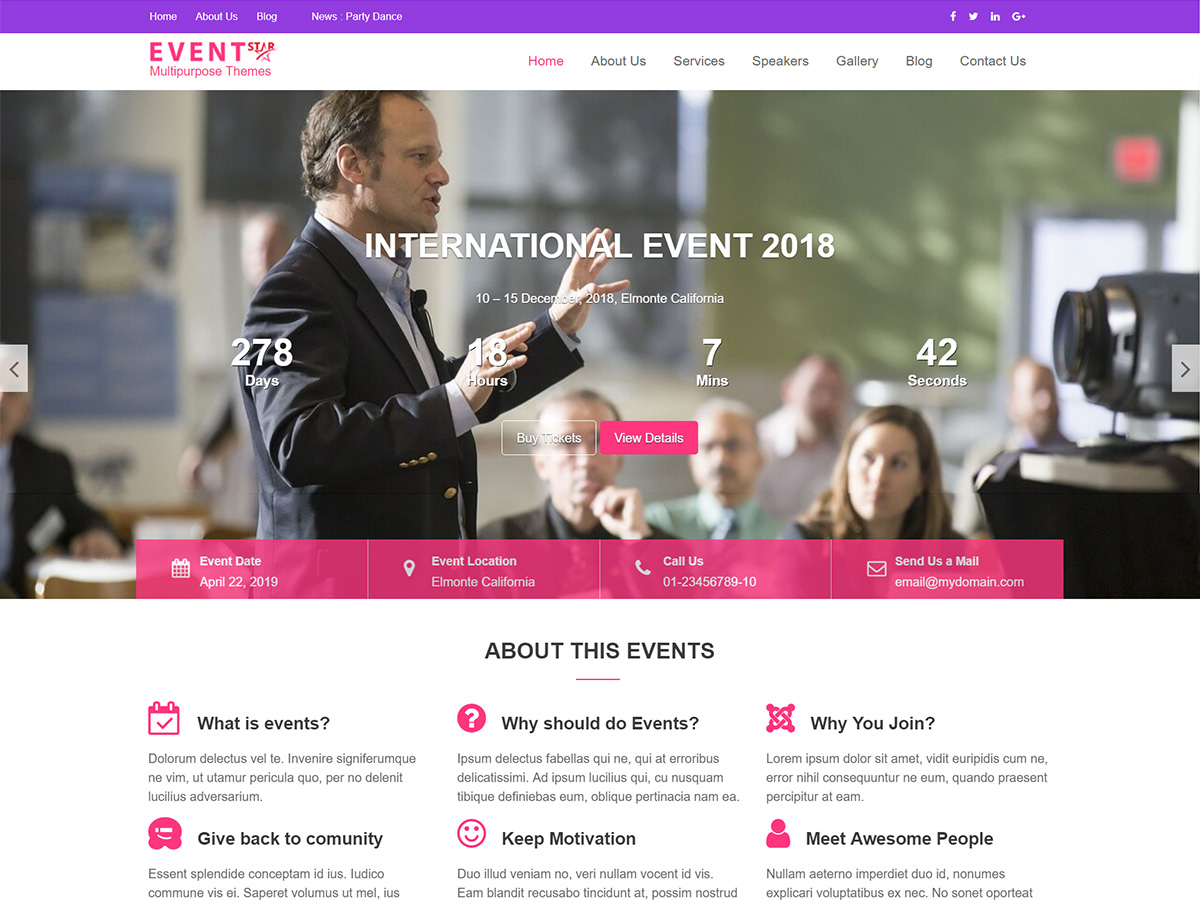 Event Star is a fantastic WordPress theme that focuses solely on event and conference planning. It features a beautiful design and follows industry standards in code. This theme is appropriate for any type of event, show, or celebration. Its primary goal is to serve as an appropriate topic for promoting any event show. There's no need to look any further if you're looking for a subject to explore for your event management firm. It contains the best and most unique features for events, such as an event countdown widget, an event schedule widget, online booking, and so on.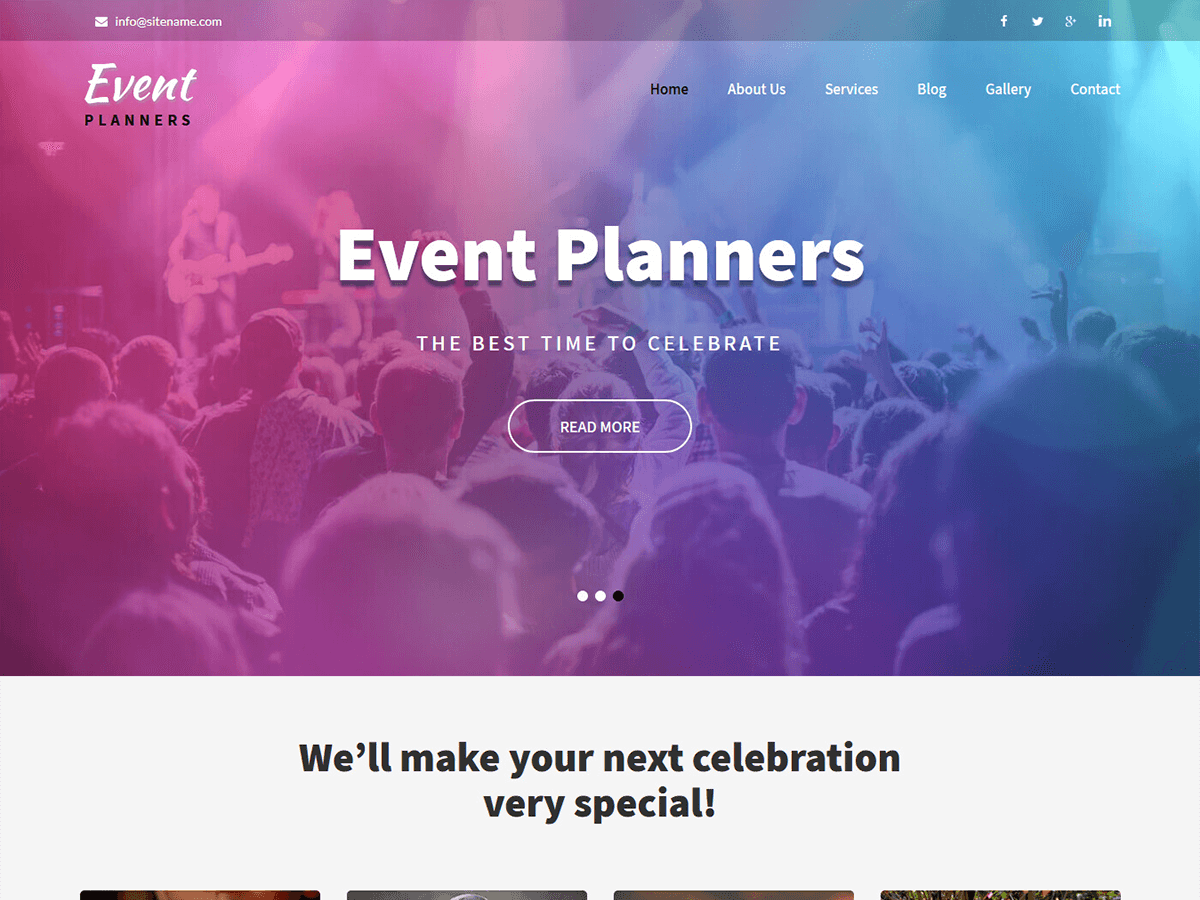 Event Planners is a fantastic WordPress theme that focuses solely on event and conference planning. This theme is appropriate for any type of event, show, or celebration. Its primary goal is to serve as an appropriate topic for promoting any event show. People will appreciate the theme's numerous and beneficial features. There's no need to look any further if you're looking for a subject to explore for your event management firm. It includes the best and most distinctive features for showcasing any event, such as a countdown widget and online booking.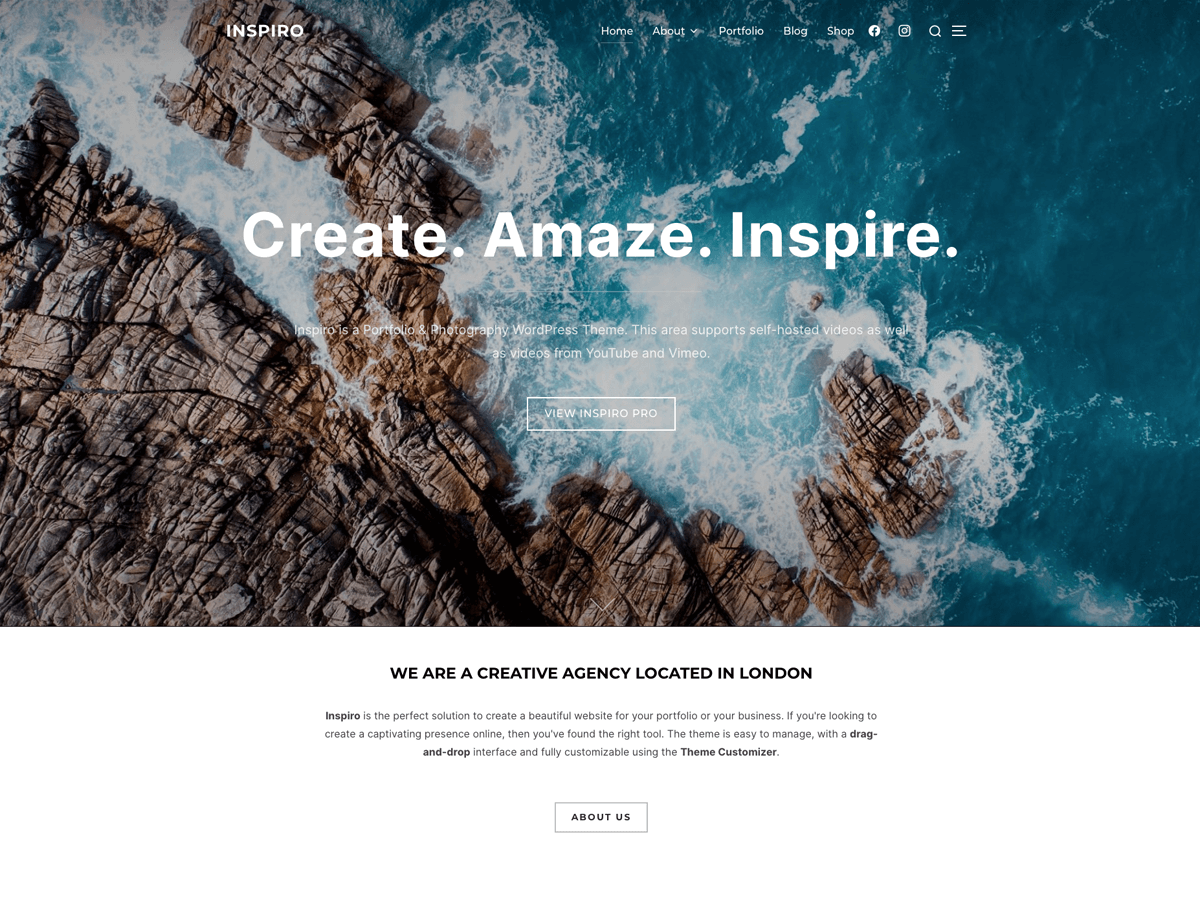 Inspiro is a modern WordPress event theme with a professional design. The theme has six pre-made style kits that simplify the process of selecting fonts, colors, and other elements. And the best part is that you can do it all with a single click! If you want to customize each item, you may do it fast with the theme's customizer. It includes all of the sections you'll need to put up your event. Some of them include buttons for purchasing tickets, scheduling event presentations, and more.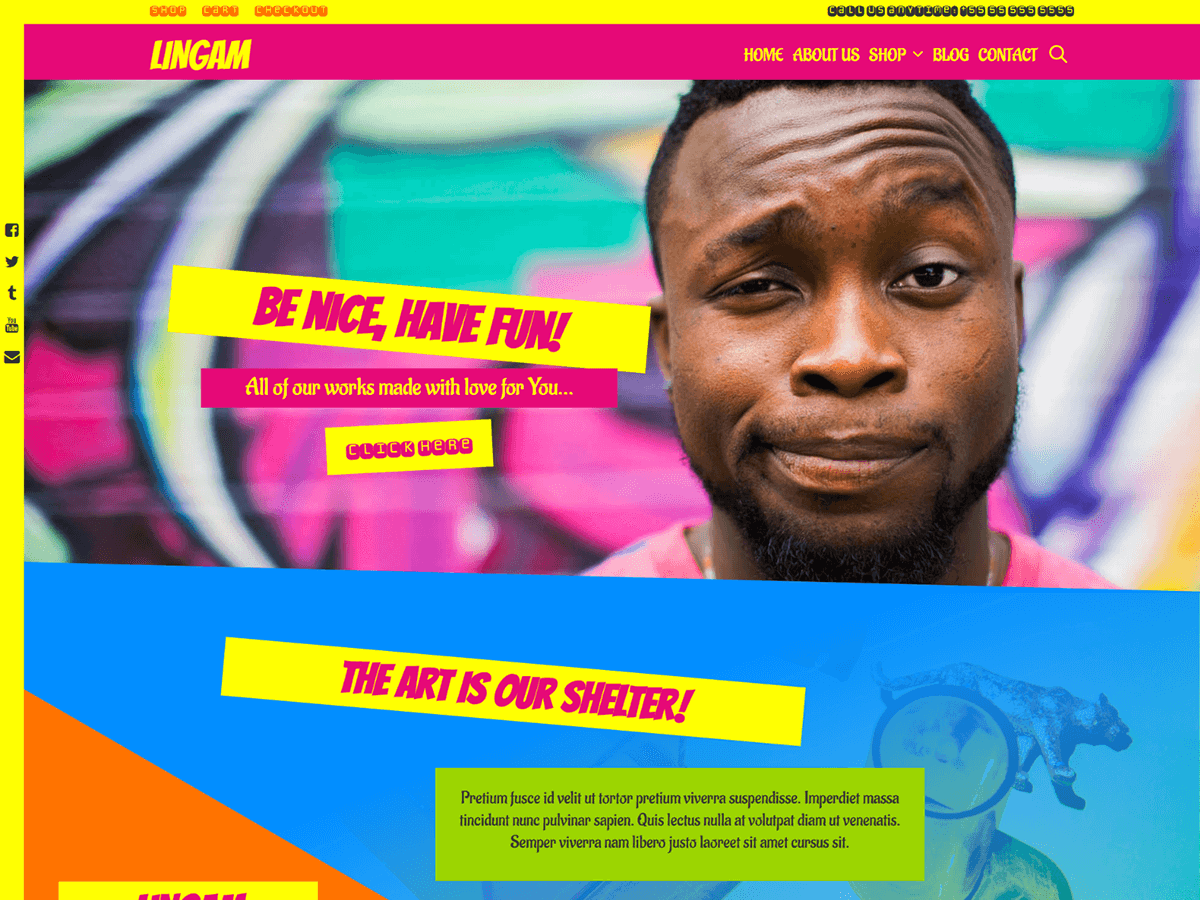 Lingam is highly suggested if you want a stylish and wild theme with lots of colors and enjoyment. Yes, this one-of-a-kind and captivating WordPress theme is an excellent choice for developing a simple and enjoyable website for event management and promotion. If you look through the theme, you'll see a slew of innovative features and functionality. It offers excellent interoperability with a variety of plugins, including Elementor, WooCommerce, and many others. Because the theme is completely changeable, you can easily modify and control the header, footer, and logo sections.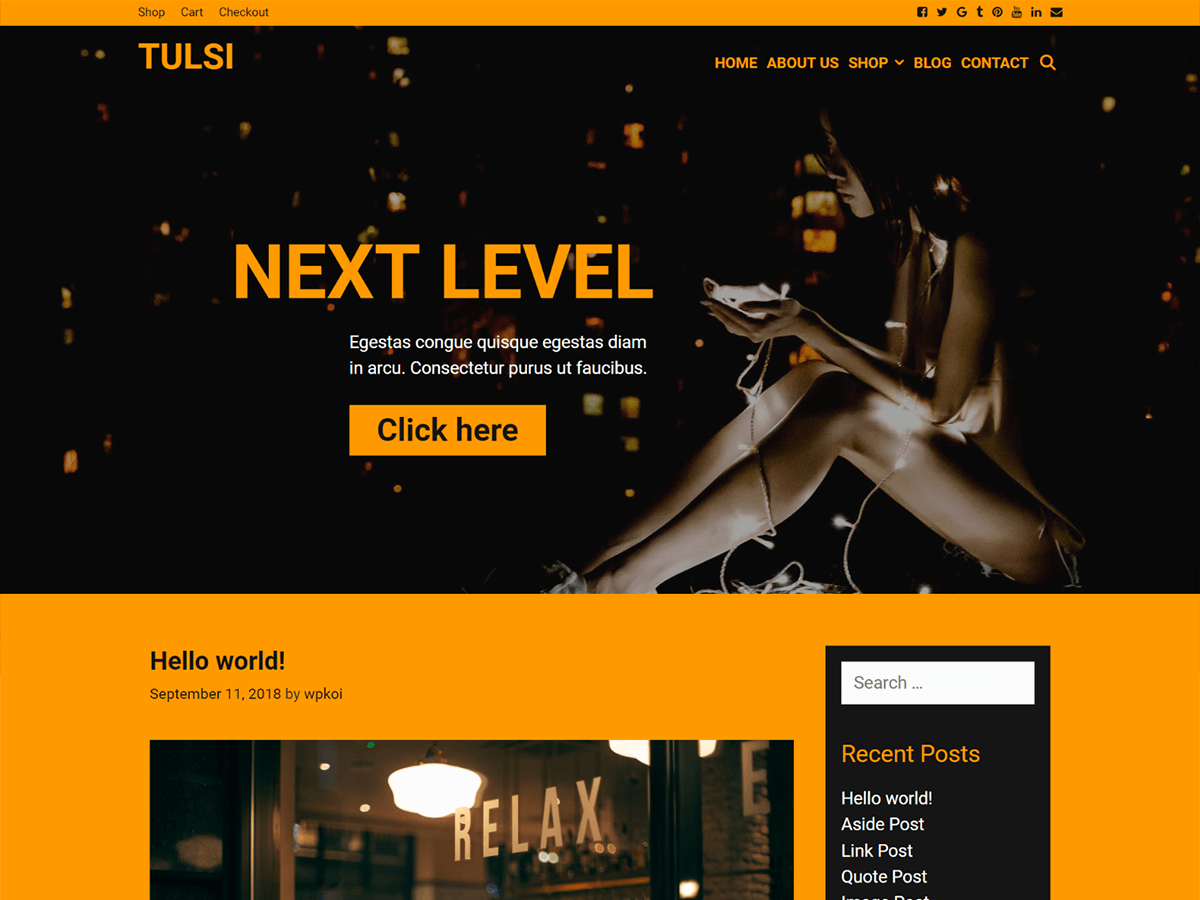 Tulsi is a gorgeous WordPress theme designed specifically for musicals and other kinds of events. The theme's overall design was built with the goal of making it the best and most ideal way to promote any type of musical event, including concerts, musical contests, unplugged programs, and so on. The theme provides its customers with a plethora of exciting features. It is WooCommerce compatible, therefore anyone who wants to exhibit and promote their products for online sales can use the WooCommerce plugin and activate it in the theme.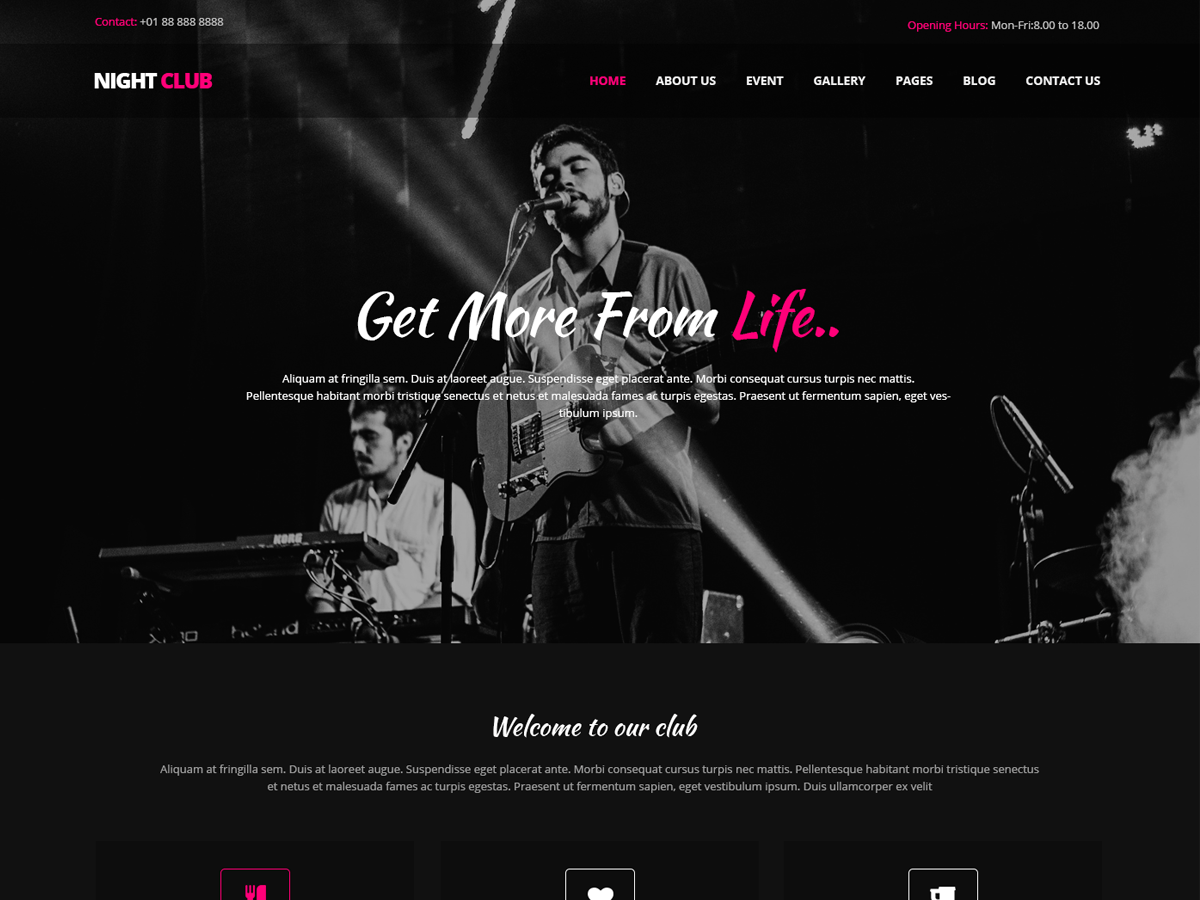 NightSpot is a timeless and elegant WordPress theme dedicated to musical events such as concerts and live performances. This is a popular motif for promoting musical events and activities. People who aren't techy or don't know how to code can easily change the theme in their own way because it's an easily customizable theme.
It can be viewed flawlessly on mobile devices and tablets of any screen size because it is a very responsive theme.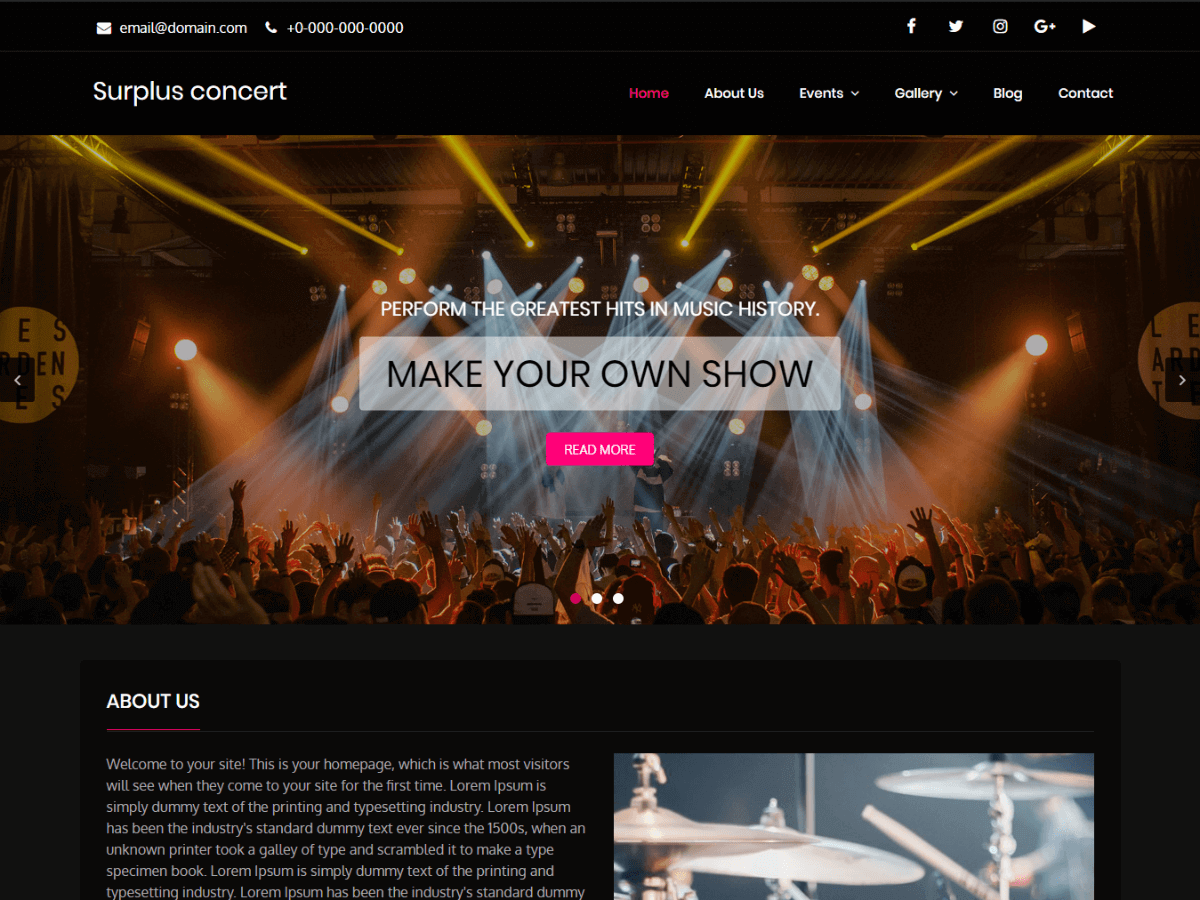 Surplus Concert is a captivating and appealing WordPress event theme. This exquisite theme was created specifically for events such as music concerts, unplugged presentations, musical shows, musical contests, and so on. This is a wonderful choice if you're seeking for a theme to promote any type of musical event. With a little effort, you can easily alter the theme. It has some of the coolest and most fantastic features that will make your website appear absolutely stunning.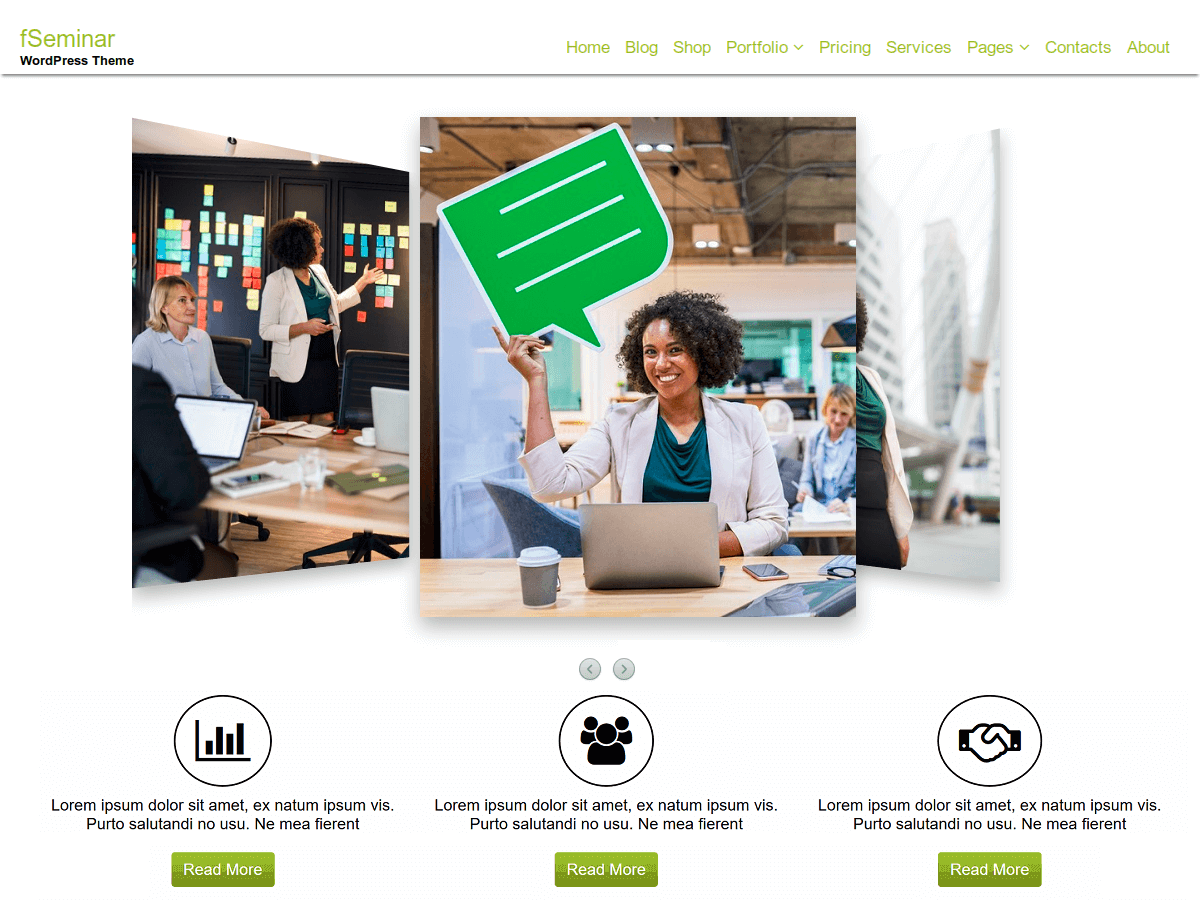 If you're looking for a modern yet professional-looking WordPress theme for a site that will host any type of seminar, conference, or gathering, fSeminar is a perfect choice. The theme includes several fantastic features that will make your website stand out. It is extremely SEO optimized, so you can sit back and rest knowing that your site will rank well in Google searches. Despite being a simple and minimalist theme, it does not disappoint its consumers, as anyone would prefer a simple event website.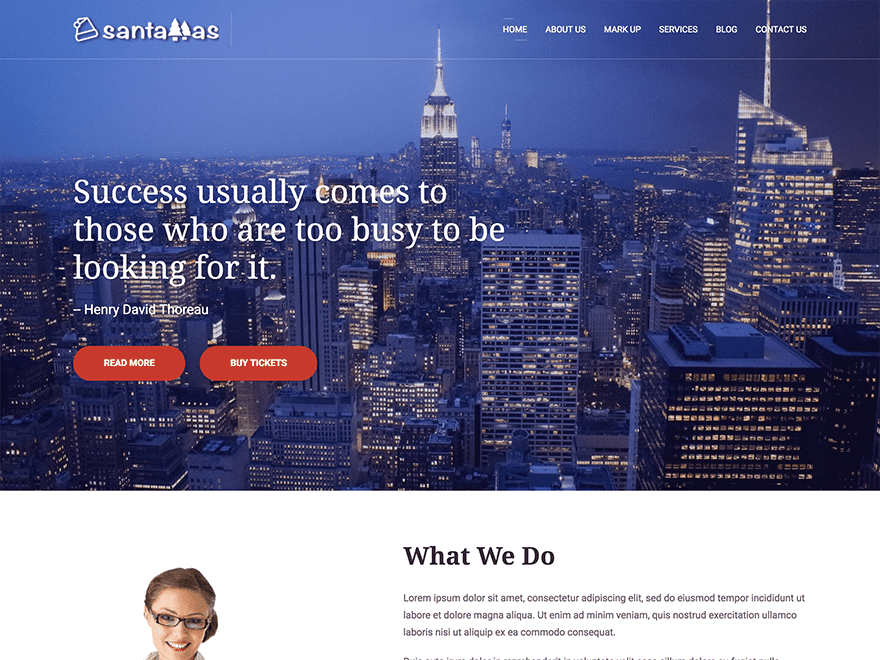 Among WordPress Event & Conference Themes, SantaMas is a highly-recommended theme with a fashionable and eye-catching design that will attract everyone's attention. This elegant and sophisticated theme appears to be an ideal match for a website dedicated to event management. People can access your site flawlessly on hand-held devices such as smartphones and tablets because it is a responsive theme. The theme's trendy snowfall banner elevates it to a new level of style and distinction.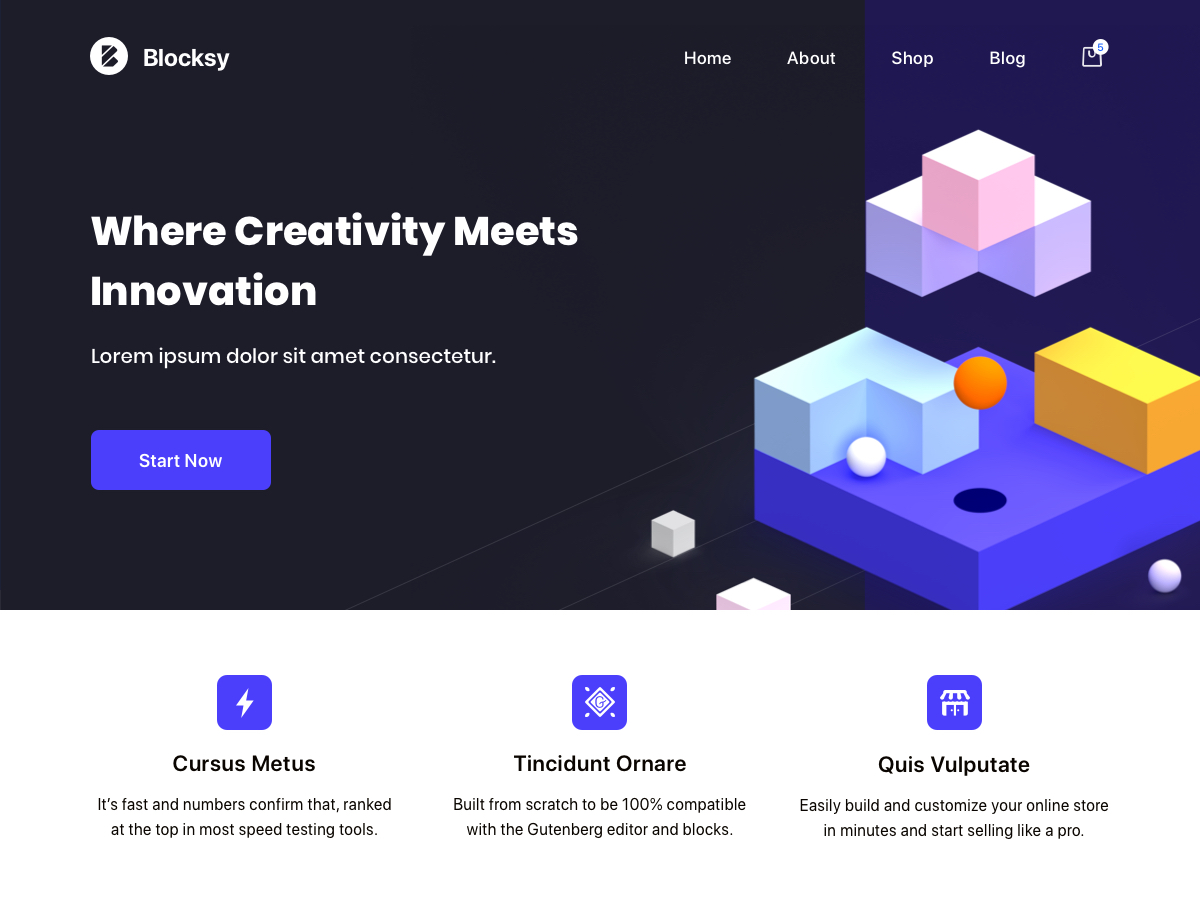 Blocksy is a popular WordPress theme that uses cutting-edge web technology. It provides you with the smoothest experience possible, which is optimized for modern browsers. Blocksy also offers settings that are simple to change. It has a straightforward style with bright colors so that viewers aren't distracted from the content on your site. It's also SEO-friendly, so you won't have to worry about Google's rules. Overall, the theme is ready to take the website for your event to new heights.
Final Words
We've compiled a list of the WordPress Event & Conference Themes themes for creating any form of the event website. Gives themes have all of the necessary functions and features for any event website. You can pick from a list, and if you have any questions, please leave them in the comments area. Please let us know if you know of any other WordPress themes that may be used to construct an event website in the comments section.
Last but not least, we have a wide range of Free Event & Conference WordPress themes that are built with high-quality code and easy to customize without coding knowledge. Check it out now!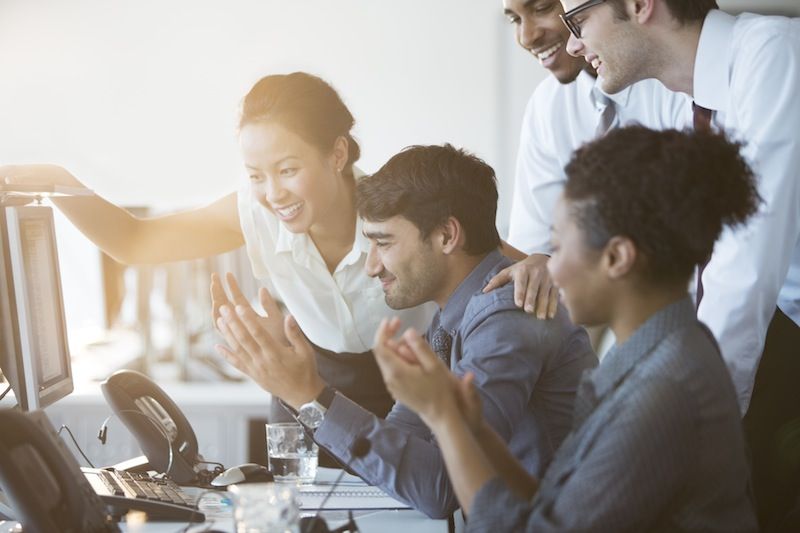 We're Digital Content Marketing team from AgeThemes Marketplace. We provide quality content for everyone who using open source CMS like Joomla and WordPress. If you have any questions or feedback, feel free leave your comment, we happy to assist you asap.